I emailed Tantus last week because someone bought stuff on their site through my affiliate link, but the sale didn't show up in my affiliate control panel. I was directed to Jenna, whom I've had a lovely time emailing back-and-forth with. To my great surprise, our conversation turned into a chat about what colors of sex toys I like/loathe1, and how I don't own any dual-density O2 toys from Tantus. Little did I know what would come next.
Tantus is a small company with a limited budget, but somehow, Jenna pulled some strings and sent me a box of goodies that is going to single-handedly wipe out all the rest of my sex toy storage space.
My jaw. It dropped.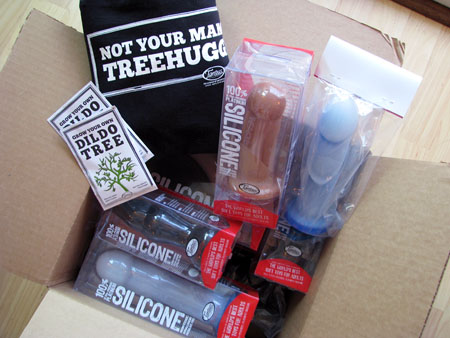 Seriously, I felt like a celeb as I opened this box. This is, like, a once-in-a-blogger's-lifetime package. I opened the box slowly, savoring every wonderful inclusion:
Two packets of "Grow Your Own Dildo Tree" seeds2
A deliciously subtle shirt that says Not Your Mama's Treehugger
O2 Revolution, a dildo I've wanted for ages!
The newly-released Cush O2 (update: I adore it)
Holy crap, Tantus. Way to make a girl (and her vagina) feel special. Also, practically all the toys are big. I see what you did there. CHALLENGE ACCEPTED.
Extremely preliminary tests reveal that the O2 Revolution, Cush O2, Mikey O2, and Max O2 are all superb. And I'm not just saying that! Unfortunately, I have a lot on my "to review" plate right now, but some of these need to be reviewed, so that I may shout from the rooftops how awesome they are.
Thanks again, Jenna and Tantus. Y'all are too much!
See all my favorite Tantus toys here!
You better believe I have an insanely neurotic opinion about this! [↩]
No, I have no idea what they are. There is no info on the packets. I have to PLANT THEM AND FIND OUT. [↩]