I don't like to clutter my blog and inundate you with information you may or may not want, so I usually confine this info to my sales & deals page… but not today. This sale at SheVibe contains too many good toy purchase opportunities. It will allow you to purchase toys that I adore for 15-20% less than their usual prices. Therefore, I AM TELLING YOU.
All of these deals are through May 7th, except the Tantus one which is through April 30th. There are also some blowout deals of up to 75% off that I'll link to at the bottom.
Here's the main freakout-inducer:

15% off rechargeable vibes. Think about that for a moment. Practically all the vibrators I love are rechargeable.
The LELO Mona 2 (review) is my A+++ vibe as of late, with its versatile shape and impressive vibration strength. Clit vibes Leaf Life (review), LELO Mia 2 (review), We-Vibe Touch (review), LELO Siri (review), and We-Vibe Tango are also the shit. I consider the Minna Ola (review) a clit vibe as well — just a customize-your-pleasure one.
There's also the Fun Factory Big Boss (review), one of the only insertable vibrators I enjoy with the vibrations on.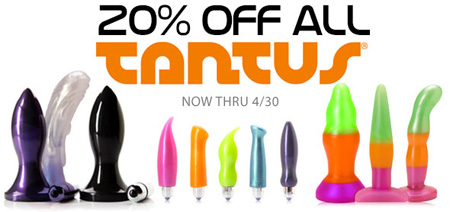 AND THEN, you can pair that with a rad dildo or butt plug from my amigos at Tantus! Oh, this is too good. Dildos I heart include Splash, Cush O2 (review), Echo (review),, and Max O2. Butt plug du jour would be Ryder.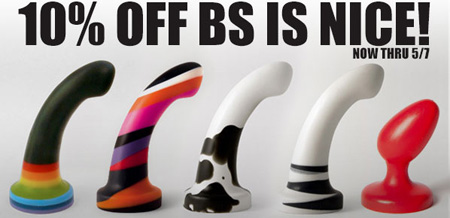 Less important but still good is this sale for 10% off BS is Nice silicone toys. Cows! Stripes! Cute butt plugs!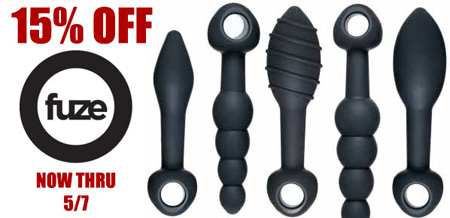 Also, 15% off Fuze by Happy Valley. These are fun little butt plugs with holes designed for bullet vibes. I like 'em.
And lastly, 15% off Fleshlight Freaks.
Anyway, you have until May 7th to take advantage of most of these deals (April 30th for the Tantus one). Hop on it!
SheVibe is also doing a blowout right now, with up to 75% off certain toys while supplies last.
This one includes Fun Factory toys starting at freaking $7.75, with some rechargeables at just $25. The LELO Isla and Soraya are $64 and $80. Vibratex starting at $20. Glass anal plugs for $16. And wooden dildos starting at freaking $33.