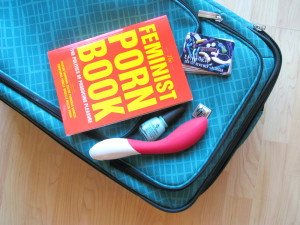 In 15 hours, I will be touching down in Los Angeles for CatalystCon West. Yes, two days early. Shut it. This time, I'm on a panel, and hey, I just want to have some time to chill out before everything happens all at once. Last time went by far too quickly.
As you can see, I'm packing the essentials. Armed with more sweet business cards from MOO (some new designs since the first batch), I'm also bringing my copy of The Feminist Porn Book to have it signed, and my favorite travel toy, the Mona 2. You'll be pleased (slash petrified) to know that I've found the perfect Epiphora-colored suitcase and nail polish.
I'm thrilled as fuck to be attending Tristan Taormino's Sex Educator Boot Camp again this time (you can find me checking people in and then taking feverish notes on my laptop all day). I will also be at the shy/newbie meet-up, and I'm likely to attend "Toxic Toys: Beyond Phthalates," "Talkin' About a Revolution: Partnership Between Sex Educators and Adult Retailers," and "Moral Panic."
There are more new people to meet this time around. I'm especially excited about meeting Amanda Hess, Aerie, Penny, Krista, and who could forget: Danny Wylde. I might puke on him out of nervousness, but I will meet him nonetheless. No more of this mysterious camming shit.
Plus I get to hang with the gang of awesome people I already know and love: Lorax, Queeraschino Cherry, the Redhead Bedhead, Cooper, Metis, and Jenna. You guys!
I will try to tweet as much as I can, but judging by last time, don't expect a lot. If you want to follow along with the tweets from my panel, the hashtag is #cconreview and the panel is taking place on Saturday at 2:40 p.m. Pacific. Don't worry; we'll also be taping and transcribing the panel afterward. [Update: you can read the panel transcript here!]
Are any of you going to be there Wednesday or Thursday? Wanna hang? Also, what am I supposed to say to the cheerful old men I'm bound to meet in the elevator, who see my official-looking badge and ask what I'm there for? I was so awkward last time. "Um, a conference…"