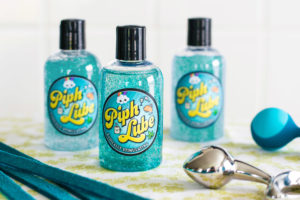 [Surprise! This wine-infused sparkly stoner lube was an April Fool's joke.]
Feels like I've been waiting forever to tell you this and I'm nearly bursting at the seams. So I'm just gonna blurt it out: GUYS, I HAVE MY OWN LUBE NOW.
It was my BFFs over at SheVibe who helped me turn this dream into reality. They've never helped develop a lube before, but they were down for the challenge. Now, after many months of planning, designing, and testing, it is here. Introducing Piph Lube: a radically stimulating water-based lubricant formulated with pure Portland rain water.
This is the height of celebrity. [. . . read the rest]