Is it a sign things are finally looking up? Fuck, I'll take anything. A pair of legendary vibrators, cult classics, revamped and enhanced 10 years after their initial release. They were already in the mail to me; I didn't even have to ask. When I opened the PDF with the details, I got that rush — the rare jolt of serotonin we all live for these days. The feeling of finally. Followed by wow, I'm ancient.
While my eyes scanned the curves of the Touch X as if marveling at a beautiful woman, my brain pinged with realizations. The magnetic contacts glimmered like a pair of silver earrings, answering my neverending prayers for a charging cord that attaches firmly. Three raised buttons beckoned for me to press them, promising the kind of granular control I've always fantasized about. I scrolled down to the list of features, where the phrases "8 intensity levels" and "more rumbly" filled me with desire.
If one can be aroused by a product information sheet, I was. And that's noteworthy, since my sex-pickled brain hardly registers vibrators as erotic.
I wasn't alone in my glee. My blogger friends reacted to the Touch X and Tango X with a similar number of exclamation points and expletives. Like me, they've been waiting years for modern adjustments to be made to these beloved vibes. We've witnessed small updates: charging cord evolutions, glossy silicone switched to matte, funky trapezoid-shaped packaging replaced by a basic cube. But the Touch and Tango themselves have remained largely unchanged over the past decade, slowly aging while the sex toy industry has exploded around them.
They were trendsetters, back in 2011. Before the We-Vibe Tango, the word "rumbly" did not exist in the adult industry's vocabulary. The majority of vibrators at the time were high-pitched and surface-level, but the Tango's timbre was vastly superior. Deeper, thrummier. We needed a word for it, to explain why it felt revolutionary. And so, over many years, in blog posts and verbal discussions, a dichotomy emerged: rumbly vs. buzzy. The Tango existed in opposition to the shitty, dissatisfying vibrators of the past.
Capitalism bein' what it is and doin' what it does, now every sex toy manufacturer wants to co-opt "rumbly." Few have earned or proven it; in marketing materials, the word has lost nearly all meaning. Then again, so has "powerful." These aren't accurate descriptors so much as regurgitated buzzwords. Translation: "don't you want to give us your money?!"
Tango X: a lipstick-shaped seductress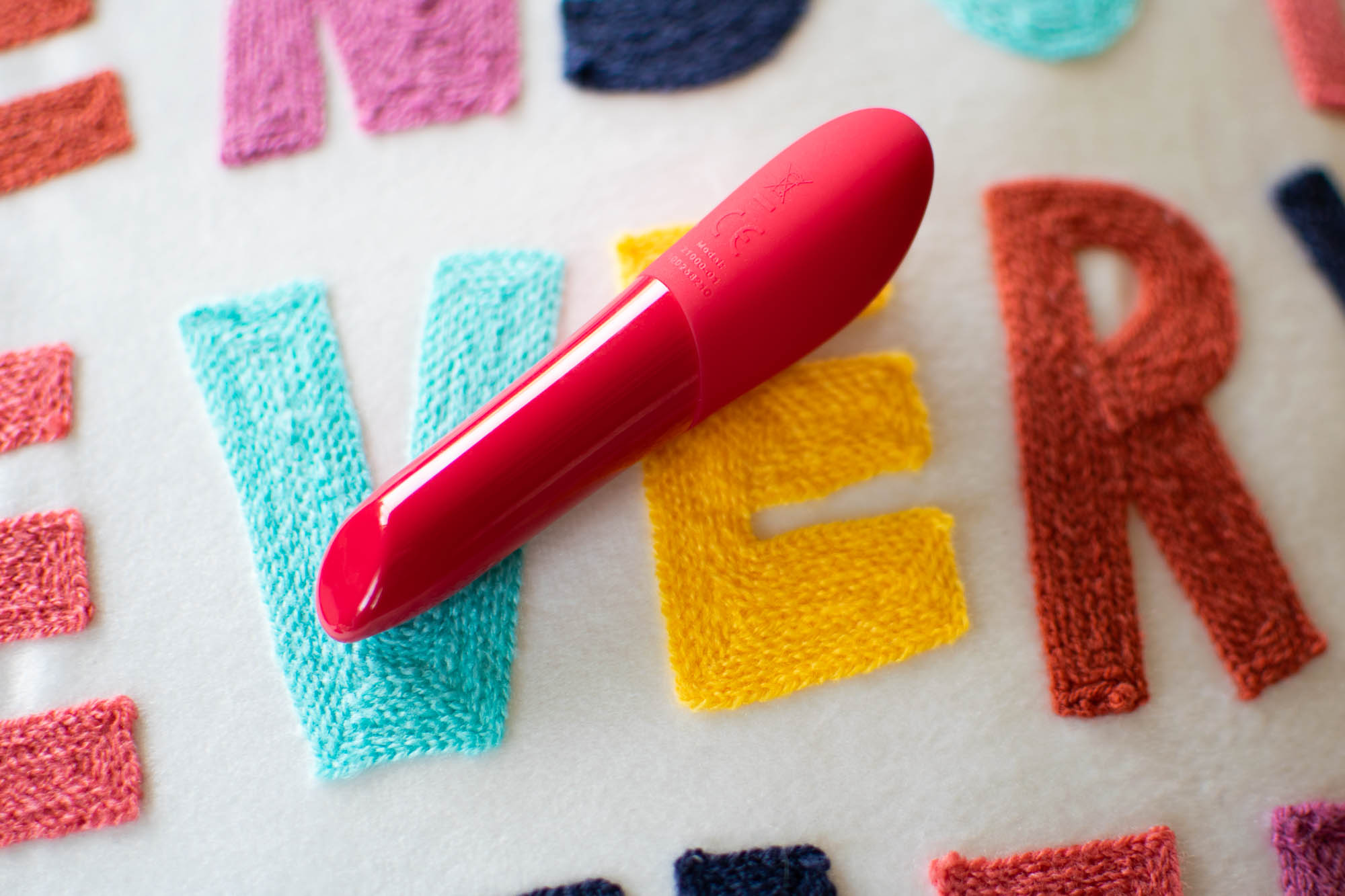 We-Vibe granted my biggest wish for the Tango: a grip for my fingers. I always felt like a whiny baby complaining about the buzz, but it really did deter me from using the toy. Can't focus on my clit when my fingers are busy rattling! The Tango X's silicone buffer doesn't completely dampen the vibrations, but it takes the edge off enough for me to tune them out. This alone makes it a massive improvement.
The Tango X is indeed rumblier than the original — according to We-Vibe, an adjustment was made to the motor — and this translates to a slower, more subdued vibration. It is not as searingly intense as some of its modern day competitors, because vibrators are capable of wild shit nowadays. But personally, I prefer vibrators that don't chop my clit into hamburger. I want my sex toys to seduce me a little, not jump straight to smothering me with unbridled energy.
The Tango X is a seduction. Its tip thrums like a rhythmic massage, inviting me to indulge. The shiny plastic glides between my labia better than silicone. I can start off slow, teasing, on low levels where the tip feels like it's tapping against my clit, then progress into the stronger middle modes. I can orgasm, right there, because the depth of the stimulation is so satisfying. Or I can turn it up more.
Or I can turn it down, BECAUSE THERE ARE THREE BUTTONS NOW! No more cycling through settings with a single button! No more getting stuck in pattern purgatory!
That freedom to explore a spectrum of vibration intensities, all of them rumbly as hell, is what makes the Tango X special. We-Vibe's decision to expand the number of intensities from four to eight is an enormous upgrade to the user experience. The vibrations live right on the surface, not muffled by a layer of silicone, and it feels exquisite. I can escape into the ecstasy of it without getting distracted by my numbing fingers or worrying I'll accidentally click into a pattern mode. My mind is free, and my clit can relish the sweet sweet vibes — the vibes the Tango is famous for.
My sex blogger group chat has now collectively swooned over how amazing the Tango X is. But the Tango excelling at giving people orgasms is not exactly front page news, so let's talk about the stuff it historically did badly. Stuff that folks tended to forgive because it gave them such stupefying pleasure.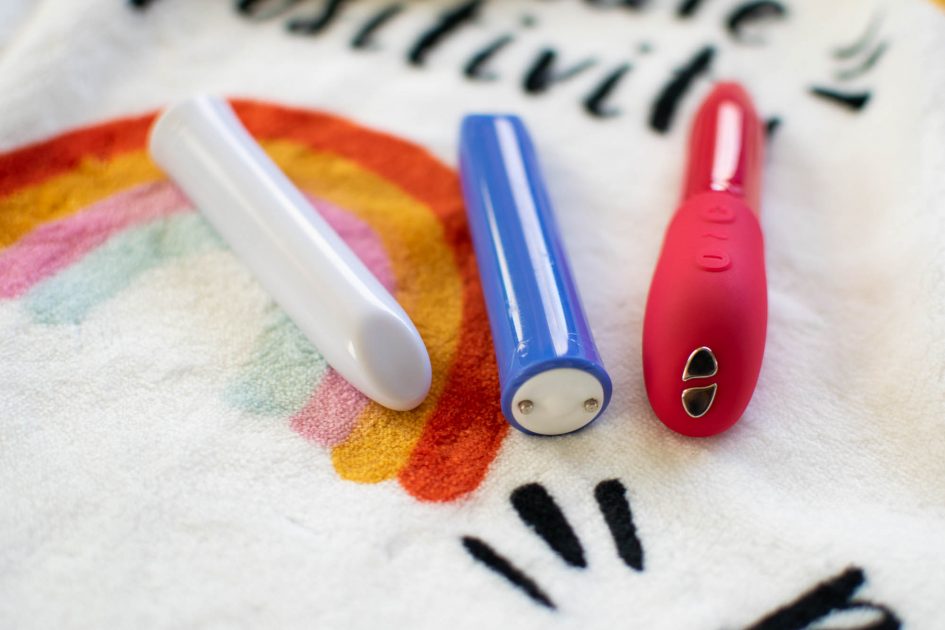 The most important "under the hood" change to the Tango/Touch X is the battery. It is now a lithium-ion battery, the same one used in We-Vibe's other products. Fingers crossed, but it should give the toys a longer and more reliable life. They're backed by a two year warranty now, so you're covered for at least that long. And gone are the days of babysitting the toy while charging — the cord clicks solidly onto the magnetic points and the light illuminates brightly. Huge improvement over the original toothpick-sized light that barely glowed and charging cord that came detached if someone so much as looked at it the wrong way.1
Some updates make me nostalgic. The Tango X and Touch X finally have a travel lock, which reminds me of the time I returned to my hotel room during a conference and found a Tango spinning in the sheets. Instantly it made sense to me: my roommate was depleting the battery so it wouldn't go off in their bag at the airport. Then I remember how we had to label our Tangos at #dildoholiday because there were so many. That little thing has been a sex blogger staple for so long.
It's cool that I'm still here, still blogging. I'm here to see my wishes for these toys come true.
Touch X: a major vibrational upgrade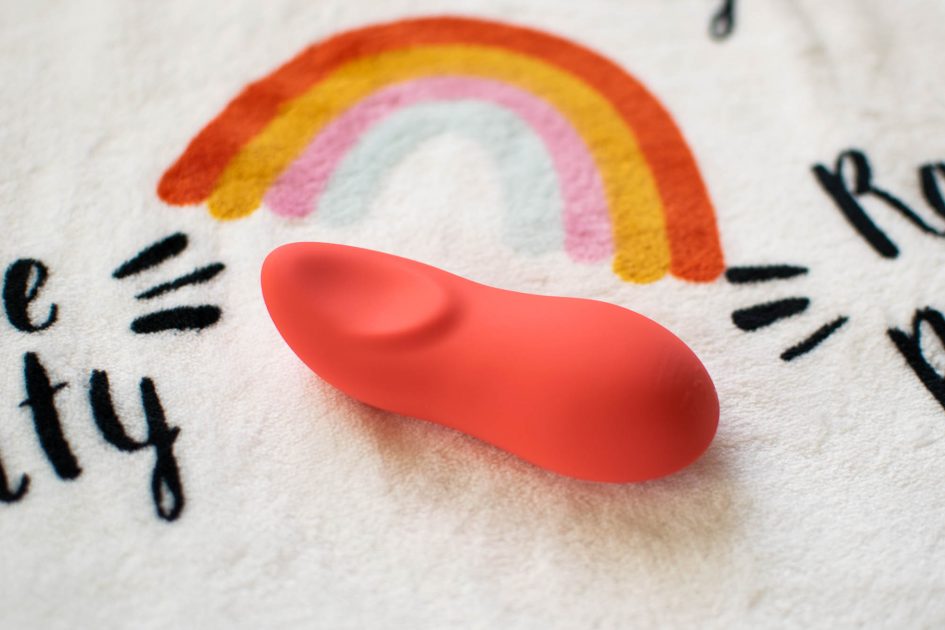 The new slowed-down motor is especially effective in the Touch X, because it supplies the toy with something that was lacking in the original: depth of vibration. Despite having the same motor as the Tango, the Touch always felt more shallow and buzzy. Not disastrously so, but in a way that became less tolerable as the years marched on and my clit became a connoisseur.
Just in time, the Touch X has been updated and refreshed. Now, its vibrations are low-pitched and fluttery. They've been summoned to the surface, where they reverberate and hum with joyful abandon. The eight vibration intensities offer plenty of room to incrementally increase the power. Meanwhile, the "pattern" button is not raised like the other two, as if to say, ignore me. [cue laugh track] Hey, at least you can adjust the intensity of patterns now, should you decide to try them on a whim.
My love for the Touch was always fueled by its perfectly pinpoint yet gently rounded tip. We-Vibe didn't mess with that bit of excellence, and I'm very glad. It's perfect as-is. The scooped shape allows for more broad stimulation if laid flat against the genitals, while the tip focuses the stimulation in a single spot. The marketing proclaims this a "lay-on vibrator," but in my life it's more of a "sit at desk and poke yourself vibrator." It can also be a "slide between two bodies vibrator." That's the beauty of it. It's a versatile little potato.
(Am I not the master of making vibrators sound appealing?)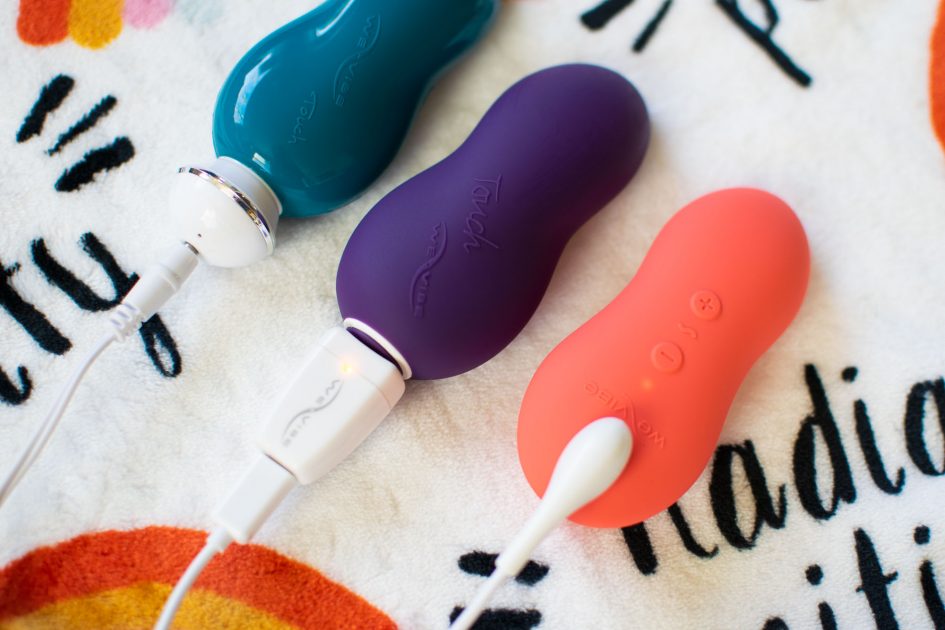 Perhaps my habit of calling the Touch a potato explains why We-Vibe added more defined edges to the base of the Touch X. But these edges poke my fingers a little when I hold the toy, similar to the way the Dame Pom does. Also, if you ask my brain, the buttons are on the "wrong" side of both the Touch X and Tango X. Small quibbles, but whatever. Run time remains mostly the same as the originals, with the Tango X lasting 104 minutes on high and the Touch X running for 74 minutes.
The Touch X's vibrant coral, reminiscent of tropical My Little Ponies, is much cheerier than the previous sad purple. It's also available in a stunning forest green (yes, I am pouting about not getting that color), and the Tango X comes in cherry red or midnight blue. We-Vibe didn't jack the prices up, keeping the Tango X at a cool $79 and the Touch X at $99. Perhaps that's why neither of them have phone app functionality.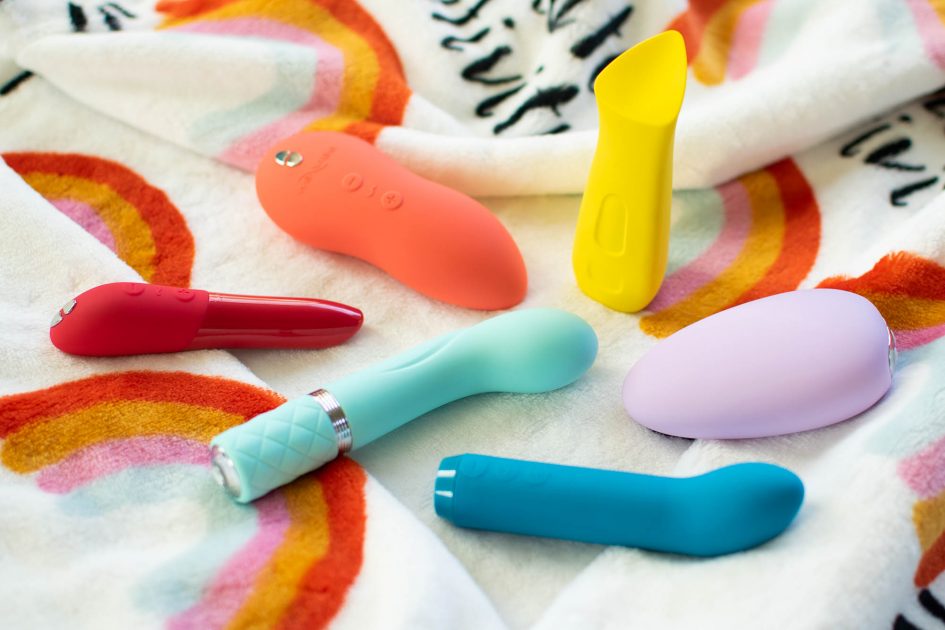 In this sparkling new post-Trump era — forgive me, I just really needed to write that — there are a handful of bullet vibrators that take the cake for me. The Tango X is the slimmest and rumbliest, but the least powerful overall.2 The BMS Pillow Talk Racy is the cheapest and most intense, but it's also the buzziest and has the worst battery life (42 minutes). The fluttery, strong Je Joue Mimi runs for a jaw-dropping 148 minutes. The Touch X is one of the most adjustable and versatile, though somewhat buzzy; the Dame Kip has that unique sloped edge that I love pressing against my clit; and the Je Joue G-spot Bullet offers the most rumble for your buck.
If there's one thing I've learned from a decade of over-analytical masturbation, it's that orgasms are easy but satisfying pleasure is not. It's all about the journey, man, and so many things can dampen the mood along the way: impossible buttons, abysmal battery life, inconvenient charging situations, overheating motors, or, if you're particularly unlucky, horrendously buzzy vibrations.
Masturbating with a mediocre vibrator is like staying in a basic motel with an unremarkable bed and scant amenities. Sure, you'll get a night of sleep, but you're not gonna feel pampered. Using the Touch X or Tango X is like staying at a fancy hotel where the bed is luscious and amenities abundant. Maybe they have flavored coffee creamer, or there's an outdoor bar with a fire pit. Are those things necessary? No, but they make the whole experience better.
These are, now and still, some of the finest bullet vibrators money can buy.
Get the Tango X at We-Vibe, SheVibe, Spectrum, Enby, Early to Bed, Peepshow, CAYA (CA), or Lovehoney.
Get the Touch X at We-Vibe, SheVibe, Spectrum, Enby, Early to Bed, Peepshow, CAYA (CA), or Lovehoney.
The original Tango and Touch are 25-30% off on We-Vibe's site right now.
---
Win the Touch X or Tango X!
I told the peeps at We-Vibe that I couldn't possibly review these toys without offering them up in a giveaway, and they AGREED! This giveaway is open to entrants in the US and Canada. There will be two lucky winners, one for each vibe. Gain entries the following ways:
Follow me + tag a friend on Instagram (+1 entry per comment)
Share this post on your Instagram Stories + tag @heyepiphora (+3 entries)
Follow me + retweet on Twitter (+1 entry)
Follow me + tag a friend on Facebook (+1 entry per comment)
Leave a meaningful comment on this review (+5 entries)
Feel free to enter on whichever platforms you wish, or all of them to increase your chances. This giveaway ends in a week, so enter now!
Winners will be chosen randomly on Saturday, February 27th and contacted via social media DM or comment reply. They will have 48 hours to respond.
The cord is so infamously finicky, I used it as a prop in my dildo butler joke.