I've been published in Best Sex Writing of the Year, Volume 1 and Storerotica and featured in Playboy, Slate, Women's Health, VICE, Bitch, and XBIZ Premiere magazine. I have been a guest on Tristan Taormino's Sex Out Loud Radio on two separate occasions and I participated in a couple panels at CatalystCon West and East. SheVibe made me into a superhero — twice, Kinkly has consistently named me a top sex blogger each year, and I was quoted in Tristan Taormino's book, The Secrets of Great G-Spot Orgasms and Female Ejaculation. Also, porn star Danny Wylde once called me "Sex Toy Reviewer Extraordinaire."
See all my press clippings below, followed by heartwarming quotes. If you'd like to write about or interview me, shoot me an email at hey.epiphora [at] gmail or use my contact form.
Jump to: 
Books & magazines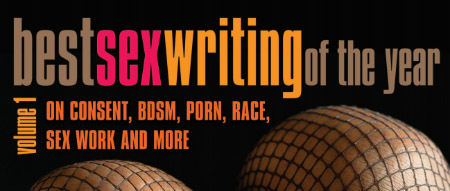 My piece, "What Should We Call Sex Toys?", was published in Best Sex Writing of the Year, Volume 1! Check out this video of me reading my piece as it appears in print.
Purchase a copy of this book at Amazon, GoodVibes, or She Bop!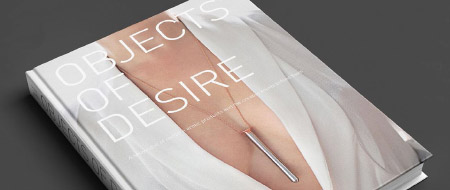 I'm featured in Objects of Desire, a book about sex toy design! There's a Q&A with me on page 156, along with product spotlights and interviews with leading sex toy industry folks.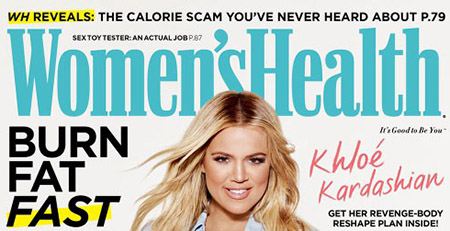 I was interviewed for the October 2015 issue of Women's Health UK. (I love that the teaser on the cover reads SEX TOY TESTER: AN ACTUAL JOB.) See a PDF here, or read the online version here.
"I've become quite adept at clenching dildos to keep them from slipping out of my vagina while I scribble down notes." Not a line from an EL James novel, but an example of the multitasking skills of Epiphora, a sex blogger who enjoys a sideline in adult toy testing. She's one of hundreds of people regularly called upon by sex-toy companies to help them develop the next Rabbit. "My vagina's seen a lot of things – I've got more than 500 toys in my current collection."

I'm the resident sex toy expert in the 2nd edition of Deborah Sundahl's classic and groundbreaking book, Female Ejaculation and the G-Spot! Find me on page 124 and beyond, interviewing sex shop owners and divulging my favorite G-spot toys (the Seduction, Pure Wand, and Comet Wand).
Get this book at SheVibe, GoodVibes, Smitten Kitten, She Bop, CAYA (Canada), or Amazon.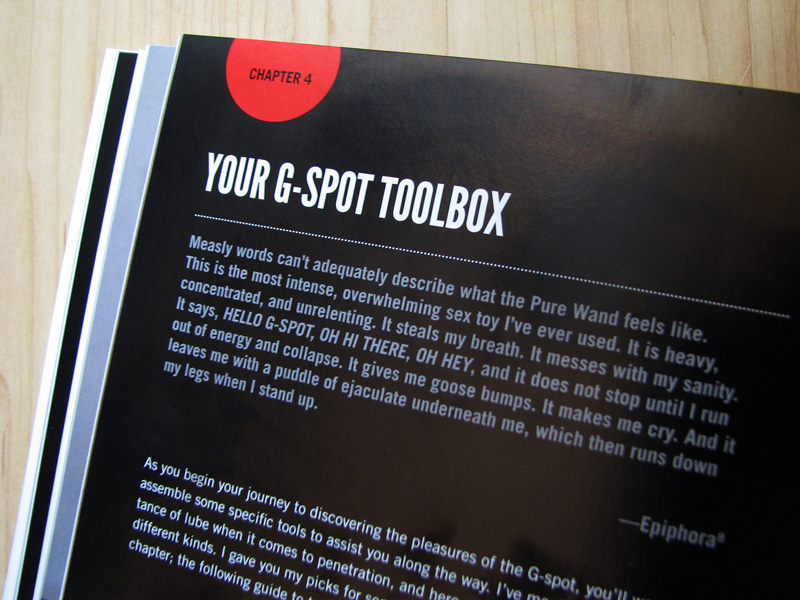 A quote from my Pure Wand review kicks off chapter 4 in Tristan Taormino's The Secrets of Great G-Spot Orgasms and Female Ejaculation.
Grab this book at Amazon.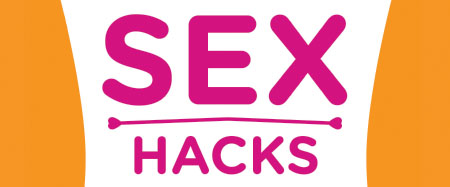 I doled out several ace sex tips in Kinkly's book Sex Hacks: Over 100 Tricks, Shortcuts, and Secrets to Set Your Sex Life on Fire (pages 29 and 36). Hint: one of them involves a lube dispenser.

CLEO, August 2015 issue, "Your Sexual Kick-Starter" [August 2015]
I'm a resident sex toy expert in this issue of Australia's popular women's magazine, CLEO, with tips on how to pick out a great sex toy (and of course, a shout-out to my fave, the LELO Mona 2).


StorErotica, April 2018, "Featured Blog" (pg. 70)
My review of the Toyfriend Smooth Operators was published in this issue of StorErotica.
StorErotica, February 2018, "Featured Blog" (pg. 88)
My review of the Zumio was published in this issue of StorErotica.
StorErotica, October 2017, "Featured Blog" (pg. 50)
My excitement over We-Vibe's new cock rings and butt plug was published in this issue of StorErotica.
StorErotica, December 2016, "Featured Blog" (pg. 90)
My review of the Fun Factory Bi Stronic Fusion was published in this issue of StorErotica.
StorErotica, June 2016, "Featured Blog" (pg. 92)
My post about buzzy and rumbly vibrations was published in this issue of StorErotica.
StorErotica, April 2016, "Featured Blog" (pg. 78)
My review of the Fun Factory Boosty was published in this issue of StorErotica.
StorErotica, February 2016, "Featured Blog" (pg. 52)
My review of the Womanizer W100 was published in this issue of StorErotica.
StorErotica, December 2015, "Featured Blog" (pg. 74)
My review of the L'Amourose Rosa was published in this issue of StorErotica.
StorErotica, October 2015, "Featured Blog" (pg. 74)
My review of the Fun Factory B Balls and Marc Dorcel Geisha Plug was published in this issue of StorErotica.
StorErotica, August 2015, "Featured Blog" (pg. 64)
My rant against vibrators with masculine "personalities" was published in this issue of StorErotica.
StorErotica, June 2015 issue, "Featured Blog" (pg. 78)
My review of the Joyful Pleasures glass dildos was published in this issue of StorErotica.

XBIZ Premiere magazine, "Blogger Spotlight: Meticulous Mentor" [04/09/12]
A self-proclaimed "sex toy encyclopedia," Hey Epiphora began reviewing sex toys in 2007 for an online sex toy shop before launching her own platform to unleash her own "snarky, ridiculously truthful thoughts on sex toys" in 2008. HeyEpiphora.com has since blossomed into a trusted source for consumers looking for comprehensive product recommendations and commentary on modern-day cultural views on sex and its icons.


EAN, "Blogger Nation: The Power of the Notorious Blog Squad" [04/18]


Sexual Health Magazine, "Pleasure Confidential: Men's Top Sex Questions Demystified" [03/07/18]
Radio & podcasts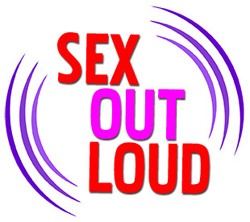 Sex Out Loud Radio, "Epiphora on Testing Sex Toys and Writing with Honesty and Snark" [04/04/14] (bonus: links to products mentioned)
Sex Out Loud Radio, "Julie Stewart on Keeping Couples Connected with Sportsheets and Epiphora with Honest Sex Toy Advice" (transcript here) [11/15/13]
Quote from Tristan Taormino herself:
Thanks to YOU for that fantastic fantastic gift guide, and you've donated a lot of masturbatory hours all in the name of giving good advice to my listeners, which I really appreciate . . . You can always count on Epiphora for her no-holds-barred reviews.

Sex on the Brain with Amory Jane, "Episode 5: Holiday Sex Toy Bonanza!" [12/15/16]
I'm a guest along with the hilarious Dirty Lola! Listen to us go through my bag of strange and wonderful sex toys, including the corn on the cob dildo, and banter about our experiences as avid sex toy users and sex toy retail workers. We discuss, among other things, our different vaginas but shared love for the Magic Wand and Pure Wand, what happens when sex educators go to play parties, the failure of all "panty" vibrators, cooperative labia, sex toy gift-giving, and much more!
Listen here, and get links to all the toys mentioned here.
Sex on the Brain with Amory Jane, "Episode 9: Live from the Femme Sex Party!" [2/17/17]
An intimate, sexy, revelatory look into the queer play parties my friends and I hold. I'm at 14:56 awkwardly introducing myself, at 28:52 where AJ narrates my sex sportscaster-style, etc. After listening to this, I think you'll see why these parties are so magical to me. (For more on the parties, read this lovely piece by another friend of mine.)
Sex on the Brain with Amory Jane, "Episode 15: The One Where Everyone Masturbates!" [7/12/17]
A group of babes get together to talk about masturbation, watch porn, and touch themselves and each other. I can be found at 20:23 talking about my unique relationship with masturbation (and supplying the porn that we watch!). This episode is full of personal stories, vibrator sounds, moans, laughs, and real orgasms.

Sex City Radio on CIUT 89.5 FM in Toronto, "Sex Toys, Breakups, and Asexuality" [08/22/17]
Interview with Kate Sloan about sex toy reviewing, toxic toys, my online sex blogging class, and more!
Sex City Radio on CIUT 89.5 FM in Toronto, "July 7, 2015" [07/07/15]
Interview with Kate Sloan about my hashtag #notpee, why the media and science are obsessed with squirting, tips for aspiring squirters, what particular skills you need to be a sex blogger, and more!
Sex City Radio on CIUT 89.5 FM in Toronto, "August 12, 2014" [08/12/14]
Interview with Jon Pressick about how I got started reviewing sex toys, why it's important to evolve as a blogger, why I don't review slimline vibrators, what I think about the influx of new sex toy reviewers, why I'm wary when a brand new sex toy company asks me to review something, and how to avoid getting a disappointing sex toy.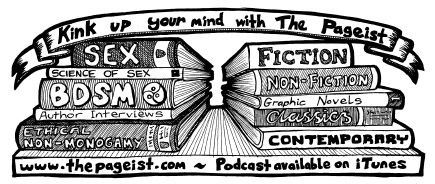 The Pageist, "Episode 79: Epiphora and Reviewing Sex Toys" [03/26/18]
I chatted with The Pageist about the absolute WORST sex toys I've ever tried, puzzling sex toy trends, picking out (good) sex toys for yourself and others, the reality of being a sex toy reviewer, and much more.
Online media

Violet Blue, "Sex-Positive Porn and Resources"
For over seven years, this website has reviewed sex toys mercilessly and with much wit (and snark), earning its tagline, "Where sex toys go to be judged." It's an invaluable resource, and has done more than anyone realizes to change the conversations around sex toys, sex toy safety, and how we relate to our little friends.

Playboy, "Bad Vibrations: Sex Toy Safety" [01/17/14]
For now, there are some resources available to consumers. Both the Progressive Pleasure Club and the Coalition Against Toxic Toys highlight sex shops nationwide that specialize in "body-safe" nontoxic toys, many of which can be purchased online. And several blogs, such as Hey Epiphora and Dangerous Lilly, review sex toys for safety—and efficacy.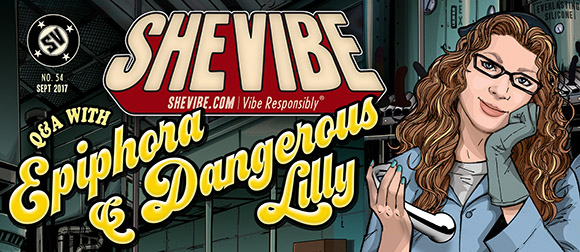 SheVibe, "September 2017 Cover: They do the dirty work so you don't have to!" [09/01/17]
When SheVibe thinks "Sex Toy Superhero", we think Hey Epiphora and Dangerous Lilly. Always fighting the good fight, each of them have been hard at work for the past 10 years educating the consumer, often making us laugh and sometimes making us cringe.

This month, with education at the forefront, we provide a quick Q & A with our heroes, so you can get a tiny bit of perspective into what the world of a sex toy blogger is really like.

BuzzFeed, "17 Gorgeous Sex Toys You Won't Want To Hide In A Drawer" [10/06/16]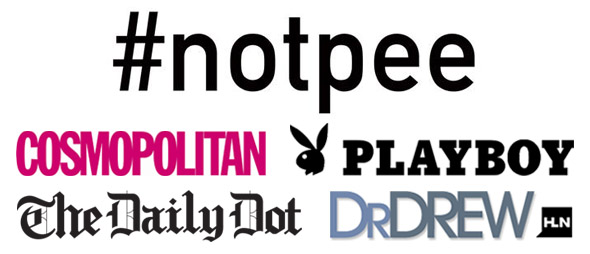 In January of 2015, I wrote a post and created a hashtag, #notpee, in response to a scientific study claiming that female ejaculate is "essentially urine." The universe found out about it and it was discussed on Cosmo, Playboy, The Daily Dot, Dr. Drew, and Mic. Summation of the hoopla can be found here.


The Sweethome, sister site to gadget-reviewing The Wirecutter, did a series of guides about sex toys with help, recommendations, and quotes from me. Check out their lists of the best vibrators, best G-spot toys, and best anal toys, which are 80% spot-on.

VICE, "Why Are So Many Sex Toys Shaped Like Animals?" [09/01/17]
Epiphora—a sex toy reviewer with 10 years of experience blogging at HeyEpiphora.com—still feels that the worst part about the Impulse Butterfly wasn't the pain it inflicted, but how demeaned she felt wearing it. "It says, 'Hi, I'm a purple gooey butterfly haphazardly strapped around your body. Yes, it has come to this,'" Epiphora wrote in 2009. Eight years later, she told me she stands by that statement.
VICE, "The Shape of Sex Toys to Come" [09/09/13]
Sex toy review site Hey Epiphora—something like the Ars Technica or Wirecutter of adult products—has an entire section tagged "did humans even test this?" that highlights some of the more bizarre sex toy UIs out there. One such example is a toy where controls are on the insertable part of the product: "[t]he buttons are even more difficult to push when they're IN MY VAGINA," Epiphora wrote. Another example is something called the Split Dildo, a squishy, silicone, two-pronged dildo meant to perform an act originally intended for three separate, physically capable adults. Just take a moment to imagine wrangling that thing on your own.

"It's astounding how many sex toys have badly-designed controls," Epiphora said via e-mail, adding that many design choices "annoy the shit" out of her. For example, "I'm not a big fan of one-button controls, because I don't appreciate having to cycle through all the settings to find the one I want, and never knowing where I am in the progression. And sometimes those toys won't even turn off when you hold the button down! On the other hand, an abundance of buttons quickly becomes confusing and wearisome."
VICE, "The FDA's Crusade Against Lube" [03/04/15]
Lube specialists say it's paramount to be mindful of what you're using the lube for, and also what's inside. "Vaginas and butts are mucous membranes, as susceptible to harmful ingredients as mouths," said Epiphora, a sex toy writer who runs the website Hey Epiphora!, in an email interview. "They'll absorb whatever we put in them and react accordingly."

Bitch Magazine issue 67, "Yes We Can: Gushing Over the Ability to Ejaculate" [Summer 2015]
Many online users responded to the study's claim and the media's sensational reporting with the hashtag #NotPee. Men and women alike testified to their experiences with female ejaculate and its distinction from urine in smell, taste, and color. Sex-toy blogger Epiphora sparked the campaign with her blog response to the latest study: "I've felt it, smelled it, and soaked towels with it, and many other people with vulvas also report: it's not urine."
Bitch Media, "The Trouble With Toxic Sex Toys" [11/20/13]
"Most people are shocked to realize that nobody is stopping companies from making sex toys out of whatever materials they want, then labelling them however they please," laments Epiphora, a snarky sex toy reviewer with six years (and 400 sex toy reviews) of experience. "It upsets me to see people so disillusioned with sex toys."

ThirstyAffiliates, "Affiliate Interview: Hey Epiphora – Sex Toy Reviewer & Blogger" [01/15/18]
I'm really excited to share with you an interview today that has been in the works for a while with one of our users.

Her name is Epiphora and she's in what most people would call a somewhat unconventional niche for affiliate marketing. It's not your traditional make money online or weight-loss type product – she reviews sex toys for a living.

Boasting a collection of well over 600+ toys and banging away at the keyboard for over a decade now has made her a household name in the sex blogger niche. Companies are lining up to get their products reviewed.

I wanted to delve deep here and see what makes Epiphora stand out and why her site is so successful.

The Plaid Zebra, "These Bloggers are Paid to Test Sex Toys, But it's Not as Easy as it Looks" [03/12/16]
Epiphora works on reviews for weeks or months; it's important to her that she not only describes each toy accurately, but that her posts are entertaining to read. "I'm a perfectionist and I will spend hours rearranging sentences to achieve some semblance of flow," she told me. "I will labour over articulating something in precisely the right fashion." Her reviews have been lauded as witty, thorough, and ruthlessly honest— a reputation she's cultivated through thousands of hours of diligent work.

. . . "I don't get paid per orgasm and I don't get compensated for shitty orgasms," Epiphora told me. "I wish."

. . . Epiphora's solidified her reputation as a sex toy expert, in part, by writing reviews that are not only negative but sometimes downright mean. Her blog's tagline is "Where sex toys go to be judged." On her "About" page, she describes herself saying, "I'm brutally honest, snarky, a bit jaded, and don't believe in sugarcoating anything except my coffee." Readers flock to her signature snark — because they know by now that when she loves a toy, she really loves it, and when she hates a toy, the resulting blog post will be laced with so many sick burns that you might laugh coffee out your nose.

A close relationship with readers decides whether a blogger sinks or swims. Sex toy reviews help consumers make decisions, but bloggers can also assist and advocate for readers in other ways. Epiphora writes guides to help her readers choose sex toys to give as gifts, increase their sexual media literacy and even start their own sex blogs.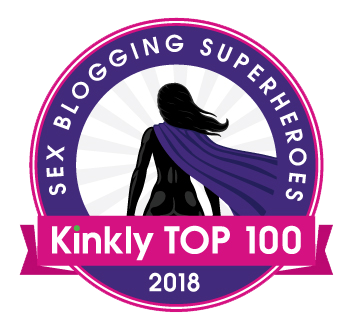 Kinkly, "Our Top 100 Sex Blogging Superheroes of 2018" [11/5/18]
Kinkly, "Our Top 100 Sex Blogging Superheroes of 2017" [10/31/17]
#3 Sex Toy Review Blog of 2017
#3 Sex Blogging Superhero of 2017
This blog was our overall winner way back in 2013. It just celebrated a 10th birthday and is as opinionated, educational — and hilarious — as ever.
Kinkly, "Our Top 100 Sex Blogging Superheroes of 2016" [11/01/16]
#2 Sex Toy Review Blog of 2016
#10 Sex Blogging Superhero of 2016
The 2013 winner and perennial favorite on our list, Epiphora rounds out this year's top 10 with ruthlessly honest reviews.
Kinkly, "Our Top 100 Sex Blogging Superheroes of 2015" [10/30/15]
#1 Sex Toy Review Blog of 2015
#7 Sex Blogging Superhero of 2015
This snarky sex blogger has made our top 10 for the third-year running. Her mercilessly honest sex toy reviews are some of the best – and most entertaining – on the Web.
Kinkly, "Our Top 100 Sex Blogging Superheroes of 2014" [10/30/14]
#3 Sex Blogging Superhero of 2014
This sharp-tongued writer is the cream of the crop when it comes to relentlessly honest sex toy reviews. When she loves a toy, you'll know it. We she hates it, you'll know it. Either way, enjoy the ride!
Kinkly, "Our Top 100 Sex Blogging Superheroes of 2013" [10/29/13]
#1 Sex Blogging Superhero of 2013
This sex toy reviewer has a mind-blowing sex toy collection, a "very discerning vagina" and an aversion to all things pink. She's also got the words to keep you on her site for days.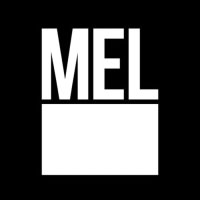 MEL Magazine, "Can the World's Most High-End Sex Toys Really Deliver a Golden Orgasm?" [03/18/19]
So I asked Epiphora, a veteran sex toy reviewer who personally owns over 600 toys and blogs about the high, the low and everything in the middle at Hey Epiphora, to help parse this stuff. Her reviews are so respected because she's not afraid to tell you when the pricey toys aren't worth it, like this $400 sex chair called the Rumble Seat that looks like a toilet. She also keeps a running tally of her all-time favorite sex toys priced under $200.

The Gramlist, "Kiss & Tell: 5 Sex Writers to Follow" [02/08/16]
If you're looking to invest in some nightstand-drawer playthings, read reviews on Epiphora's site before going anywhere else. She has over 400 toys and reviews them all, sharing anecdotes and how-to-use-it advice. If you aren't a fan of battery-operated experiences, her writing is still worth reading for its sardonic wit.

Maisonneuve, "A Wee Dispute" [11/17/15]
Epiphora is another ejaculator who says that the debate hinges on systemic sexism. "Male pleasure is seen as standard, common and sensical, [while] female pleasure is seen as amorphous and mysterious," she says. "Female ejaculation is also similar enough to something that men do that I think it feels threatening."

The phenomenon of predominantly male scientists speaking on behalf of women's lived experiences is what prompted Epiphora to start the Twitter hashtag #NotPee, where she encourages people to share their experiences of ejaculation.

Kinkly.com, "Sex Blogger of the Month: Epiphora of HeyEpiphora.com" [04/03/17]
Kinkly.com, "Sex Toy Reviewers Share Their Top Toy Picks for Valentine's Day" [01/30/17]
Kinkly.com, "Sex Toy Testers Share Their Top Picks for Valentine's Day" [02/01/13]
Kinkly.com, "We Accosted Sex Experts with a Mic – Here's What They Said" [10/03/3]
Kinkly.com, "More Bang for Your Buck: What Makes a Luxury Sex Toy?" [11/20/13]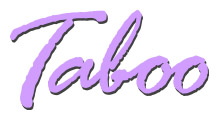 Taboo, "Interview with a Sex Blogger — Hey Epiphora" [08/11/15]
The world is full of sex toy reviewers. Some review privately to partners and friends. Others post anonymously on shop sites. Then there are those who posess enough talent, ingenuity, and dedication to touching themselves to turn sex blogging into a full time job. Of these, Epiphora is one of the most well-versed and thorough and definitely the snarkiest. Her website, heyepiphora.com is chock full of helpful toy reviews and witty sex blogs. As both an English major turned porn peddler and a woman horrified by the Taffy Tickler, I was eager for some one-on-one. Here are my questions, her answers, and a few links to some very worthy reading.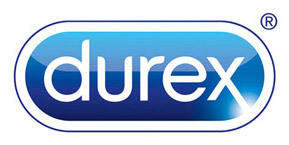 Durex, "Durex's Favorite Sex, Love & Relationship Blogs" [09/10/14]
Epiphora has more than six years of blogging about sex toys under her belt. With discerning tastes and honest and straightforward reviews you'll find that she doesn't mince words or dance around a subject with odd euphemisms. As a speaker and columnist her information on sex toys is widely respected. If you've been wondering about a toy you want to purchase we recommend you head to her blog to see if she's already reviewed it.

Romper, "Is It Safe To Masturbate While Pregnant? A Baby Bump Shouldn't Stop You From Getting Off" [02/03/16]
 A long-handled vibrator used clitorally may help with reach. Sex toy blogger and expert, Epiphora, recommends the Lelo Mona 2 for this purpose. For an inexpensive option, try the Blueberry Buzz, which has many speed options and, since it's made of hard plastic, it conducts vibrations strongly. It's important to be gentle if you decide to use an insertable toy, as toys that are too long or too hard can cause discomfort during pregnancy. Epiphora recommends something made from dual density silicone, like the O2 line from Tantus or VixSkin from Vixen Creations.
Romper, "9 Places To Masturbate, Because The Bedroom Can Get Boring" [11/12/15]
Sex toy reviewer and blogger Epiphora writes a Jack Off Journal, in which she chronicles her masturbation sessions. Many of these sessions take place while sitting at her computer because — you guessed it — the porn is way more accessible there.

LELO, "Female Ejaculation: What Is Squirting?" [04/30/15]
US toy reviewer and writer Epiphora says, "Find your G-spot first! This is most easily done with a well-designed G-spot toy. Once you've experienced the unique "need to pee" sensation that comes from G-spot stimulation, you'll know how to keep moving toward that sensation." (We highly recommend you read Epiphora's vivid, sexy and explicit account of the first time she squirted.)
LELO, "Female Ejaculation: How To Squirt" [04/30/15]
"I think historically there's been debate about female pleasure in general," says respected sex toy reviewer and sex writer Epiphora. "Male pleasure is seen as standard, common, and important. Female pleasure is seen as amorphous, mysterious, and secondary."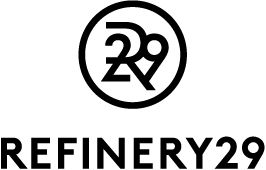 Refinery29, "Porn For Women: A Tasteful Guide To Sexy Time" [11/26/13]
Hey Epiphora is "where sex toys go to be judged." Epiphora's writing is great. Her reviews are frank and often hilarious. I'd suggest never buying a new sex toy without first reading what her "discerning vagina" has to say about it. Warning: After reading this blog, your wallet may suffer — there are so many fun gadgets out there to try!

Babeland, "Epiphora's Womanizer Review" [01/16]
One of the best toy reviews ever! Not just that the toy is good, but the review is so entertaining and smart. What a great writer: she manages snarky and sincere at the same time, which is no easy feat!

. . . A lot of people report that the womanizer's sucking action gave them immediate powerful orgasms, Epiphora doesn't have quite that story, but still a positive review and one of the most honest & detailed we've ever read.

And did I mention entertaining . . .

Glamour Brazil, "Saiba quais são os 100 melhores blogs de sexo do mundo" (the top 100 blogs in the world of sex, translation here) [01/15/14]

Slate, "Lifestyle Lady Bloggers Don't Write About Sex. Should They Have To?" [12/07/12]
While there are few dildo recommendations integrated into décor and recipe-centered blogs, you can find hundreds of them at Hey Epiphora, the online outpost of a woman who exhaustively reviews sex toys for a female audience. In many ways, Epiphora is a typical "lifestyle" blogger; she's just a sexually focused one. When she's not reviewing the latest $100-plus vibrator, she files confessional blog entries like "My Vagina Is A Black Hole," an account of how she got comfortable using penetrative toys, and "The Two Weeks of My Sex Life I Lost to Zoloft," a discussion of how antidepressants can affect a woman's sex drive . . .

Jane's Guide, "Hey Epiphora"
If you are tired of blogs reviewing sex toys and claiming that they are all just wonderful, then you will really like Epiphora [i-pif-er-uh]. She pretty much tells it like it is. Her reviews read a bit like a chat with a good female friend, rather than a sales pitch. Taste in sex toys is personal, and her descriptions actually give you enough info to make a fairly educated guess before shelling out $100+ on a luxury toy. Awesome.

Sex in Words, "The Hook-Up: Hey Epiphora"
If you want to know about sex toys, you go see Epiphora. Her 'if ya can't beat off with 'em, snark style' is legendary. It is also extremely valuable.

Maximum Erotica, "Review: Hey Epiphora"
The hunt for the perfect sex toy just might be a little easier after visiting the website Hey Epiphora. Never one to shy away from an honest critique, this sexual realm definitely speaks its mind. From vibrators, to cock rings, and a butt plug or two, new users will get the scoop on the latest toys. Offering more than sex toy reviews, Hey Epiphora has an intrinsic appeal in the form of one word, "Genuine." Articles that a new user or viewer can read are not from a cookie-cutter prospective.

. . . The foundation of Hey Epiphora comes across as a website you can trust. Providing more than your average review it gives its members a peek into the world of an advocate user. Who else better to share as well as relate to when you want to express yourself sexually?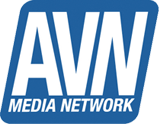 AVN, "CatalystCon: Spreading the Sex-Positive Message in Porn Valley" [09/30/13]
In the "Will Write For Dildos: How And Why Companies and Reviewers Should Work Together" panel, manufacturer reps and reviewers alike offered tips on getting started as a sex toy reviewers, as well as how to maintain mutually beneficial relationships.

One of the most important — if not most obvious — suggestions was to keep the lines of communication open and honest. If reviewers will not get to a review for some time, they need to be upfront about that. And if manufacturers are asking to preview reviews before they post, state it clearly that's not your policy.

"Be honest in your review," said panelist and blogger/reviewer Epiphora. "You have to care more about the reader than paying back a perceived debt to the toy company."

Lovehoney.com, "So You Want to Give a Sexy Gift This Holiday? 15 Sexperts Share Their Top Tips" [12/07/15]
Lovehoney.com, "The Truth About Sex Toys — Interview with Epiphora" [07/25/13]
Epiphora has built up a huge resource about the products she reviews, including helpful information about sex blogging. If you want to know the truth check her blog, she's real and never holds back.
Lovehoney.com, "Experts Share Tips for a Sexy Valentine's Day" [01/29/13]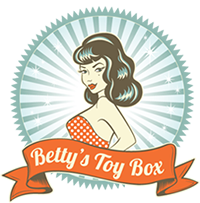 BettysToyBox.com, "10 Sex Bloggers Name Their Favorite Sex Toys" [01/12/16]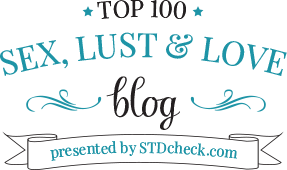 STD Check, "The Top 100 Blogs on Sex, Lust & Love" [04/17/17]
To mostly some up Epiphora's site, we'd say, "Honest AF sex toy reviews galore!"– but there really is more there that matters. We love her because she reviews sex products with brutal honesty (which everyone appreciates!), and also calls out shortcomings of the sex and adult industry like toxic toys and erroneous scientific studies in her "Um, No" series.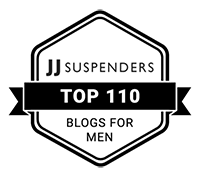 JJ Suspenders, "The Top 110 Blogs for Men" [04/06/17]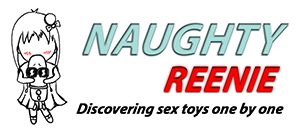 NaughtyReenie.com, "Interview: Hey Epiphora" [07/17/13]

DangerousLilly.com, "Interview with a Sex Toy Reviewer: Part 3: Epiphora" [01/31/12]
Epiphora is a sex toy reviewer first and foremost. She does what she loves, what she does best, and she has a big following. She's been controversial at times and never shuts her mouth for anybody or anything — and usually she uses her powers for good. But oh when she hates something, and she really fucking hates it, we love to read it!

The Valley Advocate, "Digital, Digital Get Down" [01/19/12]
This popular sex toy reviewer spends her days doing three things — masturbating, blogging and drinking coffee. A frank glimpse into one young woman's toy-driven sexploration with snarky critiques of crappy toys and frequent giveaways of the ones she loves the most, Hey Epiphora's got her fingers on, in and around the pulse.
Other quotes
The Samantha Bee of our nether regions.
If you are a sex toy enthusiast and haven't stumbled across Epiphora's blog, you're missing out (and maybe don't know how to use a computer). She's one of the best sex toy reviewers around . . . So, if you're in the market for a toy and want a very well-considered, yet entertaining (and sometimes snobby) opinion, Epiphora is your gal.
Simply the best sex toy reviews blog I've come across.
My favourite sex toy review site [is] Hey Epiphora. She's been reviewing sex toys for nine years and her experience shows. Reviews are well-written, hilarious and, if the product isn't up to the job, take-no-prisoners . . . Her enthusiasm is palpable. . . if you really want a good time, go to the Slush Pile, which is the worst of the worst and just start reading. When Piph gets to trash something, well. That's when things get great. Trying to read one of these reviews out loud without laughing would be a fun game with your friends. Each one take a turn on a review and see who can make it the longest before cackling like a lunatic.
Your reviews are like Michael Kors tearing apart a Project Runway mess.
I trust her because I once spent an ungodly amount on a vibrator which turned out to suck. Found out later that even though it's from a fancy company that would totally send her stuff for free, she gave it the horrible review it richly deserves.
Someone I would trust with the safety and happiness of my genitals any day.
"Piph likes it!" Just like Mikey and his breakfast cereal, Epiphora has a discerning taste for her sex toys and she doesn't mince words.
Epiphora writes as though she doesn't owe anything to anyone. And her style isn't lying to you, because she doesn't. To call her snarky would suggest that you know nothing about her. Yes, her writing emits snark but it's so much more than that. Her sarcasm is biting, but her attitude is nothing in the realm of flippant. With every word you can taste the anger that she has for the industry, and at times, the passion she has for strides taken towards improvement and actual innovation. She will never apologize. And she never should.

. . . Piph came such a long way and cultivated this identity, as well as this lifestyle. She didn't just make a name for herself- she set a fucking precedent. She doesn't care about the backlash of a bad review, and will always stand up for what she believes in. She is fiercely loyal to her readers and to her own sense of responsibility, which is never taken lightly. She is the single-handedly most integrous person I've ever had the pleasure of being in the same orbit as, and there is no one more in this community who inspired me quite like she has. Everything she does is, unequivocally, for her readers. She started out as that wild card, that game changer, that unrelenting force. Well, she started a fucking revolution.
—Millennia Toybox
So, the first sex blog I read way back when (alright, on the 1st), was HeyEpiphora, and her blog is one I visit daily. There's so much content I've not had a chance to read and educate myself on! (It's also no secret that I adore her and her S N A R K.)

So, while reading through her reviews I found myself sharing the funniest ones with my friends and they'd laugh and read more of her blog too. And I noticed that not only was Piph educating people on sex toys, but she was BRUTALLY HONEST, gave them a laugh and converted some people who didn't even READ sex blogs, to reading sex blogs and purchasing toys.
—Kasi
Sweet looking for such a snarky toy reviewer.
Her writing style and strong opinions are her trademarks. If she says that something is amazing, we take her word.
If you don't trust my blind judgment, and you don't trust the peanut gallery, at least trust Epiphora, because really, if you can't trust her, who CAN you trust?
Most of the toys I've bought (as opposed to receiving for review), I've bought because Epiphora has recommended them. She never steers me wrong.
If you aren't already reading Epiphora, you should be! Funny and smart sex toy reviews with a healthy side dose of simmering rage.
One of my favorite sex toy bloggers . . .  You all should be reading her. I don't buy ANYTHING without reading her reviews.  She's a talented writer and overall awesome person.
—Rose
Epiphora is one of my all-time favourite sex toy reviewers. And also one of the few original sex toy reviewers still around — yup, she's Old Skool. I've actually been blog-stalking Epiphora for quite some time now. If I'm curious about a toy, the first thing I do is check to see what Epiphora has to say about it — she knows her shit! She knows what she likes and she's not afraid to say so. With her combination of snark and hilarity, I have literally spent HOURS on her blog. Not only have her reviews influenced a lot of my purchases but they have also saved me some serious cash! I hope someday to have amassed the collection that she has!
Find many reviews on the net trying lascivious, salacious unnecessary and humorless, often irrelevant and intrusive, by which I mean things about the following style: "when my friend came home, I had put on my sexy underwear. before I surprised him with a new toy, I got him a first down … " – So what I do not want to read! It does not interest me and is too intimate and therefore embarrassing. way, scolded enough! There are also many happy exceptions, my dearest favorite site in this respect https://heyepiphora.com/
—German-to-English translation of a post on a German forum that I still love