Progress is slow, yet quick.
I've had this sex blogging gig long enough to have been around when the first rechargeable cock ring was released, and while a handful more have cropped up throughout the years (oh and never forget the LELO Pino, more known for its sleazy marketing tactics than its functionality), there haven't been a ton of new rechargeable rings.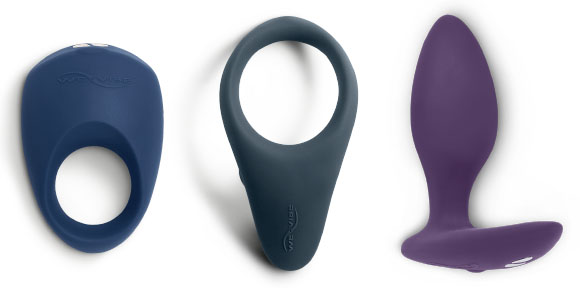 Then suddenly, in a flurry, We-Vibe has released three new toys: the Pivot ($109), Verge ($119), and Ditto ($129). Two cock rings, one butt plug. All rechargeable. All app-responsive. Probably, knowing We-Vibe, all equipped with kickass rumbly motors?!
This is good stuff. We-Vibe makes another butt plug already, the Dusk, but it doesn't have an internal motor — its vibrational power comes from the addition of a Tango in its base. The result? A jiggling of butt cheeks more than anal nerve endings. The Ditto, I hope, should focus the vibration internally. I wish it had a curve à  la Bootie, but at least it's small and short (3″ long, the sweet spot for me!).
If my email inbox is any indication, people are clamoring for something like this. Everyone wants to plug up their person of choice and vibrate them from afar. And, in the past, options for doing so have been… questionable. Weirdly shaped. Buzzy. With rudimentary remote. Made by misogynists. There's nothing worse than a butt plug made by misogynists, you know? You can just feel your humanity melting away the longer you wear it…
Fellow blogger Carrie Contrary received the Ditto recently, so I asked them for a preliminary report. They reported:
The Ditto is surprisingly rumbly, especially considering its size! I've had my share of annoying, buzzy vibrating plugs, and this is not one of them. It's small and easy to use: great for people just getting into anal play. And the included remote is a nice touch. You can connect to it through the WeConnect app, but the remote adds fun if you or your partner don't want to want to mess with phones. As far as downsides are concerned, due to its short length, it doesn't work all that well as a prostate massager. But it's really a great little toy, why hasn't it been done this well before now?
ALSO, the cherry on top: I saw this ad in XBIZ for the new rings, and there is not a hint of gendered language in it. No "men" this, no "women" that. It reads, for example, "[Verge's] unique design was created to massage the perineum, the erogenous zone between the scrotum and anus that responds to both pressure and vibration. Wear Verge on your own or during sex so your partner can enjoy the rumbly vibrations."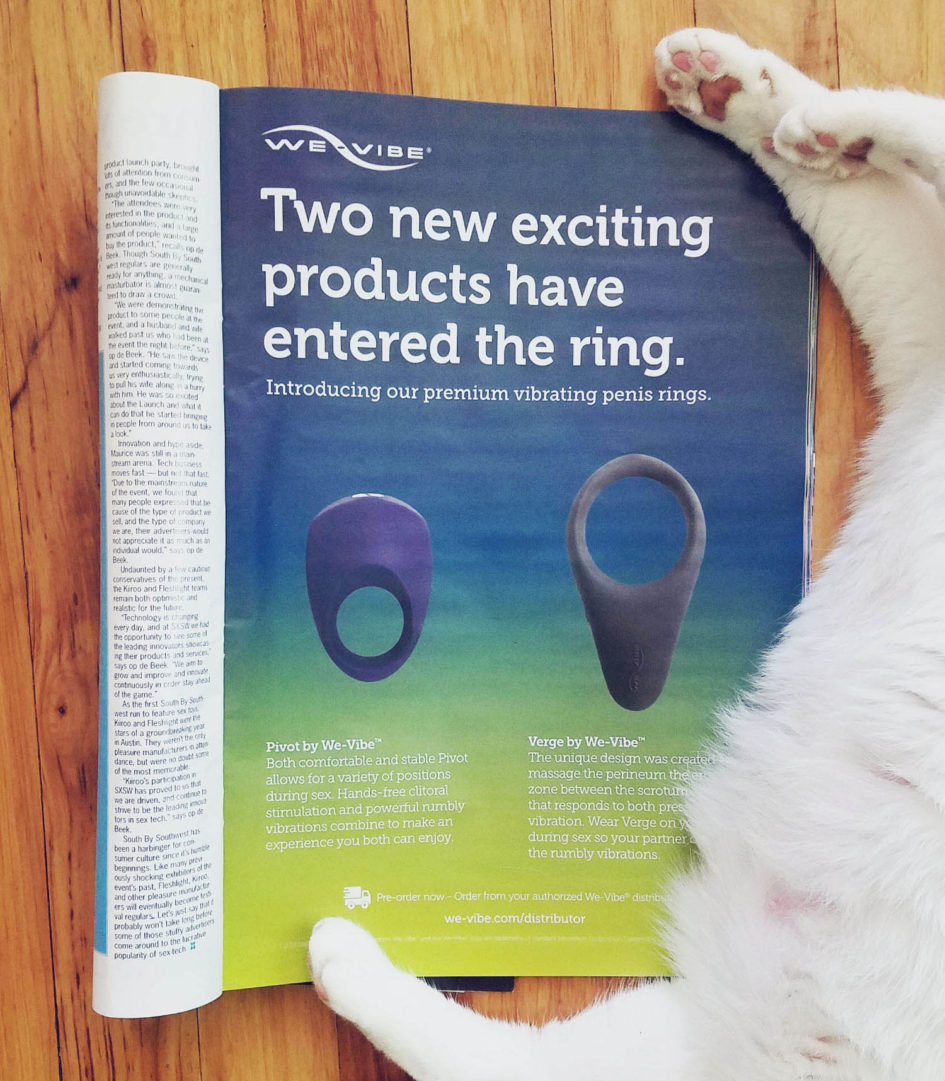 What is the gender of the person wearing the ring? Of the partner? Nobody knows! Nobody cares! Fucking thank you, We-Vibe. Take notes, everyone else.