I have some big news I've been dying to share.
No, no, I'm not pregnant. Not getting married. Moving? Uh, why would I leave a city where I can get legal weed and open-air vulvas in my face at the strip club?! Nah, it's more mundane than any of that. And yet, it isn't. Not for a person like me.
I have a new favorite vibrator.
You know I don't say that lightly. Vibrator, singular, as though there can only be one. Of course there are many that have graced my clit and cycled though my vagina over the years — toys with impressive motors and unique sensations — and there will be more. But the BMS Pillow Talk Sassy is a special breed, a glimmering ray of hope, a diamond in the rough. It's one of those rare vibrators I can recommend to almost anybody — which, as a sex toy reviewer, is basically the holy grail.
Obviously I care about my own clit, but I also care — one could argue way too much — about everyone else's. I want the best for all of us, our genitals and our wallets. So when I say I've been waiting years for a vibrator like this, it may sound trite and melodramatic, but I mean we all deserve a vibrator of this caliber. Rechargeable, versatile, super rumbly, and priced at a slick $65. Yes, sixty-five. Not one-hundred-anything. Fucking YES.
The Sassy is just dreamy looking, first of all. Beautiful sea foam green,1 cute pillow-top-textured handle, unnecessary-but-sure Swarovski crystal button. Apparently there is still a small, girly part of me that is surprisingly into this shit. (Or maybe I'm blinded by my fondness for the thing.) The box includes a satin drawstring bag and USB charger, both of which are helpfully labeled.
But that's not what made me squeal. I squealed because the Sassy comes with a wee little brush for cleaning its crevasses! Excuse me, I love this; it's like getting a special hairbrush with each My Little Pony. So thoughtful and actually useful! I've only ever used old toothbrushes to clean my sex toys.
I dunno what magical spell was cast on this toy to summon all the vibrations to the surface, but damn. It's NOTICEABLE. These are seriously awesome, seriously satisfying low-pitched vibrations that other vibrators only wish they could muster. The first time I took the Sassy out of its packaging, I turned it on and used it to get off in less than 5 minutes. "O yes, this is good," I wrote clumsily in my notes. "Now plz don't ruin it."
I needn't have worried, but, you know, I'm jaded.
The crystal on the handle is the only button — you hold it down to turn the intensity up, or press it quickly to turn the toy off. No patterns, no fuss. Whereas other vibrators are programmed with a few set intensities, Sassy's vibrations are adjustable along a continuum, just how I like it. To give you an idea of the range, I have to hold the button for a solid 7 seconds before I hit the highest level.
The lower vibration intensities come in handy when I use the Sassy internally, where I merely want to tickle my G-spot, give it a shot of espresso — not overwhelm it. (My G-spot is easily overwhelmed, much like the human surrounding it.) The shape of the shaft is basic, certainly not as acutely intense and squirt-inducing as the Rave, but it does the job admirably. That gentle curve makes it more universal anyway.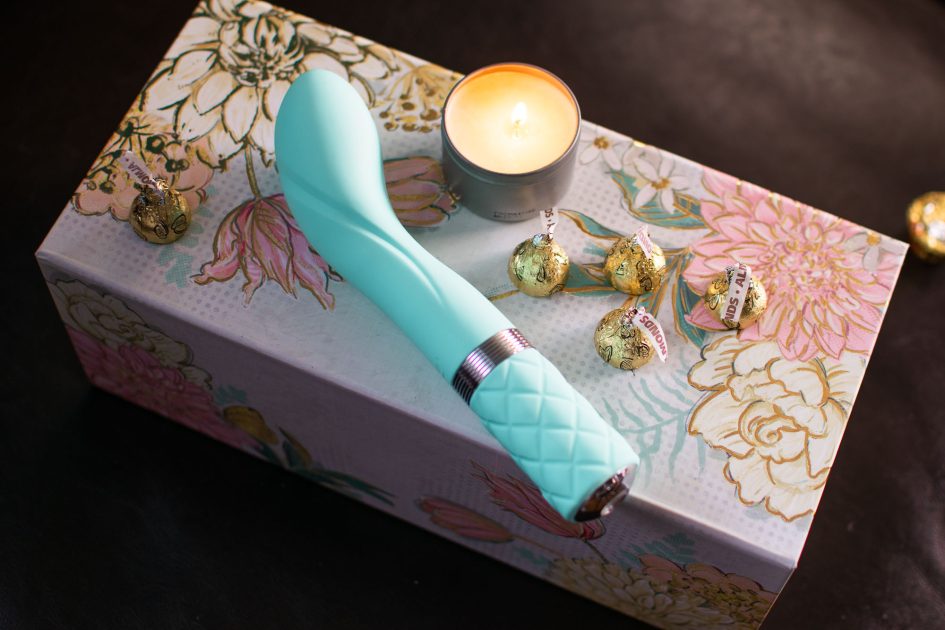 Against my clit, the Sassy's shape is of little consequence. The vibrations are the main attraction, and they carry the entire gig. Because, as I discovered after much back-and-forth testing, the Sassy is not only rumblier than the Mona 2 and Rave, but equally powerful. This is not a drill. There's a reason the Sassy is in my new blog header, and the Mona is nowhere in sight. That was a conscious choice.
It's a new dawn, it's a new day, it's a new viiiiiiibe…
I knew the Sassy was a star when I found myself using it at a sex party this summer. When I'm alone, you see, I'm liable to subject myself to all manner of disappointing vibrators. At sex parties, though, I'm (usually) off the clock. And off the clock, I enjoyed a dildo blowjob from a green-haired babe while pressing my vibe of choice — the Sassy — to my clit. Her hair matched the vibrator matched the dildo; I was aroused both aesthetically and physically.
It was a magical night. I promise to write about it one day.
However, the Sassy is not infallible. Its battery life is paltry, lasting barely an hour on high with no low battery warning. It's loud and rattly, difficult to tune out. It may or may not be waterproof — many shops list it as submersible, but the manual refutes that. (It's a grey area, like any toy with a pin jack charger.) The Sassy also won't be suitable for folks who use a lot of pressure externally, since the shaft is flexible, or those who prefer vibration patterns.
Other vibrators may have a leg up on those features, but other vibrators cost three times as much. Yes, I am alluding to my now ex-favorite vibrator, the LELO Mona 2.
To be fair, the Mona came to me at a pivotal time in my sex blogging career, and it taught me a lot about what I liked: gentle internal vibrations, highly adjustable settings, versatile shapes. That was the beginning of my obsession with using "insertable" vibrators clitorally, which I still prefer over grappling with squirrelly mini vibes. And the way the Mona's tapered tip nestled between my labia always felt so easy, so right. It still does.
But my view of LELO has soured over the years, and much of the praise I heaped on the Mona can be applied to the Sassy. The Mona has superior battery life, but the Sassy has deeper, similarly powerful vibrations, and it costs $105 less. Kinda hard to beat that. You could almost buy THREE Sassys for the price of a single Mona. Or two Sassys and a dildo. Or one Sassy, a dildo, a butt plug, and some lube!
Me, person writing this from pajama pants that are literally in tatters, is perhaps more excited about this aspect of the Sassy than the orgasms. I'm horny for a bargain.
---
Do other vibes stand a chance?
I tried several other modern competitors to see if my enthusiasm was ill-placed, but it mostly just reinforced my fervor for the Sassy. Here's what I learned.
Dorr Silker ($79) (now discontinued)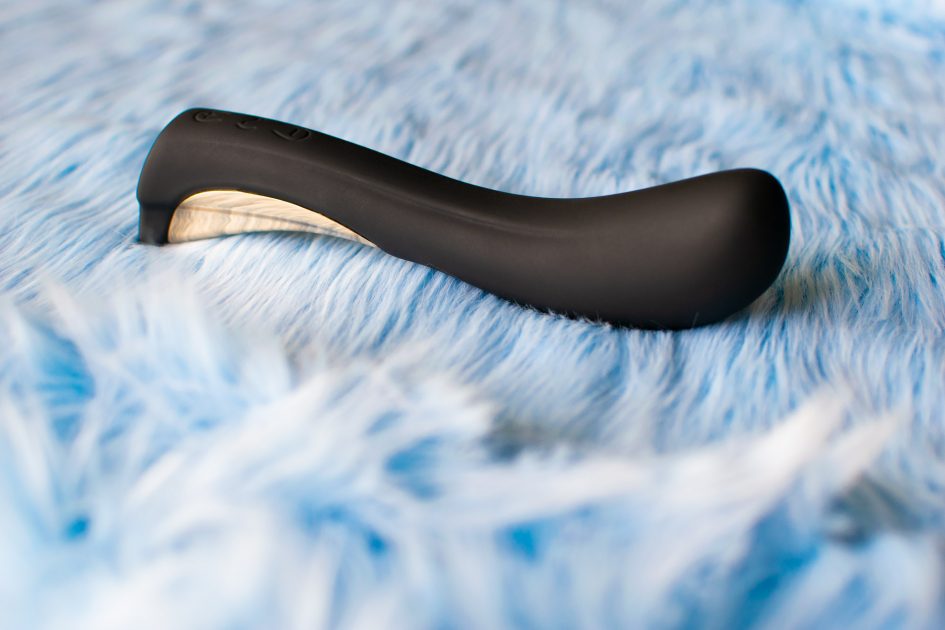 The Silker seemed like a worthy opponent, and I really wanted things to work out between us. This vibe has a perfectly sloped, thiiiick shaft reminiscent of my old school fave the Seduction, and that alone was enough to spark a love affair. Vibration on or off, it doesn't matter — shove that girthy mofo up against my G-spot and I'm immediately content with my vaginal choices. That's what the Silker has over the others here: it's irrefutably the most stimulating internally.
And the vibrations aren't bad, either. It's buzzier than the Sassy, with six intensities, but also more powerful by a notch or two. Size-wise, the Silker straddles the line: any bigger and it'd feel too bulky against my clit, any smaller and my G-spot wouldn't be as happy.
But if you sense that I'm building to a tragic conclusion, you're right: I've gone through two Silkers now, because both went haywire. The buttons feel chintzy and breakable anyway, but my first one stopped accepting a charge, while the second refused to turn off once it was on. (I developed a workaround: attaching its charging cord to confuse it into powering down.)
I have several bones to pick with the Blush Wellness G Curve, previously The buttons are ugly and unrefined,2 the shape is bland, and the vibrations MAKE MY ENTIRE SOUL ITCH. The vibrations are powerful, alright — they're also utterly unfocused and completely lacking in subtlety.
"Low" is not a setting this vibrator understands. It starts at "HELLO," jumps right into "HEY" and then tacks on exclamation points from there. This sucks for internal use, where it practically puts my vagina to sleep with its intensity, and it sucks externally, because all my focus goes to my itchy hand, not my clit.
I've seen a lot of positive reviews of this toy due to the appealing price point and rumbly motor, but every time I turn it on I immediately start fantasizing about switching to something else. That's a no from me, dawg.
Finally, the Jopen Pave Vivian has the opposite problem: it's not powerful enough. The G-spot stimulation is nice, but it has only about half the oomph as the Sassy. The strange, chopped-off-at-the-end design offers no traction for my fingertips, and the buttons are weirdly positioned on the right side of the handle, just to complicate things for no reason whatsoever. It's not a terrible toy, but it's definitely not exceptional.
---
So bow down bitches, because the Sassy is king. Queen. Princess. Emperor. Whatever gender or form of royalty it wants to be. Give it all the awards. Shower it with all the compliments. This vibrator is like a partner who brings you to orgasm like a maestro, and then, in the afterglow, proposes the perfect post-sex Postmates order. Like the kind of thing that makes you wonder aloud, "how are you so good?"
Get the Sassy at Peepshow Toys because you deserve it.
It also comes in pink, of course.