Toss out your expired groceries, because this was an
April Fool's joke
. All my escapades below are true, but I don't advise you to replicate any of my poor (and potentially
dangerous
) decisions. Always
use a sex toy
if you can.
The world wants to know which household objects can be used as dildos. Pervs have been googling that, pants around their ankles, since the internet was plugged in. An unqualified person on some random website will tell you to masturbate with bananas or cucumbers. But has that person, who at this point is probably a computer, actually done it? Nah. They don't have the balls.
But I do.
The plan? Visit the grocery store, pick out the most viable fruits and vegetables, and fuck myself with them. Report the messy truth, kernels and all. Ultimately, I'll determine which fruits and vegetables make the best sex toys, so that you, too, can have a 50-cent orgasm before tossing your dildo in the compost to rot.
How'd mother nature do, in terms of orgasmic potential? This is a question I think we all want the answer to. Today, I'm bravely going to answer it.
---
Step 1: brainstorm and vet for safety
I must admit, my penis envy is strong. Dudes get to fuck squishy shit, like nectarines. God, how I'd love to rail a cantaloupe or tear through a watermelon while smacking its ass. Instead, I must settle for a cucumber railing me.
I lit a joint and tackled the easy part: eliminating foods. Many fruits and veggies are out of the question for vaginal use. All the big spherical foods are non-starters. No citrus fruits or jalapeños, unless you want an ER visit. Gotta limit it to things a condom can fit on, shapes that won't hurt.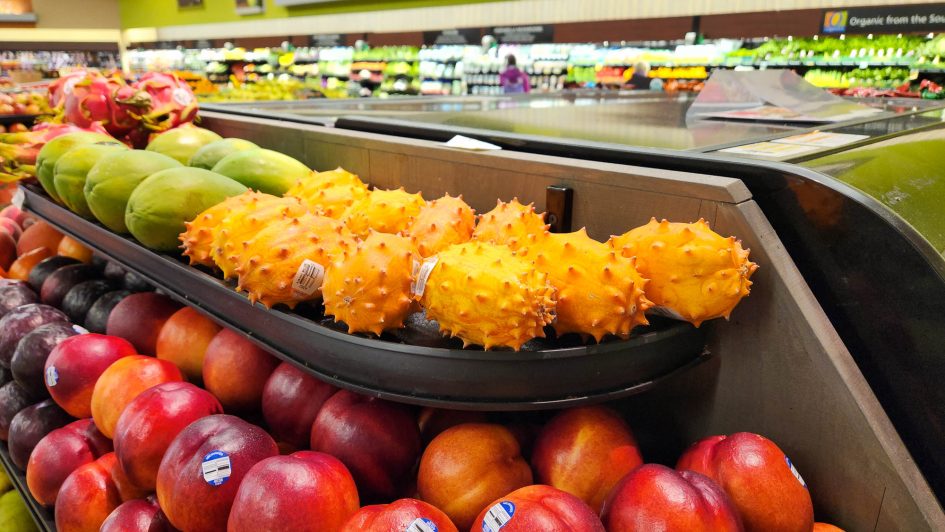 I googled "fruits safe to use vaginally," which I should've known was a fool's errand, but I only got stuff I'm meant to eat.1
Wait, I thought suddenly. Could I put a bunch of grapes in a condom and tie it up around the stem? Would that be impossible to insert? How much sugar content is in a grape? CAN I SQUEEZE A GRAPE WITH MY VAGINA?
In that moment, I saw nothing wrong with stuffing myself with grapes. A fun challenge! A new spin on waldorf salad!
When I was sober, I came to my senses. I'm an adventurous masturbator, but I can't subject myself to absurd hijinks like rubbing a head of broccoli against my clit or fucking myself with a condom full of brussels sprouts.
I decided to focus on seemingly simple (or at least doable) produce: bananas, cucumbers, carrots, yams, and corn.
---
Step 2: shop and select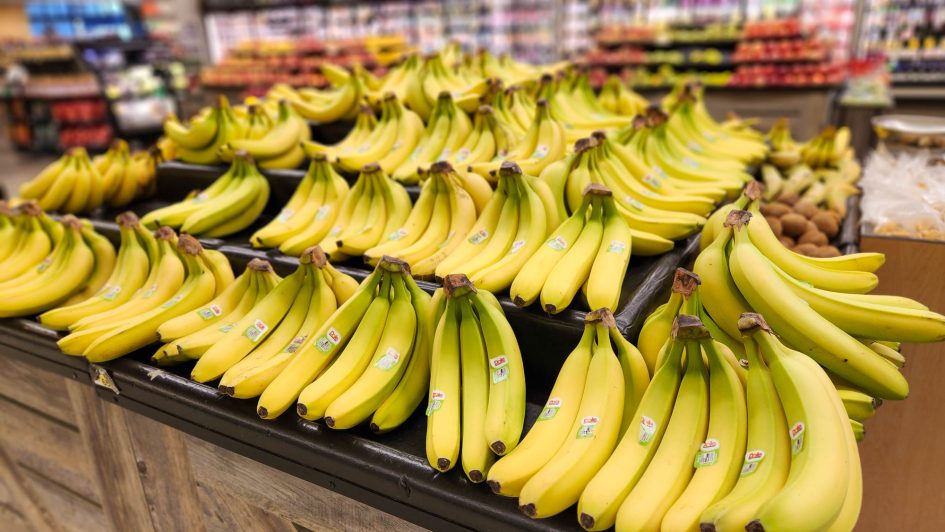 I drove to the grocery store and began my hunt. Will a green banana feel different from a ripe one? I wondered as I circled the heaping mountain of fruit. Which one will hit my G-spot best?
I didn't have much of a choice. The fruits were so uniform it creeped me out. Same with the carrots and cucumbers. There was barely any girth variation.
Before this, I hadn't realized yams were so pointy. I rummaged through the dusty pile, trying not to linger too long, as if people could read my dirty, dirty mind. The yams looked like dried up, misshapen slugs. My vagina was just as dry.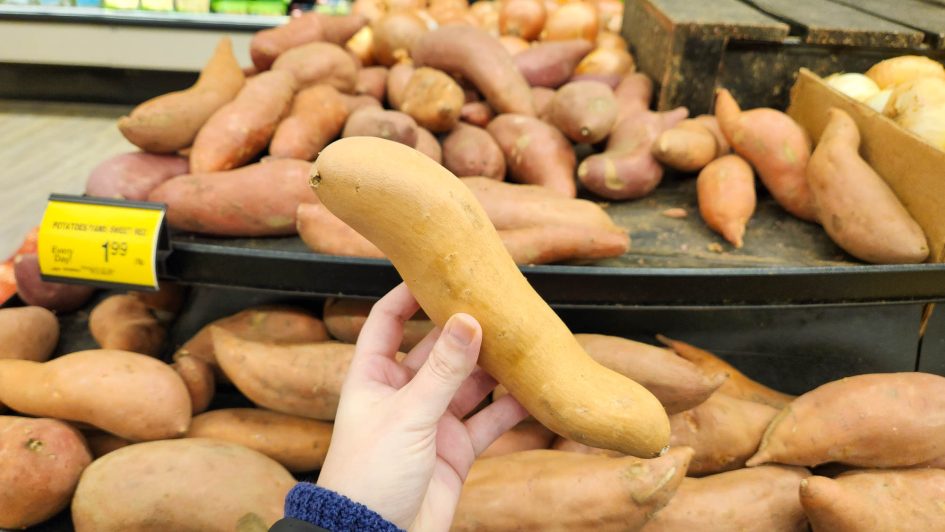 I eventually picked a chunky, uninspiring thing with a whisper of a curve. I was annoyed, but I was also determined.
Same thing happened with the corn. I came to the devastating realization that because corn isn't in season, I couldn't get it in the husk. The pre-packaged cobs had been hacked off on both ends, destroying their natural taper. The thing is, corn is my favorite vegetable. So I felt actual desire for the corn… before I realized it had been circumcised.
Also, goddamnit, I would've loved to shuck my own dildo.
In a huff, I stubbornly threw a package of corn in my basket. Somehow, I'd attempt it, in honor of corn's natural, beautiful, perfect shape — and its entire existence, a gift to us all.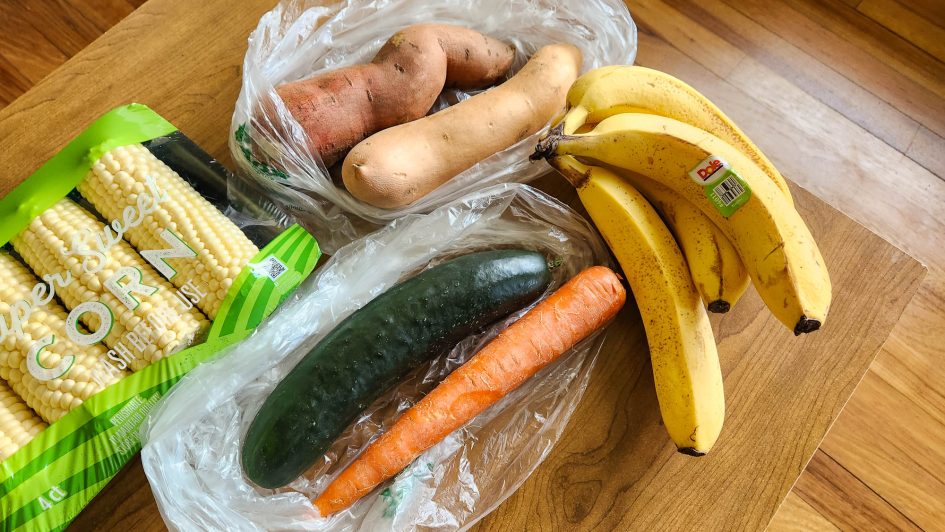 The corn was spendiest, at $5.99 for a four-pack. Yams are heavy, so that bitch was $1.50. Cucumbers are priced per cuke, and they were on sale for $0.50. Bananas cost about $0.42 each, and the carrot was $0.29.
And before you ask: no, I didn't get an eggplant. They were all monstrous.
---
Step 3: fuck the produce
I decided to seduce a banana that very day. I wanted that puppy fresh.
For a fruit-turned-dildo, the banana has a significant advantage: a natural curve. As the stand-in for phalluses everywhere, it has a rep to uphold. Much respect to bananas for their service as sex ed props, but I'm here to take things further. A lot further. A lot more literally.
I carefully trimmed the scratchy tip off the banana (a must, for safety), fitted it with a condom (same), and settled in with my vibrator, lube, and porn.
And um? It was quite good. The banana was perfectly firm; the length, curve, and girth were on point; it targeted my G-spot like a champ. Several times, I forgot I was fucking myself with a banana. That's how dildoesque it felt.
My reverie was only tainted by an ongoing struggle to keep a grip on the banana's stem. A thin stem makes a lousy dildo handle, especially since that's where the peel splits open. By the end of my masturbation session, I'd nearly torn the thing off. But my orgasm made me see stars, so… I got my money's worth. I can now say that a banana2 made me squirt.
A banana may be a single-use dildo, but at $0.42, it's an unbeatable deal.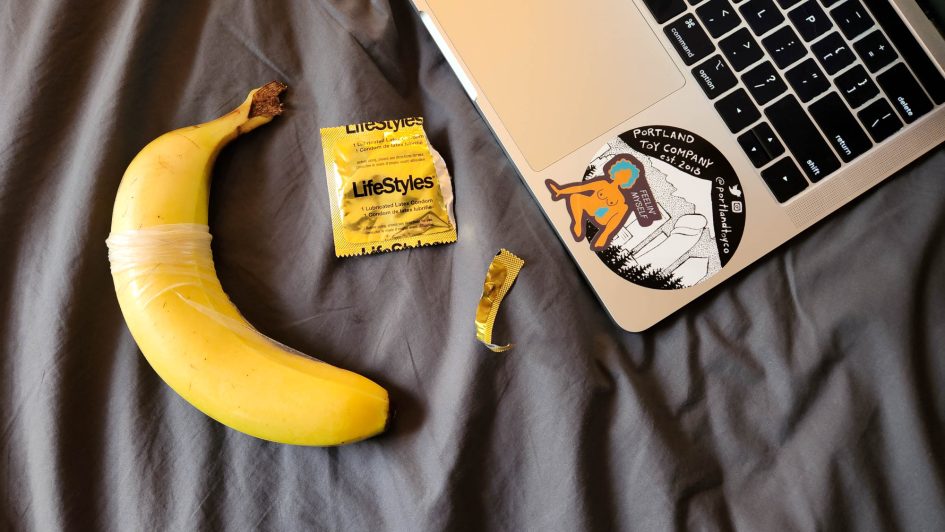 Bananas aren't really salvageable post-masturbation. The insides get mushy, and they must be eaten immediately if any part of the inner fruit has been exposed. I couldn't bring myself to eat mine. Guess I prefer to consume virginal bananas.
After that, each morning I went into the kitchen and made coffee and checked on the bananas. Brown freckles were appearing, but not rapidly. You could eat one, my brain taunted, but just know you're murdering a potential dildo. Could you live with yourself?
Four days later, my period came to ruin the fruit salad. I didn't feel like jacking off in the slightest, yet my bananas were growing softer and softer by the day. That's the thing about using food for masturbation. The dildos have an expiration date. The dildos go rotten.
But I needed to know whether a banana was still a viable dildo by day four. So I emptied my menstrual cup, popped some ibuprofen, laid the bed with the fancy shit, and rolled a condom over a banana.
All was well at first. Then time passed. As it did, my fingers sunk into the increasingly squishy fruit. I masturbated for over an hour, enthralled by the porn. Then I could feel the banana starting to disintegrate, could feel the peel splitting and the insides oozing. I was failing to get the leverage I wanted.
Orgasm time, I thought. Now. So I pounded myself with that mushy banana, pressed the Volta to my clit, and came.
When I snapped the condom off the fruit, I winced at what I saw. In the inferno of my vagina, the banana had ripened. Substantially. What began as a perfectly healthy yellow had escalated into a splotchy dark brown. The kind of banana only useful for banana bread.
I'm gonna brag forever. Have YOU ripened a banana with your vagina? DIDN'T THINK SO! Get with the program! It's the new TikTok craze!
That is truly a Masturbation Moment™ to remember.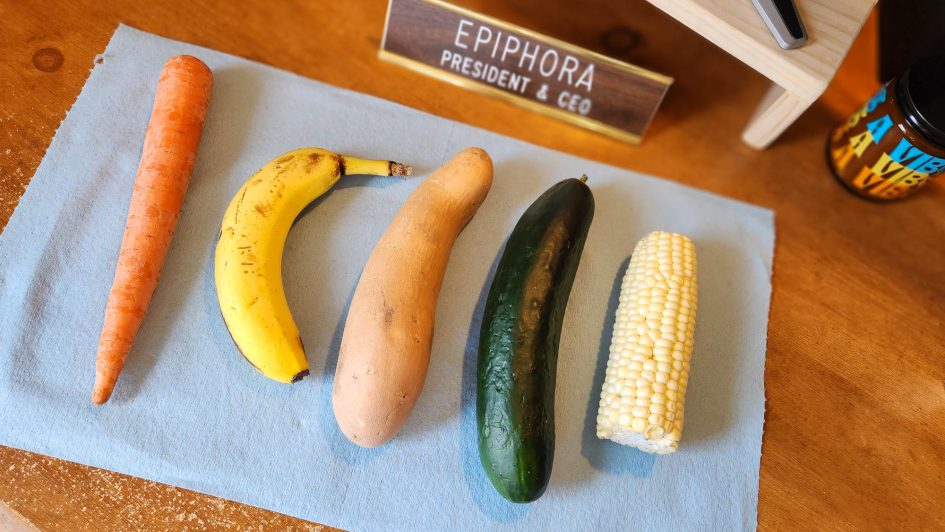 Next up: the rest of the produce. I retrieved the soon-to-be dildos from the fridge, gave them a thorough wash, and laid them out in order of size. Corn last, because how the fuck was I even gonna approach that?
Just getting the condoms on was an adventure. The latex did not wish to maneuver over the dry lumps of the yam. As I wrestled a condom over the corn, kernels fell on the floor. Lubricated condoms were a mistake; my hands and keyboard were slippery with the everlasting curse that is silicone lube.
The carrot was a weird place to start. It seemed practical, size-wise, but my cervix was fearful. Not hyped to jam a scrawny orange stick inside me, I went slowly. It felt like I was doing a transvaginal ultrasound on myself. I decided to flip the carrot around. That was better, but the nub of a tip made for a very awkward handle.
For a moment, I felt a pleasurable texture. Then I realized it was just a wrinkle in the ill-fitting condom.
I could've, and probably should've, peeled and shaped the carrot before use. You can cut it to size, so that's cool. But nothing's gonna give it a G-spot curve. That's the job of our pal the banana.
Conclusion: carrots are best as a mid-masturbation snack, not so much for fucking.
The banana was the only specimen with a smell that penetrated the latex. The scent wafted up, fooling me into thinking there were banana muffins in the oven or some shit. Intriguing yet disconcerting. I enjoyed my time with the banana, as I had before, and was very reluctant to switch to the yam.
There wasn't enough lube in the world to get that yam inside me. Like it was bulbous in all the wrong places. I'd chosen what I thought was the best candidate, but it was still not good. I twisted it, searching for an acceptable position. For a while, I relied on the vibrator to do the heavy lifting. I reminded myself that this vegetable is the same one responsible for the ambrosia that is sweet potato casserole, but my body wasn't having it. I said fuck it and moved on to the cucumber.
The cucumber was a welcome, predictable respite. It was thick and very firm, but it felt reminiscent of a dildo, and that alone was a relief. It had retained some cold from the fridge too. I relaxed into the familiar sensation of being stretched out. My G-spot was being neglected, of course, but I appreciated the fullness.
I dawdled with the cucumber until I had to face my fears with the corn.
And guys. Oh god. Why did I do this.
It's just unnatural, trying to shove a piece of corn into one's vagina. I know. Breaking news. My body couldn't comprehend it, didn't want to allow it. The blunt end was painful and very difficult to push past the entrance of my vag. Each kernel felt like a tiny reminder my canal was being invaded. I gave up.
Corn, I'm sorry. It's not that you're unfuckable, not entirely… just that your fuckability fluctuates with the seasons. March sucks, as we all know. Perhaps, in July, I will try again.
---
Step 4: explore shelf-stable options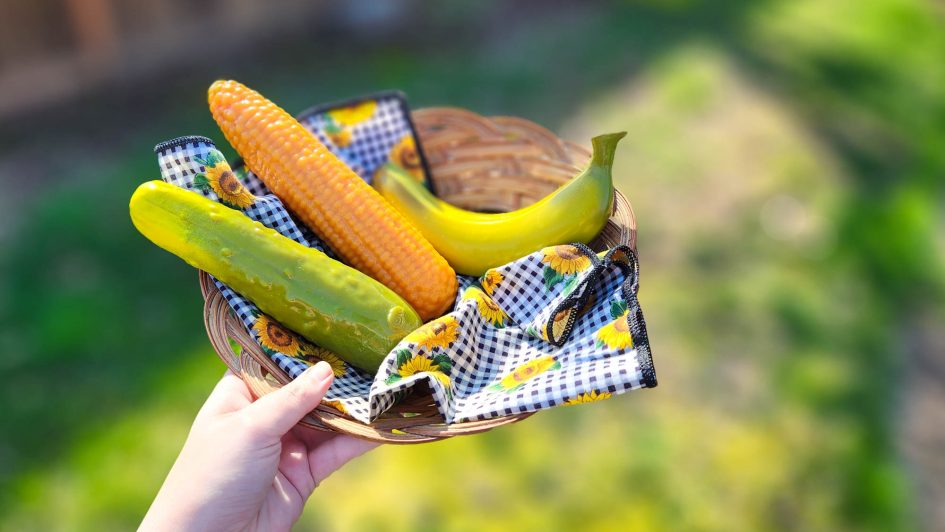 The moment I yanked that corn cob from my vagina, I lunged for my box of SelfDelve toys. I was desperate for their corn dildo — a silicone, pleasantly squeezable, vaginally-appropriate rendition of the vegetable. And it did not disappoint. I rejoiced in the tapered tip, finally as nature intended, while the soft kernels gently stimulated my vaginal walls.
The corn dildo made me forget about all my previous corn-related problems. It's one of many silicone fruits and vegetables in SelfDelve's adorably-titled Garden of Eden line. They're even color-changing, this time not in a disconcerting way.3 The banana is a particular stand out — it's everything I loved about my banana experience without the whole rotting part!
Aspiring fruit and veggie fuckers should consider this list of body-safe, non-decaying options:
Read more about SelfDelve and find their toys at SelfDelve, SheVibe, and Spectrum Boutique.
---
Step 5: award the blue ribbon
Now that my vagina has become a farmers market, I can confidently say that nature's phallus, the banana, reigns supreme. It's hard to beat a G-spot curve, and the manageable size makes it more universal (versus the cucumber, which was only available in nearly 2″ diameter). The banana has a protective peel with a soft core, à la dual-density dildos, and a condom rolls onto it with zero effort.
The banana is indeed a one-time use dildo — the peel starts splitting with vigorous motion, and any exposed part of the banana (like the tip, which should always be snipped off) turns brown. A cucumber could theoretically be used again and again, with washes and new condoms in between. And, of course, some might prefer cucumber's tubular shape and robust size over the banana's curve and smaller diameter.
But for me, banana wins.
It is confirmed as fact: whenever you eat a banana, you're murdering a potential dildo.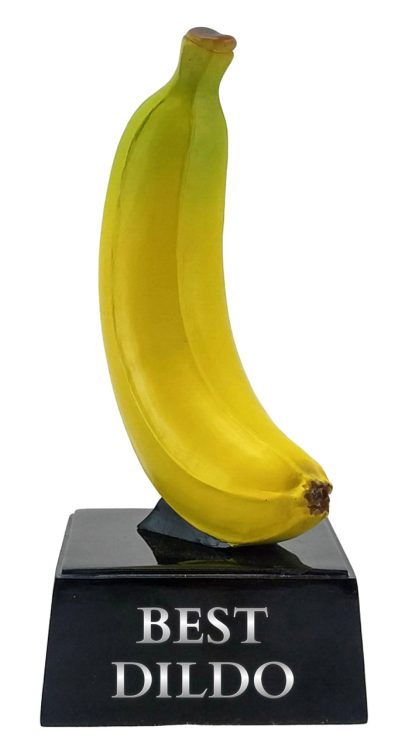 Apparently I can make myself wet by eating kiwis and avocados. Or I could just… use lube?!
SelfDelve mixes thermochromic pigments into the silicone.