This is the third post in a
series
recounting my wild antics at play parties! Be sure to read the
first
and
second
installments.
All folks mentioned and in photos have given their consent.
It was a 30th birthday party unlike any other.
The invitation read: Luxurious cuddles, siren's songs, stroking, finger feeding, dancing, bondage, fucking, and deep admiration are all welcome in this courtyard of grecian revelry. Please bring your own safer sex supplies, toys, tools, and tasty snacks to share. Bring a strap-on if you have one! Languid, shimmery, ostentatious dress encouraged! Whatever makes you feel like the godlike being you are.
Usually, for orgies, I arrive solo. But this time, I had a wingman. My longtime friend Mozz would be my stylist, which was a relief since nothing in my closet could be considered shimmery and ostentatious. I arrived at their house with my hair perfectly done, flowing and buoyant. That was my only contribution to my look, trusting they'd transform me into a goddess.
In the bathroom, Mozz did my make-up. I closed my eyes as they applied eyeshadow, joking that I probably hadn't used that stuff since high school. Then I asked, "is it weird if we kiss tonight?"
Mozz and I go way, way back. They were the one next to me on the bus home from middle school, pressing our knees into the rubber seats in front of us, bickering about my Hanson obsession and concluding I should dump my first boyfriend after a mere three days. (Savage, yet correct, move.) We jogged together in gym while fantasizing about riding imaginary horses, then spent recess outside under our favorite tree, literally as far away from the other kids as possible.
I came out to Mozz in high school; they came into their queerness later. In retrospect, their penchant for horses and cross-dressing should've tipped both of us off. By the night of the birthday orgy, they'd attended a few play parties with me before, but the spinning lube bottle had yet to pair us together.
"Nah, not weird," they replied, deftly sliding the wet eyeliner brush over my eyelid. "I mean, I probably wouldn't want to have sex with you, but we can kiss."
Mozz outfitted me in a brown velvet bejeweled bodysuit, then a sheer white skirt with side slits for peeking a leg out, or something. I was suddenly more femme than usual, and I didn't know what to do with myself. I kept almost tripping — and also showing the whole world my underwear. But, for once, that was fine. That was good. That was preferable, because I was wearing a very cute turquoise pair with a cut-out pattern on the ass. One of my favorite garments to wear to sex parties.
I looked like a figure skater at a slutty prom. Perfect.
---
When you're about to go to a sex party, it seems like everyone can tell. Why else would I walk down a city street carrying a bundle of blankets, or buy a box of wine while wearing eyeliner?
The party was in an Airbnb above a sushi restaurant, accessible only via a locked gate that led down a dim alleyway. It felt exclusive, like a secret. We located the front door and let ourselves in, discarding our shoes in the cramped stairwell before climbing the stairs. Stumbling over the iridescent streamers hanging from the ceiling, we entered the wide open condo.
Yuri, the birthday boi, greeted me with a sparkling smile and a hug. He was dressed in black leather pants and a sheer button-up shirt, unbuttoned, with a pair of X-shaped pasties covering his nipples.
"You look like a Backstreet Boy," I said. "I'm into it."
I was always drawn to Yuri's androgyny — short, queer hair; low, even voice; and ugh, that goddamn septum piercing. Other people were wearing flowing dresses and luxurious robes, but this particular outfit, on this particular person, was sexier to me.
I didn't have the nerve to kiss my friends hello, as I saw many of them do. Not even when the person is insanely hot. Especially not when the person is insanely hot.
I looked around. The condo felt… expensive. Rather than doors, it had strange floating panels that had to be carefully arranged to create a wall. A clawfoot bathtub was stationed in the center of the bathroom, like an altar. In the kitchen, I couldn't find a normal fucking bowl — only a cabinet full of china — and I gave up on understanding the digital water dispenser on the fridge.
Miniature party hats and glittery gold paper crowns were scattered about. I poured myself a glass of wine and surveyed the food options: popcorn, grapes, chocolate-covered figs, pretzels, pineapple. Yep, these people have thrown a sex party before.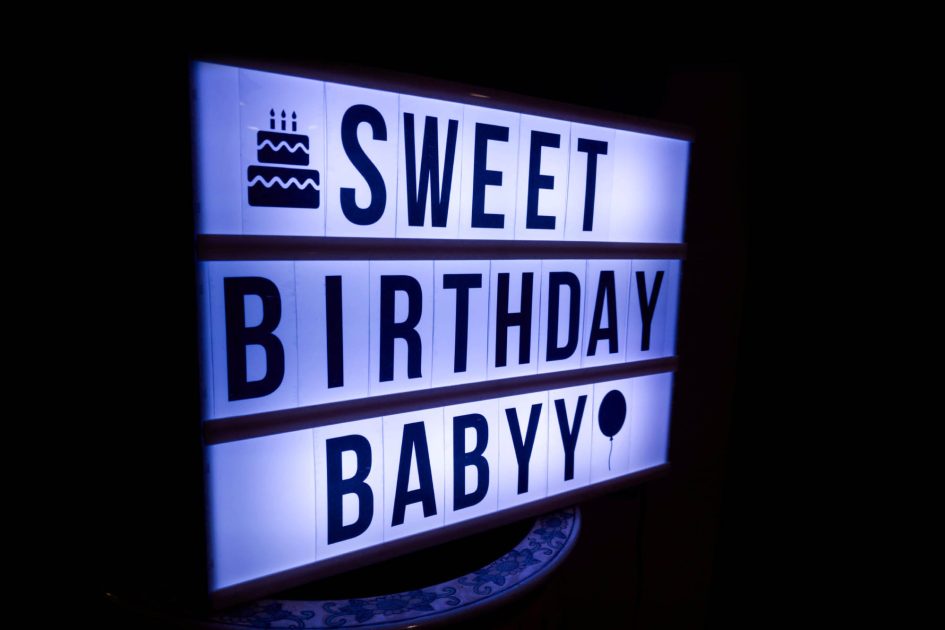 The living room had a vaulted ceiling, statuesque fireplace, and the floor was indiscernible under a patchwork of blankets and pillows. Balloons filled with LED lights bopped around the room. A massage table was set up in the dining area; Riley was training to be a massage therapist, so they offered their services throughout the night.
It was unusually warm for May, and it felt decadent to waltz out onto the balcony, my thin skirt wafting around my legs. The hosts had moved the dining room table out there and brought a rather enormous amethyst crystal to use as a centerpiece. I admired its sparkles, glinting from the faerie lights draped around, as I chatted with old and new friends and passed around a vulva-shaped pipe.
---
When it came time for spin the bottle, we gathered in the living room in a haphazard circle. Summer, one of the hosts, flitted around lighting tea candles. She had a mint green hankie tied around her ankle, flagging as "mommy." In the center of the room, she placed a golden platter with a bottle of lube, then explained the rules: spin, suggest an activity to the person you land on, and negotiate if desired.
"Also," she announced, raising her voice for emphasis, "please don't get bodily fluids on the fuzzy blue rugs, because we will be returning them to Ross."
Spin the lube bottle took off quickly. There was making out, hair pulling, ass smacking, face slapping. One person performed a lap dance to Ginuwine's classic "Pony." Others wrestled, pinning each other to the floor as we cheered with great enthusiasm. We watched in aroused awe as Yuri skillfully slapped Mozz across the cheek.
If the bottle landed between two people, a three-way interaction was arranged. I kissed a cute blonde while someone else spanked her, our lips crashing together. Disposable cameras were scattered throughout the space, and I grabbed one to snap a photo of some babes making out. The flash was bright and sudden, thrillingly voyeuristic. We all kept forgetting to advance the film.
The almighty lube bottle never paired Mozz and I. It was not to be.
---
It came time to grant the birthday boi's wish for a strap-on blowjob line-up. We scattered in all directions, dutifully gathering our harnesses and dicks, sliding them on and adjusting them. I took the opportunity to remove all my clothes, freeing myself of the restrictive bodysuit and skirt.
Inevitably, our new appendages led to dick sword fighting. Amory Jane, wearing nothing more than a black satin robe and a realistic dildo, swiveled her hips wildly to send her cock spinning in circles. Ramona showed off a high-waisted, lacy, underwear-style harness, explaining to admirers that it was handmade to her measurements by a company overseas.
We formed a circle and someone stood on a chair to photograph of all our dicks thrust into the middle, like some bizarre queer spring break alternate reality.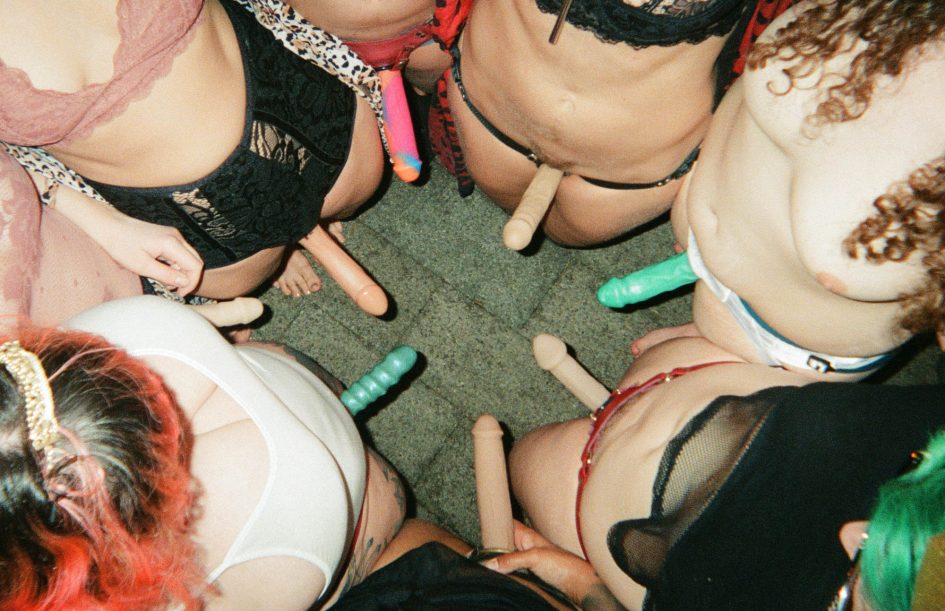 After the novelty wore off, the blowjobs began. Ramona, reclining on a chaise lounge in the corner, yelled triumphantly, "this is my first time getting my dick sucked!"
I was wearing my favorite harness with a shimmery turquoise dildo, and I was pleased when the person who knelt before me was Riley. They were wearing their own dick but, we all realized quickly, we were short on blowjob givers. And I was not about to become one.
Riley and I had shared some special moments at sex parties before. They reminded me of myself, and maybe that's why I loved them — I felt a kinship with them as a fellow introvert, and I saw beauty in their body that was so much like mine. Riley was soft-spoken and kind, with a joyful smile and short sea green hair that fell in a single swoop. Oh yeah, and they were a really fucking good kisser.
"Actually, I'd like to take this harness off," I murmured as they blew me. I had a plan — and it required better access to my genitals. I wriggled out of my harness but kept the dildo, then grabbed a vibrator and lube out of my bag.
I led Riley to the couch and sat down. They knelt between my legs, atop a pile of pillows. I instructed them to brace the base of the dildo near my vulva. Somewhere to the side of it, "wherever, doesn't really matter." Then I nestled the vibrator against my clit and moaned with satisfaction.
Fuck yes.
Riley was wearing a paper crown and adorable thin-rimmed hipster glasses. I wiped their turquoise hair out of their eyes as they went down on me, holding the dildo against my inner thigh as they did. We locked eyes as they slid my cock in and out of their mouth. Their hair matched my dildo matched my vibrator — a perfect trifecta that, seemingly, had a physical effect on me. This was my dream scenario, and I was going to savor it.
I turned the vibe up a notch or two, fixating my gaze on Riley's lips. Getting my cock sucked is one of my favorite things in the entire world. It's like my own personal porn, right in front of me, live, interactive, and in 3D. I can be the horny guy who desperately wants his dick in someone's mouth. I can revel in the sounds of slurping, the slick wet look of the spit, the deft swallowing of the shaft.
And, after years of receiving blowjobs like this, I've pioneered a method to fit a vibrator in: simply position the dildo off to the side. Anatomy be damned. All I needed was to hold the vibe to my clit and watch Riley work my cock, and my brain filled in the blanks, fusing the visual and physical.
I felt like I'd hit the sexual lottery; I felt like a king. I reached down, swiped Riley's crown, and put it on my head.
Riley laughed.
"Is your jaw getting tired?" I asked.
"Don't worry about it," they murmured, looking up from between my legs. "I'm just enjoying rubbing my cock against this pillow right now."
A jolt shuddered through my clit. I turned the vibrator up, tensing under their touch. Oh shit, I thought, is tonight the night?
I'd been to my fair share of orgies, but I'd yet to have an orgasm during one. I was busy doing other things, like sliding my hands inside of people and telling them how fucking hot they were. That was a lot of it. Sometimes I was being dominated, thrown around. Occasionally I strap-on fucked someone. I was getting dildo blowjobs and spreading the gospel of them to all the party guests.
And I was watching people. I was usually on some couch with my dress hiked up, holding my Hitachi wand against my clit through my underwear. A technique I termed "casually Hitachi-ing." I didn't chase orgasm. I just kept the vibrator on low and let my eyes drink in the sexiness before me.
But now, with Riley on their knees fulfilling my fantasies like a pro, I was on the precipice. I was starting to have a goal.
Riley's jaw did eventually get tired. That's when I upgraded my vibrator. What else? The aforementioned Hitachi, AKA the Magic Wand Rechargeable. This time, I was gonna turn it up.
I settled back into the couch and Riley cozied up next to me, playing with my nipples as I pressed the broad head of the vibe against my clit. They started doing massage therapist moves: pushing on pressure points on my chest, holding me down. I closed my eyes and felt my body melt under their touch, sinking deeper into my own little world, nearing climax.
Until people started saying goodbye to me.
It was getting late, apparently, and people were leaving the party. My reverie was broken more than once by a chorus of goodbyes, and of course I had to wave back. That's just polite. In my increasingly surreal life, I bid farewell to my friends while a vibrator buzzed against my clit.
I was close, but I became increasingly aware of how long I was taking to come. Would this be another orgasmless night? Should I just let go of that objective?
My eyes fluttered open and I noticed my friend Rachel lounging on some pillows nearby. She was watching us, a look of loving admiration on her face. I felt comforted by her gaze, as if I had all the time in the world. Rachel needed nothing more from me, so why was I demanding it of myself? For her, witnessing this moment — my pure, singular pleasure — was enjoyable enough. I smiled and turned the vibrator up.
I felt the wave building and building, then Riley's hand migrated to my throat and sealed the deal. I reached some sort of nirvana up there, breathless, then gasped and moaned back down to earth. The orgasm was transcendent and multi-layered, the culmination of so many nights like this. But this night was special.
I smiled with relief in Riley's arms. "Thank you," I breathed.
---
After I recovered from my orgasm, me and a few remaining guests journeyed down to the hot tub. It was in a garden area on the ground level. If not for the darkness, and if not for it being 2 in the morning, we would've been visible to diners in the sushi restaurant.
We stumbled over an uneven rock path, shedding our towels and easing ourselves into the hot tub. It was one of those fancy handmade ones lined with smooth natural stones. We fell into a comfortable silence punctuated by sighs of relaxation, as if we'd collectively agreed it was time for some quiet and peace.
Back upstairs, Mozz and I gathered our things. I kissed a few friends goodbye, feeling freer than when I arrived. The living room was empty, but a few people were taking a group shower in the clawfoot tub.
As we left, the sounds of giggling and wet slaps echoed through the condo.