There's a glimmer of recognition that crosses someone's face when I ask, "have you ever encountered a sex toy that smelled like a new shower curtain?" The widening of the eyes, the slight nod. This is how I introduce the concept of toxic sex toys, and it is almost always met with understanding. That smell, I explain, is off-gassing from chemicals called phthalates, which are used to soften plastics. "Phthalates have been banned in childrens' toys," I tell them, "but the sex toy industry is completely unregulated."
It's been nearly 10 years since I started in this industry, and yet — sadly — this teaching moment remains as effective as ever. It's usually the point at which the person shares their personal experience with a toxic sex toy: perhaps it melted into a goo, smelled so rancid it gave them a headache, or, worst of all, caused a painful burning sensation in one of their orifices. Horror stories abound. All I have to do is give someone permission — and validation.
My biggest anguish as a sex toy educator is knowing that for every person who shares their toxic toy experience with me, there are dozens more who have suffered alone, frantically rinsing off their genitals to quell the burning, ashamed and confused, wondering why nobody warned them, figuring all sex toys are like this, blaming themselves, thinking something must be wrong with their bodies.
Nothing is wrong with your body. Your body is having a perfectly reasonable reaction to toxic chemicals. Your body is rejecting that toy, and rightfully so. Sex toys should bring pleasure, not harm. Your genitals deserve better than sex toys that hurt you — and there are many body-safe options out there. You just have to know how to find them.
A couple weeks ago, I was at Woodhull Sexual Freedom Summit attending a session called "The Truth About Body-Safe: A Frank, Evidence-Based Discussion of What Body-Safe Really Means." I went in eager to learn some nuance around toxicity and language, but instead I got contradictory information, condescension, and a semantics lesson. I spent most of the session keyboard-mashing my thoughts onto Twitter. The session started with the panelists arguing that the word "toxic" is too alarmist, because "everything is toxic; water is toxic" — and that by avoiding a potentially toxic toy, a consumer might "miss out on something that could be very beneficial to them and their sexual wellness."
I wanted to scream. In what universe is the potential for a chemical burn beneficial? Why risk it? Why willingly expose mucous membranes to a material that could hurt us — and dear god, why ask our readers, friends, and customers to do so?
Also, what the fuck kind of good are you doing?

What we mean when we say "toxic"
Let me remind you about all the verbs that can be used to describe what toxic sex toys do: sweat, degrade, melt, off-gas, leach oils, bleed color, grow mold. They stink up your house with a rank smell that has been described as akin to rotting onions, motor oil, cherry cough syrup, wet asphalt, ammonia, skunks. The stench is so off-putting that some manufacturers cover it up with a sickly-sweet fake fruit scent. ("Pleasantly-scented," the packaging will lie.) Set a toxic sex toy on a newspaper and it will absorb the newsprint. Receive a large shipment of them and you'll encounter moist packing peanuts and boxes stained with grease.
Let me remind you that these sex toys come in direct contact with mucous membranes, like vaginas and anuses, where their toxic byproducts can be absorbed.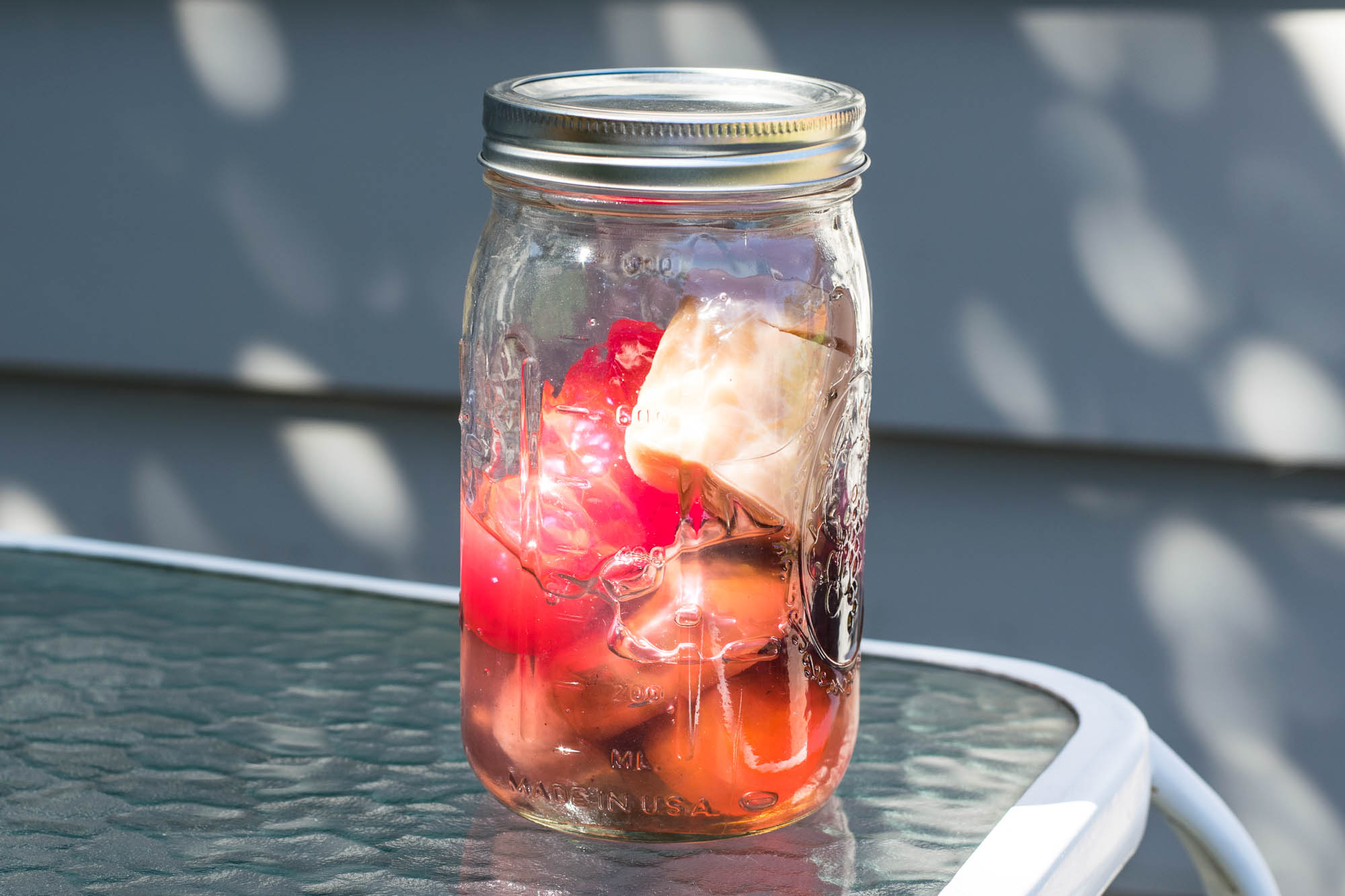 Because phthalate-softened PVC is not chemically stable, it's constantly looking for other electrons to complete it — and this causes degradation. It's become a bit of a grotesque pastime for sex toy safety crusaders to make a "jar of horrors," piling suspect sex toys into a container to stew, where they inevitably ooze and meld together. This jar was made by my friend Lorax in summer of 2014 and kept in a cool dark place, and you can see most of the toys have decomposed into a sludge. It's a nasty scene, and it stinks to high heaven — a mixture of pungent, sweet plastic and the aroma of a greasy car repair shop.
If the toys are doing this while sitting undisturbed in a jar, what are they doing to the human body?
We don't have to wonder, because we know. I've heard an immeasurable number of stories of toxic toy exposure. A double-ended dildo that felt like fire in someone's ass. A ball gag that numbed someone's mouth for days after mere minutes of use. A butt plug that leached chemicals through a condom. Blistering on the labia. Pain so severe that the person could barely speak. Swelling of the lips and tongue from a toy that was only ever used vaginally. Recurring UTIs and other infections. Lists of symptoms that seem like they're from a drug commercial: headaches, nausea, lower back pain, and severe discomfort when urinating. Nostrils burning. Skin peeling. Vulvas throbbing. People emailing me in a panic, mid-reaction, not knowing how to make the burning stop.
Is the word "toxic" too strong in these instances? You fucking tell me.
Of course, the Woodhull panelists parroted the myth that people can protect themselves from toxic toys simply by covering the toy with a condom. But it isn't that simple, since toxic toys sweat oils, and oils degrade latex and polyisoprene. It's better than nothing, but the chemicals can still permeate through.
Rather than avoid suspicious materials in the first place, the panelists contended that folks affected by a toxic toy go to their doctors, get an allergy test, or tell the manufacturer what happened — all things which a) don't work, and b) can be avoided by simply buying better sex toys. ALSO C) HAVING A REACTION TO A TOXIC CHEMICAL IS NOT AN ALLERGY, and we really need to stop using that word to describe it.
Consumers have expectations for things we buy. We expect them to work, ideally, but at the very least we expect them not to poison or maim us. If a product doesn't work properly, we complain. If it poisons or hurts us, we do a lot worse than complain — as we should. But this self-advocacy doesn't extend to sex toys, because we live in a sex-negative society. Sexual shame runs deep. It silences people. It makes them, and their sexual problems, feel insignificant. Most aren't even willing to tell a friend what happened, let alone go to court over a harmful dildo.

The wild west of dildos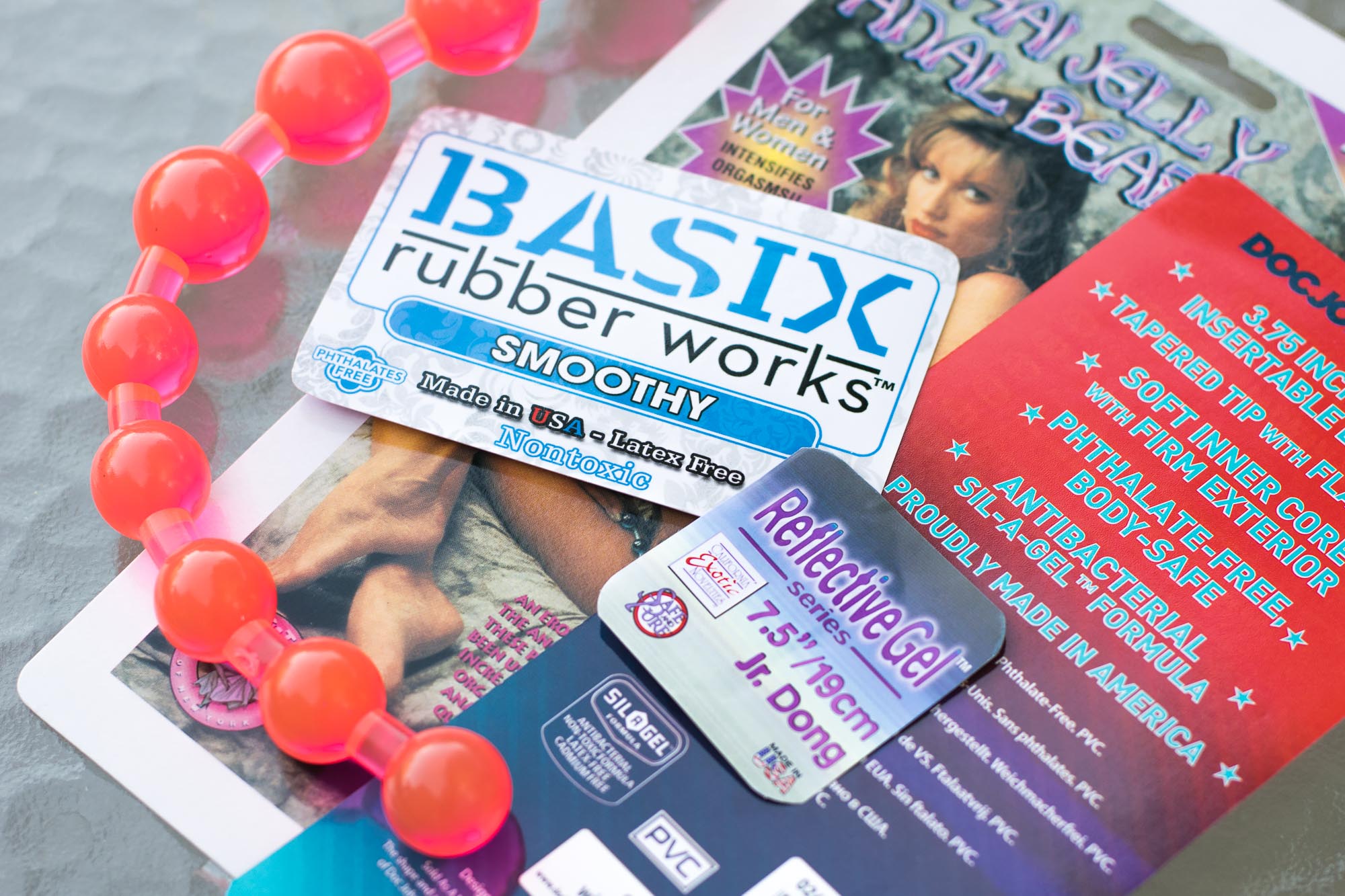 To make matters worse, manufacturers can't really be trusted — they can label a sex toy any way they'd like. Companies smack "high grade silicone" and "phthalate-free" on their packaging without ever having to prove the veracity of such claims. They confuse consumers with fabricated material names such as "Sil-a-Gel," "CyberSkin," and "jelly." They prey on consumers' ignorance, luring them with bottom-barrel prices and reassuring buzzphrases such as "safe and pure," "hypoallergenic," "body-safe," "hygienically superior," "medical grade material," "antibacterial," and to my great disgust, "non-toxic."
All of this causes confusion. Toxic sex toys have given body-safe toys a bad name, because people don't know the difference. I've had a customer who (falsely) equated silicone with toxicity; they didn't want a silicone dildo "because those have gross chemicals in them." On Tumblr, if I dare post a photo showing silicone toys touching, I'll be bombarded with people yelling at me that they're all going to melt. (They aren't. Silicone is inert.)
The battle feels insurmountable at times. No governing body is ensuring that sex toys are safe for internal use. In my dreams, there'd be some sort of federal regulation with regards to labeling sex toys — anything that could hold manufacturers accountable, force them to scientifically verify the composition of their products, and signal to consumers that not all toys are created equal. But no politician on earth will touch this issue with a 10-foot pole. Can you imagine the headlines? They'd be crucified for championing such a minor and "salacious" cause when there are bigger issues at stake. It's a public health problem, if you ask me, but that's not how it'd be spun.
We can't wait for systemic change, because we'll be waiting forever.
Instead, consumer education is happening in the comments sections of sex toy blogs, on the floors of feminist sex shops, on social media, in private emails, and in daily conversation (like anytime my mom wants me to warn one of her friends). Bloggers are helping consumers become more savvy and self-aware while putting pressure on manufacturers to reconsider their rampant usage of toxic additives. It is up to us to do all the material-sniffing and toy-burning ourselves, to teach others how to do the same. It's a torch I'm happy to carry, and one I have never questioned the importance of.
Our sex toys should not poison us. This should not be a radical stance.

Why "body-safe" is the correct term, porous vs. non-porous, and the affordability factor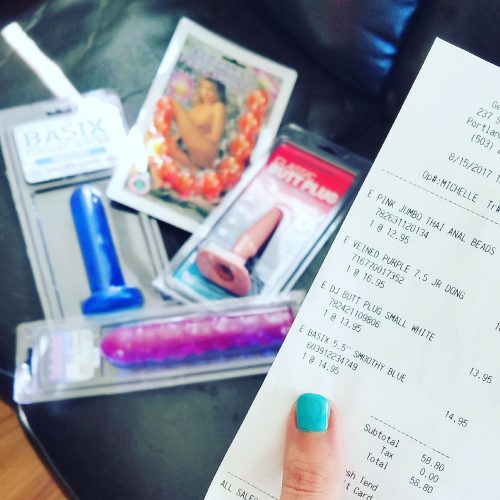 Call me an extremist, but "body-safe" should be the goddamn bare minimum for sex toys.
This phrase doesn't mean the toy's well-designed, or that it will give you an orgasm, or even that it's going to function properly. It implies nothing beyond the fact that using the toy will not harm a human being.
In an infuriating bout of linguistic nitpicking, the Woodhull panelists argued that "body-safe" is relative based on dosage, exposure, and individual sensitivities. OK, but why can't we just actively limit our exposure to known problematic chemicals? We have the power to do this!
I use the phrase "body-safe" because it perfectly encapsulates the issue, and the issue goes far beyond just phthalates. It's PVC toys that contain chlorine, porous toys that harbor bacteria, metallic paint chipping off inside my vagina, other harmful sex toy additives such as cadmium, lube that promotes yeast infections, Anal-Eaze and shrink creams, butt plugs without proper flared bases. "Body-safe" is a battle cry for manufacturers to do better, and "body-safe" makes people think. It makes them realize some sex toys actually aren't safe.
Porous toys are not inherently toxic, but toxic toys are inherently porous. This distinction matters because porous materials can trap micro-organisms, such as bacteria, viruses, fungi, and mildew on their surfaces, even after cleaning. They can never be fully sterilized, and in fact can re-introduce bacteria back into the body, causing infections. Technically, "non-porous" sex toys do have tiny pores, but the pores are not big enough to retain microbes. This is why non-porous toys are recommended for anyone wishing to share their toys. They're also just so much easier to clean, especially if you're lazy or if you're a bleeder, and oh yeah, one other little thing: they LAST.
There is a greater upfront cost with body-safe, non-porous toys; that is true, in general. However, it is no longer fair to argue, as the panelists did, that non-toxic toys are financially inaccessible. If you need a cheap vibrator, you can get a hard plastic one. If you need a cheap dildo or butt plug, you can shop in Tantus' grab bag section. SheVibe has endless pages of non-porous vibrators and dildos under $30. Sales crop up all the time.
This is 2017, not 1997. Inexpensive body-safe toys exist, and they're only going to become more common — as long as we don't relent.
The irony was almost unbearable when the panelists then recommended treating shitty sex toys like our toothbrushes. "We toss our toothbrushes after awhile, right?" they said. "So it doesn't mean that we can't use some of these lower quality materials… it just means we need to treat them differently and replace them more often."
NOPE NOPE NOPE. Get an inexpensive non-porous toy that won't degrade, or save the money and put it toward a better toy. Nobody should settle for a toxic toy, no matter how little money they have. Especially when that $20 dildo could land them in the emergency room, out way more cash.

A scientific interlude, if you're into that: about phthalates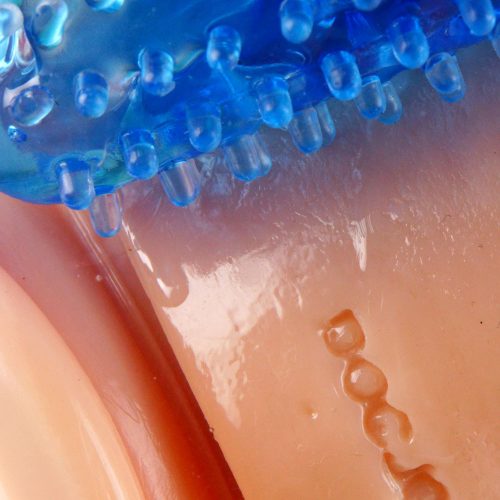 Phthalates are everywhere, so why worry about them? That's how the panelists tried to downplay it. "It's important to think of scale," one argued. "Like my arm resting on the airplane seat on the way here, that plastic on that armrest that I have direct skin exposure to probably has far more phthalates in it than something that people are actually paying attention to."
This is where audience member and everyday hero Ruby piped up to say what we were all thinking: "I'm sorry, but the armrest doesn't go in your vagina."
Do we know, scientifically and definitively, that phthalates and other chemicals in sex toys cause harm? No, because we've barely studied it. We know that phthalates themselves are bad news: studies (mostly on rodents) have indicated that phthalates may cause respiratory disorders, hormonal disruption, and reproductive issues.
But studies on sex toys specifically are sparse, and determining a sex toy's composition is a costly endeavor. In 2000, a chemist named Hans Ulrich Krieg noted ten dangerous chemicals gassing out of sex toys in concentrations that shocked him: "I have been doing this analysis of consumer goods for more than 10 years," he said, "and I've never seen such high results." In 2006, Greenpeace Netherlands and The Coalition Against Toxic Toys sent sex toys to labs and both found phthalate concentrations ranging from 24 to over 50 percent.
For perspective, Congress has banned childrens' toys containing over 0.1% phthalates.
We simply don't know what the long-term effects of continued exposure to phthalates and other toxic sex toy additives may be, and we can't afford to wait and find out. For me, the vast anecdotal evidence is enough. I don't need a scientist to confirm that my ejaculate is not pee, and I don't need one to tell me these sex toys are toxic when they're burning folks' genitals on the regular.
More importantly, there's little reason to opt for a toxic sex toy when so many affordable body-safe options exist.

How to determine if a sex toy is body-safe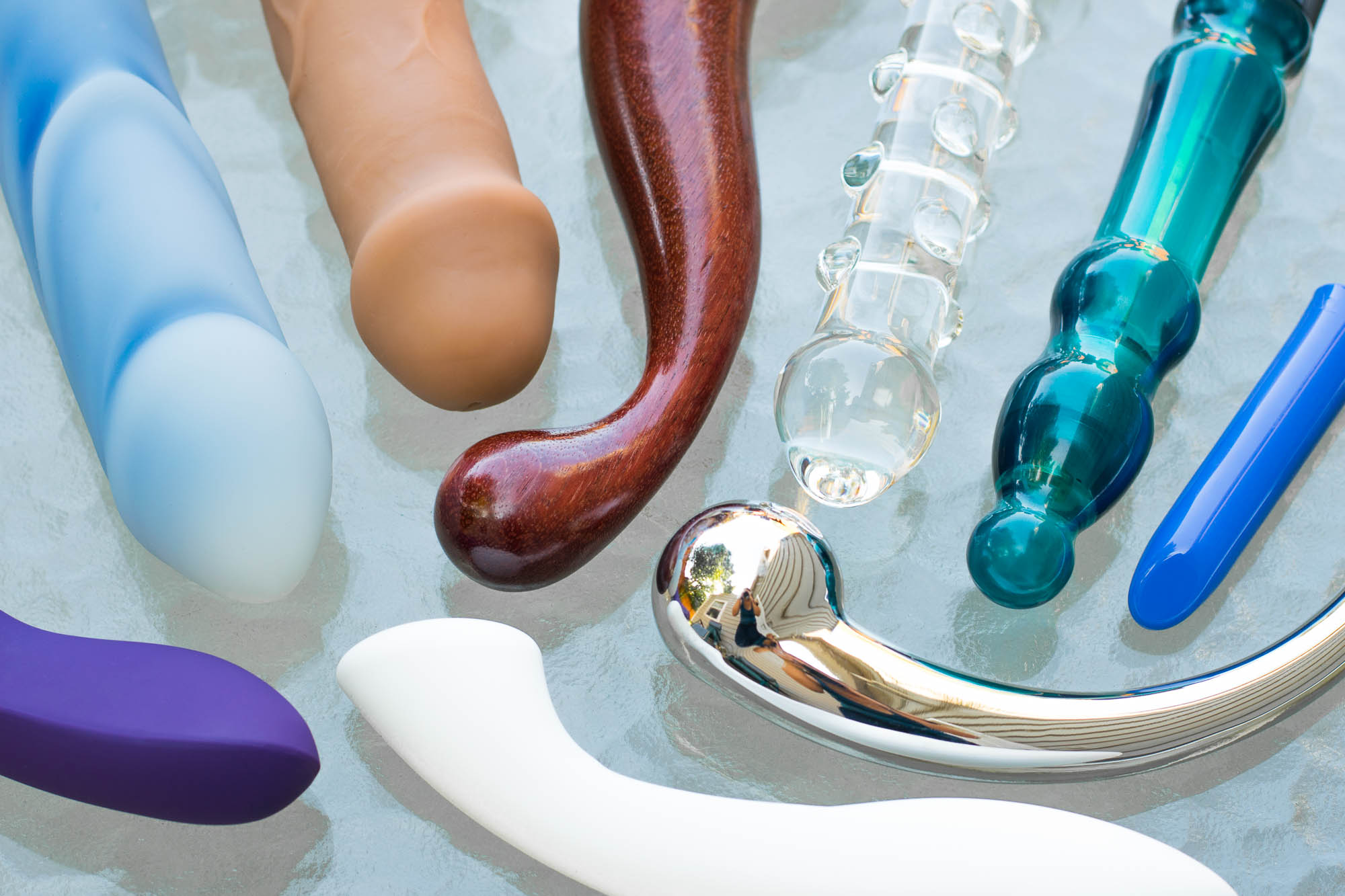 Look for sex toys made of the same materials as kitchen tools: pure silicone, stainless steel, glass, sealed wood, aluminum, ceramic, stone, acrylic, and hard plastic.
Buy from a trusted retailer — not Amazon. Patronize shops with a commitment to stocking body-safe products, and they'll do most of the legwork for you! Smitten Kitten and Tantus have been the most vocal opponents of toxic toys, and other feminist sex shops such as Early to Bed, She Bop, and Babeland stock body-safe toys almost exclusively. SheVibe has an extensive selection of inexpensive body-safe toys and a filtering tickbox in the sidebar for non-porous toys specifically.
Be wary of the packaging. Even the worst of the worst toys are now falsely labeled "phthalate-free" and "non-toxic," so unless you trust the manufacturer (see next tip), don't believe it. There is one word that should send you screaming in the other direction, though: "jelly."
Educate yourself on which companies can be trusted and which cannot. Blogs are a wealth of information on this. I review almost exclusively body-safe toys, with a few exceptions. Below, I've compiled a list of companies that have proven themselves trustworthy — and those which have not.
The companies you should be skeptical of are the big ones: California Exotic Novelties, Nasstoys, Topco, Pipedream (whose CEO has actually said "most of our customers don't give a shit what their toy is made of" — nice!), and Doc Johnson. These companies tend to make some body-safe products, but they are old school and still churn out tons of crap.
Fantastic companies that deal in specialty materials include njoy and Haka (stainless steel), Crystal Delights and Standard Glass (glass), NobEssence and Lumberjill (wood), and Crowned Jewels (aluminum).
These manufacturers use 100% silicone exclusively and produce products without motors: Tantus, Vixen Creations, New York Toy Collective, Fuze, Hole Punch Toys, Funkit Toys, BS Atelier, Split Peaches, Godemiche (ugh).
These toy-makers have committed to body-safe materials only: Aneros, Crave, Bswish, Dame, Doxy, Fun Factory, Iroha, Je Joue, Jimmyjane, Jopen, Laid, Leaf, LELO, Minna, Nexus, OhMiBod, PicoBong, Pleasure Works, Rocks Off, Sola, Swan, Tickler, We-Vibe, and Wet for Her.
Give it a squeeze, a look, a sniff, a lick. Soft, translucent materials are often porous at the very least. Stinky toys are suspect, because true silicone has no lingering odor. (Body-safe toys can sometimes have a light scent straight from the packaging, something akin to the smell of a foam flip-flop, but it should dissipate quickly.) If you're up to it, apply your lips or tongue to the toy. If you experience any numbing or tingling, chuck that toy in the trash.
If it seems too cheap, it probably is. A big ol' hunk of dildo costs a mere $20? Yeah, that's most likely not body-safe. On the other hand, a high price does not guarantee body-safety. I've seen toxic-as-fuck rabbit vibes for $85.
Light it on fire. True silicone can withstand very high temperatures. If you want to determine whether a toy you own is silicone or not, you can strike a match and hold the yellow part of the flame to the material for 5-8 seconds. If it melts, it's not silicone. If it leaves only a soot mark, it's probably silicone. More here about deciphering results of the flame test.

In a world where nobody gets a chemical burn from a sex toy…
Education is the answer. We know that for sure. My blogger friends and I have been fighting this war for years. That day in the Woodhull session, we fought it in real time. Whenever the panelists issued a misleading statement, I looked down at my laptop and watched as my friends dismantled it on Twitter. The energy in the room was palpable — of skepticism, but also unity. I left the session angry but energized, reminded of how passionate I am about this. How I refuse to shut up about it.
Change is happening, slowly. The big sex toy companies have realized the marketing potential of silicone, and many are utilizing it to various degrees. Cheaper body-safe toys are being released constantly. We've come a long way in just the time I've been in the industry, from a time when one new silicone line was worth writing about to the current day, where I can't possibly keep up with it all. Hell, most new shower curtains these days are phthalate-free.
Still, I expect to go to my grave in a reality where toxic sex toys are still being manufactured. Is that too pessimistic? I believe capitalism will win out over safety — especially with no governmental intervention. But, in the meantime, I do what I can. I'll be damn sure that more people are aware of this issue than they were before. That companies think twice before pumping their toys full of bullshit. That sex shops realize the power of eschewing toxic products. That the end consumer, you, does not have to ever even know what a chemical burn feels like. A modest goal, perhaps, but that is my wish.
Your health matters. Your pleasure matters. Spread the word. Be your own advocate. Throw away your toxic sex toys.
Have you experienced any toxic sex toys? Share your story in the comments — we can never have enough evidence.