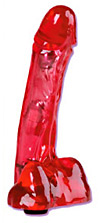 The 1st thing I noticed about the Cherry-Scented Vibro Dong was his alluring scent. OMG, it reminded me of cherry blossoms on a beautiful walk in the park… I never thought a sex toy could make me feel so relaxed just via sensory overload! And he always leaves his husky scent on my hands to remind me of our sexy escapades!!!
This red beauty is made of Crystalessence, I dunno what that is but doesnt it sound elegant?? I love how sticky his "skin" (lol) is, it makes me think of eating drippy ice cream on a hot day. Haha and sometimes i get the urge to eat this toy too! LOL I know so kinky! But he brings out the wild women in me.
Anyway this toy is sooo versatile! He works on the clit, in vajayjay, even in the butt if your feeling really naughty! The vibration are intense and gives me shivers up my spine- no joke. I just love rubbing his head on my clit, mmm. He rubs me the right way if u know what I mean. 😉 (I mean he makes me cum really hard and fast)
I also LUV his BALLS! They are soo sexy and how they stick a bit on my skin as I thrust OMG!!1
OH and I take him on a rub a dub dub trip with me to the bath sometimes. I'm trying to use him in every room of the house, LOL so for I've used 3 rooms for my masturbatory pleasures. Hehe. Garage here I "cum"!!!
Cleanup is sooo easy! Just give him a little handjob in the sink and he'll be sterilized for ur next use. I store him on the windowsill so I can watch pretty sunlight coming through his redness. 🙂 Dont worry about leaving him out.he looks more like beautiful decor than a scandalous toy!! Youre grandma wont even notice.
So yeah I love my vibro dong!! He is the most arousing sexy toy I own! Def my new favorite of ALL TIME and you all deserve to experience his greatness, so go out and buy one for yourself! No you cant have mine! Raaawr! lol