A few weeks ago, I dusted the literal dust off a 2″-thick hunk of stainless steel, put on some porn, held a vibe to my clit, and easily slipped the big end of the 2.75-pound dildo into my vagina.
Every so often, I check to make sure this is true. I am always slightly surprised when it is, but there's no denying it anymore. My vagina is a black hole. A cave. A vagina of doom. This is quite normal for me now. But it certainly didn't begin that way. In fact, it began exactly the opposite… with my vagina, as I described it, "as tight as a Chinese finger trap."
I used to laugh — especially when I first got into sex toy reviewing in 2007 — at the concept of "size queens." Oh, I believed they existed, but I earnestly thought it was an impossibility that I could become one. It made sense at the time. I hadn't had sex yet when I started reviewing, nor did I like penetration of any kind. I was really a quite different person than I am today.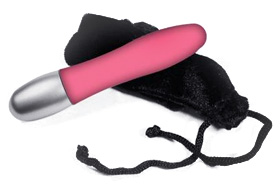 Back then, I approached insertable toys with a sort of side-eyed distaste; if I was going to review sex toys, I guess I'd have to get used to actually putting them inside me.
The first toy I put in my vagina (which was pretty much the first thing to ever go into my vagina) was a pipsqueak of a vibe called My Secret. My Secret indeed! My secret was that My Secret fucking hurt. A sex toy no bigger than a finger hurt badly. It was a travesty. An embarrassing, frustrating travesty. You can see why I thought there was no hope.
My second attempt was with a shitty rabbit. The shaft was pretty thin, but it hurt so much that I couldn't insert it far enough to take advantage of the clitoral stimulator. I distinctly remember lying on the bed, trying my best to just shove it in, feeling sharp pain when I did, and giving up in distress. I could not conquer it, and had to eventually admit defeat in my review. What a terrible review that was. My future as a sex toy reviewer was looking bleak.
My issues with insertion continued to crop up in my reviews in more subtle ways. Phrases such as "wuss of a puss" (what the fuck?), "a nice, mild amount of insertion," and "I like thin toys — you know, the kind that don't pose a threat to my insides" were my way of hinting at my situation. I considered my aversion to insertion an unchanging fact, a trait about myself — and so I accepted it. I tried to enjoy and adequately review insertable toys, but they were more of a chore than a pleasurable endeavor.
When I first had penetrative sex months later — despite having warmed up with dildos and having made admirable progress since that dreaded rabbit — it hurt like hell. And it continued to feel uncomfortable for months. And months. And months. It seemed like the discomfort would never end. I told myself it eventually would, especially if I kept using toys, so I trudged on.
But even a year after I first had sex, I still had trouble with larger or highly textured toys, like the Benjamin Bond and the G-Twist. I no longer hated my life when I used insertables, but these ones were rough. I realized too late that I was unqualified to make assessments about them, but I had to review them anyway. So, in my usual fashion, I told the truth:
. . . I had some issues with using it. And, to be honest, I'm still trying to figure out what's bothering me. I can't figure out if it's the size of the shaft or the ridges on it, but one of them is causing me discomfort. The diameter of the shaft is 1 1/2″, so that's pushing it for my vagina (one day I'm going to laugh at that sentence… I hope). I just couldn't bring myself to thrust for very long, as it would become a bit irritating to my vaginal walls.
As a result, those are some of the least useful reviews I've ever written. I am ashamed of them. But what could I do? I figured I was just doomed to have a tiny, fragile vagina. I was more determined, though, to never fail myself and my readers like that again. I busied myself with reviewing porn, butt plugs, and clitoral vibes instead.
I remember receiving the NobEssence Seduction in fall of 2009 and thinking the big end of it was going to be too much for me. Somehow, it wasn't, and instead was jaw-droppingly amazing. Overwhelmingly so. My G-spot sang. I figured this was a fluke, but it was actually a sign of things to come.
As I reviewed more and more, I grew to like dildos. I grew to love dildos. I grew to crave having something, anything in my vagina while I jacked off. I began to want girth. I began to feel empty if I only used a clitoral stimulator. And, lo and behold, sex became pleasurable!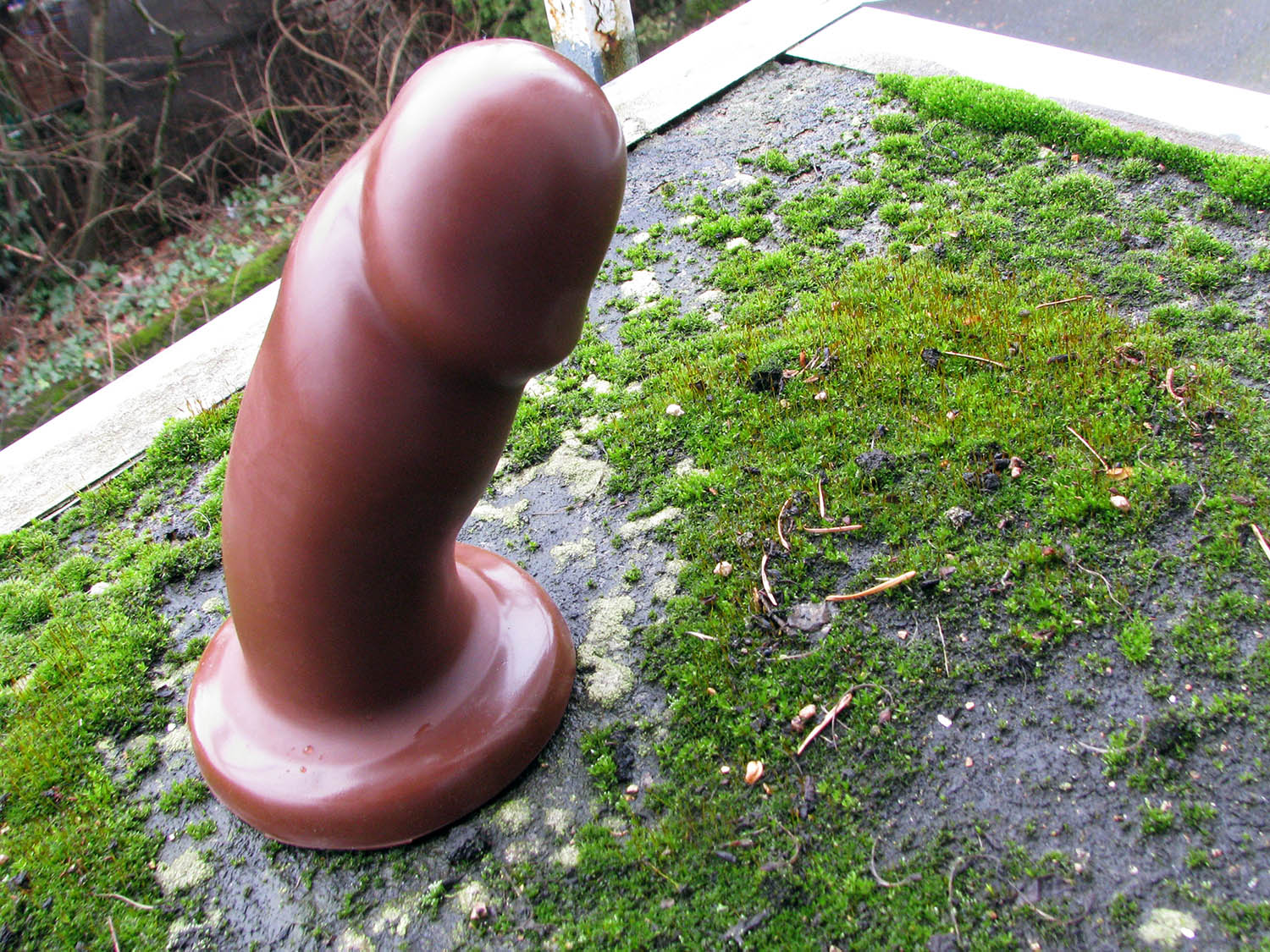 But Randy, in January of 2010, was the real turning point. Randy is a 2″+ thick beast. My first experiences with Randy reminded me of having sex for the first time. There was immense pain, and I wanted to give up. Yet somehow, I approached a light at the end of the tunnel. I learned to appreciate Randy's girth. Many masturbation sessions later, I was squirting whenever I came, sliding Randy out and gushing all over myself.
Perhaps this is where I should divide my life and my reviews: Epiphora B.R. (Before Randy) and Epiphora A.R.
Because that's the other thing: G-spot stimulation. Ever since I started squirting, I learned more and more about my G-spot, and it became more sensitive and easy to pinpoint. I found some incredible toys that hit my G-spot crazily, making penetration a bit like heaven on earth. Meanwhile, my love of thickness only strengthened as I fell in love with all things VixSkin: Maverick, Johnny, and Outlaw.
All of this culminated in the person — and reviewer — I am today.
Now I try toys I received a long time ago and insert them further. I add disclaimers, explaining that "my vag is a champ" and folks should take that into account. I have a tag on this blog called "not for the faint of vagina." I seek out big toys, often drawn to them based on their size. When faced with different sizes of the same toy, I inevitably choose large. The concept of a "warm up" toy is mostly silliness now. I still enjoy some smaller dildos just fine, but in general, my vagina likes a challenge (and has become known for it). It wants to conquer the Aggro Crag.
So now what? There's always the Great American Challenge, but that's gross. I do have an unused, 2 1/2″ thick bumpy glass dildo hidden away somewhere that I acquired from a fellow reviewer, but that's pretty extreme. The only dildo that has almost broken me was the Tantus T-Rex. I have only successfully inserted it twice, after a lot of wincing. Hey, even black hole vaginas have their limits.

I can hardly believe that I used to be so resigned to the fact that insertion would never feel good. But what I didn't understand was just how amazing G-spot stimulation could be. And how I could adore texture. And awesome materials. And crazy shapes. I never would've imagined that I would long for dildo after dildo. That I would treasure my dildos more than my vibrators. If someone had told me this, I wouldn't have believed them. I guess I had to discover it myself. All I needed was a shit ton of persistence, an excuse in the form of a sex blog, and the watchful, judging eye of the internet.
It took years, but I've figured it out: my vagina is my friend, not a fiendish villain working against me. Now I proudly wear the label "size queen" as a badge of honor — one that I've earned. And yes, Epiphora of 2009, I am laughing at that sentence about 1 1/2″ being too thick.