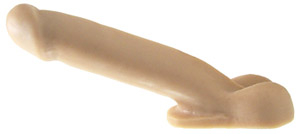 I have never seen a sex toy angled like Vamp Talula. I mean, this thing is nuts. Just look at it. It juts out crazily. It falls over if I try to stand it up. And when I fuck myself with it, the bottom of the base faces the ceiling straight on.
My Talula is the large version (2″ wide, 7″ long), and is made of rigid 100% silicone — although there is also a softer version. I'm not too hot on the color I received (a light cream), especially knowing that Vamp makes a swirly red version, but I'll survive. Vamp still has some perfecting to do with their dildo-making technique; my Talula is peeling very slightly on one edge of the base, and there are a couple minuscule black marks on the toy.
In terms of design, Talula has no subtlety. This dildo is completely smooth. No veins, no wrinkles, no texture on the balls — nothing. All it has is a very pronounced head and a slight ridge that runs vertically down the underside of the shaft. Well, and it has that insane angle.
Talula's lack of textural subtlety carries over into how it feels in use. All I can feel is the bulbous head hitting my G-spot. Since I love texture so much, I always say that if a dildo is smooth, it damn well better hit my G-spot. Talula definitely does. Intensely. And hey, I won't complain about that. It's just not as interesting as, say, the Vixen Maverick, which has a unique texture and squishy feel.
Since Talula's flat base faces the ceiling when I use it, grasping that base can be awkward. I'm used to bases that are circular and face away from me — this one is neither. It's not terrible, but it takes some getting used to. Also, the base juts out a bit and can potentially get in the way of using another toy clitorally. If thrusted very quickly, it jabs my clit — though not uncomfortably.
So, used for masturbation, the Talula is a good G-spot dildo with a weird, oddly-shaped base. But this unusual angle has a purpose, and a very laudable one at that: the Talula is meant to excel in a harness. And holy shit, excel it does.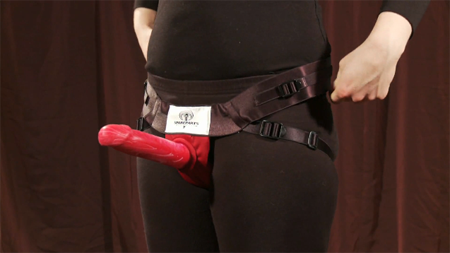 I tested this myself using my Joque harness, and I was astounded. Unlike every other dildo I've ever put into a harness, the Talula did not flop. It did not droop. It stood, proud and erect, angled upward, and ready… for me to fuck the Tera Patrick Fleshlight with it. Although the Talula looked quite sickly after I dressed it in a yellow condom (where the hell did I even get colored condoms?), it was insanely easy to wield. The hard silicone, coupled with the angle of the dildo, is absolutely amazing in a harness. For the first time, I feel like I own a dildo that I could fuck someone with, and have it not be a disaster.
Talula's base/balls can be felt against my thighs when it's in the harness, but it's not a problem. Besides, the base keeps the toy sturdy. I also noticed that when I sat down with the harness on, the Talula stuck straight up. Thus, it would be perfect for a blowjob.
So, it turns out, the weird-ass angle of the Talula is both a blessing and a curse. Used solo, the base is awkward to hold and can get in the way. Used in a harness, the angle makes this toy the best strap-on dildo ever. Vamp has struck gold with this unorthodox design, but it doesn't translate quite as well to non-strapping-on play. The simplicity of the Talula's shape is a conundrum for me — its pronounced head is amazing on my G-spot, but I prefer more texture.
I see no real reason not to recommend the Talula, but I think only those wishing to use it as a strap-on would truly fall in love with it. Since it comes in multiple sizes, strappers-on can find the exact dimensions they desire. Just make sure the fuckee is ready for intense G-spot (or prostate!) stimulation, because that is the Talula's specialty.