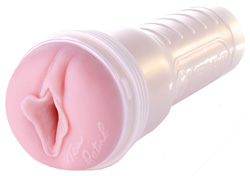 My boyfriend is afraid of fake vaginas, but I forced him to make an exception for the Tera Patrick Fleshlight. After all, he loves his first Fleshlight, and it doesn't even have a texture on the inside. I presented the Tera Patrick Fleshlight to him (err, gave it to him for Christmas…) because I thought he'd like the inner Twista texture. The outside? Well, he barely cares that it's vulva-shaped, and doesn't care at all that it's a pornstar's vulva.
A few things have changed since last September, when he first fell in love with the Fleshlight. The main one is that he rarely, if at all, uses the "shoe method" now. I was appalled to learn this, especially since I wrote in that review, "my boyfriend is pretty enamored with the Fleshlight when he doesn't have to hold it." He told me that while the shoe method "provided the breakthrough," he holds it all the time now when he jacks off, and no longer finds it awkward. In fact, he perceptively pointed out that he likes how bulky and stiff the case is — it allows him to distance himself from his hand and feel more like he's fucking something separate.
The Tera Patrick Fleshlight comes in a large collector's tin, which would be useful for storage if it was at all inconspicuous. But the shadowy ladies dancing on the side give it away, so it's a waste of packaging instead. As with all the Fleshlight Girls, the case is an iridescent white color. The boyfriend is a fan of the iridescent color and likes it better than black, but points out, "I'm not looking at it — I'm looking at whatever I'm jacking off to." A.K.A. "stop asking me inane questions, girlfriend."

The pillowy soft Superskin sleeve is the same pink color we've come to expect from Fleshlights1. Tera is the only Fleshlight with the Twista inner texture, although she also comes in Lotus. The labia are perpetually open (ooh la la), and they feel pretty realistic. Oh, and Tera's signature is embedded in the Superskin, just so you can be sure it's her endorsed vagina you're fucking.
One thing my boyfriend likes about this particular Fleshlight is how much flatter it is on the front. His other Fleshlight is very round, and so he said it is "easier to go balls deep" in Tera. This must be serious business, since he has never used that phrase before in his life (and I hope he never does again). He also likes how open Tera's labia are, making her easier to enter than the non-descript slit of his other Fleshlight. Although he generally finds Tera's vulva aesthetically not hot, he admitted very non-eloquently, "when I'm putting my penis in it and I look at it, I'm like, 'yeeaahh.'" In use, he can't feel the labia or Tera's signature (drat!).
As for the Twista inner texture; my boyfriend is torn. The diagonal ridges are reminiscent of a corkscrew, but the texture doesn't start immediately, so his cock only gets to feel one rotation of the texture. And the ridges keep his thrusting from being as fluid as he would like. It's nowhere near as sophisticated as automated blowjob machines.
So while I thought the texture would be a hit, it has not changed his life. At first, he preferred the Twista texture to none at all, but now he's not so sure. Although he believes Tera is tighter than the original Fleshlight (figures), he appreciates the original simply based on ease of use. He will be using Tera, but only sometimes.
The same qualms about cleaning persist with this Fleshlight. Only water can be used (no soap), and the sleeve must be air-dried. The Twista texture presents a new cleaning issue: his come collects somewhere in the middle of the sleeve, rather than in the screw-off reservoir at the end. Also, because this Fleshlight is tighter than the original, it's a little harder to stretch open to let the water flow through.
If cleaning wasn't so irksome, he would use his Fleshlights a lot more. As is, he considers them an "occasional treat," and uses them about 20% of the time (1 out of 5 jack-off sessions). At around $70, the Tera Patrick Fleshlight is more expensive than the build-your-own original by about $15. The vagina is a lot more realistic, but the Twista texture would be better suited to dudes with long cocks.
The Fleshlight is still one of the best masturbators my boyfriend has tried, and the only one he continues to use. For reference, I asked him again what the best thing about the Fleshlight is — still the material. And the worst thing? Still the cleaning. Oh, and he still thinks using the Fleshlight is better than a blowjob, but he wants to add, "I don't think blowjobs are the total shit."
Get the Tera Patrick Fleshlight at Fleshlight.

Find the Fleshlight of your dreams at Fleshlight, Fleshjack, SheVibe, Early to Bed,
Smitten Kitten, Lovehoney (international), or Come As You Are (Canada).