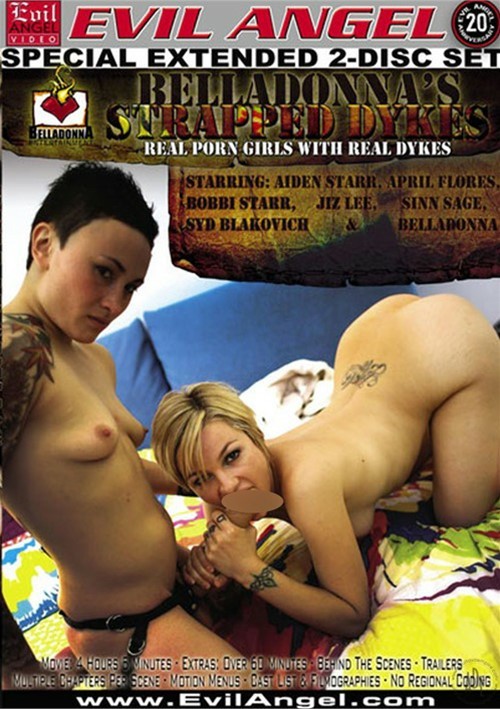 There will be squirting, tons of it — onto faces, asses, assholes, sheets. There will be spitting, punching, smothering, choking. There will be feet in mouths and feet in vaginas. There will be a toe in a butt. There will be amazing sex toys. And then there will be me — trying to keep myself from having an orgasm every five minutes.
That's pretty much all you need to know about Belladonna's Strapped Dykes, but okay, fine, I guess I'll try to review it. The tagline of Strapped Dykes is "real porn girls with real dykes," but of course that's just a gimmick. All the performers in Strapped Dykes are people who do porn on a regular basis. They may not all identify as queer in their personal lives, but here's the thing… they fuck like they do. Boy do they fuck like they do.
And they fuck for hours. This is a long freaking porno. Spread across two discs, the actual movie itself clocks in at just over three hours. But there's also a 50-minute "bonus scene" featuring Belladonna and Syd Blakovich, and two Behind the Scenes segments that total an hour and 17 minutes. Within the Behind the Scenes, there's even footage of Syd, Jiz Lee, and Sinn Sage preparing for their scene… a.k.a. more porn, albeit subdued. In summation, there is so much porn on these two discs, and it took me quite a few masturbation sessions to make it through it all.
But not once did I want less porn. Because all porn should be this hot. And this is quite possibly the best "girl-girl" porno I've ever seen.
Jiz Lee and Belladonna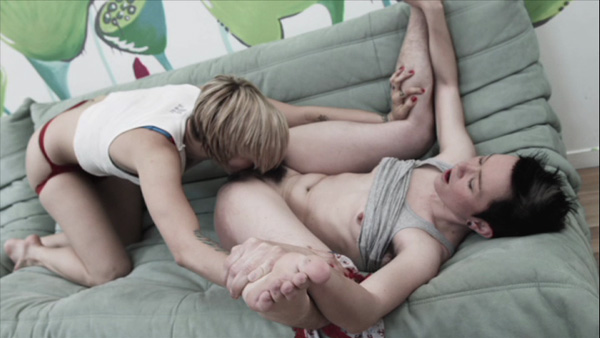 Unlike every other scene, this one is strangely desaturated. I have no idea why. But that is not the point. The point is that Jiz and Belladonna make an excellent pairing — they are quiet and deliberate with each other, completely focused on pleasuring one another to the best of their abilities. Their movements and acts seem purely instinctual, not concocted for the camera's eye, which makes the scene feel very authentic and intimate. But don't worry, it's also totally dirty. Highlights: Jiz's pubes, Belladonna smothering Jiz with her vulva, everything else.
Jiz Lee and April Flores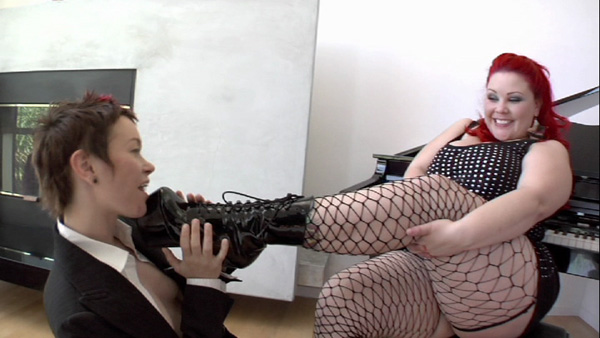 Oh man, Jiz's cock in this scene is so perfect. It almost looks like a real cock, as April gives Jiz a fabulous blowjob. Much time is spent with Jiz fucking April, then there's some squirting fun for Jiz at the end of the scene. Although I love Jiz and April, and their chemistry and comfort with each other is crystal clear, this scene included a lot of stuff that just doesn't turn me on: spit play, hands in each others' mouths, chest-punching (oww), armpit-licking. As such, it is my least favorite scene, but it is far from mediocre or boring.
Syd Blakovich, Jiz Lee, and Sinn Sage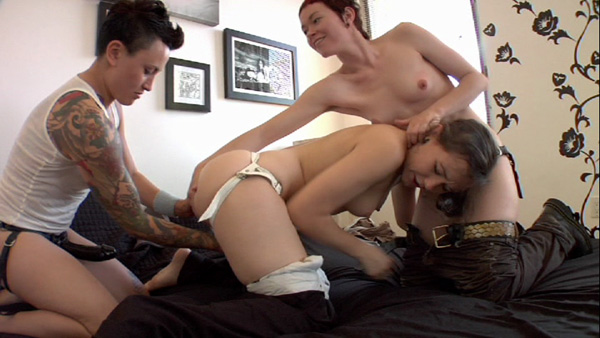 Good things always happen when Syd and Jiz get together, and this scene proves that even better things happen when a third person is added. Like Sinn spanking Jiz with a dildo, then Syd fingering Jiz hard as Jiz lays belly-down on the hardwood floor. And there's the moment when Sinn is preparing to fuck Jiz with her strap-on, but it never happens, because Syd comes up and finger-fucks Sinn into oblivion instead.
The crowning moment comes at the very end, when Jiz asks for Randy (yes, the Randy that I am in love with) by name. Syd puts the dildo in Jiz, punches it a few times, and Jiz squirts. Repeat three times, and there you have the best ending for a porno scene ever.
Syd Blakovich and Bobbi Starr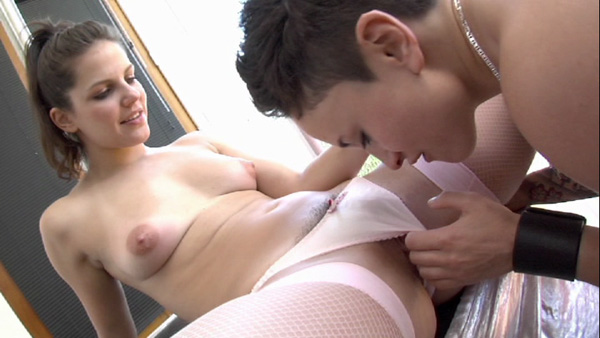 Syd and Bobbi's chemistry is the perfect blend of sweet and raunchy. They both play nice while Syd fucks Bobbi up against a stripper pole, but then the glass butt plug comes out, and they become much more ravenous. Bobbi holds the butt plug in her mouth and guides it into Syd's ass. It doesn't get much better than that, although the very end of the scene is fucking hot: Syd standing over Bobbi, squirting all over her.
Syd Blakovich and Aiden Starr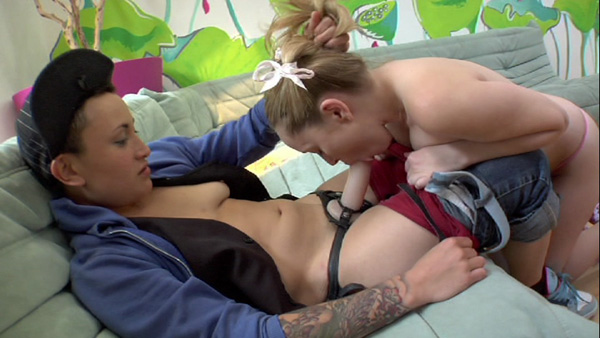 This scene begins with Aiden choking on Syd's cock, and the intensity just builds and builds. Syd and Aiden are fervent and relentless, never so much as stopping to breathe in between sex acts. And the sex acts are numerous; Syd fucks Aiden quite a bit (even smothering her in between two couches at one point), and there's choking, intense fingering with squirting, Syd rubbing her vulva hard on Aiden's nipple, Aiden punching a butt plug in Syd's ass, and some amazing foot play. Generally I don't care about feet, but I can't get enough of watching Syd get fucked by someone else's foot. Oh, and Aiden's toe briefly uh, toeing Syd's asshole, which is hotter than it sounds.
I'd say this is probably my favorite scene, though it's hard to pick a favorite. Some people might find Aiden's loud and repetitive moans annoying (and I myself have been irked by them in the past), but they're more endearing in this scene than usual, because her pleasure is authentic. Who wouldn't be moaning like crazy with Syd working her magic on them?
Belladonna and Syd Blakovich (disc 2 bonus scene)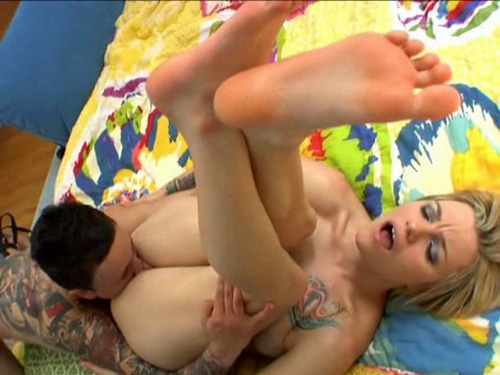 WHY IS THIS A BONUS SCENE? It is one of the hottest scenes of the bunch! Belladonna getting fucked hard by Syd… Belladonna fucking Syd with her foot (Syd crying out, "fucking punch it!")… Belladonna putting the Eleven in Syd's ass… Belladonna deepthroating Syd's cock while simultaneously fingering her… Syd fingering Belladonna furiously until she squirts… and finally, Syd squirting on Belladonna's waiting asshole. These are a few of my favorite things.
---
The Behind the Scenes segments are adorable and amusing. Belladonna sits down with the stars after their scenes and they discuss all kinds of shit: parking tickets, sushi, Syd's insane performance art, the possibility of other life forms in the galaxy, Bikram yoga, scat play, using squid as a flogging device, and much more. Belladonna even asks them about their latest projects, allowing them to completely pimp out other recent pornos they've done. Everyone seems really great.
Strapped Dykes is a "girl-girl" movie, but this kind of girl-girl movie doesn't come around often. This is not one of those "I'll lick your clit a little" lesbian movies. It's so far from that, and it's far from even some of Belladonna's previous girl-girl offerings. These women want to get each other off, and they do it genuinely, feverishly, and skillfully. Syd and Jiz bring a refreshing realness to the movie, and the more mainstream ladies seem relieved and excited to fuck women who enjoy fucking them back. In the Behind the Scenes, Aiden Starr sums up exactly why this film is so hot: "it's fun fucking somebody who has real responses."
I've been chattering about Strapped Dykes left and right, which has led to an instant message to me that read "YOU ARE A MOTHERFUCKING PORN GODDESS" and a tweet that read "my tank has been on EMPTY since I bought it. It's as if my eyes were opened for the first time."
In conclusion:
If you are at all aroused by two chicks getting it on, watch this.
If you think girl-girl porn is hot, watch this.
If you think girl-girl porn is boring, watch this.
If you think girl-girl porn is soft-focus bullshit, watch this.
Then come tell me about it.
Stream Belladonna's Strapped Dykes here!