December 10th, 2009
Having received an orange Jimmyjane Little Chroma in the mail from a Halloween giveaway I didn't know I entered, I decided to pit the Little Chroma against the Wahl. The Little Chroma was okay, though nothing to ever spend anything close to $125 on. It was easier to hold, but the Wahl was far more amazing to feel.
I was on the bed in the bedroom and without dildos, so I asked my boyfriend to bring me one of his choice. He trotted in with Mr. Man, gave me a little blowjob with it, and left. I finished myself off with the Seduction in my vagina and the Wahl on my clit. It was a goodbye fuck.
December 14th, 2009
Sasha Grey's The Perversion is boring as fuck. What's with this trend? The Wahl, however, is awesome as fuck, especially when I alternate between its two settings.
December 17th, 2009
Oh, porn. You never fail to amuse. This is why you, camera person, should not zoom out from the pussy eating: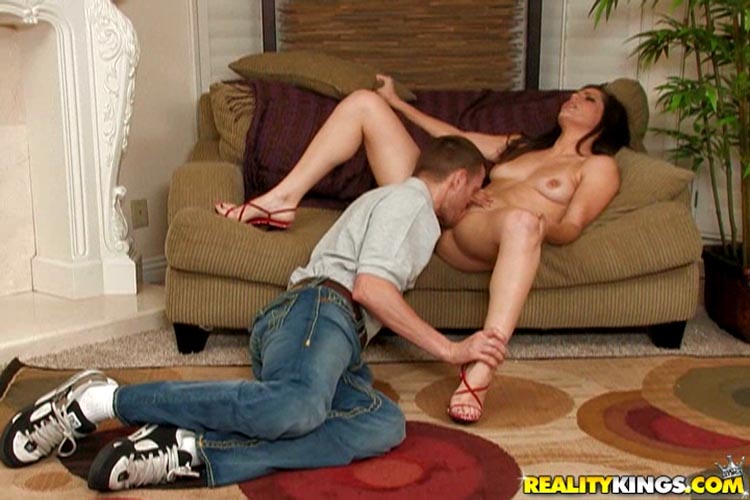 That is all.
December 18th, 2009
My period wanted to stop me from jacking off by being heavy and giving me cramps, but I would have none of it. I was craving another session with the Wahl, because I'd just received a special attachment for it in the mail, and a little blood was not going to stop me.
I watched more of Belladonna's Strapped Dykes, tweeting about it a little as I went along. Suddenly an instant message from my friend Carnivalesq popped up, asking what I was watching (perv!). It was then that I realized my mouse's batteries were finally dead (it warns me for like two weeks beforehand). I could've ignored the message until I finished, but I'm a good friend/freak, so I changed the batteries and started chatting. Mid-masturbation chats are not weird for us, you see.
Anyway, the porn was hot as shit and the attachment was great, but afterward I had to clean the blood off the Wahl. There was some inside of it, in a crevasse on the post, that made me hate life. But my toy-cleaning toothbrush prevailed.
December 22nd, 2009
Having received the Bswish Bcurious earlier in the day, I was so ready to give it a go. I popped in Strapped Dykes again, resumed where I'd left off, and went to work. To my delight, the Bcurious was to my liking in terms of vibration strength. I continued to oooh and ahhh over the porn — this time over Syd Blakovich rubbing her vulva over Aiden Starr's nipple. My mind went wild just thinking about how to effectively explain the hotness of this porn in a review.
I used several dildos, one of them the Fun Factory G-Twist, which I hadn't used since I reviewed it almost a year ago (jeez!). My vagina is no longer a wimp, so it wasn't uncomfortable anymore. Rejoice!
December 31st, 2009
My new year's eve: my boyfriend went off to see this thing called a "concert," and I was waiting for a friend to come drink with me. I set up my desk for a jack-off session, even turning on the string of orange lights hanging above it (hey, I was feeling happy and festive), and turned on Nostalgia.
I had two new NobEssence dildos — one, a replacement Seduction, the other a beautiful Delve — that were all I needed in addition to my oscillating love. Somehow, I managed to watch the entire porn film, getting off on the incredible G-spot pressure that the Seduction provides so well. Then I busted out the peppermint schnapps and proceeded to tweet errantly. It was a good night.