The Jollies Mr. Man is an understated genius of a dildo. It doesn't look special from afar, but the hole at the tip of the head hints at its secret ability to transfer suction from the dildo's head to the receiver's clit. Despite my knowledge of the phenomenon of suction (and reviewers verifying Mr. Man's abilities), I still could not fully believe that a dildo would be capable of delivering significant clitoral suction. I had to try it myself. I had to make my boyfriend suck my cock.
I've never owned a realistic dildo because I'm not very in love with the cock shape or color, but Mr. Man is pretty nice looking. The silicone Jollies uses is my favorite kind: glossy and semi-firm. It doesn't feel or move like skin, but that's okay. There is a light texture on the shaft that makes it look a bit more like a penis rather than a dildo. As for the balls… well, I'm biased, because I wish they didn't exist — but I don't think they're terribly attractive. There is a seam that runs the length of each side of the shaft, but it's light and not noticeable during use.
Oh yes, use. To my great joy, Mr. Man works as expected — and beyond. My boyfriend had no trouble holding the base still against my clit, and the suction that his mouth initiated on the head of Mr. Man was strong! This is not insignificant suction, folks, like I worried it might be. It's serious suction.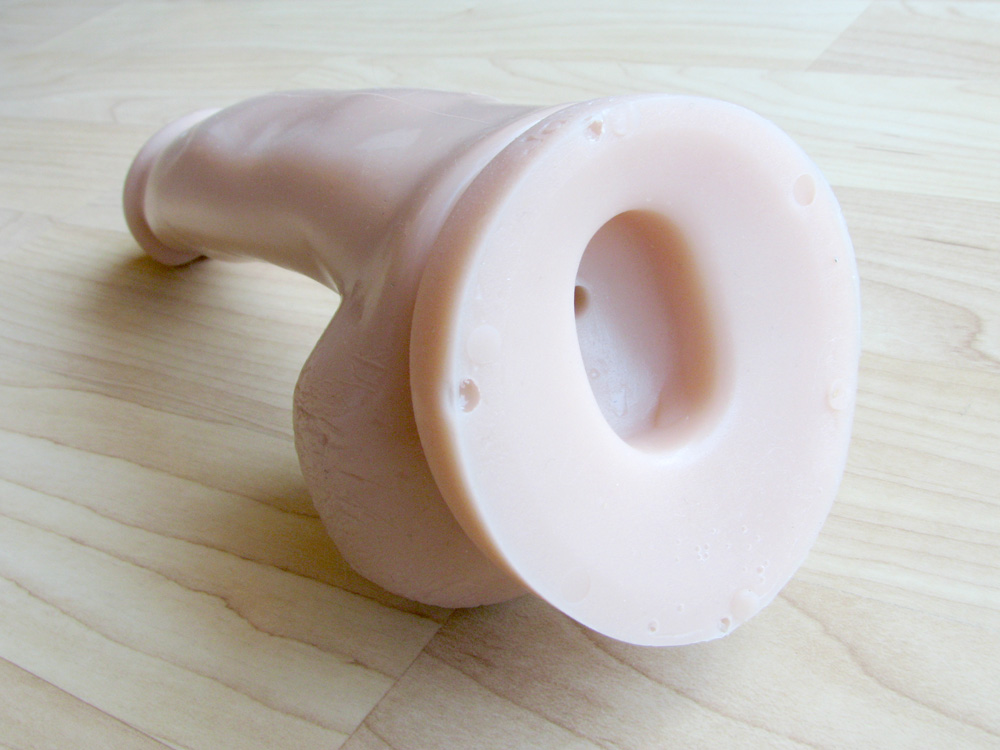 But it takes work to keep it up. He has to really focus on the head to give me the most stimulation, which gets tiring quickly. When he swallows more of the cock, the suction decreases in intensity. Lube and saliva get inside the hole, so that he accidentally sucks them back into his mouth when he moves to the head. If he just sticks with the head, though, everything is glorious.
Because of the attention that has to be paid to the hole, I wish the shaft of Mr. Man was a bit shorter. As it is, there is a lot of cock and often not enough tongue or palm to cover it all. Plus, the length isn't representative of the average cock, which is what I'd rather have if I'm pretending it's mine. Still, it looks extremely sexy in my boyfriend's mouth.
I asked my boyfriend for a refresher on what it feels like when he just sucks on my clit normally. To my surprise, it was nowhere near as stimulating as the suction from Mr. Man. Nowhere near. It's kind-of creepy, really.
I tried jacking off with Mr. Man, using the Maven sleeve. Success was hard to come by, as it was difficult for me to hold Mr. Man in place whilst stroking. I did get a couple good strokes in, but nothing terribly suction-inducing.
I also tried Mr. Man as a regular ol' dildo, but the slight downward curve of the shaft that is an asset during blowjobs becomes a liability during penetration. It makes insertion a little more difficult, and makes the experience of fucking myself with a realistic cock a little odd. I prefer to turn it over and fuck myself with it upside-down; although then it doesn't provide G-spot stimulation due to the shape of the head, at least the shaft curves upward.
I worried that cleaning might be an issue, but the hole that runs the length of the dildo is large enough that water rushes through it easily, assuaging any fears I had about stickiness getting lodged inside. A toothbrush works wonders at the entrance holes, if (like me) you forget that starting one's period means blood. All rules about sterilization apply, as this dildo is made of 100% silicone.
Mr. Man proved to me that good ideas can be executed well, and I now plan to finagle blowjobs (or, as he likes to call them, "suckjobs") out of my boyfriend more often.
Mr. Man was discontinued, but there's a new blowjob dildo in town!
Get it at Spectrum Boutique, Early to Bed, Good Vibes, or Babeland.