This is the stuff dreams are made of — my dreams at least. This, friends, is my majestic sex toy closet. The culmination of years of collecting, organizing, and fantasizing. It is here where I store my gigantic sex toy collection, which is rapidly nearing 600. [Edit, 2023: nearing 1,000 now.]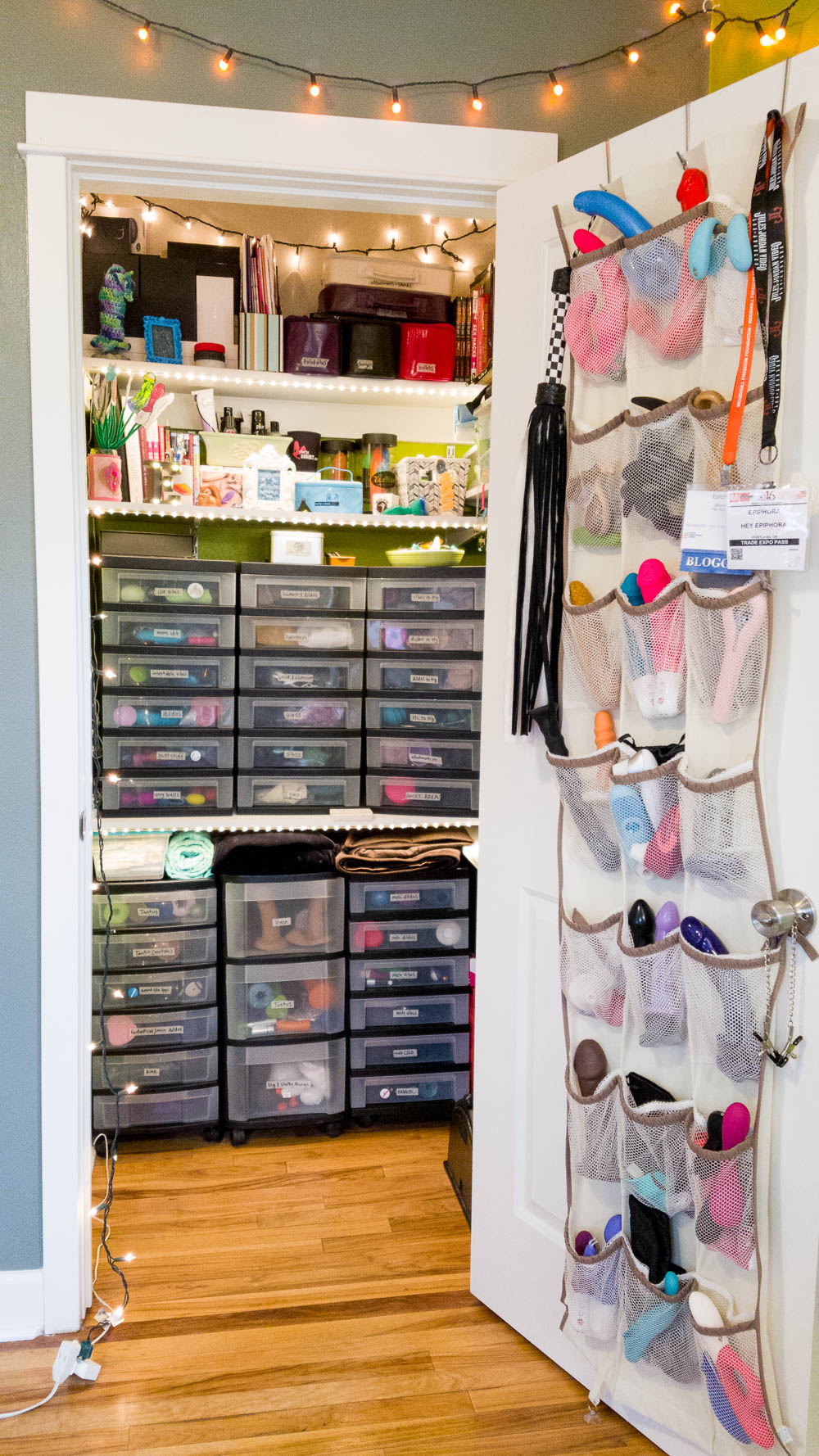 How did I get here? Well, shockingly, one does not amass enough sex toys to fill a walk-in closet overnight. In fact, nine years ago, my sex toy collection lived in a single cardboard box under my desk. As I began reviewing more, the toys graduated to a purple zippered storage case, and later to a herd of similar cases. This was an adequate but ineffective long-term system, so when I needed more space, I changed my tactic completely: I switched to plastic drawers. Several of them. I loved the organization they afforded me, but my "office," which was literally just a corner of my apartment's living room at the time, was becoming cramped.
When I bought my house, I was most excited to finally have a real office, a place to stow my sex toys without subjecting every visitor to their presence. There was no question which room would be my office: the one with the larger, walk-in closet. Clothing could go wherever, elsewhere. This closet was a toy shrine waiting to happen. My mom insisted we paint the closet chartreuse, to match the rest of the room. The joy I felt on moving day, when I planted my drawers in the closet and stepped back and saw how much space was still left… it was exquisite.
Several months later, my dad came over and helped me add shelves to the closet. We arranged them meticulously to accommodate the drawers I already had. The lights — a mix of thrift store string lights and theater-like strips from IKEA — were the finishing touch that brought everything together. They not only cast helpful light on drawer contents, they're also romantic as fuck. My first thought: I want someone to come make out with me in my closet. (#goals.)
You're entranced, I know, by my over-the-door shoe organizer. This is where I keep toys I'm currently reviewing or have obtained recently. I chose that particular organizer because the pockets were mesh instead of sticky plastic. Each slot actually has two pockets — useful for separating toys from their manuals and chargers. On the doorknobs I hang nipple clamps, 'cause why not, and tote bags from Smitten Kitten ("This Bag is Full of Sex Toys"), Early to Bed, and New York Toy Collective.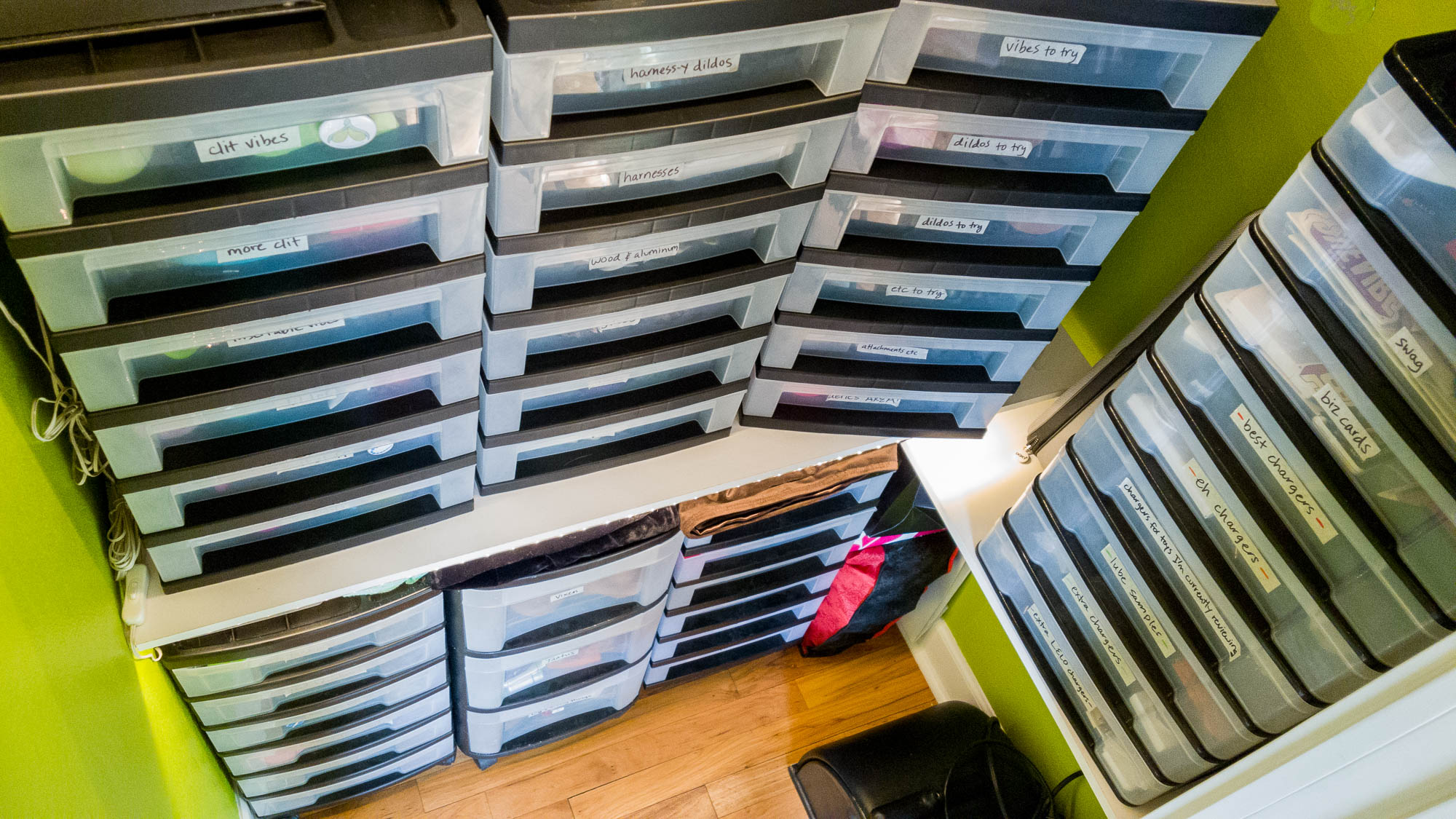 The over-the-door organizer is great, but the true crux of my sex toy storage remains my beloved Iris 6-drawer cart. Inexpensive and perfectly-sized, each drawer is deep enough to hold 1-2 layers of toys, so nothing gets terribly buried. I separate toys by type, material, and sometimes company, but I also group less satisfactory toys together ("meh dildos") and have designated drawers for toys that haven't seen enough action ("vibes to try").
The cart with the deeper drawers has a unique origin story. One July evening in 2013, I was walking back to my apartment and spied a plastic storage cart on the sidewalk with a FREE sign on it. As a descendant of my thrifty1 grandpa, I could not resist. I hauled the cart back to my apartment, hoisted it into my shower, and started washing it out… where I was spooked half to death several times by spiders crawling out of its depths.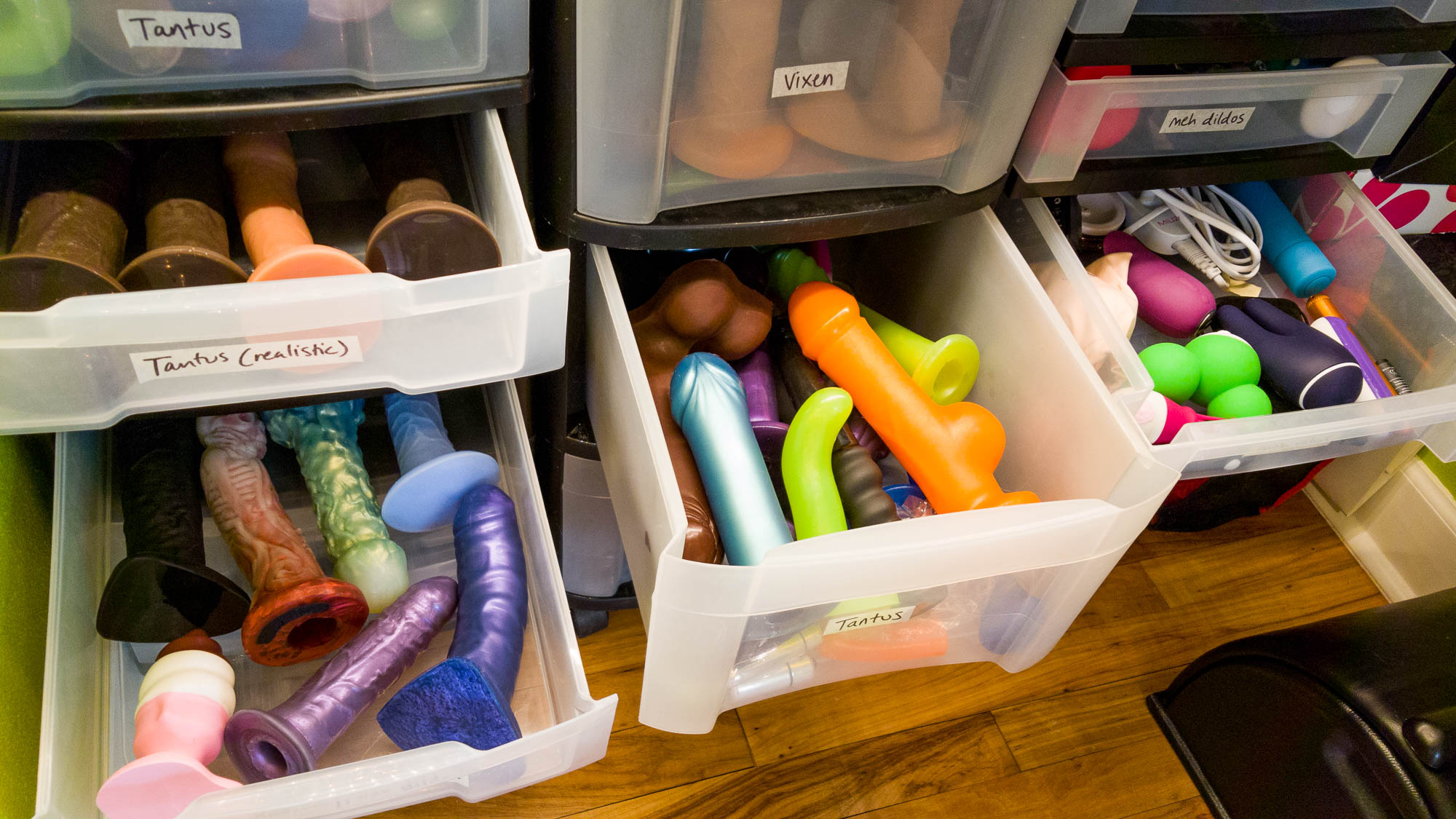 It was all worth it, though, because those drawers are deep enough to allow me to store many of my Vixen dildos upright,2 and to easily stash my obscene number of Tantus toys. As you see here, my drawers conveniently demonstrate the fact that 100% silicone toys do not melt when stored together. That is a myth, no matter what you read on Tumblr.
Tucked just inside the closet, in the corner, is the behemoth that is the Sybian, collecting dust until a new friend wishes to experience it and be disappointed. On top of the carts on the floor there's a box full of manuals, my "come rag" towel, and two Liberator Throws.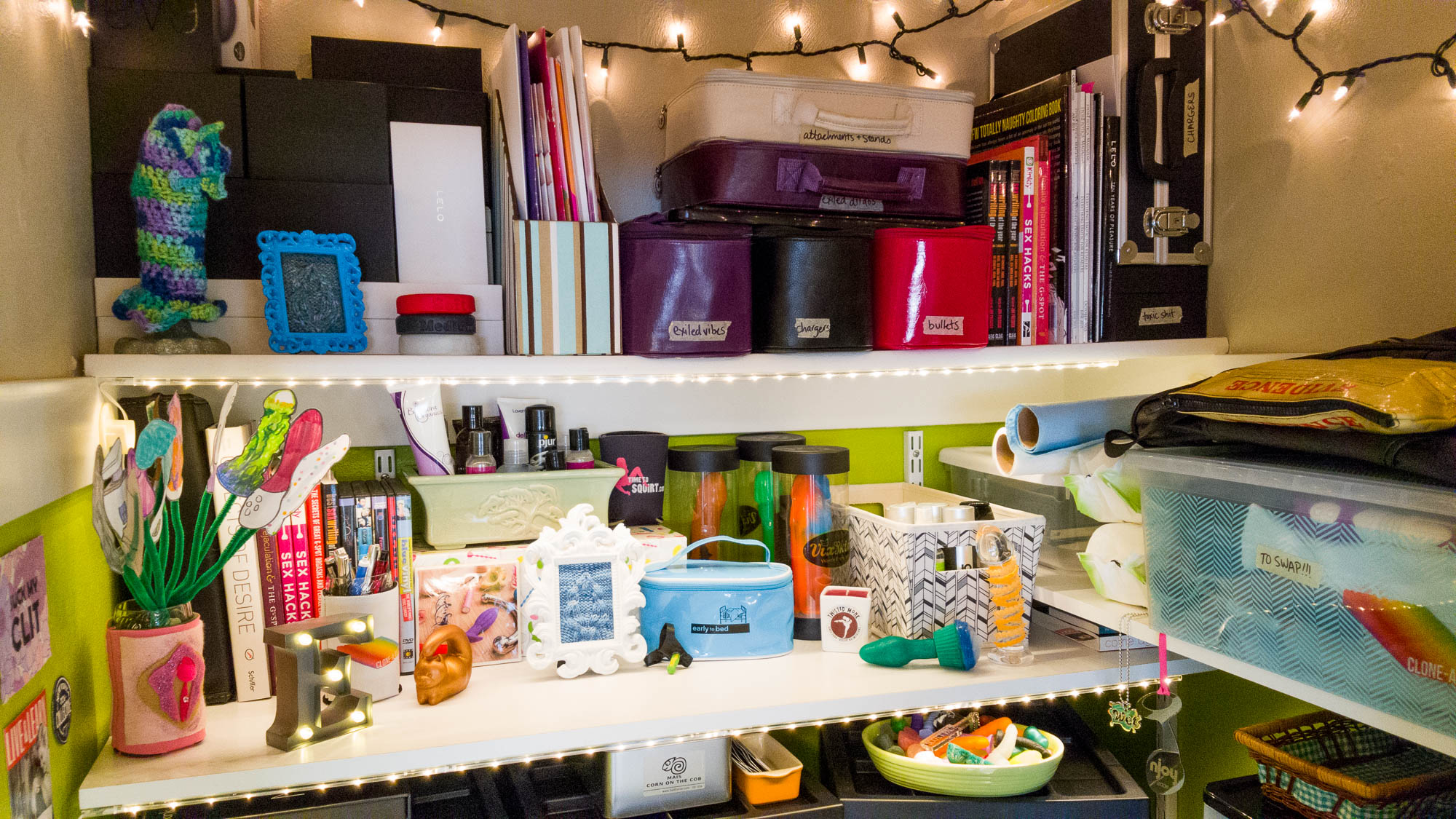 On the very tip-top shelf, I keep miscellaneous sex toy packaging (always telling myself I'll find a use for it, yet never finding a use for it), paperwork and fan mail, books and magazines, my heavy-duty Tunti Toybox, and of course, my original For Your Nymphomation cases, which have seen better days at this point but serve as out-of-sight-out-of-mind repositories for crappy toys ("exiled vibes") and unneeded chargers.
Chargers I actually use, dutifully tagged with masking tape and secured with twisty ties, live in the stack of drawers on the right (not pictured). This unit also contains extra storage bags (which I generally don't use), my business cards, lube samples, and other swag — such ridiculous branded items as Fun Factory purse hooks and Christmas ornaments, glow-in-the-dark LELO slap bracelets, AVN condoms, and tiny tubes of bubbles from Bubble Love. ~Marketing~.
Along with the sex toy reviewer's requisite baby wipes and sturdy paper towels, there's my swap box — toys I want to get rid of. I also have my friend's old Pleasure Purse, perfect for sex dates as it holds a massive amount of toys, and my safer sex kit in this excellent "evidence" pouch.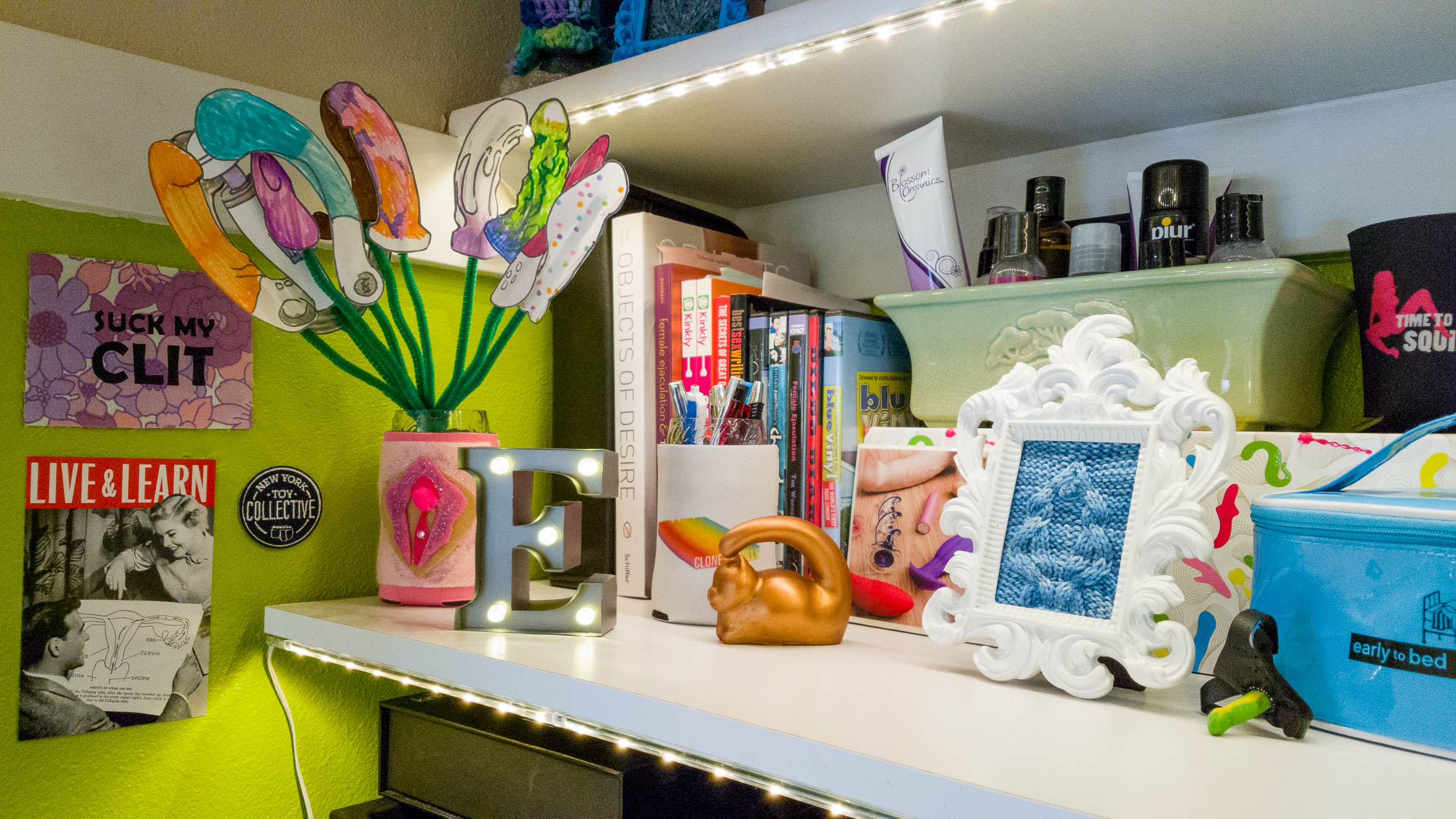 My favorite spot in the closet is the main shelf. I have all kinds of cute objects here: a NYTC patch, bouquet from Kynan, books I'm in, extra lube on top of a Fun Factory Toybox, coaster from Penny, knitted vulva, tiny strap-on, Early to Bed vinyl bag. I display a few weird sex toys, such as the Pretty Kitty, cupcake butt plug, and the worst dildo I've ever used. I also have a pile of tiny dildos and other mini sex toy doodads, and a few dildos in their original tubes.3
The rest of my office is still a work in a progress, but this closet has finally become what I always envisioned: my own little sex toy museum.
You may be wondering, hey, isn't it inconvenient to have all your sex toys in a room that isn't your bedroom? Sometimes, yeah. It's not fun hustling half-naked from my bedroom to my office to acquire the necessary toys mid-sex. But most of my sex toy use is done in my office anyway, sitting at my desk watching porn and jacking off. I still keep my very favorite toys in my desk, in the compartment where the computer brain is supposed to go, so they're close at hand.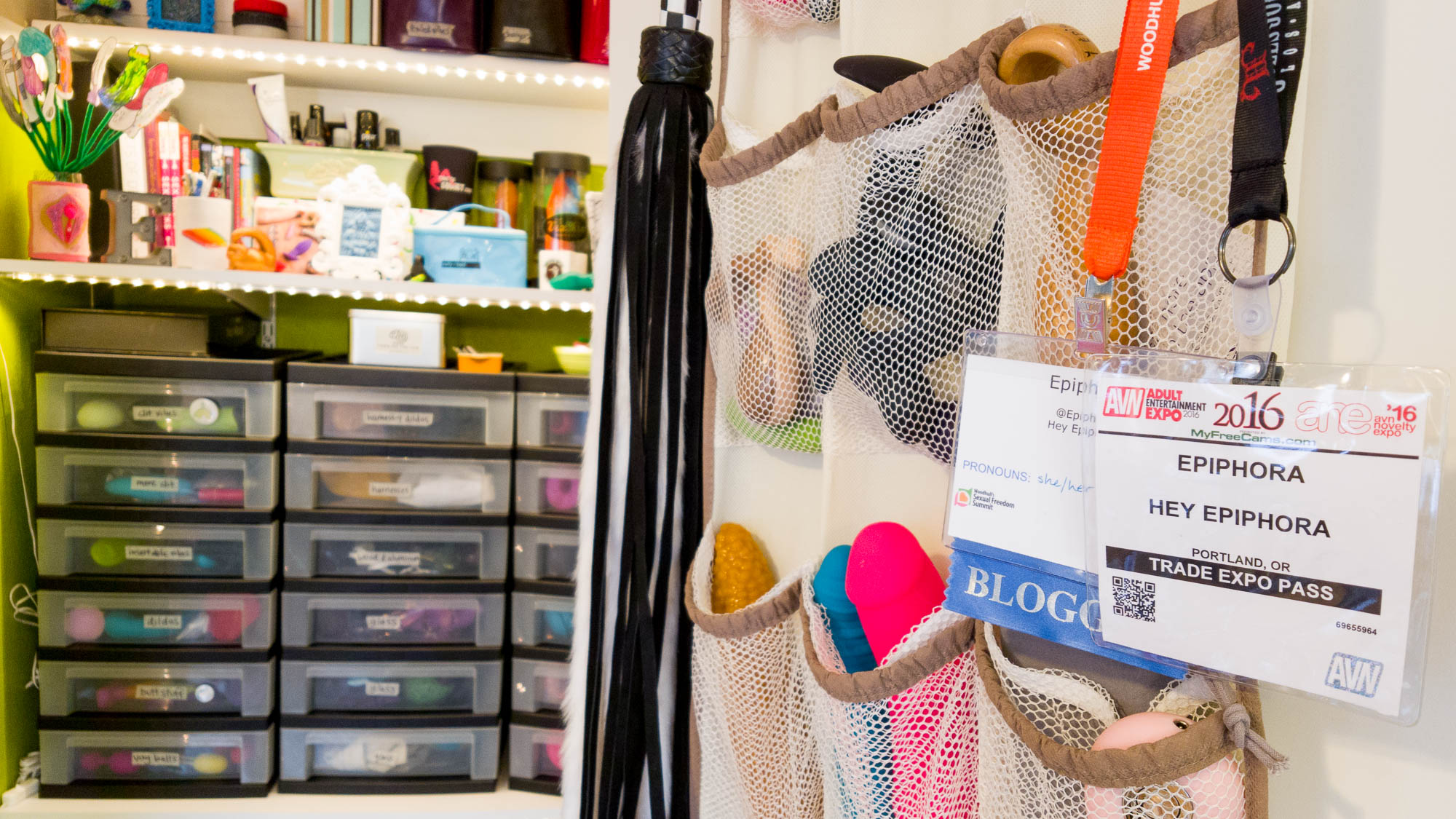 Theoretically, I can close the closet door and quickly sanitize the room if, say, a dude has to come install new internet in my office. This only works if all my toys are put away, though, with none on my desk itself, none charging on my charging station, and none left dirty or clean in the dish rack. It's unlikely, but it's possible.
Most of the time, though, I don't want to hide anything away. Now that my sex toys are not strewn about my living room, now that they're contained, I want to show them off. It seems like whenever we hold a party at my house, a small group of attendees will ask if we can steal away to my office and ogle my collection. It's an unusual use for a closet, and my job is an unusual one, but after a few minutes of explanation, most people can see it for what it is: something I love, something I'm proud of, and something I want to share with the world.
That's putting it nicely considering he used to swipe towels and boxes of Kleenex from my great-grandma's nursing home…
This is recommended to prevent the bases from warping over time, which has happened to my poor Outlaw.