The Vixen Creations Outlaw is a beast. I think we can all agree on that. Towering at a freakish 8 1/2″ tall, with a girth of 2″ and an insanely detailed shaft, there is no denying the Outlaw's presence. Mine is in the delicious chocolate color, which is deep and rich — probably my favorite of the three available skin tones.
I've had bigger with Vixen's Randy (2 3/16″), but Outlaw has that combination of length and girth that can make a sex toy truly daunting. It actually obstructs the porn on my monitor when I set it out on my desk.
Made of amazing VixSkin dual-density silicone, Outlaw is realistic to the max. It is extremely squishy, with a firm inner core that allows it to stand upright, straight and proud. The shaft is decorated with a plethora of veins and skin lines, and a cluster of wrinkles under the head where the foreskin is pulled back.
Even for me, the Outlaw can feel like a stretch. But it's a really good stretch from a cock that seems right out of a sleazy romance novel: thick, veiny, throbbing — okay, not throbbing, but you know what I mean. It feels like an awesome, hefty penis, opening me up and whispering take it.
Outlaw's 8 1/2″ length is intense, too, and that measurement is what made me hesitate to request it. And sure, as I suspected, I can only insert about seven of those inches before I bump into my cervix, but it is far from bothersome. Without the dildo's base right against my vulva, I can access my clit more easily anyway.
I don't ever feel Outlaw's balls against my skin, but they are a helpful reminder of the dildo's angle. I never have tilting or slipping issues.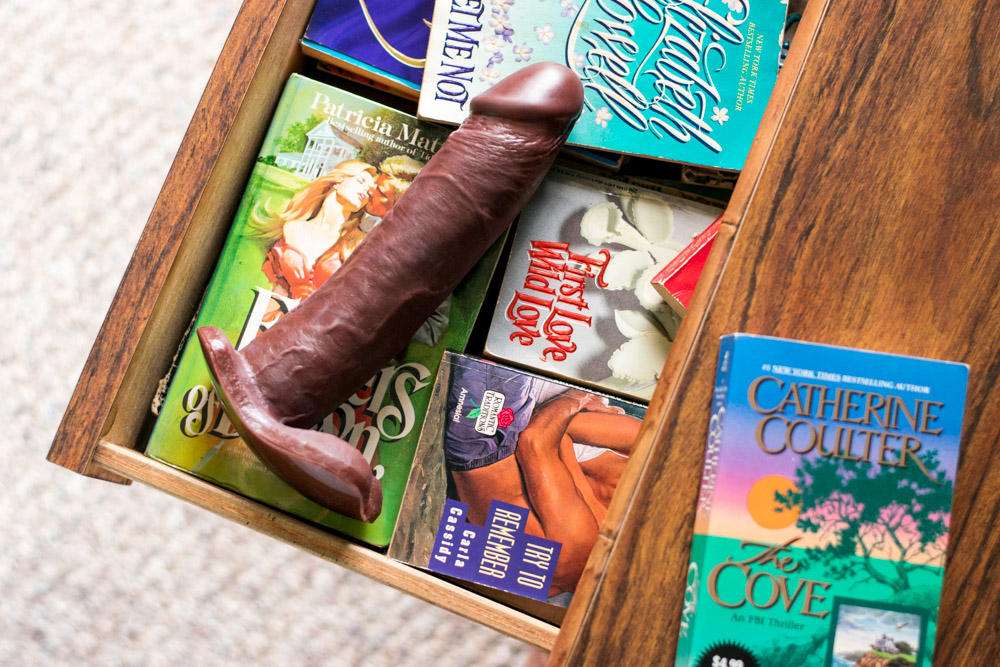 Due to the cervix-poking, Outlaw is not a dildo I thrust a ton. I simply enjoy its girth, sometimes nudging it a little deeper to see how much length I can take. When I near orgasm, I wiggle Outlaw back and forth, enjoying the G-spot stimulation, then slide it out and, most likely, gush on myself.
Of course, I am a G-spot fiend. And while I do squirt with Outlaw, the G-spot stimulation is not immense. I do believe that this is the Outlaw's only "flaw" — it is not curved, not in the least. Because the material is soft, Outlaw's shaft actually droops downward about an inch when I use/hold it. And Outlaw's head doesn't provide a great deal of G-spot stimulation. This dildo is more just a girthy monster, not a G-spot god like, say, Maverick.
But that's really okay with me. The awesome length and girth, coupled with enough G-spot stimulation to make me squirt, are more than enough. It certainly helps that VixSkin is a fucking incredible material, and may quite possibly be my favorite material for internal stimulation. The skin just feels — for lack of a better word — real.
And so it is — I have conquered yet another huge dildo, and I've fallen in love with yet another Vixen cock. Things are getting dire over here. I am a VixSkinoholic. I need therapy… in the form of more dildos.
Really though. Outlaw is a rad dildo. Enormous and floppy, but stiff on the inside, Outlaw satisfies my thirst for girth, curiosity for length, and lust for VixSkin. Outlaw may be a beast, but it is a glorious, glorious beast.
Get the Outlaw at one of my fave shops:
SheVibe, Early to Bed, Babeland, Good Vibes,
Pleasure Chest, or Come As You Are (Canada).