GAY BEACH GIRLFROND FUNTIMES SUPERBLORPS. That's what our shared calendar said. We planned the trip on a whim: several nights at the coast, in an adorable house we found on Airbnb. A quick drive a couple hours from the city and there we were, on the beach, walking in the surf and holding hands. Squealing when the water rushed against our legs more strongly than anticipated.
Kynan had brought some new sand toys, including a hilarious sand drill, so we picked a spot and began erecting a sand city together. Sure, we could've stopped after a few Taj Mahals and Leaning Towers of Pisa, but we were too invested. We kept dreaming up new developments for our city, scavenging for random debris to make our visions come to life. I was brimming with childlike excitement, the surge of joy that comes from doing something creative without worrying about making it perfect.
Once our city was complete, we shot a video tour of it. It was totally off-the-cuff and utterly, beautifully ridiculous.
Back at the Airbnb that night, we brushed our teeth and spent several minutes seriously assessing how best to light the bedroom for sex. (Later we would casually mention on the Airbnb comment card that the house "could use a few dimmer lamps.") We made out, murmured compliments to each other, and of course, occasionally paused the action to laugh about something silly.
Every time, still, I'm amazed by his sexiness.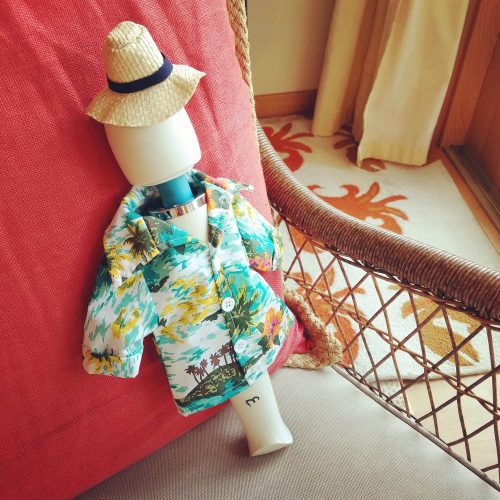 We used toys on ourselves. I rocked the Pure Wand against my G-spot and held the Magic Wand Rechargeable on my clit while Ky did this technique he invented where he presses his fingers on my mons and moves in slow circles — as if polishing something with a cloth. It sort of moves my clit under the vibrator and tricks my brain into thinking Ky's fingers are on my clit. It feels so good I've told him he really needs to name and trademark the move.1
In the afterglow, we cuddled and discussed the day. How the car ride along the coast felt especially meaningful. We had rolled down the windows and blasted music, and I let down my hair. We held hands on Ky's lap. I looked at the ocean as he drove, the light reflecting on the waves, and thought about how vast it is. Ky said, "you're so pretty." I replied, "you're so pretty. And handsome."
It felt like something you'd write in a journal.
We talked about recording memories, the importance of reflecting on life experiences. How much we miss keeping journals. For 10 years, I kept one religiously, but fell out of the habit in college. My obsessive need to capture every moment ruined me. Ky knows the feeling; we're a lot alike.
"I brought some books of ghost stories," he said, "if you want me to read them to you in bed."
It was the most perfect thing he ever could've said.
---
We spent nearly an entire day editing our dorky sand city tour video — selecting sound effects, music, and transitions, cackling with glee over our dumb jokes. Like many things, my love of video editing has been buried under my perfectionism, stifled by the demands of adulthood. Especially as a self-employed blogger who never truly goes off the clock, it can feel wrong to dedicate much time to something so inconsequential.
But that day, we made the choice to indulge in our imaginations. We made something together, something that may only be funny to us. And we both agreed: it was an afternoon very well-spent.
---
Kynan and I don't have an anniversary, exactly. Our relationship didn't follow a typical trajectory. We had sex for the first time in front of a room of friends. We visited each other in our respective cities the following spring and summer, before Ky moved back to Portland permanently. Now, my calendar has one week in July blocked out as our anniversary — the week I spent visiting him in San Jose, cuddling and playing games and watching fireworks. Before we had words for what we were, when all we knew was a feeling: yes, this is right.
This year marks four years together.
For the first two and a half years of our relationship, I was the main person in his life. But in fall 2016, he met somebody new, and this January, they both got married and Ky's partner moved in with him. A few weeks ago, they celebrated the marriage with an intimate get-together and ceremony. Ky asked me to read a poem, and I chose Barbara Ras's "You Can't Have it All" — with the genital reference respectfully removed, of course. Ky was wearing an adorable necklace in the shape of a slice of rainbow cake, and we all celebrated with donuts and coffee.
Ask anyone who's polyamorous and they'll tell you it's not easy. It is, in fact, a great test of your communication skills… and often a reminder of how much work you still have to do. It requires a lot of understanding and self-reflection, a commitment to honesty even when honesty hurts.
So the truth is this: I'm so, so happy that Kynan found someone else who will love and take care of him. It's what I've always wished for him, and what he deserves. But seeing him traditionally paired up, saying vows — with the ring on his finger — it did feel strange. Like a small, dull ache in a tender corner of my heart.
---
The next day we walked the main drag, perusing the shops. In the tiny coastal town, everything was within walking distance. We held hands everywhere. At one point we came upon a bookstore… and they had notebooks. I picked one up and turned it around in my hands. The cover felt more sturdy than a shitty Office Depot notebook, the pages a little thicker. It seemed like a sign. I shoved the neurotic part of me aside — what if there's something better out there? — and bought it.
That evening I wore my gayest dress: a rainbow-splotched floor-length thing I got in Maui. We went to a cute restaurant with outdoor tables and fancy firepits. I had wine made with pineapples.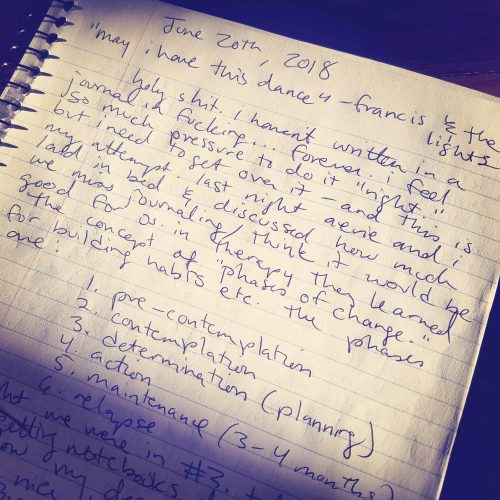 Afterward I sat with Ky on the couch at the Airbnb, writing the first entry in my new journal. I wrote about how we poked around a sketchy side-of-the-road thrift store, then made origami otters from a pack we found there. How the toilet lid made a very loud creaking sound and Ky joked, "the toilet has an announcement to make." How we played games and got pizza from a walk-up window. I chronicled our enthusiasm upon noticing a plastic crab lurking from the rafters, which we christened the "Crab of Shame" as an homage to the Cherub of Shame, an inside joke from a past sex blogger vacation.
I wrote about the drive, our sand city, about feeling grateful and happy. My handwriting was atrocious, my sentence structure questionable. It didn't matter, and I loved that it didn't matter.
I cried on the very first page, feeling overwhelmed with emotion. For the first time in a while, I realized, I was writing something by hand and only for myself. Not for clicks, for likes, for page views, for money. Merely to remember a special time with someone I love, to feel the weight of my pen marking the page. And god, it felt so good. Like it's been far too long.
---
The morning we left for the coast, I piled my stuff in the back of Ky's car and hopped in. We started discussing where we should get coffee on the way out, which route we should take, which true crime podcast we should listen to. Unexpectedly, he handed me a small box.
Inside was a necklace with a slice of rainbow cake on the end.