Once upon a time, sex toys were either pink, purple, or a hideous shade of beige I've heard described as "silly putty," "bandaid," or "uncooked hot dog." It was an era of churning out questionable designs in stinky toxic materials, characterized by companies' hyper fixation on catering to the only target market they could imagine: straight, white, young, non-disabled cis women. (And a stereotypical understanding of them, at that.)
But now, decades later, any sex toy manufacturer who's been paying attention has realized that's a really narrow view of sex toy users. More social-justice-minded companies now market their toys based on what the products do rather than prescribing who they're for, and the color palette has expanded considerably. So while the industry still struggles with language and inclusion in many ways, I can't help but feel happy when I see something like this: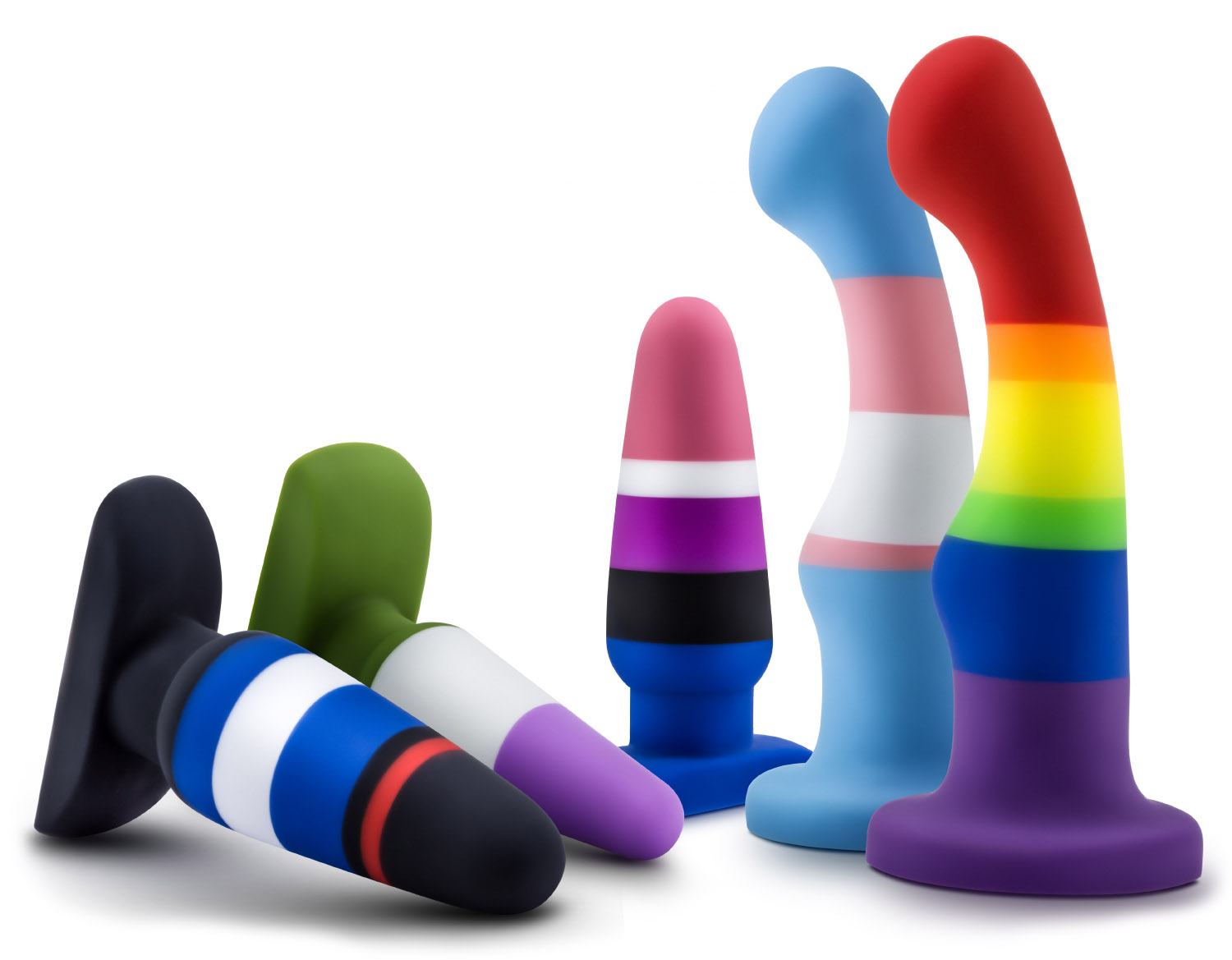 This is the Blush Avant Pride line. Amazing: a full line of LGBTQ-inspired toys that goes beyond the usual refrain of "uh, just slap a rainbow on it, I guess." I MEAN, THERE ARE FREAKING GENDERQUEER AND GENDERFLUID BUTT PLUGS, FRIENDS.
I know, I know, they're hella pandering, but as a queer person, this is some pandering I can get behind. Blush is a pretty mainstream producer of sex toys, so it feels meaningful that they'd put their efforts into designing a line like this. Plus, it means there are now several different companies making trans pride dildos!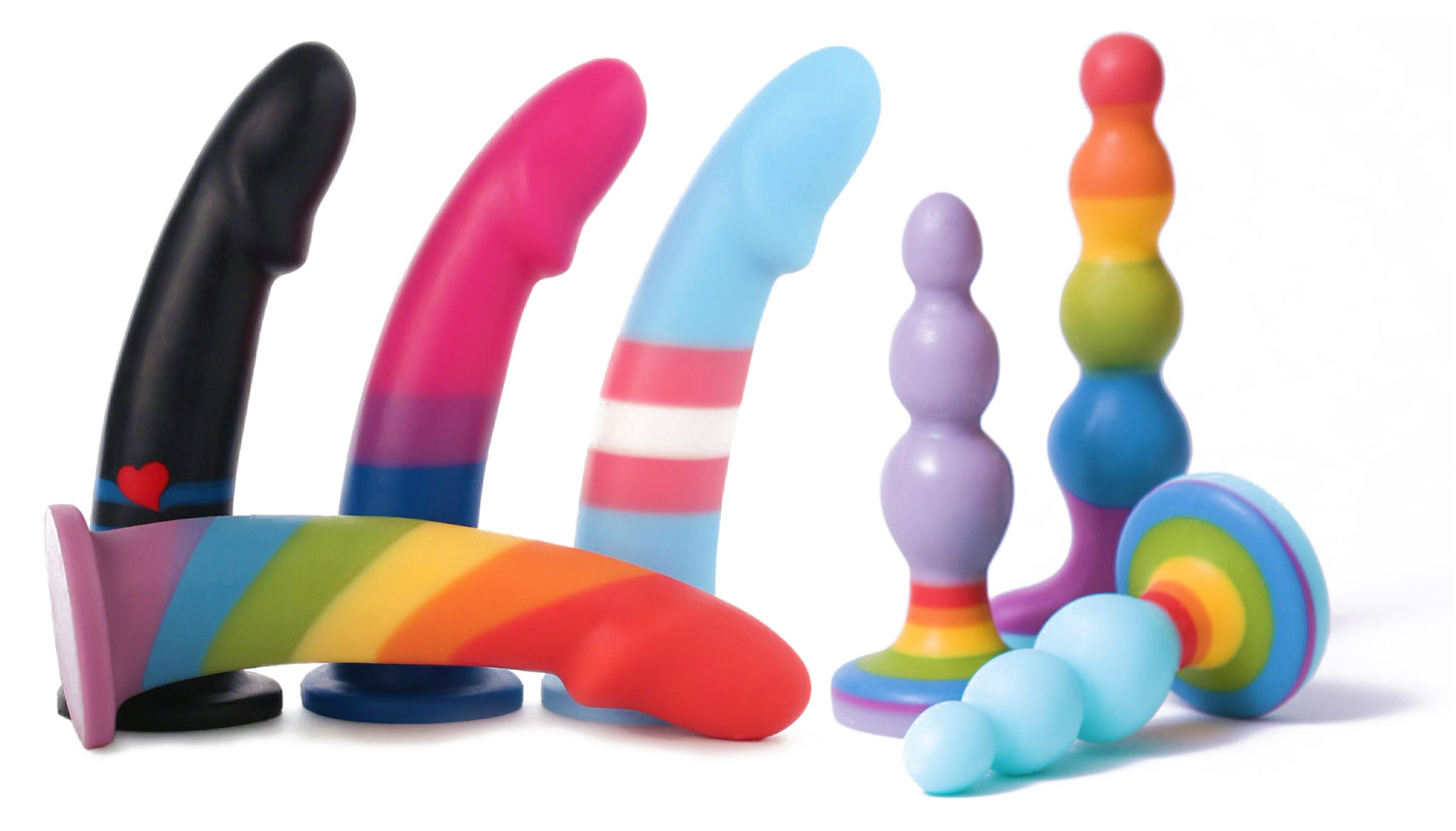 Spanish company BS Atelier was the first to make a dildo in the colors of the trans flag. They also produce genderqueer flag dildos, lesbian pride dildos, and several other hand-poured dildos and butt plugs adorned with rainbow stripes. The Paris rainbow is especially jaw-dropping.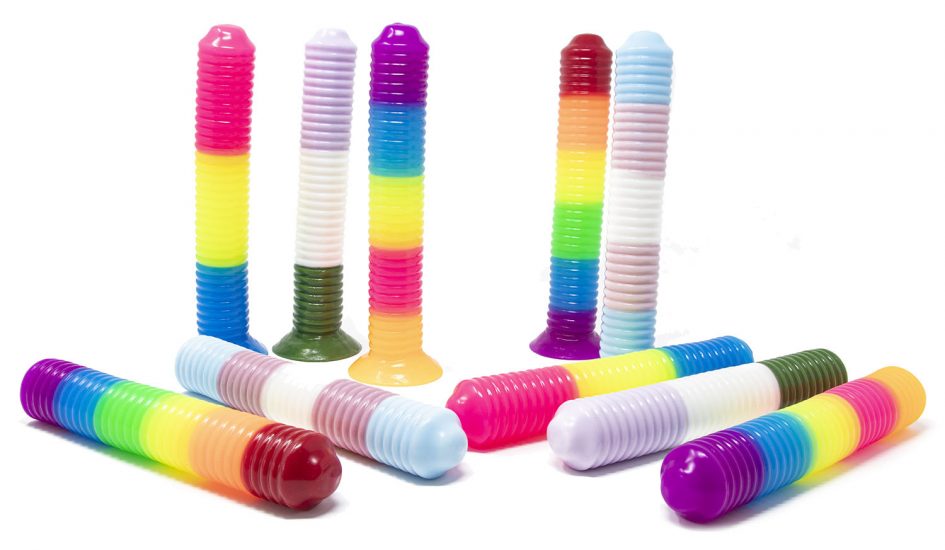 2020 additions: German manufacturer SelfDelve has a line of ribbed dildos called "Fun with Flags" in trans, pansexual, genderqueer, and non-binary color schemes, along with the classic rainbow. Geeky Sex Toys came out with pride dildos and butt plugs, too. YES. I'm obsessed with the handmade Inclusion Harness and its rainbow straps.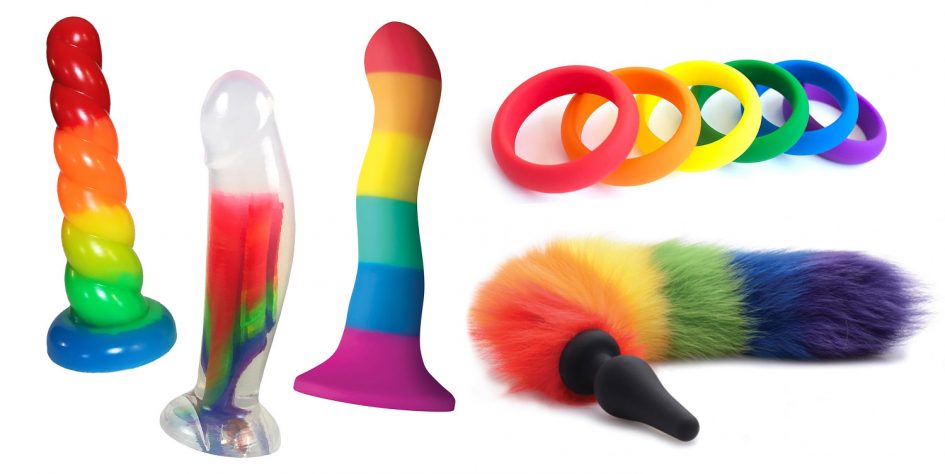 They're not the only ones splashing their toys with rainbows. Split Peaches makes vibrant rainbow versions of their Unicorn Horn, Riveter, and Screw You. Funkit Toys offers the Crista Swell, with a unique multi-colored ribbon suspended in clear silicone. NS Novelties has an undulating pride dildo and some more realistic ones. There's always the polka dot Jollet and candy-colored Standard Glass dildo. The Vixen Mustang in Tie-Bright isn't exactly a rainbow, but I'm counting it because it's so fabulous.
Of course there are several butt plugs with rainbow tails attached; why wouldn't there be? And just in case you want 6 cock rings in every color, blam.1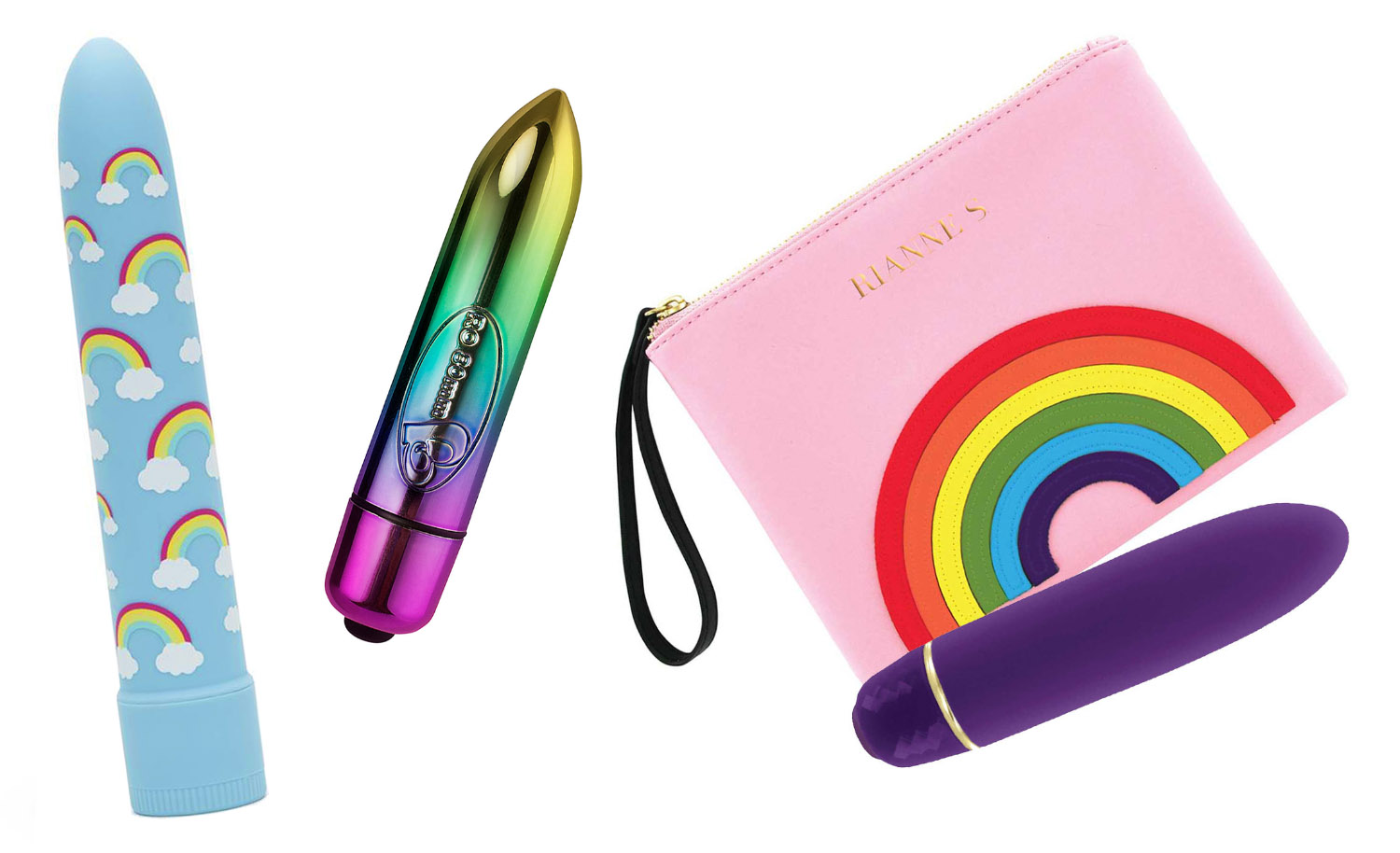 Oddly, there are less rainbow vibrators to be found. Lovehoney just came out with the Positive Vibes line, which features a sky blue vibe decorated with cartoon rainbows — it's very My Little Pony, and I love it. The Rocks Off RO-80 MM vibrator comes in a pretty cool iridescent rainbow fade version. The Classique from Rianne S may or may not be a worthwhile vibrator, but it does come with an adorable rainbow pouch.
This is far from an exhaustive list of every gay sex toy in existence. After all, the Hitachi Magic Wand is nearly devoid of all color, but it's a queer staple. There's always the Spareparts Joque, the Subaru of harnesses. Leather shops like Mr. S are full of super gay shit, like silicone fisting toys and huge dildos.
Don't get it twisted, though. "Gay sex toys" (and its frequent companion, "lesbian sex toys") are not a thing, despite what many shitty sex toy retailers may have you believe with their ill-advised category names. Sex toys do not have sexual orientations or gender restrictions — there is no limit on who is allowed to use or enjoy any particular product. Obviously, being an ally to the LGBTQ+ community means more than peddling products in a certain color scheme. But rainbows are delightful, and representation and visibility matter — even in something as seemingly insignificant as a dildo.
Happy Pride month! Now go out there and be AS GAY AS HUMANLY POSSIBLE!
This is not to mention all the indie sellers such as Kudu Voodoo, TheToySheep, and Ttamage, who make toys in rainbow swirls and fades.