I'm in love. Its name is the We-Vibe Dusk, and I'm using it all wrong.
This toy is supposed to be a vibrating butt plug. It looks like a butt plug. It functions adequately as a butt plug. But something compelled me to put this toy in my vagina, and it was absolutely one of the smartest things I've ever done. Like, on par with buying my first mug warmer, or thinking "hm, maybe I'll start a blog." Immediately, the Tango vibrator in the base nestled up against my clit, so closely that it seemed there was a chance of bringing myself to orgasm without touching anything. Just sitting there like a blob.
Could I do it?
I gripped the Dusk with my PC muscles, pulling it against my clit even more. I took some deep, shaky, slightly-confused breaths, eyes wandering over my computer screen but not actually reading anything. The rumbly vibrations of the Tango, not even turned up to high, reverberated against my clit. It felt awesome. It didn't take long.
Afterward, I sat there in awe. It was unreal. And I didn't have to work for it at all. Like, I rightfully did not deserve that orgasm. Which made it even sweeter.
Before I gush any further, let me clarify everything I'm actually reviewing today, which is not just the Dusk but its companion, the Glow G-spot dildo. They're sold separately for $50 and $60, but together in the We-Vibe Tango Pleasure Mate Collection ($150), which comes with the glorious white Tango vibe that fits in each of their holes. This is a wonderful thing, because We-Vibe has finally realized the true power of the Tango — that it can enhance all manner of other sex toys.
Hilariously enough, I thought for sure I'd prefer the Glow. It has that flat tip shape that many G-spots adore, and it does feel quite nice against mine. But the tip is a bit small, the shaft gets wider in a spot that my vagina doesn't agree with, and grabbing hold of the base to thrust with the toy is pretty awkward. So using it internally is pleasant, but not as effortless and satisfying as, say, using the LELO Ella or PicoBong Moka.
But the Glow can always be used clitorally — if, for instance, the shape of the Tango alone is too pinpoint for you, or its plastic too harsh against your genitals. The Tango is a ridiculously powerful toy, so its vibrations travel well through the silicone. It's stronger than the LELO Gigi 2 and rumblier than the PicoBong Moka. The trade-off: it vibrates my hand a lot more than a traditional vibrator, and it's pretty loud.
BUT CAN WE GET BACK TO THE DUSK, PLZ?
When I use the Dusk vaginally, I position the Tango the same way it's shown in my photo above, then insert the Dusk so the flat tip of the Tango rests against my clit. That way the sheath for the Tango is angled toward my body rather than away from it, and it really does snuggle right up against my vulva. For less pressure, you could flip the Dusk around. The Tango could also be shifted in the sheath depending on how much you need it to reach upward.
What's freakish is how terribly normal these hands-free orgasms have now become with the Dusk. I've propelled to a new level of lazy masturbation, and you should probably stage an intervention. I sit there at my desk, legs spread, "working" and whimpering like a sad little puppy. I use my PC muscles to pull the Tango even closer against my clit, squeezing and releasing, working myself into a frenzy. (This toy should seriously be marketed as a kegel exerciser because my PC muscles have never been so toned.) The insertable portion doesn't do a ton for my G-spot, but my clit is in fucking heaven.
I'm like a dude just waiting for the orgasm I'm certain I will get. The orgasm the world owes me. Like I'm wearing a suit, hands behind my head, self-satisfied smirk on my face, while my secretary blows me under the desk.
For those who require more intense pressure or more movement on their clit, it might not be as good. But for me, the Dusk is what every "hands-free" vibe claims to be and never delivers. It's what the We-Vibe 4 and LELO Hula Beads wish they could be. It's what the Aneros Evi should have been. When I stand up and walk around, it doesn't even budge.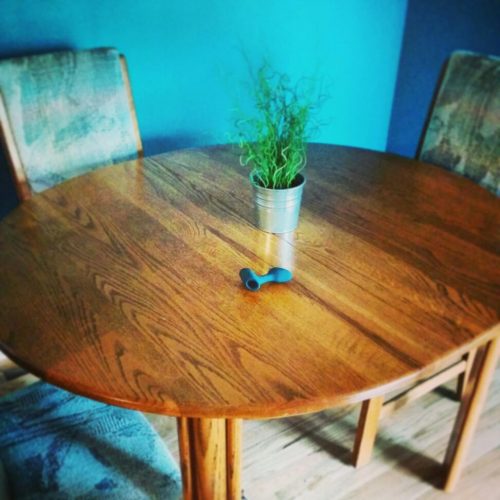 One time, I not-so-subtlely put the Dusk out on my dining room table before my partner Kynan arrived. You know, to make a statement. It worked. Ky tried it vaginally, became horny, and we had sex. The We-Vibe Dusk totally got me laid.
Another time, Ky wore it while scissoring me, and while it required a lot of adjustment, it was great once positioned correctly. Then, I wore it while wielding Buck in my Joque harness. Not only did it add to my enjoyment of strap-on play, but Ky could feel the vibrations in the dildo as well.
I even wore the Dusk while writing this review at Ky's place, then after I had my obligatory hands-free orgasm I pulled the toy out, raised it to the skies à la The Lion King, and yelled "DUSK!" I don't know why. It just seemed like the right response. (Also, I'm convinced you could re-write Fleetwood Mac's "Tusk" to be about jealousy over a partner's over-zealous relationship with their Dusk.)
I guess I should talk about how it fares in my ass. It's nice. It's really comfortable and reminds me a lot of the Fun Factory Bootie, although the Tango makes the base a bit bulky and long. The vibrations do not enhance the experience, though. Even on low, they travel more to my butt cheeks than inside me. It becomes unbearably itchy on high. I prefer it as a non-vibrating plug.
A few details diminish my love for the We-Vibe Dusk, but only slightly.
The Tango fits too snugly in its sheath and can be hard to wrest out.
It's kinda difficult to change settings because the controls are at the bottom of the toy.
The Tango still only lasts an hour on a charge. Sometimes I end up furtively glancing at the clock trying to calculate how much time I have left before its inevitable death.
I have to turn the toy off quickly after orgasm because the intensity becomes overwhelming. So I don't recommend it for secret office wanking unless you have the freedom to suddenly stick your hand down your pants.
It turns me into a unintelligible (you should have seen the way I tried to write the word "dudespread" while wearing it) and sweaty mess. But I guess I can take a shower.
Buying the magic combo of Dusk and Tango separately will set you back $130. The whole collection is $150 and includes the Glow (more of a bonus than a necessity), saving you $40 over buying each component individually.
The We-Vibe Tango Pleasure Mate Collection is an excellent kit for someone wanting to explore G-spot stimulation, anal play, awesome vibrators, and apparently, hands-free orgasms. Just make sure to thank me each time you come. I have a copyright on Dusk-induced orgasms, you know.
Get the Dusk at Peepshow Toys or Enby.
Get the classic Tango at We-Vibe, Spectrum Boutique, or Pleasure Chest.