My history with butt plugs has not been especially eventful, nor has it been particularly blissful. My first plug was the adorably sparkly Buddy, which, while well-meaning, would not stay in my ass. Next was a vibrating butt plug that was tiny enough to feel nice, but was attached to a cord. Then I was gifted the ever-popular Ryder, a plug bit too extreme for me to enjoy at the moment (I'm a weakling, I know) which I totally love. My most recent butt plug rendezvous was with Bob, a very comfortable and well-designed plug, save for the worryingly small looped base.
Despite this brief bout of plugs, I feel completely secure in making the following statement: the Fun Factory Bootie is one of the best butt plugs out there. It's become an instant favorite of mine, and I'm guessing other butt plugs will have a hard time knocking the Bootie off its pedestal.
The Bootie comes in three sizes. The small, which I tried for this review, is a quite petite plug — only three inches long with a diameter of one inch at its widest point. The base is a little over three inches long. This toy is made of 100% silicone, and thus is completely sterilizable (a must when it comes to anal toys, in my opinion). The silicone has a soft matte finish to it, and is pretty dang pliable.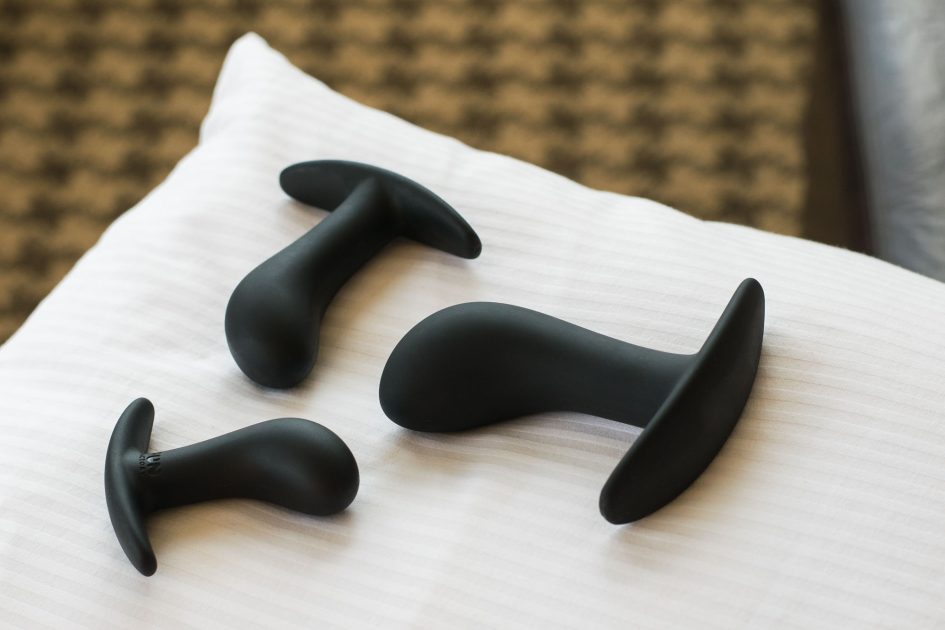 Due to the smallness of the Bootie, I see little reason anyone would have trouble inserting it. The base is actually quite easy to grip. It goes in smoothly, easily, and pops into place. I can really feel the Bootie, I think due to its curved shape, and my muscles can't help but tighten, then release, tighten, then release. This is new to me — this feeling of my ass wanting to play with the plug — and it makes the experience all the more delicious. It actually turns me on, unlike most of the other butt plugs I've tried which just fill me up and hang out there.
Besides the sensation of wearing the Bootie, my second favorite thing about it is the base. Finally, a base that is both extremely safe and extremely comfortable. I'm a bit paranoid about smallish bases, and this one is definitely long enough to put all my fears to rest. I feel completely at ease sitting on Bootie, and the base never becomes annoying. Never. It rests between my cheeks perfectly. It may actually be a bit too long for some, as it tickles my vulva sometimes.
I don't know if this review has been convincing enough, since it's hard to really explain how much fun I have with Bootie. In any case, this is the plug I wish I'd bought as my first butt plug. This is the plug I want to use on my boyfriend when he's ready. And this is the plug I'm going to recommend to everyone, especially because — at $35 — it's an awesome deal.
Bootie is a perfect example of why I created the Hi, I love you sub-category of reviews. It was love at first insertion.
Get the Bootie at SheVibe, Fun Factory, Spectrum Boutique, Early to Bed, Peepshow Toys, GoodVibes, or Babeland.