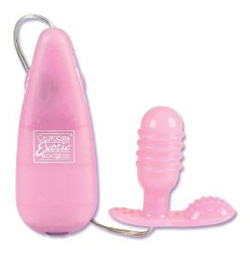 First things first: this thing is unabashedly pink. No, not hot pink or magenta — I'm talking cutesy, baby shower pink. Pink is last on my list of preferred sex toy colors, as I've always had an aversion to pink in general, but also because it seems to exclaim, "you, as a woman, have permission to use me (while still adhering to a cultural stereotype of femininity)!" You can thank my gender studies classes for that.
But I digress, because the color of this toy barely matters. Functionality usually reigns supreme anyway, and I can assure you, this butt plug carries out its functions wonderfully. So wonderfully, in fact, that I can completely overlook its pinkness.
Physically, this toy is a bullet covered in — I think — TPR. All of this is just far more confusing than it should be: the package states "High Grade Silicone" (don't they all?), yet the back of the package advises me to use a "rubber compatible lubricant" with this toy. So I think it's thermoplastic rubber? The toy definitely doesn't have a suspicious smell; that is all I know.
This toy's battery pack is the same as the kind that come with many other California Exotic products. It's definitely one of the poorest quality battery packs I've come across, but it doesn't have any major pitfalls either. The shape is decent and the low-to-high vibration wheels (one on each side) are useful. The cord is 28 inches long — a decent length for a vaginal toy; somewhat short for a vibrating anal toy — but sufficient for my purposes.
It is a bit of a challenge to get a good grip on the base of this toy to insert it, since the base is floppy, but that's a small negative detail in the overall experience of using this plug. Once inserted, it does not even think about budging, and the base fits perfectly between my cheeks. It's nearly imperceptible. (There are some bumps on the base, but they didn't seem to provide any extra stimulation.)
As I anticipated, the addition of vibration to butt play makes it much more pleasurable for me. There aren't set vibration levels, although I would say there are about five. I was pleasantly surprised when the vibrations varied quite a bit from low to high, yet did not produce much noise at all! When the plug was in my ass, of course, there was even less noise.
Since the toy is essentially a bullet, it is quite rigid. This could be a positive or negative thing, depending on your desires. I found that I appreciated the firmness of the plug; it really made its presence known, despite being quite small. Although my other butt plug is longer than this one, this one provided more stimulation, via vibration and firmness.
When I was ready to remove the plug, I placed my thumb in the thumb groove on the base and easily pulled it out. I like to think of the base as a pull tab. It's like opening a can of pop or something. Only it's nothing like that. It's way better.