Want to expand your sex blog horizons? Good! You should! Below I've listed tons of awesome blogs, many of which include sex toy reviews, but I'm always keeping an eye out for more.
Have suggestions for blogs I should add? Email me!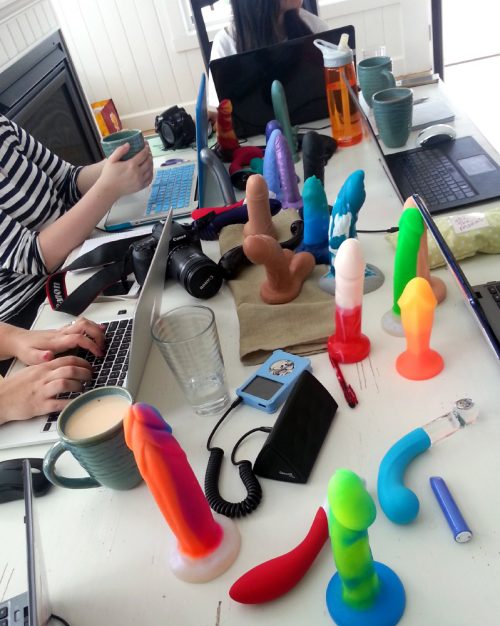 Are you looking for…
…sex toy reviews from cis 1 men?
The Big Gay Review, He's Naked, The Intellectual Homosexual, Mr. Will's House of Thrills, Obsession Rouge, Perineum Plunders, The P-Spot, Ruffled Sheets, Squirrelmunk, The Toyful Review, Unchaste Ray.
…sex blogs written by trans or gender non-conforming people?
Betty Butch (non-binary), Bex Talks Sex (trans guy), Chase Ross (video reviews from a trans guy), Dildoodler (non-binary), EROcentric (non-binary), I'm an Adult (genderfluid), Insert Trans Here (trans woman), June Pilote (non-binary/trans-masculine), Kelvin Sparks (intersex trans guy), Mason Luke (video reviews from a trans man), Mx Nillin (non-binary), On Queer Street (genderqueer transmasc), The Palimpsex (genderqueer), Quenby (non-binary queer), Squeaky Bedsprings (agender/genderfluid), Sugarbutch Chronicles (non-binary), Taylor J. Mace (non-binary), Trashy Femme Talks (non-binary), Witch of the Wands (non-binary demigirl).
…sex blogs written by people of color?
Adult Conversations, The Aqua Kink, The Black Pomegranate, Blk Vibes, Cara Thereon, Dildo or Dildon't, Electric Lust, Fairy Cake's Land, Javay Da BAE (videos), Leila Loren, Lips & Vibrators, Mollena, theNotice (also a beauty blog), Pretty Pink Lotus Bud, Sexology Bae, Super Smash Cache, Trashy Femme Talks, Unchaste Ray, The Wench Works.
…sex toy guidance for folks with disabilities?
Arousibility, Chronic Sex, Cripping Up Reviews, Hedonish, Helen's Toy Box, theNotice, Sugarcunt Writes, Taylor J. Mace, this post about sex toys for disabled peeps, this video, and these two guides.
…other prolific and trustworthy sex toy reviewers?
In addition to those listed already: Backwoods Bedroom, Girly Juice (who also writes tons of other fantastic content), The Ins and Outs with Erika Lynae (video reviews!) Miss Ruby Reviews, Phallophile Reviews.
More blogs I enjoy
Retired blogs
These blogs haven't been updated in a while, but I can't bear to remove them from my blogroll. Their archives still hold many treasures!