It was 10:15 am, just a bit before I needed to leave for work, when the We-Vibe Rave arrived in the mail. I was already dressed — pants, shirt, shoes. My hair was wet from a shower. I'd already had one orgasm that morning, in bed with my fingers after a hot dream, but it didn't matter. I didn't have my glasses on yet, but there was no time for that. Nor was there time to give the vibrator an initial charge.
I took the Rave straight out of its packaging, turned it on, and unbuttoned my pants. I pulled up some porn on my laptop, shoved my underwear to the side, and pressed the vibrator against my clit in a blurry-eyed haze.
Yes. The word blossomed in my mind like food coloring in water. Yes, holy shit, it's as good as I'd hoped. I came quickly, effortlessly. It was the fastest box-to-clit progression potentially ever — or at least in recent memory. The whole rest of the work day, I daydreamed about coming home to the Rave.
You have to understand how unusual this is. Usually I try something for the first time, get the general gist of it, and then ignore its existence for a little (or long…) while. I don't hunger for it. I test it, as I would anything, but I don't use it for recreational orgasms. The Rave, though, was an immediate hit.
Everything was going so well. Then I looked at the back of the box for confirmation of the one thing that concerned me. A cheery drawing indicated "Splashproof."
Shit.
My heart sank. All We-Vibe's other toys are fully submersible. I felt cheated, like that time I tried to go to the nearest Panda Express only to find it shuttered.
But there was a bright spot among the other icons: one labeled "App-Compatible."
That's the story with the We-Vibe Rave: there are amazing things about it that easily make up for the things that aren't so great. I can forgive and forget the toy's depressing color, its confusing controls,1 and the lack of waterproof functionality, because the Rave's shape is 1000% perfect, the vibration range rules, it can be controlled with an app, it's only $119…
I fear listing off these features does not appropriately sway you, though, so let's talk about what's really important: what my G-spot thinks of this toy. My G-spot can't speak English, but here's a rough transcript of its thoughts when I use the Rave:
[unintelligible screaming]
As I write this I'm staring at a freshly-squirted-upon Rave that literally dripped ejaculate onto the floor as I moved it from my vagina to a paper towel on my desk. That was my break from writing this review. It took all of a few minutes.
This is G-spot stimulation so good that I don't fully understand why, and so effortless I almost feel like I don't deserve it. This is G-spot stimulation produced by a head neither bulbous nor severe, and therefore without the awkward popping sensation sometimes caused by those shapes gliding over the pubic bone. This is internal vibration that enhances the pleasure rather than muddying it.
In testing the Rave, I'm reminded that the handle of a sex toy can be just as instrumental as the insertable portion. The Rave's handle curves up, toward me, making manipulation of the toy incredibly easy. Slight movements such as light thrusting or rocking take minimal effort and reap great G-spotty reward. Plus, the rounded tip and stubby stature of the shaft allow me to thrust wildly without poking my cervix — an issue many have with toys like the Mona 2.
There's something magical about the Rave's wonky, asymmetrical shaft. That shape, and the wide range of steady vibration intensities, make me positively giddy about what this toy might be able to do for folks starting to explore their G-spots. My partner, who normally doesn't care for internal vibration, had his first ever G-spot only orgasm with the Rave: "all I could think was THIS IS AMAZE. MIND BLOWNZ."
See? Words are hard.
But I still start with it clitorally every time, which tells you something about the motor in this toy. We-Vibe is known for their robust motors in toys such as the Touch and Tango, and they don't disappoint here. The 10 steady intensities are incremental and satisfying, similar Mona 2,2 and the 10 patterns aren't bad either. I'll admit the shape isn't as pinpoint as I'd like — I sometimes flip it sideways so I can rest the edge ridge against my clit instead — but the vibrations are A+, and I can't complain much considering what that very same shape does to my G-spot.
The charging port is right under the controls, so vag gunk inevitably circles around it, staring at me like a judgmental eyeball as if to say "you took things too far. You squirted too much. Don't get your nefarious liquids near me." As far as the "splashproof" label goes, I once accidentally chucked the Rave into a sink full of water with a bunch of other waterproof toys, and it survived. I also routinely clean it under running water because I like to live on the edge I'm lazy.
According to We-Vibe, the charging port has a "septum valve" which protects the internal electronics from water ingress. This means I have to stab it heartily with the charging pin, which is never not terrifying, but it also means that unless you're dunking the toy underwater or ambushing it with a Super Soaker, you're probably fine.

That time strangers controlled my vibrator from across the country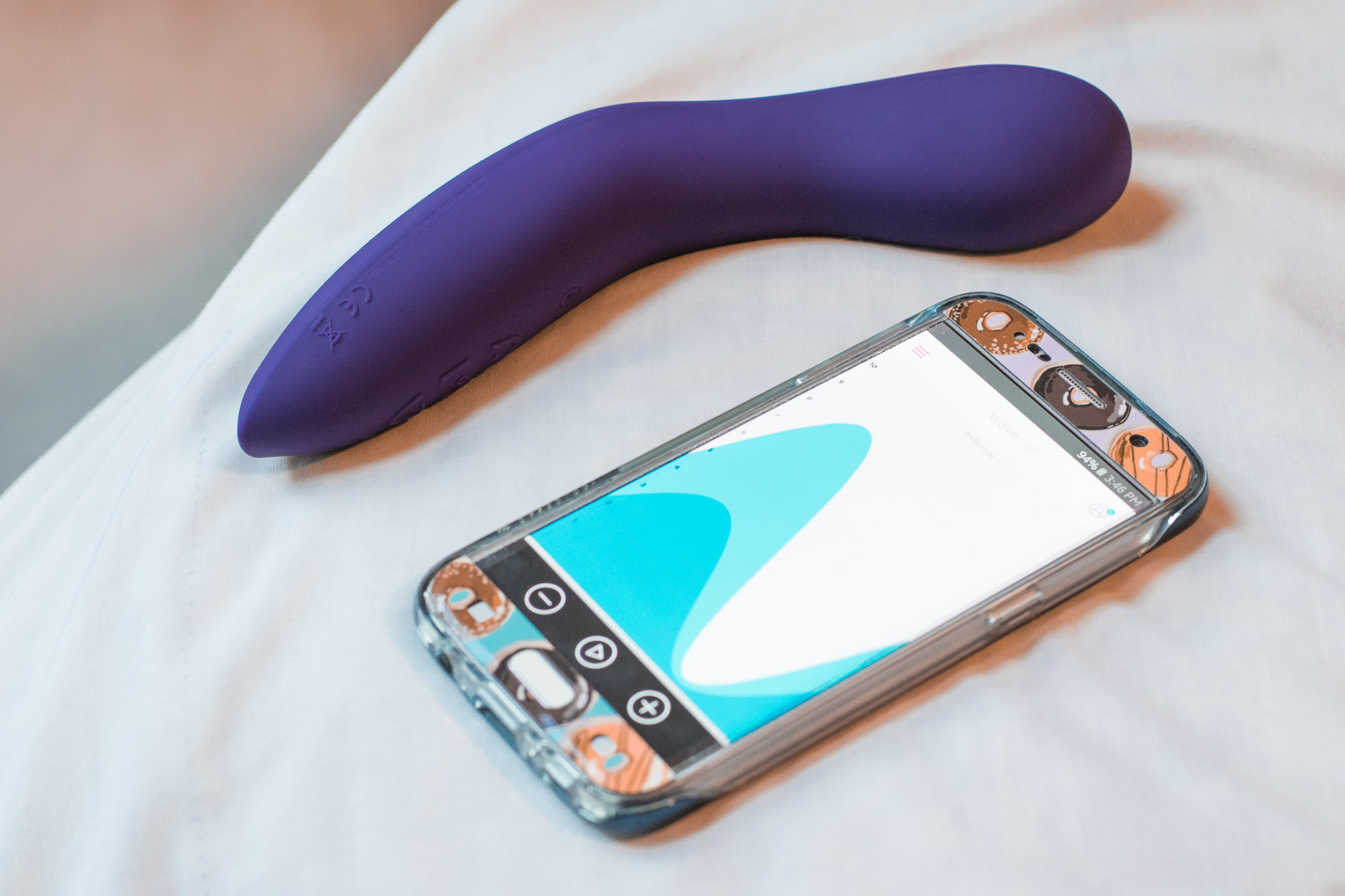 We-Vibe is not the only company to make app-compatible sex toys, not by a long shot, but the Rave is one of the first G-spot-focused app-compatible not-crap toys. This vibrator didn't need app functionality to make it awesome, but — to my surprise — the app is actually good.
Words I did not think I'd be using to describe a single sex toy app: attractive, responsive, intuitive. You can swipe through a bunch of color-coded vibration modes (helpful for instructing your partner, "the yellow one, not the purple one FOR THE LOVE OF GOD NOT THE PURPLE ONE"), create vibration playlists, and draw unique vibration patterns. The app has options for text, video, and audio chat, all of which integrate nicely with the toy controls. Consent is baked in; it doesn't allow screenshots, and at any point you can cease everything by tapping "take control" at the bottom.
I recruited several willing victims to control my vibrator from afar. I tested it with iPhones and Android phones, with my frail old smartphone and my shiny new one. I tried it with people in my city and people across the country from me, and even once with my boyfriend while he was in a tour van on the road between Phoenix and LA. The app worked every time, and I got off every time.
Let me repeat that, because it matters: the app worked every time, and I got off every time. Yes. The Rave is, officially, a long-distance toy that doesn't suck. The app doesn't suck. The toy doesn't suck. The vibrations don't suck. Oh my god, what MIRACLE OF MIRACLES!
The app's built-in keyboard doesn't have autocorrect, though, so I end up saying stuff like "it seemsto start iy again" and "thisone suxjs." I also found it hard to stop masturbating to type. I did my fair share of cybering in the '90s, but I'm not a master sexter like the kids these days, so I ended up talking to my partners over Google Hangouts on the computer instead.
Kynan: "connect lover."
Epiphora: it's silly. but at least not gendered.
Epiphora: "partner" would've been fine though guys
Kynan: that's not sexy enough
Epiphora: lol you are going through all the modes immediately i love it
Epiphora: try not to go above like 7 or 8 right now those settings are very high
Kynan : oops haha
Epiphora: it stopped vibrating, did the boris pic i sent in the app's chat overload it?
Kynan: no, i was trying to draw a vibe pattern
Kynan: can i not make your vibe do my saved one?
Epiphora: ohh, that feature is not available for single-motor toys yet3
Kynan: lame, i wanted you to experience "ghhyugsd"
Epiphora: with a name like that how can i not
Kynan: it's like the sound of someone trying to sneeze quietly
Kynan: it's probably going to be the best you've ever felt
Epiphora: it's too good to be experienced. too perfect for this world
The We-Vibe app got rave (sorry) reviews. All participants used the word "fun" to describe it. Royce said "this app is cool as fuck; it's like playing on a keyboard." Ky and I were onto something: the vibration playlist creator and draw-a-vibe mode, which now work with Rave, are thought-out and enjoyable. There's room for improvement, of course, but it works and provides both users with an experience that at least isn't boring. I asked my other partner if he found it arousing. He said "oh, well if I wasn't in a van surrounded by people."
I'm the best girlfriend ever.
One of the Rave's most obvious competitors is the OhMiBod blueMotion NEX 2, which is also insertable and app-compatible (and modeled after the excellent Lovelife Cuddle). I tested the OhMiBod app with a few people too and found it much less impressive than the We-Vibe app. The connectivity is abysmal, it overheated my feeble old phone (leading to the joke "your phone is sure phoning it in tonight"), and it makes you choose "male" or "female" upon sign up so it can use pronouns for you. This is to say nothing of the modes themselves, which lean much more gimmicky than functional, and give the remote user barely any feedback on what the receiver is experiencing.
As for me, I learned that having someone else control my vibrator from afar isn't really my thing. Mostly because I'm a basic bitch when it comes to vibrations. Patterns are okay for building arousal, but if I actually want to have an orgasm, it's gotta be steady. I felt guilty telling my partners to focus on that setting, and to conduct subtle changes rather than large ones, because it gave them so little to do. I also felt oddly bashful and oddly pressured to orgasm. Yep, unflappable me, irrationally embarrassed by someone else controlling my vibrator.
BUT, I can add the Rave as a "trusted device" that will keep my phone unlocked when the vibrator is nearby. Is that not the most ridiculous yet perfect thing?
It wouldn't be far off. Somewhere along the line, I started saying the name to myself. Rave. Like you do when you get really into someone and start pairing your name with theirs. Writing your names together in your notebook with a heart around it. The Rave is not my only love — I am polyamorous in life and with vibrators. But for buzzing G-spot goodness, for inducing squirting where previously there was not a drop? The Rave is a winner.
This is not a flashy sex toy. The eggplant color is drab, the buttons aren't cute, the impaling charging method is unsexy… but the Rave is a fucking effective vibrator. It's an incredible G-spot toy, a solid clitoral toy, and a damn good long-distance toy. It's not made by a brainless company and it doesn't cost an arm and a leg. There are many words for this, but I come back to the one that entered my mind upon first touching the Rave to my clit: yes.
Get the Rave at SheVibe, Spectrum Boutique, Early to Bed, Enby, Babeland, We-Vibe, Good Vibes, Pleasure Chest, Come As You Are (Canada), Lovehoney (international), or Passionfruit (AU/NZ).
Holding minus doesn't turn it off, the circle button does, which for some reason is impossible for me to get through my thick skull.
They have similar intensities on high. Mona and Rave are even about the same noise level; together they sound like a choir of vibrators with one dude in the back singing slightly flat. The Rave has the buzziest vibrations, but it's not an astronomical difference.