Kynan greets me at the airport with a bouquet of hand-drawn sex toys. Eleven toys, all of them my favorites, with green pipe cleaner stems. On the romance scale, this may surpass the CD that my boyfriend made for one of our anniversaries which included a Tegan & Sara cover and 5 minutes of our cat purring into a microphone.
---
Kynan lives in a swanky condo on the third level. It has sparkling wooden floors, kitchen appliances that beep at you if you don't do their bidding, and best of all, air conditioning. We make delicious coffee in the morning with a hand grinder and a french press. His bed is swathed in comfy grey sheets and pillows. I feel like I'm in a hotel, even more so waking up next to a beautiful person.
---
One evening, we have sex until we're starving, then scarf In-N-Out. Another night, Ky makes me homemade teppanyaki and I have a breakthrough in how to hold chopsticks. On a particularly glamorous evening, we go to AsiaSF for the dinner show. Gorgeous trans ladies lip sync and dance on the bar. One performer grabs my hand and makes me touch her boob… and her crotch. The bachelorette parties lose their minds.
The bartender asks us whether it's a special occasion, pressing us on our relationship.
"We're, uh, friends who have sex with each other?" I fumble. "'Friends with benefits' doesn't sound right."
---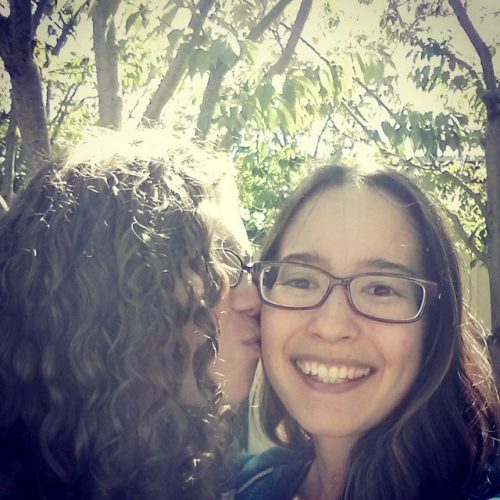 The first time we had sex was in a hotel room during a conference, at a casual sexy gathering among friends.
Neither of us had been to a sex party before… or had sex with anyone with a vulva. I'm not counting the half-assed dry-humping of my youth. I'm talking tongues, fingers, open-air vulvas. Before that night, I'd literally never had sex with anyone except my boyfriend of 9 years. I was that sex blogger.
Was.
Kynan and I got together thanks to Snapchat flirting, crafty sex party planner friends, and a mutual love for massages. Everyone else was talking, eating chips, and sporadically hitting each other with floggers. The king-sized hotel bed sat empty, waiting. Ky and I were sitting next to each other trying to act natural. Well, I was casually using my Mona under my nightgown, so maybe not.
Finally Kynan said, "can I give you a massage?" I could not say yes fast enough.
Massaging turned to kissing turned to naked caressing. Ky told me he might be getting sick; I consented to possibly catching a cold. Then I went down on him.
I had no clue what I was doing — but I went off instinct, off what I'd seen in porn. I doubt I was super good. I was probably sloppy, unfocused. But I buried myself in his vulva and did whatever seemed right, whatever Ky wanted me to do.
"Are you sure you haven't done this before?" he asked.
Somewhere on the other side of the universe, someone was squirting on the pull-out bed.
Kynan went down on me, then I taught him to use the Comet Wand on me. I was overwhelmed by the sensation. There is a swiftness and effortlessness about someone else using an ergonomic G-spot toy on you correctly. I was almost unable to focus on his tongue and then the vibe on my clit. But I did, even in a room full of people, and I came hard.
Then I stood up and put on my Joque harness, with Mustang strapped in. It was meant to be: I brought my Joque but not my Mustang, Ky brought his Mustang but not his Joque. Queeraschino helped me tighten my harness, because that's what friends are for.
As Kynan grinded on me in cowgirl with his sexy boobs wafting above me I thought, okay, I get why dudes like this. After that, he came with the We-Vibe Salsa on his clit and my fingers inside him, pressing hard into his G-spot.
When we were finished, the room clapped for us and Queeraschino said, "um, I have something to tell you… I think you're gay."
I gulped down all the water on earth, then grabbed my phone and used its last bit of battery life to text my boyfriend: definitely had sex with Ky. He replied, that's awesome!!!
---
At AsiaSF, the bartender asks what we're doing afterward. I tell him we're going to Mr. S Leather, a sex shop. He wants to know if we're going to get some new toys.
"Probably not," I say. "We have way too many already. Seriously."
He is entranced. He tells his co-worker he wants to hang out with us after.
---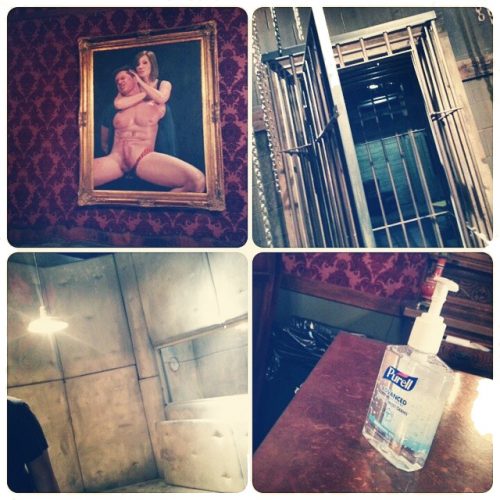 As we walk up the stairs into the Kink.com Armory, a horde of skateboarding stoners asks, "hey, are you guys models?!" When we don't reply, they yell, "YOU ARE, AREN'T YOU!?"
The tour guide shows us a padded cell, interrogation room, slaughterhouse, kitchen complete with fake food, bathroom, doctor's office, gym where they film Ultimate Surrender and Naked Kombat, and a "normie" bedroom with a cage built into the staircase. In the hallway we pass several 55-gallon barrels of lube, complete with pumps and spouts.
The most surprising thing is how banal everything is. It's mostly like a huge warehouse. Even the Upper Floor doesn't have the sparkling grandeur that I thought it did on film.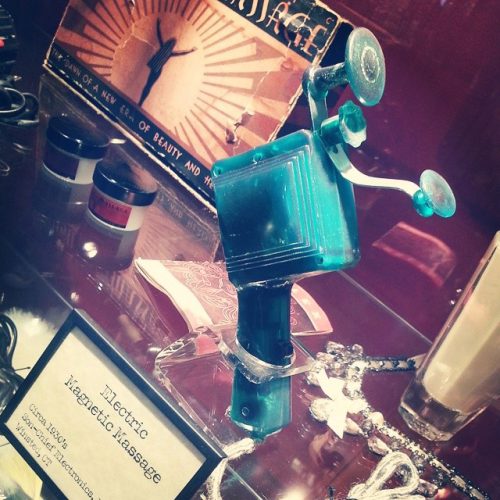 While in San Francisco, we also visit several sex shops, including Good Vibes Polk with its antique vibrator museum, and the best-named sex shop on the planet, Does Your Mother Know. The biggest takeaway from Good Vibes? Vibratex's The Girls vibes are useless. The biggest takeaway from Does Your Mother Know? No matter how much of a boss I think my vagina is, visiting a gay dude sex shop can make me feel like a twerp in no time.
Our last stop is Wicked Grounds kink cafe, where we ogle their beautiful artwork and buy mugs. There's a sign at the register which reads, "would you (or your sub) like your drink in a dog bowl?" I take a picture of it and send it to my mom. She replies with disappointment, where is a pic of YOUR dog bowl drink ???
---
I usually spend the fourth of July holed up in my apartment, vaguely listening to the blasts outside. This year, we walk hand-in-hand to a park to see them set off huge fireworks. I wear a sweater I wore in high school whenever I made out with boys in winter. The fireworks are so close that we have to crane our necks to take it all in. Kynan lets me lay my head in his lap.
---
"You're the sweetest," Kynan murmurs.
"You're as sweet as a kitten," I reply in a half-asleep fog. "With a cupcake on its head. A cupcake-shaped growth."
He laughs.
"A growth that affirms your opinions. And has wifi."
I run my hands over his arms, explaining that I am making sure everything is in working order. I poke his collarbone. "Checking bone density," I explain.
Somehow, these weird things are endearing to him.
---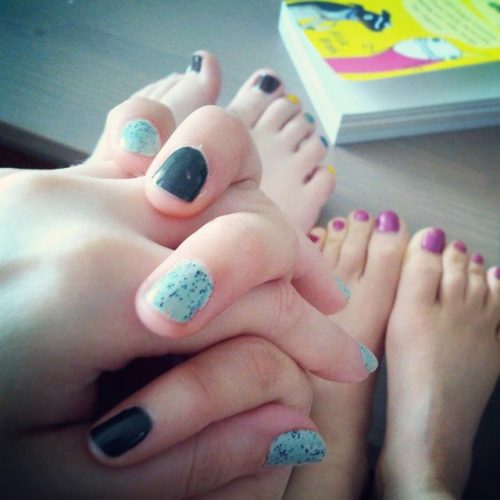 When we drive, we listen to old episodes of Sex Out Loud. Joan Price talks about getting yourself in the mood for sex rather than waiting for it to strike; Nina Hartley talks about having different partners for different things.
Sex with Kynan is so different from the sex I have always known. It is slower, with an inherent understanding that comes from having similar bodies.
Together, we are trying new things. Electricity. Double-ended dildos. Face sitting. New sex toy materials. Oral techniques. (Shout out to Sliquid H2O for being perfect and not tasting like anything.) Clitoral massage techniques. Different harnesses. Mutual masturbation. Whether my Diva Cup will stay in place while I'm being fingered (answer: YES). How quickly I can thrust with the Pure Wand to squirt all over his luxurious Throw.
I love Kynan's hipbones. And his labia. I love feeling his G-spot.
And there is still so much to learn.