In many ways, the glory of the Spareparts Hardwear Joque lies in what it is not. It's not a re-hashing of the usual harness style. There is no other harness like it. Yes, it looks unassuming; it's not sparkly, and it won't make you look like Superwoman. But I'd rather be comfy than look like Superwoman, and the Joque knows very well what comfy is.
Admittedly, I was in love with the Joque before I ever put it on. After seeing this video of one of Babeland's employees sporting it, I was hooked. And once I put it on myself, I knew this was it. The harness to end all harnesses.
It's hard to write a review of a product that gets almost everything right. This might end up sounding like a laundry list of special features. But let's get to it: the Joque is made of poly-spandex (80% polyester, 20% spandex), not leather or cheap-o backpack strap material. Poly-spandex is lovely for a variety of reasons. I feel bullet points coming on…
It's freaking comfortable. Not tolerable, comfortable. I don't even notice the leg straps, which is really a miracle of the world. When I get in the zone with fucking, the cock is mine and the harness is forgotten.1
It's waterproof. Yeah — shower, tub, jacuzzi, torrential downpour, Pacific Northwest, shark tank — you name the wet place, poly-spandex can handle it.
It's machine washable. Squirters and squirter-lovers rejoice! Plus anyone else sick of gingerly wiping down leather.
The Joque comes in two sizes (imagine that! It fits real people!). Siza A is meant for waists of 20-50″, but size B (35-65″ waist) is recommended for those with more hips and thighs, even if their waist is smaller.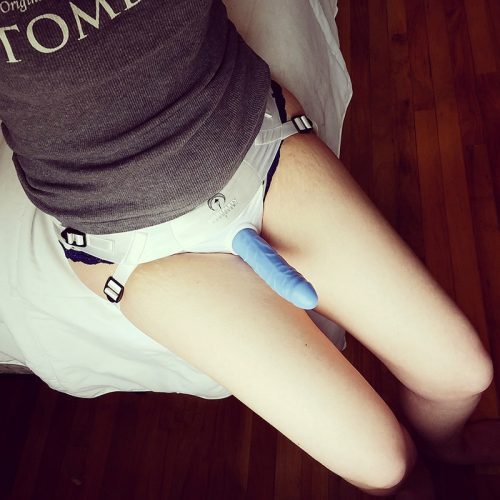 My Joque is white, but it comes in a bazillion other colors (including, um, American flag?). The Spareparts logo is incorporated into the fabric on the front of the harness, which is sexy and perfect. The Joque comes with very thorough instructions on how to put it on, and it comes with a drawstring satin pouch for storage and travel, which the harness curls and folds into surprisingly well.
The Joque is easy to adjust (via velcro on the waist and buckles on the leg straps), and one adjustment is nearly all it takes. The leg straps may need to be loosened and tightened a bit each time the harness is worn, but the adjusted waist need not be messed with. Instead of wrestling each time with straps and buckles, the Joque can be adjusted once, then subsequently stepped into like underwear. Um, yeah. Awesome.
The amount of ways the Joque can be used is mind-boggling. It can be used with a regular or double-ended dildo (dildos with balls included, as the balls can be tucked into the pouch if desired!). It has two thin pockets on the inside for vibrators (the We-Vibe Tango or Screaming O Vooom work well, but I prefer to just insert the Dusk to get clitoral vibration). It can be used with the pouch open — so the dildo has direct contact with your skin — or with the pouch closed, so the smooth fabric is what you feel. The Joque can even be used for packing.
The O-ring is one of my favorite parts of the Joque. Yes, O-ring singular! This is a stretchy O-ring. I know what you're thinking: that sounds either obnoxious or genius. I can assure you it is genius. The O-ring is 1 1/2″ in diameter to begin with, but stretches up to 2″ or so. It doesn't really feel stretchy (it actually feels very taut), but it stretches when something large is shoved through it.
So, pretty much any dildo fits in the Joque. With some finagling, I was able to get the massive Randy through the O-ring (and proceeded to violate my boyfriend's Fleshlight). Smaller dildos work, too, as long as they have decent bases — the minuscule Tantus Ripple fits like a dream.
But the best fit would have to go to Mr. Man. With its balls tucked away in the fabric pouch and its base resting snugly against my vulva, my boyfriend was able to suck me off — and get intense suction going — without having to hold Mr. Man in place. Glory, glory, hallelujah!
Best for fucking, though? It's a toss up between Mustang, Shilo, and Buck. All have the powerful combination of squish and stout stature necessary to nail someone with reckless abandon. The Joque is so comfortable that even after some vigorous sex, the only place I'm sore the next day is my pubic mound — where the base of the dildo pressed against my body.
My search for the perfect harness is officially over. No more annoying adjustments, no more fumbling with different O-rings, and most of all, no more feeling awkward and uncomfortable. From start to finish, from prepping to dildo-threading to hard fucking to sink-scrubbing, the Joque is the one.
Get the Joque at SheVibe (most color options), Spectrum Boutique, Babeland, Good Vibes, Early to Bed, Pleasure Chest, Enby, Come As You Are (Canada), Lovehoney (international), The Pleasure Garden (UK), or Passionfruit (AU/NZ).