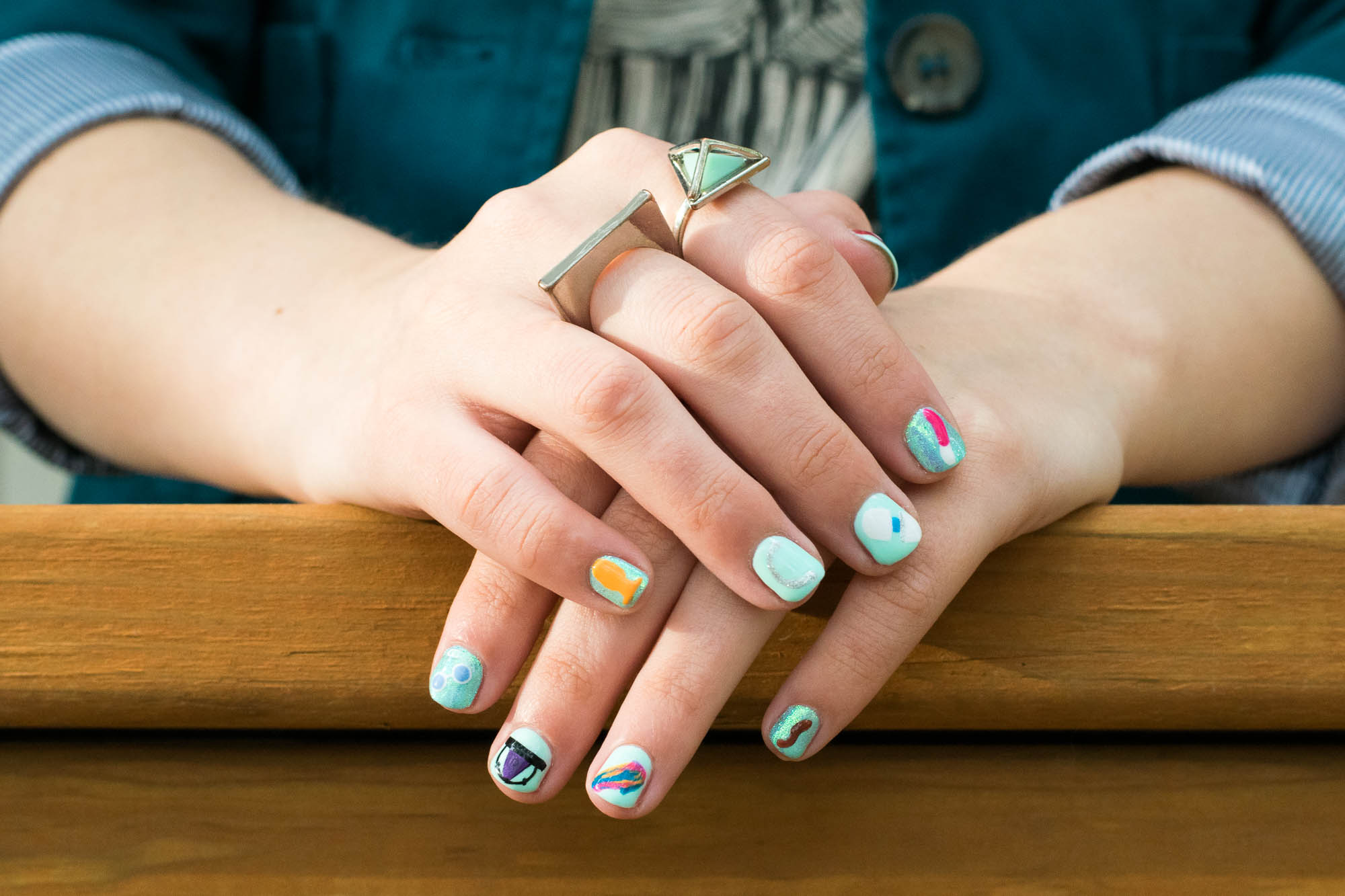 In the past, there was no option for me to enshrine my favorite objects — sex toys — on my fingernails. For one, I bit my nails ravenously until about 4 years ago (obsessively painting them helped me stop). Also, I feel like most traditional nail salons would not take kindly to a request for such "lewd" designs, and my life is just so lewd.
But now there exists a place called Finger Bang. Aside from having a name that is irresistibly fun to say in front of your in-laws (after which you shrug nonchalantly and go "what? That's what it's called"), Finger Bang is open until midnight to accommodate folks with non-traditional schedules and lives. They are known for their incredible hand-drawn designs, and they are no strangers to obscenity. Hell, the owner has stated that she wanted Finger Bang to be a place where she wouldn't have to worry about anyone being "offended if I was talking about getting fucked in the ass the night before."
This week I'm traveling to Woodhull Sexual Freedom Summit, and I knew it was time to finally experience this glorious place — and to entrust them with my dream manicure.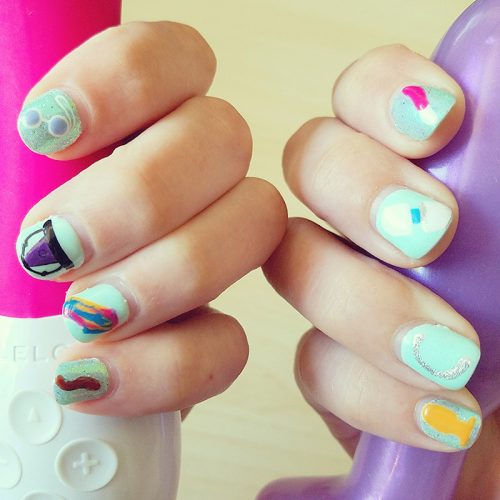 I began plotting my sex toy choices with a friend about a week ago. "Obviously," I began, "Pure Wand and Mona." From there, I figured I wanted some toy type diversity (definitely kegel balls and a harness, in addition to dildos and vibrators), and some material diversity (wood, for sure). Only my most favorite toys were eligible for immortalization, although some had to be vetoed because they "just wouldn't look cool," such as the Stronic Eins, Touch, and Eroscillator. I printed out pictures of all the toys I wanted, including back-up toys in case some were too complex.
I was nervous going into my appointment. Not because of the sex toy aspect, but because Places of Femininity always make me feel like a fish out of water. One time I neglected to bring my own nail file to a salon and got some serious stink eye from my manicurist, like, what, aren't you a WOMAN, why don't you KNOW this woman thing? But Finger Bang's atmosphere was far from average — buzzing with conversation and adorned with Star Wars figurines and TV screens playing The Shining. Oh, and the door had a decal warning racists, homophobes, and assholes to stay away.
My nail artist Brittany was not surprised by my sex toy design requests, although she told me she had yet to do any "adult" nail art on anyone. (Apparently some people go in for mystery manicures and tell her, "please, no vaginas or dicks!" — as if that were the default.) Complicating matters was the fact that I wanted specific toys, not generic toys like any old rabbit or a set of anal beads. She worried some of the toys I chose were too simple, but I reassured her they'd be instantly recognizable to the people who matter.
The manicure took a while to complete — about 3 hours — but most of my time was spent in awe of how any human can paint such tiny things with such tiny brushes. I chose a minty base color that happens to match one of my pairs of Converse, with a few glittery accent nails. What do my thumbs say? SheVibe, of course, who are sending me to Woodhull once again this year.
With tip, this manicure cost about $100. But LOOK AT IT, clearly it is worth that price. Look at that butt plug pinkie nail. Look at that peeking-in Hitachi. It's fucking awesome. Gel manicures are supposed to hold up for weeks, and so far it's lasted a full day of wrenching open sex toy packaging at work, so I feel hopeful. At the very least, I am going to have the most relevant manicure at Woodhull, and anyone who can name all the toys on my fingernails will instantly be my pal.