Put it on my clit. Now.
That's what ran through my head the first time I held the Doxy Don, standing in the hallway at a conference with it reverberating in my hands. I'd never seen or heard about the product in my life, but in a split second I wished it upon my genitals. Although I often make snap judgments about toys, they're usually negative ones based on stomach-turningly buzzy vibrations. This was the opposite: the vibrations were so deliciously rumbly, so promising.
I'd never tried a toy from Doxy before, and I knew the Don had to be my first. But I couldn't rightfully review only the Don, considering Doxy's reputation as manufacturers of the much-loved Doxy Massager.
Somehow, amidst a proliferation of Hitachi Magic Wand knock-offs, the Doxy Massager has floated to the top. In the sex shop where I work, customers ask for the Doxy by name, just as they do the Hitachi. How did this happen? I'm not exactly sure. The toy's not a looker — more utilitarian than flashy. It's literally bigger than the Hitachi. But somehow, word got out that it was more powerful, and because the claim was Actually True (shock!), the masses lined up to try it.
I needed to put it on my clit too. That is what I do, after all.

The Doxy Die Cast Massager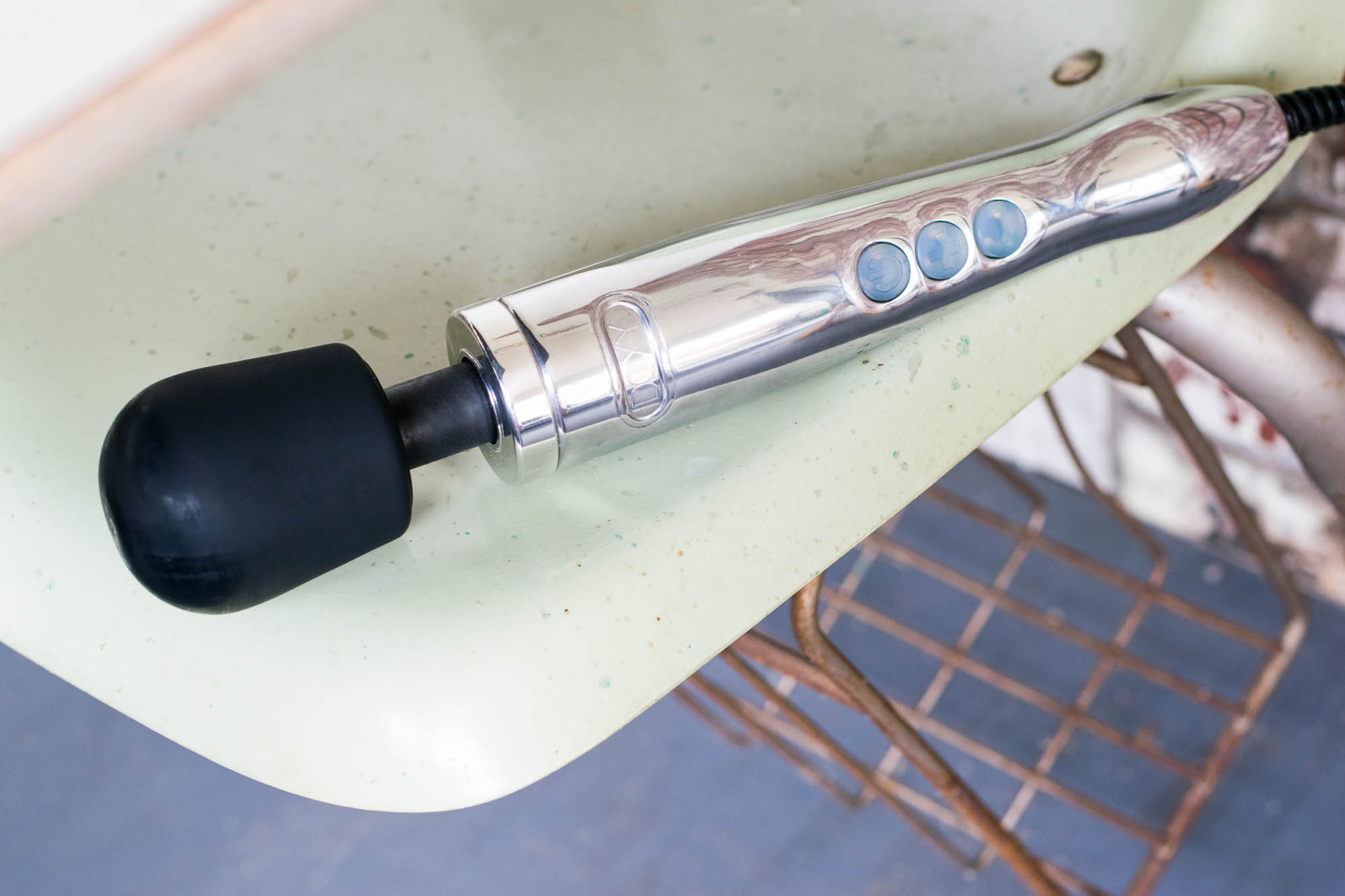 The Doxy is a true workhorse of a vibrator, a brute-force attack on your genitals. It's 13 inches long, plugs into the wall, and can unlock the password to your clit in record time. With its sheer power, wide range of vibration intensities, and vulva-engulfing head, it is the ensurer of two important types of orgasms in my life: quickie through-the-undies mid-work orgasms, and fireworks-behind-my-eyes finale orgasms.
Scenario one: there's a huge crotch hole in one of my old pairs of pajama pants. Some people would retire such pants, or bust out a needle and thread to repair them. Not me. I've deemed them my lazy masturbation pants — and proceeded to shove my Doxy (with Nuzzle Tip attachment) through the opening. I highly recommend this; it's even lazier than OPENING THE WAIST OF YOUR PAJAMA PANTS to slide the toy through.
Scenario two: my genitals are raw, my body is on the verge of collapse, and my mind can see nothing but a tiny light — the orgasm in the distance, far away but discernible. My eyes are squeezed shut and the Doxy is smashed against my vulva like I'm trying to stomp grapes into wine. Nothing will stop me. When I do come, I come hard, moaning with relief at the battle the Doxy and I have won together.
This vibrator does not fuck around.
It's a wonder I've managed to even finish this review. In the course of the last day of writing this, I took 4 breaks to have 4 orgasms with the Doxy Massager… because I have no restraint, and it's "research," you know. But that's a lie I tell myself; probably 70% of my orgasms with the Doxy have been just to come, not to develop opinions.
I chose the Doxy Die Cast over the original Doxy for its fancier appearance, thinking it'd impress people at sex parties, but the aluminum and titanium handle has many downsides: it's cold, it's heavy, the LED buttons are harder to read, it makes my hand smell metallic, and it retains fingerprints like a damn crime scene. When my friend allowed me to borrow her original Doxy, I loved how lightweight it felt in comparison.1
Although the Doxy and the Doxy Die Cast both contain the same motor and internal computer, the silicone head on the Die Cast muffles the vibrations significantly. I actually prefer the Die Cast's wider variety of low settings, and the more subtle changes between them. The original Doxy has about five higher intensities, with bigger leaps. For those needing the absolute peak amount of vibration, those settings can be vital. For me, in most situations, it's like having sex with a vacuum cleaner.
There are an embarrassing number of pieces of scrap paper hidden in the recesses of my desk, upon which I've attempted to chart the intensities of the Doxies versus the legendary Hitachi and Magic Wand Rechargeable. I am afraid, terrified, of making an inaccurate pronouncement about power, of deeming one wand better than another, lest the pitchforks come for me. These toys have such cult followings, people who would take a bullet for their wands. If certain corners of the internet are to be believed, you cannot love them all. You must choose, and the choice must be easy.
I can diagram the levels of power each toy achieves, sure: Doxy Die Cast -> Magic Wand Rechargeable -> Magic Wand Original -> Doxy Massager. But this trajectory doesn't tell you everything. It doesn't tell you that everything above level 5 on the original Doxy feels like it's trying to sand the skin off my vulva. It doesn't tell you that the Magic Wand Rechargeable makes a tolerable low buzz, while the Doxy's higher-pitched noise makes me grimace.
It doesn't tell you that I consider the Magic Wand Rechargeable the rumbliest of the bunch, and therefore the most pleasurable. Yep: the Magic Wand Rechargeable is still my favorite. Being cordless is supreme,2 it doesn't vibrate my hand as much as the Doxy does, and its four intensities so closely match what my clit wants in the path toward orgasm it's creepy. That's subjective, of course — my perfect low setting might very well be your hahahaha what are you THINKING, turn it the fuck UP.
But lower settings are essential when I want to use attachments like the flappy Flutter Tip or pinpoint Nuzzle Tip. I love the way they drastically alter the sensation of a wand, but they're too overbearing on higher settings. On the wrong wand, the Flutter Tip can feel like my vulva is being aggressively slapped with a slice of bologna. On the more subtle settings of the Doxy Die Cast or Magic Wand Rechargeable, it's weirdly fantastic.
When it comes down to it, I enjoy both the Magic Wand Rechargeable and the Doxy Massager. But I'll admit there's something imprecise about my feelings for the Doxy. It's not necessarily the features of the Doxy in particular that do it for me… it's not that I love the shape of the handle, or the buttons, or the shape of the head. But the Doxy is reliable, hardy, obscenely powerful, and ultimately, I am an absolute sucker for having orgasms without removing my pants.

The Doxy Don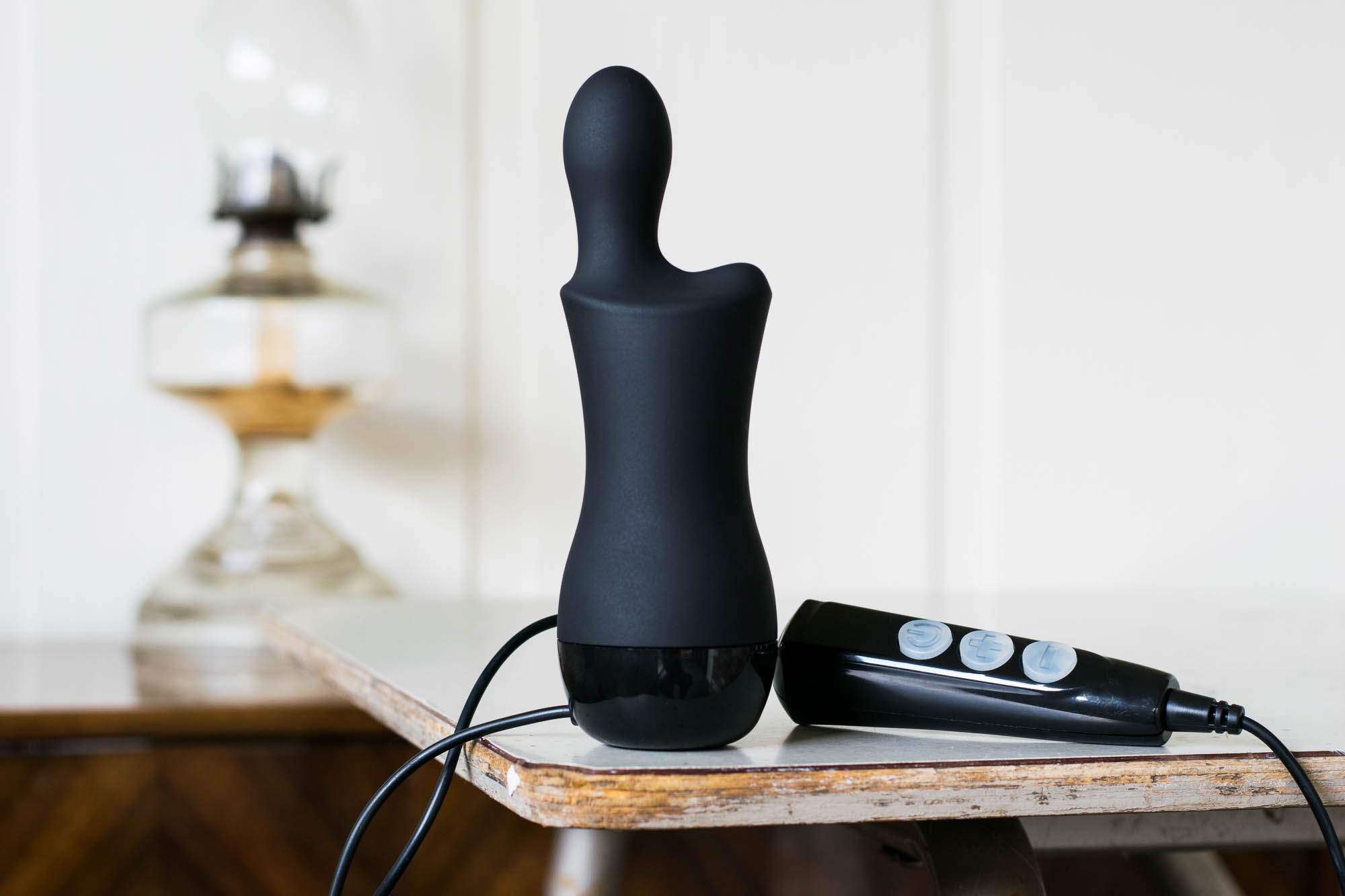 My initial mistake with the Doxy Don (formerly known as the Skittle) was expecting it to be as earth-shatteringly intense as a wand. The first time I used it, through a pantyliner, I found myself button-mashing all the way to high. Wands can penetrate such barriers, but The Don's back-and-forth movement doesn't fight through as well.
The Don is no Doxy Massager, power-wise, because if it was, approximately nobody on earth would be able to hold it. You know how your hands feel irritated and itchy after pushing around a lawn mower? The Don's vibrations (which clock in at 5300 RPM on high, while the Doxy lands at 9000) make my hand feel like that after just 10 minutes of use. This sex toy is probably the rumbliest vibrator I've ever used, but its unabashed movement cannot be escaped. It will be felt, on both your genitals and your hand.
On your genitals, though? Guys. This thing feels phenomenal. Held directly against my body, underwear begone, it thumps against my clit so enthusiastically. The stimulation is deep, thuddy, robust. To put it in coffee terms, the majority of vibrators are like a blonde roast or breakfast roast. The Don is like a dark, complex French roast. I can think of no toy that feels similar except older generations of the Wahl, which I described as similar to "a really stimulating jackhammer." The Don goes beyond that. It makes even ye olde Wahl look like a slacker.
This might be the time to talk about how the eff the Don is meant to be used. Well, its bowling pin shape is very open-ended. There's a raised lip that is meant to provide external stimulation if the tip is inserted. Used as a dual vibe, it reaches my clit fine, but I can't fathom having an orgasm with the internal portion thrashing against my vaginal walls like it does. Anally, I'm confused about what to do with the body of the toy.
For me, from the first moment I held The Don in my hands in that hallway, this has always been an exclusively clitoral toy. The smallish tip is the ideal size (1.25″ in diameter), and my clit — and its elaborate internal structure — benefits most from the resonant vibrations.
I knew the Don was good, but I had no understanding of just how good until during one masturbation session, I put it down and switched to other clitoral vibrators. The difference was startling. All of them — toys I love more than surprise Panda Express — felt inadequate after the rumble monster that is the Don.
The Don spoils my clit.
However, it's a cumbersome toy. It's bulky, and the separate control pack is not compatible with my masturbation methods. My left hand is my dildo-holding hand, so I have to let go of my current dildo to change settings on the Don. It's too fussy; I'd prefer a traditional set-up with the controls on the toy itself.
I can endure the heft of the Don and the itchy hand syndrome it produces because its stimulation is exquisite. Is the trade-off worth it? Sometimes yes, sometimes no. Is The Don a pretentious name that I loathe every time I say it? Definitely. It's like some jackass with a handlebar mustache throwing open your front door and yelling "THE DON IS HERE, NOW THE REAL PARTY CAN START." Fuck that guy.
Making an informed decision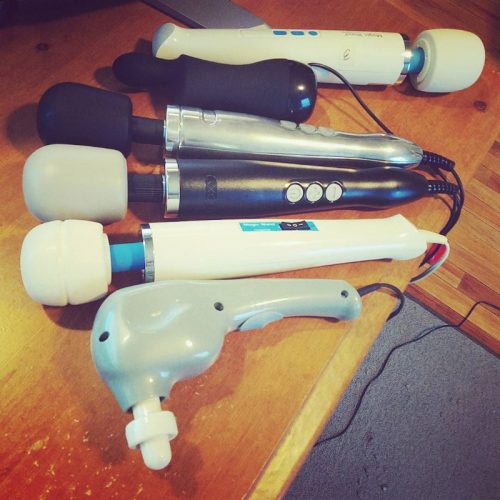 Doxy, as a company, has proven to be street smart and self-aware, quick on their feet and heartily supportive of the community. (They answered every question I threw at them while writing this review — and promptly!) I was a bit wary of "yet another wand company" when they hit the scene, but they've absolutely earned their keep. If you're in the market for an industrial-strength vibrator, there's no reason you shouldn't give them your money.
Which toy is "better," though? I hate to utter such a hollow-sounding phrase, but… it depends. With wands, I'd encourage you to think about what you value most: cordlessness, price, sheer intensity, or a range of lower vibration settings. With the Don, ask yourself if you want to experience some of the deepest, thuddiest vibrations sex toys are capable of — numb hands be damned.
Convenience matters a lot, to me. Cords and awkward controls are deterrents. When I'm preparing to hole myself up in bed to ward off a cold, or when I attend a queer fisting party, I'm still going to grab the more portable Magic Wand Rechargeable. When I'm jacking off and want a clitoral vibe, the thought of having to hold The Don is going to give me pause. But none of this negates the unmatched power of the Doxy Massager and unmatched rumbles of the Don. Both, I can now report, do glorious things to my clit.
Get the Doxy Massager at Doxy, SheVibe, Spectrum Boutique, She Bop, Pleasure Chest, or Lovehoney (international).

Get the Doxy Don at Doxy.

Get the Magic Wand Rechargeable at SheVibe, Spectrum Boutique, Early to Bed, Smitten Kitten, Good Vibes, Babeland, Pleasure Chest, or Come As You Are (Canada).