Easily the most exciting news this time around comes from Doxy, who previewed several shiny bullet vibes at ETO, both AC-powered and rechargeable. According to David, they're almost certainly more powerful than the We-Vibe Tango. The proper response to the photo below is "oh, um, hello, yes."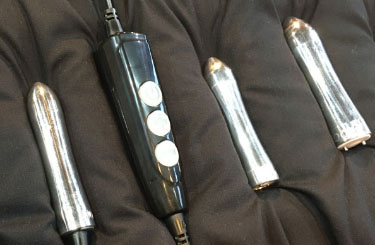 This butt plug has rotating beads in the neck for a rimming sensation. But it's $150! You'd have to really want to be rimmed by a machine.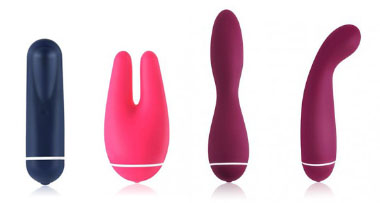 At first I was like "cool," when I saw that Jimmyjane was coming out with a line of battery-operated vibrators modeled after their rechargeables. Then, I was able to try the Intro 2 (inspired by the Form 2), and WOW, IT SUCKS. Mega mega buzzy, and also weirdly large? Like it's almost as big as my palm?
Jimmyjane also announced a new line called Ascend, which includes a toy that looks eerily like the PicoBong Transformer. What are you even doing, Jimmyjane.

Speaking of PicoBong, these jolly-looking creatures are part of the brand's new Remoji line. They're app-responsive and have names like "Surfer" and "Blowhole," because PicoBong's attempts at being hip are about as pathetic as my own.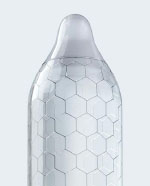 The elephant in the room, of course, is LELO's new Hex condom, and its spokesperson Charlie Sheen. Obviously LELO is a fucking mess, and this is easily the worst decision in the company's history (and yeah, I'm including the Pino).

Always running at a quick pace, Fun Factory has released a denim harness, a pastel-colored vibrator named Cayona, and will be offering their fantastic Bootie plug in 3 sizes! This gives me good butt feelings.
New York Toy Collective has a new STP called Sam. At Pride last month, I listened as my friend positively raved about it. "Which other STPs have you tried?" I asked him. He goes: "all of them."

Folks who've been in the sex toy world for years might remember a brand by the name of Rianne S. They have some new stuff out, including something the world definitely needed: a heart-shaped vibrator.
I gotta say, I'm intrigued by California Exotic's new "touch-sensitive" vibrating dildo. Vibration is meant to get stronger the deeper you stroke with the toy. Hm!