Has my love for the Volta waned over time? Nope, it's only
grown stronger
!
I'm not the type to chase adventure. Some people hop on roller coasters, travel to far-off lands, skydive out of planes… but I don't pine for that rush of adrenaline. I'm more of a homebody, thriving most on routine and safety. My idea of an exciting time? Masturbating with a bizarre new sex toy to determine, once and for all, how its weird shape feels against my genitals.
I first saw the Fun Factory Volta in a brief, fleeting Instagram video my friend sent me to ridicule. "It looks like a vibrating duck beak," they said. "It scares me." I showed the link to my partner, who promptly typed back, "why does everyone want to slap the clit!"
But I was not scared. I WAS THRILLED. Later, when Fun Factory sent me the press materials, I didn't read them. I just glanced at the flapping tips and said yes. I craved those tips against my clit, flickering or poking or fluttering or tapping — indeed, I needed to learn which verb would be the most apt, and that was part of the fun.
Considering the quizzical shape of the Volta, it was entirely possible this vibrator would be too pointy to be pleasurable, or only pleasurable with specific positioning, as oddly-shaped sex toys often are. Yet I took to using the Volta like a fish to water, bypassing my usual barrage of intrusive thoughts on how to properly place it against my clit and jumping straight to enjoying how it felt there.
Dang. That's a good fucking sign.
Vibrators that intend to achieve a flickering sensation usually just… don't. The Volta does flicker, though: its range of motion is about one centimeter, with the tips visibly reverberating back and forth. As a long-time fan of pinpoint clitoral toys, this is perfect for me. But if you dislike that kinda thing, no problem — adding pressure mutes the movement and spreads out the vibration.
I always scoff at marketing that asserts a sex toy can be used in "endless" ways — I'm glaring at you, every vibrator that's ever purported to be great for nipple stimulation! — but the Volta actually honestly fulfills this claim?! My partner liked it on his penis; I found a bunch of satisfying ways to hold it against my vulva; and it isn't the worst for nipple stimulation either. (Yes, that's about as much enthusiasm as you'll ever get from me regarding vibrators against my nipples.)
Of course, the Volta's motor deserves at least 50% of the credit, or possibly more like 70%. The shape would be worthless if not backed by Fun Factory's deeply rumbly G5 motor. There are 6 vibration intensities, from a low purr to a powerful thrumming, and the firm clicky buttons are easy to master. It comes in teal, pink, and an amazing eye-searing orangeish red.
The effortless pleasure I get from the vibration means I can focus on exploring all the ways the Volta can be positioned. I can push the tips together on the dominant left side of my clit, one of my favorite techniques. I can flatten one tip against my labia while the other flicks at my clit, or vice versa. I can cover my vulva with the wider, tongue-like body of the toy, sending resonating vibrations through my labia while simultaneously targeting my clit.
Then there's the penis. Remember that Jimmyjane vibrator about which I wrote, "I guess you're supposed to slap your penis down between the flaps like you're serving up a hot dog"? The Volta's like that, only not shitty. Its flexible tips hug the penis nicely; add some lube and you can glide the toy up and down. My partner, who must feel like a murder suspect after all my extensive interrogation, can only offer the simple fact that it feels interesting and good, and that the low-pitched motor contributes to his enjoyment. But that's saying something from a guy that mostly masturbates with his hand.
I have a hunch the Volta could work for a variety of genital configurations, and evidence is mounting to support this hypothesis. A trans guy and sex shop worker, Sam, told me he loves the Volta — and so do cis dude customers:
It's my new favorite. Definitely a one-size-fits-all sleeve. It can be a little intense for someone with more growth, but used on a lower setting or one of the gradual patterns and paired with some lube, it makes a great stroker. The flicking action when used with just the tips of the vibe feels a little sharp to me, but when placed on either side of the clit, deeper into the "V" of the toy, the rumbling power makes it a perfect low-effort toy.

Everyone I've sold it to raves about it, including the few cis men who have bought it as an alternative to a stroker; one customer with erectile dysfunction who couldn't use a stroker but still wanted something to stimulate, the other who just wanted something different. I think it's one of the best multi-use toys out there right now.
Yup yup yup. I may have gotten quite stoned one time before using the Volta, and I found myself laying there mesmerized, reading fan fiction and marveling at just how many sensations this vibrator can produce. I loved the Volta long before I grabbed my bong — I actually have a personal rule not to test toys while high because it will inevitably skew the results — but the experience illuminated what I already knew: that even subtle adjustments change the stimulation, and all of it feels wonderful. It's the difference between letting the tips brush the clit or applying pressure; angling the toy vertically or more perpendicular to the body; grouping the tips or splaying them out.
That's right, people, slow-motion nature documentaries can't compare to the wonderment of pressing a strange sex toy to your bits. Bodies, man. They're wiiiiild.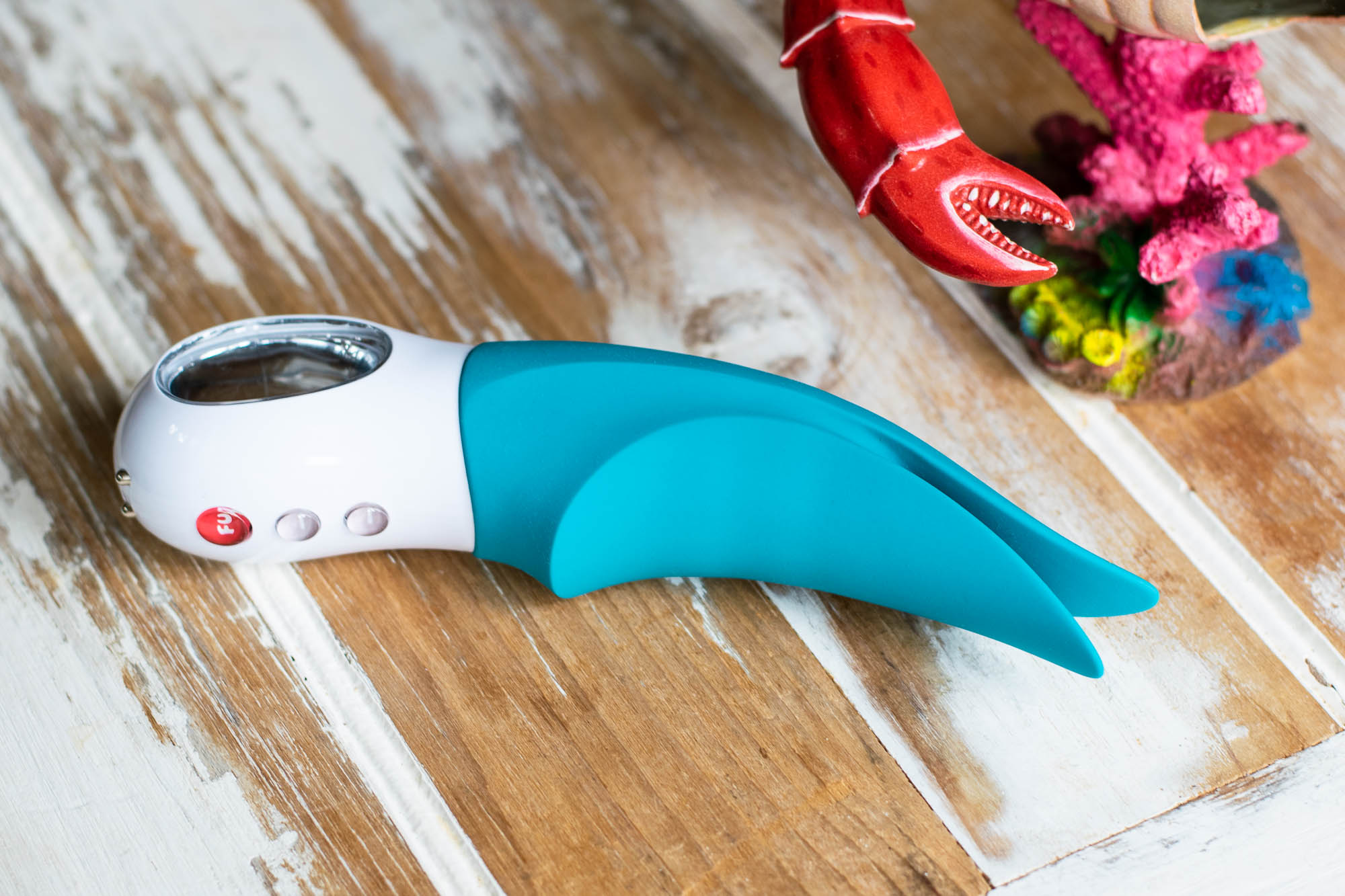 So you can understand why I'm about to make this definitive statement: the Volta is, easily, the best external vibrator Fun Factory's ever made. Though there hasn't been much competition, in my mind: their mini vibes either lack power or are too buzzy to qualify. Fun Factory's stand-out toys are their insertables, such as the Stronic Pulsators and Bootie plug. I adore their G5 line (particularly the Big Boss), but the plush silicone layer on those — the reason the toys feel so damn good internally — hinders the toys clitorally.
In the Volta, finally, the awesome power of the G5 motor is leveraged, transmitted, and funneled into an unapologetically external toy.
I mean, you can insert the Volta if you want. Then, like me, you can struggle to describe how it feels… um, like something of inconsequential girth and indeterminable shape is creating a concentrated flickering near my G-spot? Not sure, but I can tell you it's not thick enough for my vag to care.
The suckiest thing about the Volta is its battery life. I clocked it at 80 minutes on high, which isn't horrible, but it has also died on me several times when I needed it. For a vibrator that costs $140, I deserve more battery longevity.1
But I'd be hard pressed to conjure any further complaints. Like, the best I could say is "the tips could be a little more rounded." Or I could warn you that if you don't press the toy against your body, it creates a tiny breeze and flicks lube at you. Yet even that is more adorable than annoying.
The fact of the matter is, the Volta makes most external vibrators look like unimaginative hacks. It laughs in the face of smooth, generic shapes. It's wholly unique and ridiculously versatile. It reminds us that freaky designs aren't always a disaster, though it's not wrong to be skeptical of them. Sometimes you just have to sleuth it out yourself to know: that weird vibrator that looks like a flapping duck beak actually feels really, really good.
Get the Fun Factory Volta at Fun Factory, SheVibe, Spectrum Boutique, Early to Bed, Enby, Smitten Kitten, Good Vibes, Babeland, Peepshow Toys, Lovehoney (international), or Passionfruit (AU/NZ).
Fun Factory does make a similarly-shaped battery-operated vibe called the Volita, which sells for $30. But its single speed is very limiting, and the Volta is much rumblier and a lot stronger.