Why yes, I spent all month recording masturbation notes. Of course I did. This may be an
April Fool's "joke,"
but the only fake part is the physical cassette tapes.
Today I'm releasing exclusive tapes from last month's masturbatory adventures. These are my intimate audio notes from out in the field — 31 days of squirting, porn-ogling, blogging, and all manner of indecent sex acts. Think of it as an aural captain's log, or a very unusual podcast. It's like This American Life, but with orgasms.
These recordings take you inside my masturbation sessions in a way you never have before. Enjoy my unvarnished, real-time dictations as I test the viral Rose suction toy, consume dubious sex pills I found in my office, and wrestle with my first ever ejaculating dildo. Listen as I fuck a Fleshlight and, hell or high water, attempt to give myself a dildo blowjob. Let your ears be serenaded by the sweet sounds of vaginal squelching, porn moaning, and vibrators whirring.
Many people wonder what it's like to be a professional masturbator. This, here, is the unvarnished truth.
Without further ado: my sex blogger field notes from March 2022.
Follow along with the transcript below!
---
(0:12)
Tuesday, March 1st, 5:31 pm
Field notes. Epiphora. Volume 15, tape #174. Tuesday, March 1st, 2022, 5:31 pm Pacific Standard Time.
Sitting down to masturbate tonight, and I had to remove the masks that were soaking in my bathroom sink to wash the toys today, which was a cool interesting fun cool excellent reminder of the world we live in. Commence masturbation 5:31 pm.
The Dame Arousal Gel pairs really well with the stainless steel. Sort of makes it feel like… can you hear me over the porn? Like the chill is emanating through my vulva.
Okay, you know how people say things like "toe-curling pleasure"? I think that the sex toy reviewing equivalent would be "labia-twitching pleasure."
Okay, definitive opinion. From weakest to most powerful: We-Vibe Touch X, LELO Siri 2, Je Joue Mimi. And now I can answer that email that I got.
7:17 pm, masturbation session complete. Orgasm count: four. And I'm tired.
(1:44)
Thursday, March 3rd, 3:24 pm
Today I'm writing. I've been writing a lot lately, trying to finish this post about sex toys getting me through the pandemic. I'm one of those special snowflake people who require a lot of accommodation in order to be creative. So I have my white noise on — which is, today, the cabin of an airplane. I have a typing sound on my computer. A Slinky, so that I can think. Then I have a crucial component: coffee. Today I got an iced brown sugar latte and it is chef's kiss.
I just had to Google "pandemic terms." Gotta get that sweet, sweet pandemic SEO. Definitely gotta use words like "doomscrolling," "lockdown," "isolation," "unimaginable chaos."
(2:49)
Thursday, March 3rd, 6:52 pm
I am taking a break from writing to do some testing. I put on my harness, and I'm going to test multiple vibrators in it to see if I can get some good clitoral stimulation going on. I asked my partner to bring up his Fleshlight… and I am going to fuck it now. Did I just plug in my Christmas lights so it could be romantic for myself and only myself? Yes, I did.
[squishing noises]
Okay, I just had a thought. And I don't know why I've never thought of this before, but why don't I have one of those mouth masturbators for penises that I can use to have dildo blowjobs by myself? Like, what?
7:28 pm, masturbation debrief. Alright, that was not as successful as I was hoping it would be. No matter what I do, the vibrator starts drooping and drooping downward like a diaper.
(3:58)
Friday, March 4th, 2:26 am
I couldn't stop thinking about the idea of buying a mouth-shaped masturbation sleeve for myself. So tonight, I went on a Google expedition. Weirdly, there were only a few that met my specifications. I wanted it to have a nose — that was important to me — and a lot of them do not. And I wanted the tongue sort of hanging out, because I am a disgusting, perverted creature. It was kind of surreal being on the other end of the Google search, being the person kind of lost trying to find a somewhat specific type of sex toy. So anyway, I ordered it, it'll be here in a few days, and I will be giving myself a dildo blowjob.
(4:53)
Friday, March 4th, 8:25 pm
We got to watch HUMP! porn film festival in person. And I haven't been in a theater like this since the fucking pandemic began. There is just nothing like watching porn in a room full of strangers. We've been going to HUMP! for, I think, 11 years, and it was super fucking good this year. A lot of stuff that turned me on, and that is not common with HUMP!. There was a needle play scene that a lot of people did not like, including myself. There were a few incest references, which scandalized everyone except me. Someone sucking coffee off a dick. A butt plug with a wine glass on the end, which, yes. And it all culminated at the end in a song called "My Pussy Wears a Mask," which got a lot a lot of claps.
(5:51)
Sunday, March 6th, 6:14 pm
I got a box of stuff in the mail today from Spectrum Boutique, so I'm going to open it.
Okay, so I finally have an ejaculating dildo. I did it.
Okay, and then I have these funny Iroha Petits from Tenga. You just hold them between your fingers for manual stimulation. Oh my god, it looks like a fruit cup. It says that I need to remove the lid and discard the water inside, and then squeeze the item out. Whoa. It just popped out! It's slimy. These are so cute and weird! I love cute and weird. Just gonna add these to my spreadsheet, and then I'll be done for tonight.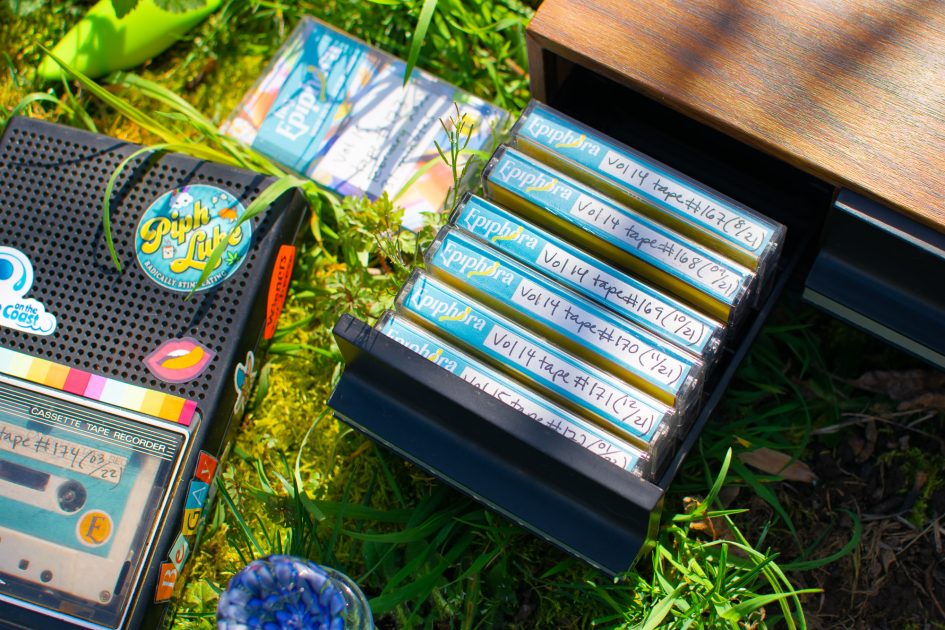 (6:52)
Wednesday, March 9th, 2:08 pm
I just had a breakthrough. I just used the Je Joue Mimi on top of a pillow — humped it — and I really, really, really enjoyed it. I'm generally sitting in a chair, that's my favorite way to masturbate. Any toy that can convince me to get out of my regular masturbation rut is… incredible.
(7:20)
Thursday, March 10th
I am about to masturbate with my hands. A complete rarity. Just feeling fucking adventurous lately, so here we go.
Puts me really in touch with my arousal and what feels good. Tugging on my pubic hair and pulling my labia taut. Ooh, ooh: holding my labia open like a curtain. I like that.
Oh! I think that is first time I've ever squirted from clitoral stimulation! Holy fuck. Well that was fuckin' cool. 6:25 pm, masturbation session complete.
(8:10)
Friday March 11th, 6:06 pm
I'm about to open a package I got from SheVibe and judge everything inside it purely based on first impressions.
Oh, Chowder loves this plastic.
Okay, finally got that Rose thing that everybody's freaking out about on TikTok. I don't know if I'm just stoned or something, but this does not look like a very attractive flower to me.
Finally, I have my hands on the Le Wand and the Le Wand Petite. Do you really need charged? You won't turn on? Does it have a travel lock? Oh, there it is: "before first use, charge your wand for approximately three hours." Well shit.
(9:04)
Monday, March 14th, 5:53 pm
I'm planning my orgasms out chronologically for this masturbation session. I know I need to start with the manual stimulation toy because that's the time I will be the most sensitive. I'm trying that little Iroha Petit thing. It reminds me of, like, a Jell-o mold. It sits really well between my fingers.
My hands are already so messy… and I need to change the porn. I need to use my computer.
Oh, reminder: can't forget to pack my Diva Cup for the trip this weekend.
Alright, time for some more Snail Vibe analysis. I always have to remind myself how to unfurl this thing to use it, oh my god. Very rumbly, I love that. But the insertable part is just a rod, which does not incentivize me to thrust with it, which is kind of the whole point of a toy designed like this.
Okay, the time has come for me to give myself a dildo blowjob. Strap a dildo to my thigh, use the mouth stroker on that dildo, and then use a vibrator on my clit. Let's go.
Literally just typed "perfect blowjob" into Pornhub, as if that is going to help me.
Alright, my cock is on. [squishing noises] Well, the sounds it makes are great.
6:57 pm, masturbation session complete. Orgasm count: three. That last one there, I put the Rose suction toy on my clit, and boy was that… exactly what I expected. I feel pretty vindicated, though, realizing that the Rose is not anything special at all. Just as I suspected. It is simply a suction toy in the shape of a rose. Confirmed.
Anyway, the mouth stroker was pretty hot… but with some complications. The main one being the angle: I couldn't find a way to position my cock so that I could really see the mouth. And my hand got tired, I kept having to add lube to it, and I also should not have relied on Pornhub to supply me with the ideal blowjob. But overall, the visual's pretty sweet, makes me feel extremely gay. Requires some refinement for sure, but would try again.
(11:56)
Wednesday, March 16th, 12:16 pm
This morning, I finally published my blog post about sex toys getting me through the pandemic. So I just posted on social media promoting this post, and now I'm sitting here terrified that the algorithm isn't going to show it to anybody. And I don't want to beg people to read a thing, but at the same time… please read my thing, I've been working on it for months. I'm really proud of it, thank you, it's for my livelihood.
Four hours later, and my post on Facebook has been shown to 218 people. Out of about 6,000. Fuck you, Mark Zuckerberg.
(12:44)
Friday, March 18th, 2:20 pm
I'm packing for a weekend getaway and I found these… sex pills? "Strengthen sexual performance and increase confidence"! Oh, that's the male one, by the way. The female one says "stimulate desire while increasing overall health." Wow, that's sexist. I got these years ago — someone emailed me, and I just said yes. But then I forgot about them and never used them, and now I see that they expire in May. So clearly, I need to use them all now.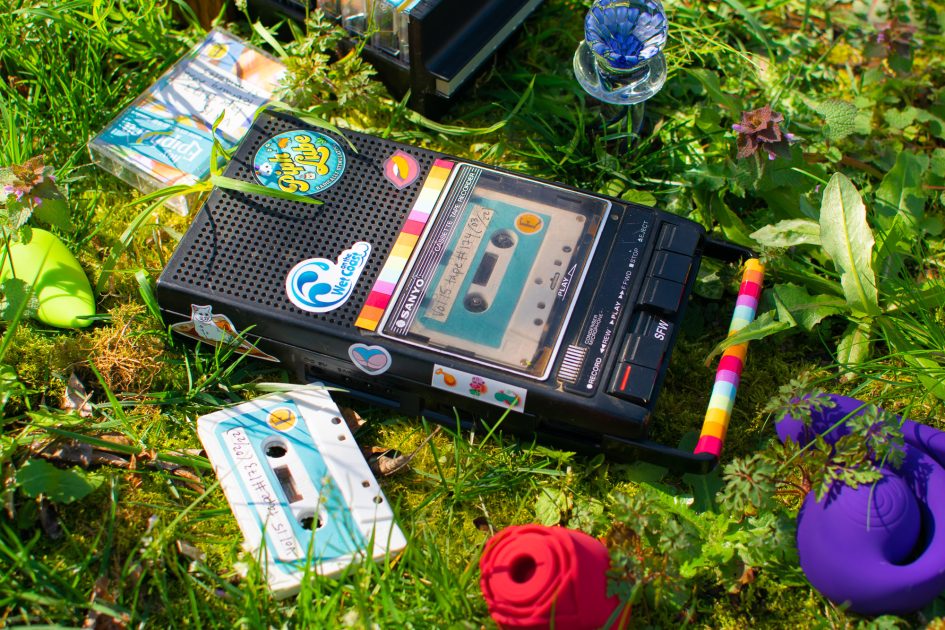 (13:22)
Wednesday, March 23rd, 5:10 pm
I'm gonna masturbate, but first, I'm going to actually figure out what porn I want to watch before I sit down to jack off. I'm gonna be thanking myself real soon for this.
I have not just "post-nut clarity," but I have "pre-nut clarity" and… "mid-nut clarity." Oh my god, I should tweet that. Does that make sense? Is that funny?
It's analysis paralysis, but with porn. There is just too much out there now, man. Way different than the times of Limewire and just putting the word "lesbian" in and you get five results with weird sounding titles, download all of them, and hope that one of them is porn. And then you have to masturbate to it because it took like an hour to download the file.
Okay, what am I gonna masturbate with? I haven't even thought about that. The only one I know is the Cum Dildo, for sure. Ooh, I should use the Eroscillator. I never get to use that one. Here we go, let's do the Dame Arc.
Alright, I got distracted taking a photo for Instagram. But that's up now, and it is now 6:38 pm, and I am finally going to commence masturbation.
Oh yeah, I'm still bleeding. Well, this porn is hot, so go me. Lovin' the Dame Arc, feels really good internally. And my friend the Eroscillator, I missed you.
Okay, time to fill up this ejaculating dildo. I don't really know how much lube to put in this… how much is an ejaculation? [splurting sound] Oh my god, it's just like a queef! What? I don't understand the appeal of this.
7:59 pm, masturbation session complete. Orgasms: two, both of them with squirting. Wonderful, but my entire existence is covered in menstrual blood right now.
Oh, and by the way, I just peed. Because squirt is not pee. Never has been, never will be.
(15:59)
Thursday, March 24th, 4:38 pm
It's a wand party.
I need to Google pornstars who talk dirty… I miss Sasha Grey.
I like this We-Vibe Wand. It's not quite as powerful as the Magic Wand Rechargeable, but I actually really like the Smart Silence thing where it turns off when it's not in contact with my body. I thought that would be a disaster feature, but it actually is really well done.
I'm just gonna say it: these Le Wands are a joke. They're not just kind of bad, they're actually really bad, I think. You can probably hear the difference between this… [high-pitched buzzing] and that. [low-pitched rumbling]
6:14 pm, masturbation session complete. Orgasm count: two. Takeaway from this: I now need to warn everybody about how shitty the Le Wands are. It's my duty.
(17:01)
Saturday, March 26th, 12:45 pm
I've decided to try the sex pills. And I'm gonna try the "male" one, because you know what? I want an erection, and I want it now.
Oh my god, these pills are enormous. There's absolutely no way that I'm swallowing this, so I guess I have to open it into something. What am I gonna put it in? What do I have? Coffee? Milk? Oh my god. Wine? I guess juice would be the least offensive.
It tastes like a horse stable. I don't know if I can finish this glass. Seriously feel like I'm on a reality show right now.
Okay, homestretch here. Ugh. I actually feel sick.
The end.
(17:57)
Saturday, March 26th, 5:52 pm
This Rose sex toy is so full of vag gunk. Yeah, turns out petals are not easy to clean between… and maybe shouldn't be put against your genitals. I dunno. Oh, by the way, the sex pills didn't make me feel anything. So I suffered for nothing.
(18:22)
Tuesday, March 29th, 11:21 am
So I own this vintage vibrator from 1925. Originally, it was powered by screwing the end into a lightbulb socket. But after I masturbated with it a few times, it died. Anyway, a reader emailed me and offered to put a new modern day socket on the end. So I sent it away, and now it's been returned to me, but unfortunately she told me that it is only intermittently working. So I've adjusted my expectations, knowing that I may only have one orgasm left with it. So I'm gonna cue up some vintage lesbian porn.
[high-pitched drill noise] Here we go!
Mmm, that mechanical smell.
Fuckin' did it. Four-minute orgasm. This was probably somebody's great great grandmother's vibrator. I'm honestly so honored to own it now.
Oh, uh, I took some of those sex pills again. Orally (ha, ha) this time, a few hours ago — and uh, yeah, once again, nothing happened to me. My dick is not hard, and I'm mad about it.
(19:50)
Thursday, March 31st, 9:20 pm
I'm going to try the WaterSlyde. It's a plastic… luge-lookin' thing I guess?… that attaches to my bathtub faucet, diverting the water to where it should go: on my clitoris. I haven't been able to masturbate with my bathtub faucet before because I can't position myself correctly, so this may fix the problem.
Oh my god, it actually works! This is awesome! Throwback masturbation here we come.
9:44 pm. Yo. It's so simple, yet works so well. The water ran through it. It landed on my clit. The only issue is that the water went cold, but I powered through it. I made that orgasm happen, it was a good one, and it reminded me of the olden days.
Oh, yeah, and uh, orgasm count: one.