The Fun Factory MiniVibe Spring is a little pipsqueak of a vibrator in the same family as Fun Factory's Bubbles, Ocean, and Flash — all smallish, rechargeable, fully waterproof silicone vibrators that charge magnetically. Of those options, I chose the Spring because IT COMES IN GREEN. Yeah, I'm easily swayed. So what?
Not sure whether it wants to be a clit vibe or an insertable, the Spring is a confusing 3.25″ long and 1.25″ wide. Unlike some other silicone vibrators that are hard as rocks, the Spring definitely has some cushion to it — a layer of soft, matte silicone over the mechanical parts. If I squeeze the center of the vibe, it makes a slightly worrisome popping sound (which is more worrisome considering I enjoy squeezing it to produce that sound). But anyway…
One of the hallmarks of Fun Factory's new toys is that they charge via a "Click 'n' Charge" system. The charging cord is a regular power cord with a quarter-sized disc on the end. It has two magnetic nubs that attach to the base of the toy. It's a very compact system, and for a reviewer like me, that is definitely a plus. Charging docks are cute and all, but they take up space. The downside of this charging system is that there is nothing protecting the toy from attracting lint and other icky things, so I have to wash the toy before use.
As far as I can tell, the Spring holds a charge just fine — I charged mine once and have not needed to re-charge it since, and I've used it 4-5 times now.
The Spring has 7-8 levels of constant vibration (one of them is such a low rumble that it really doesn't count) and a paltry one vibration pattern (pulsation, 3 speeds of it), all accessed via squishy plus and minus buttons near the base. If you're looking for interesting vibration patterns, this vibe does not have them. It does, however, have a good amount of power. Definitely enough to get me off without wanting much more.
Why, then, can't I seem to get into the Spring too terribly much?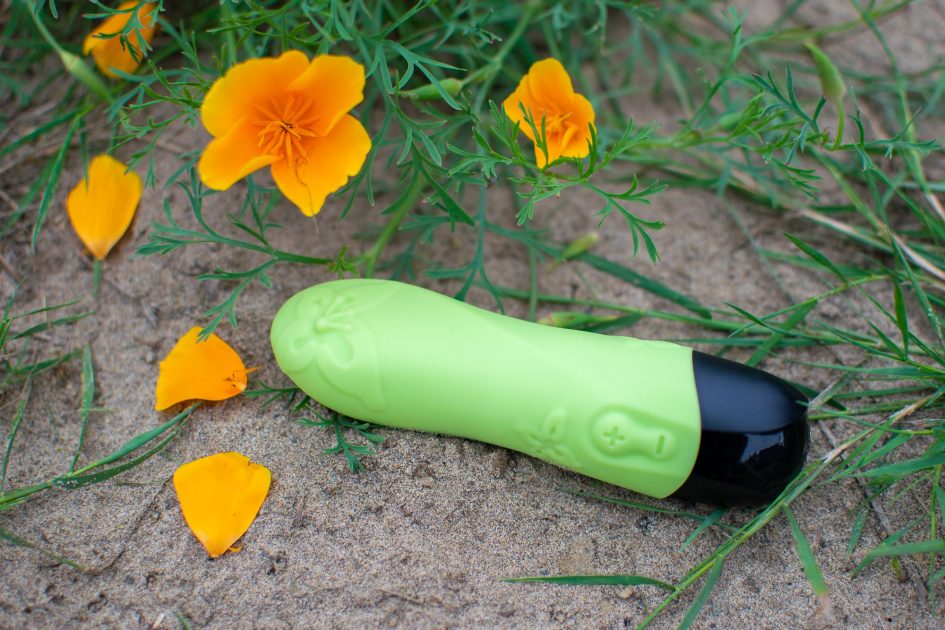 Part of it is because the vibrations are… just vibrations. Nothing innovative, nothing special, and no fun patterns. I'm ashamed of it, but sometimes I have trouble getting excited about regular clitoral vibrators when my Eroscillator is sitting inches away. I can't use the Spring without thinking of how much I prefer oscillations to vibrations.
But I think the size of the Spring is partly to blame, too. The Spring straddles the line between insertable and clit-only. Cool, sort-of, but then it's too small for insertion and too big for clit stimulation. Of course, I like pinpoint clit stimulation, so the Spring was bound to feel a little bulky. Even more, though, it feels too cushy. When I use the Spring, I tend to re-adjust the vibe a lot, and end up expending too much energy pressing it down into my clit. I am a lazy masturbator, so this is not ideal.
Oh, and I can't feel the flower relief. But the vibe can be rotated to use a smoother side instead. Both feel about the same to me — velvety and draggy, like Fun Factory silicone always is.
Internally, it's just laughable. At least for me. My vagina is a cave.
The Spring is definitely fully waterproof, but this is a feature that I personally only take advantage of when washing the toy. Very, very rarely do I take toys into the bath or shower. Nonetheless, I enjoy this trend in newer toys and love the accompanying magnetic charging.
Upon closer comparison with other toys, the Spring is not exactly a powerhouse. While it's stronger than most rechargeable clit toys I've tried (Bcurious, Cocomini, Mia), it is comparable only to the middle speed of the $15 Turbo Glider. And, tested against my LELO Siri, the Siri is stronger — not by a ton, but by a noticeable amount.
The Spring is priced at $57 at SheVibe, but I've seen it around $60-75 most other places. For me, $60 is pushing it. I guess what I'm saying is, it's a vibrator. I can get off with it. But I can get off with other, cheaper vibes too, so it's a question of higher-end features, like rechargeability and waterproofness. I'm jaded, and I know that, so don't let me stop you if this toy sounds fabulous. Just be aware you're paying for technology, not sensation.