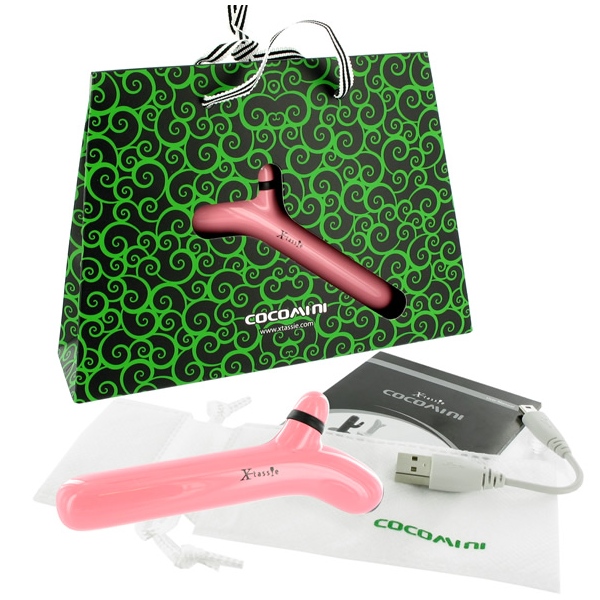 There are a lot of vibrators in the world, but few that charge via USB. That's why I wanted the Xtassie Cocomini. Okay, that and it comes in freaking TURQUOISE. Who can argue with turquoise? Well, it turns out even turquoise and a USB port can't save a mediocre vibrator.
The Cocomini is packaged in a cute purse-shaped green and black box. It comes with a flimsy white drawstring pouch that is not only fairly transparent, but does not stay closed at all (the moment I let go of the strings, the neck of the pouch relaxes completely). It also comes with a manual in 500 languages and a 4.5″ A/Mini-B USB cable. The tiny Mini-B side of the cable is what plugs into the toy itself.
The Cocomini is cactus-shaped; the bigger prong has buttons on it, while the smaller prong has a removable cap with a tiny USB port inside. The Cocomini is made of plastic — mine has a slick finish, but it also comes in different colors, some with a brushed aluminum style finish. It's 4.8″ long and .78″ in diameter, and there's a fugly Xtassie logo on the side (really? A wine glass for an i? That's kind of terrible). There's also a prominent seam that runs the length of the toy.
When it first arrived, my Cocomini needed to only be charged for 15 minutes before it was full, but normally it charges for two hours. There's a light surrounding the buttons that turns orange while charging, and green when the charge is complete. Supposedly it lasts up to four hours on a single charge, but there's no way I'm going to spend four hours with it on my clit, so we'll never know.
Yeah, that's right. The Cocomini is not a toy that I will be getting off with anytime soon ever. It's too weak, it's too rounded, and I can feel the seam. I've never really felt a seam on my clit before, and it's not an experience I'd like to repeat. To top things off, the buttons are hard to push. And the cactus shape isn't ergonomic; it's just weird.
The thing is, Cocomini has very specific competition, since there is only one other USB-rechargeable clit stimulator: the LELO Mia. I don't particularly care for Mia (edit: there's an updated Mia that I like!), but next to the Cocomini, it starts to look pretty damn good. Mia is slightly more pointed, doesn't have a seam, and by my estimation, is stronger than the Cocomini. Do you need more reasons? Okay:
The Cocomini has a tiny, tiny cap that goes over its USB port. Easy to lose? I think so. Mia has a cap as well, but it's larger, and allows for the toy to plug straight into a computer, rather than via a cable.
Mia has about seven vibration speeds and three patterns; the Cocomini has three speeds and four patterns.
The Cocomini doesn't lock for travel. Mia does.
Do you see where I'm going with this? If you really want a USB-powered vibrator, get the LELO Mia. The poor cactus Cocomini, even as it capitalizes on my obsession with computers and the color turquoise, is still just another weak vibrator in the crowd.