The pandemic has been a whole new time of giving-zero-fucks, and for me that's looked like a sort of survivalist hedonism. I've been reaching for comfort sex toys, proven winners, rather than toys I'm indifferent toward or feel obligated to test. This is what I call "recreational masturbation," and I need it. It's my middle finger to capitalism — and a love letter to myself.
Quarantine has led me to redefine self-care in my mind, finally allowing masturbation to be included instead of subjugating it to my job. I've given myself permission to use low-effort dildos and consistently effective vibrators when I'm not up for theatrics or fickleness. I've enjoyed stress-relieving quickies, indulgent sessions, and cathartic squirting. I've worked to stay in my body with stimulating gels, soothing materials, and playful experimentation. Incredibly, through that experimentation, I achieved multiple sexual breakthroughs.
Coping, for me, has meant reminding myself that pleasure is of my own invention.
I bonded with some tried-and-true favorites during lockdown, but I also discovered glorious new things — and then I clung to them like Kate Winslet on a waterlogged door.
These are my orgasmic tools of choice when the world is crumbling around us.
Too dark?
Jump to:
---
(We-Vibe/WOW Tech) Romp Hype
An astonishingly affordable, rumbly vibrator with extra reach.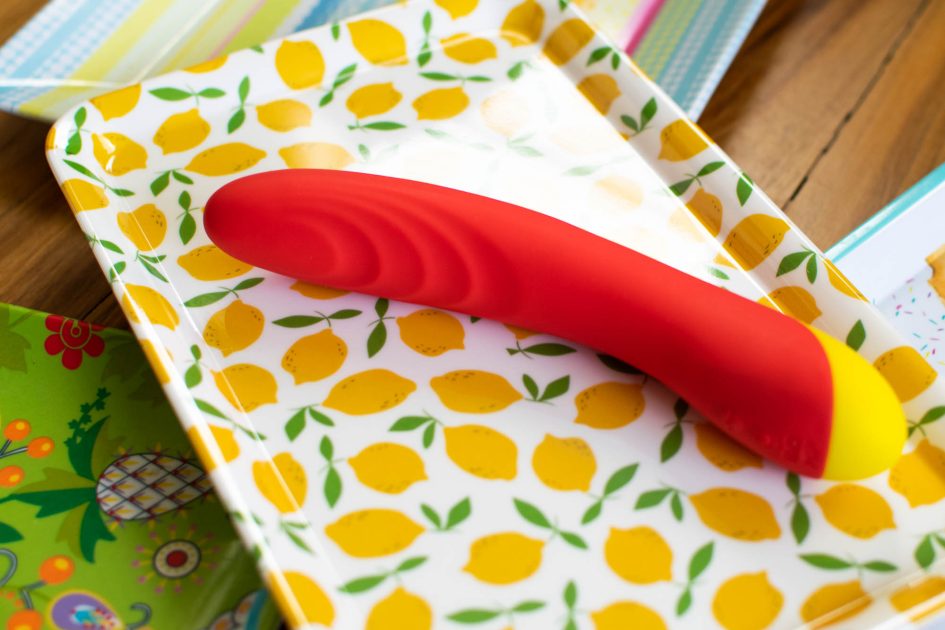 The first time I tried the Romp Hype, I ambushed my partner in the kitchen afterward. He was barely awake and heating up coffee; I was maniacally shoving a vibrator in his face and insisting "FEEL IT!" Having just experienced the toy and subsequently googled its price, I was dying to proselytize. The vibrations were not only rumbly; they were shockingly powerful.
"Dude," I breathed in disbelief, "this thing is only $35!"
That kind of incredulousness is rare for me, so it tells you a lot about how extraordinary the Hype is. What can I say? My clit knows it when she feels it. (That is the first time I've gendered my clit and… I don't know how to feel…) ANYWAY, a rechargeable vibrator I can wholly recommend at this price point? Yo. Bust out the ridged chips, scrub down your bathroom, and lay out the COVID tests. We're throwing a party.
If you're looking for a toy that eases into things, this ain't it. The Hype starts at an intensity closer to mid-level on other vibrators.1 Then, its 6 steady settings incrementally bump up in power. No wild leaps, just how I like it, and no high-pitched bullshit. The first setting is enough to make me come; the last setting shoots me into the atmosphere.
To me, the Hype is obviously perfect for clitoral stimulation. I fell into a rhythm easily, using its elongated shape to access my clit without reaching. The toy's length keeps the vibrations isolated near the tip, and its firmness requires no extra pressure like toys with flexible necks. You can fantasize about humping someone's leg really easily with this vibe. Just, uh, an idea. A totally untested idea.
Internally, the Hype is uninspiring, slightly pointy, and hovering close to "just a rod" territory. The lack of curve equals minimal G-spot stimulation. It's sort of a flip of the We-Vibe Rave: the Rave's G-spot targeting is out of this world, but the Hype is 2x more powerful, cheaper, rumblier, and more ergonomic for external use. Pretty remarkable, considering I love the Rave.
Oh my god, I haven't even told you the best part. THE HYPE LASTS 2.5 HOURS ON A CHARGE. The longevity! The sheer longevity! You could masturbate to six episodes of Nathan for You in that time, though I don't know why you would.2 It's reassuring to know this vibrator will not peter out at the worst possible moment. Your orgasms are safe with it.
To be an informed consumer, you should know: the power button is fickle, there's no travel lock, and a single button cycles through the settings, so there's no way to reduce intensity. My beloved Sassy is rumblier and has a wider range of intensities, both low and high, but it lasts half as long on a charge and costs twice as much. (Recent price increase. I blame the apocalypse.)
The Hype is backed by a generous 2-year warranty, and its charging cord has a yellow tip. Hell yes! I can actually find it in my mass of black and white spaghetti!
I became quite attached to the Romp Hype during the pandemic. When I unboxed it, I assumed it was just another milquetoast, assembly line vibrator. But after one use, I knew it was special. It gave me unwavering satisfaction on long nights, never running out of steam. It accompanied me to sex parties. It proved itself again and again.
Now the Hype lives in the top drawer of my desk, nestled amongst vibrator royalty. At $35, it is by far the least expensive toy in there. Thirty-frickin'-five. For the price of a white noise machine, you could instead have an orgasm machine. I can't tell you how happy that makes me.
Get the Romp Hype at Romp, SheVibe, Lovehoney (international), Spectrum Boutique, Peepshow Toys, She Bop, Good Vibes, or direct.
The Romp Beat is also impressive, especially for $25. It's rumbly, but the vibrations feel more buried than the Hype's and buzz my fingers more. It's bigger than it looks, too.
---
Je Joue Mimi Soft
A powerful, pebble-shaped mini vibe that'll never die on you.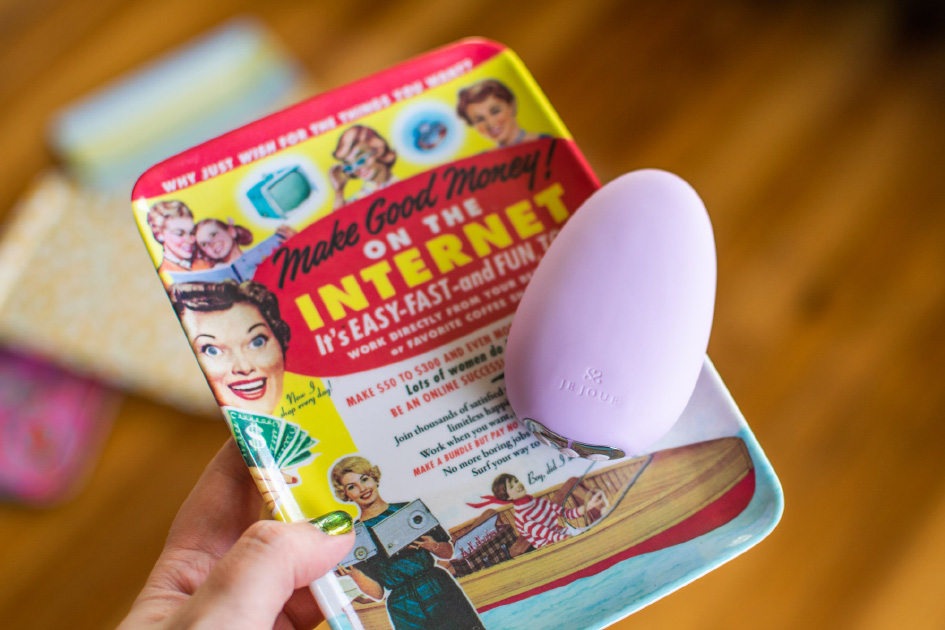 Many moons ago, I gave the original Je Joue Mimi a pretty rude review. It was semi-warranted: my first one was defective, the motor seemed untrustworthy, and the buttons were a nightmare. But I reviewed it the literal year it was released, a friggin' decade ago. My vendetta led me to file the Mimi away in my head as Not Worth It, but then… I tried the present-day version.
Now, I will gladly eat my hat. I'll devour it, even. Because holy fucking shit, the Mimi is extraordinary. Unbelievably rumbly, powerful as fuck, and shaped for versatility, with a motor that goes on and on and on, like the song that never ends.
Apparently Je Joue updates their products quietly. Many are on their fifth or sixth versions, but you'd never know it because they don't launch a cringy horn-tooting marketing campaign with each new one. They don't tell consumers at all.
That's the story of how I found myself with the Mimi Soft sideways against my clit, eyes wide like the flushed face emoji, wondering why I'd gone so long without this.
The motor in the Mimi is everything. Its purr is undeniable — both aurally enticing and clitorally satisfying. It flutters, reverberating against my vulva, spoiling me with the depth of vibration. Clicking into higher settings, another thing becomes apparent: the Mimi is not here to make friends; it's here to incite orgasms. This toy may look plain and unassuming, but under the hood, there's a motor that is exceptionally powerful for its size.
Obviously I'm a slut for battery life, and the Mimi kicks total ass with an absurd 2.5 hours — on high. That's not just impressive; it's freakish. Of every bullet I've tested, the Mimi has the longest run time. Quite the crowning achievement.
The Mimi's flat, unembellished design makes it a canvas for creativity. It slips between bodies naturally, offering more surface area than most mini vibes. Pick your pleasure: broad or pinpoint. I'm a pinpoint fiend, usually, but then a life-altering event took place. In an attempt to be thorough in testing the Mimi, I placed the toy flat on a rolled up pillow, mounted it, and started grinding — just to see.
I am not a grinder. I jack off in a chair, sitting up, and always have. But you know those TED Talks that totally explode your perceptions and make you question how you've been doing things your entire life? That's what this orgasm was like.
I felt masturbatorily inspired. I grabbed my Liberator Wing, a sex toy mount/pillow I've owned for years but never used, and humped it the same way. Even better.
Who am I? Grinding is a masturbation method I spent 35 years assuming I didn't like. It was always exhausting and dissatisfying. It's still tiring, but the difference is, the Mimi works so well for it. The broad surface area encompasses my whole vulva; the buttons can't be accidentally pressed during use; and the toy is firm enough for me to feel the full breadth of its strong vibrations. (Also, turns out, I can grind against it while sitting at my desk.)
Might as well try is a mantra that has led me to some wonderful sexual discoveries (and mishaps). Another thing I tried: tucking the Mimi into the Wing's opening. I laid on my back, pulled the Wing on top of me, and positioned the vibrator against my clit. Wrapping my arms around the pillow, I started rocking, fantasizing, fucking myself as if another person was doing it. Then I came again.
Please, someone, give me your thigh.
The "Soft" version of the Je Joue Mimi has a bit of give on the edges and tip — very subtle, but for $5 more, you might as well. The buttons, so atrocious in the original version, are now easier to press but still very hard to distinguish. (I beg you, Je Joue, fix that next.) Be advised that because the Mimi's motor is so intense, sensitive folks are unlikely to enjoy this toy.
Like the Romp Hype, the Mimi has become one of my standard throw-it-in-the-bag toys when packing for sex parties. (I say that like I'm an orgy socialite, but I'm talking a grand total of two parties since the pandemic began.) For such occasions, I want a vibrator that can perform. That's the Mimi. Rarely will I need the final power level, but it's there just in case. Rarely will I require 2.5 hours of battery life, but I can lay back knowing I have all the time in the world. Orgasm will come. It's been preordained.
Get the Je Joue Mimi at SheVibe, Lovehoney (international), Come As You Are (Canada), The Pleasure Garden (UK), Spectrum Boutique, Peepshow Toys, Enby, Good Vibes, or Smitten Kitten.
---
Le Wand Arch + Bow
Irresistible stainless steel dildos that feel like heaven.
Call me woo, but stainless steel dildos have a sort of… grounding presence. The way they anchor, like a weighted blanket for my vagina. How they begin cold, then gradually absorb the warmth of my body until they start to radiate heat. It's like a spa treatment: the transition from cool to warm, the weight of the dildo calming me like a hot stone massage.
Stainless steel toys ask so little of you: you can use them without lube, when you can't be bothered to go grab a bottle. Their weight feels good no matter what, as long as they're shaped well. And they have a heft, a presence, like you should feel privileged to hold them. It's been years since a new one has graced my vagina.
Masturbating with the Le Wand Arch and Bow felt like falling in love with stainless steel all over again.
These dildos are part of Le Wand's stainless line, which was at best "inspired by" but more accurately "ripped off from" njoy. The Hoop3 is a near-copy of the Pure Wand, the Swerve4 resembles the Fun Wand, and the Contour5 is so similar to the Eleven I called it the big Eleven-shaped one in my notes.
I'm not enthused about this. I don't like this at all. The Pure Wand is fucking iconic and should not be copied so unabashedly. Everyone knows how important that shiny object is to me. Don't come for it. It's practically my reason for having a sex blog. It showed me what I could actually feel, the whole extent of it.
But… the complete wasteland that is stainless steel toy options compels me to forgive some trespasses. Occasionally, my vag overrides my morals. I can't deny it: I love the Arch and Bow.
The Arch and Bow are sensory experiences from start to finish. They're shiny and eye-catching, like trophies. They stir sensations of heaviness, texture, G-spot majesty — all enhanced by an evolution of temperature from soothing cold to sensual warm. They even elicit noise: a wet, sexy sound.
The Arch is just a beautiful treat for my genitals. The hooked end glides over my G-spot, effortlessly pleasuring as I thrust, while the light ridges tease my opening. The tapered side is more weighty, stationary, sliding into place like it belongs there. The shape of this dildo is reminiscent of the first toy to make me ejaculate, the LELO Ella, so unsurprisingly, I become a total fountain with it.
Rarely do I experience a sex toy as sublime as the Arch. Using it is a dream. Squirting with it is like a cleansing.
Then there's the Bow. As a texture slut, I've fantasized about a dildo exactly like this:6 Pure Wandesque but with a twist. I can now confirm my fantasies were warranted. The Bow's raised swirls delight my vagina, adding extra dimension to the already-jaw-dropping G-spot stimulation. The sensations are so overwhelming I end up scooting back from my desk when I'm about to come, quickly removing my pants from the vicinity so I don't squirt all over them.
The Le Wand Arch and Bow made me nostalgic for simpler days past. They gave me déjà vu: the ecstasy of first times. A spark of what used to be. Familiarity in an incomprehensible world. Times change, pandemics come and go, but getting rammed by a hunk of stainless steel is forever.
Browse the Le Wand stainless steel line at SheVibe, Passionfruit (AU/NZ), Spectrum Boutique, Early to Bed, Enby, or Good Vibes.
---
Magic Wand Rechargeable + BMS PalmPower Extreme
Super-powered wands to finish you off ASAP.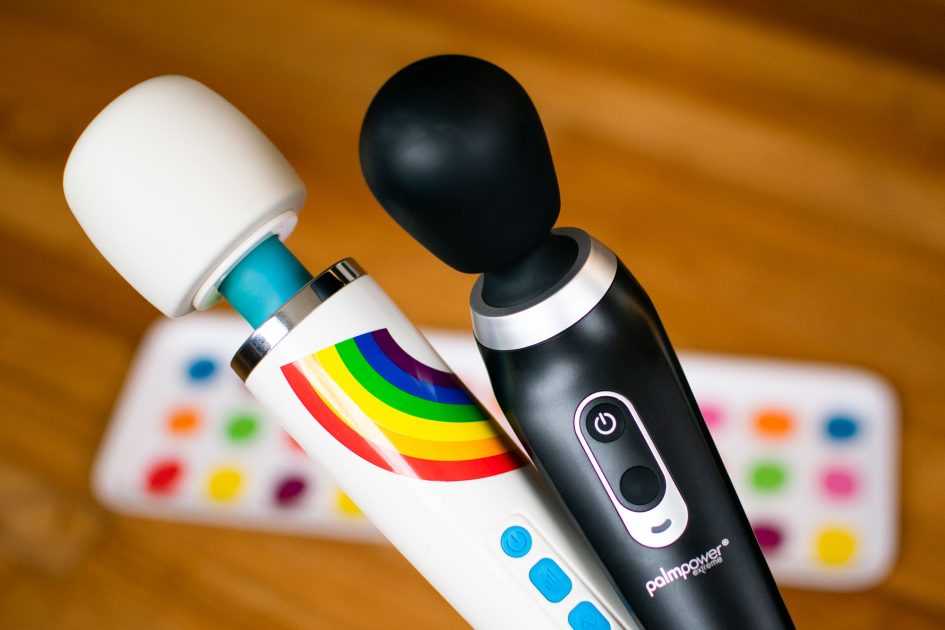 I loathe cliché interview questions, but I have a definitive answer to the tired old "what if you were stranded on a deserted island and could only bring one toy?" The Magic Wand Rechargeable. (If you prefer to torture me, ask me to choose five toys instead.)
Surely zero of you will be shocked to see the Magic Wand Rechargeable (MWR) here, as I've been obnoxiously screaming about it from the rooftops for years. But this list would be dishonest and incomplete without the most-used vibrator I own, and one that serves a vital purpose in these unprecedented times: guaranteed, extremely low-effort orgasms.
There is no disrobing, no lubing up, and in my case, no pre-existing arousal. I switch on some porn, press the vibrator against my clit through my underwear, and poof: orgasm. Then I return to my spreadsheets and emails. When I can't be arsed to do anything else, the Magic Wand Rechargeable is there, ensuring an orgasm.
You could say it was made for a pandemic. Or you could not say that, because that's weird.
Forever on the hunt for a wand as powerful as the MWR but smaller (but not too small), I sifted through my fair7 share8 of sub-par9 offerings10 until I found the BMS PalmPower Extreme. This wand is ergonomically angled, lasts 2.4 hours on a charge, and brings the vibrations in a big way. It's not quite MWR intensity, but close, and the motor is satisfyingly rumbly.
Aside from the hearty power and rumbles, the feature that tips this vibrator into the favorites column is its continuum of vibration. Holding the button ramps them up fluidly, unlike most vibrators which only have set intensities. (Even the MWR is guilty of this.) It takes a full seven seconds to turn this wand all the way up, to give you an idea of how adjustable it is.
It earns the word "extreme," I'll tell you that.
The PalmPower Extreme is an excellent compliment to the Magic Wand Rechargeable, as they each have strengths and weaknesses. The PalmPower's size is less cumbersome, and its intensity is is very customizable, but it vibrates my hand. The MWR is a heavier beast, but my fingers never itch no matter how long I use it. Having both, I feel well-rounded and equipped for any situation. I keep them together, close at hand — a squad of easy orgasms.
Get the Magic Wand Rechargeable at SheVibe, Come As You Are (Canada), Spectrum Boutique, Peepshow Toys, Early to Bed, Enby, Good Vibes, or Smitten Kitten.
Get the PalmPower Extreme at SheVibe, Spectrum Boutique, Peepshow Toys, or Early to Bed.
---
Fun Factory Volta
An extraordinary vibrator for multi-faceted external stimulation.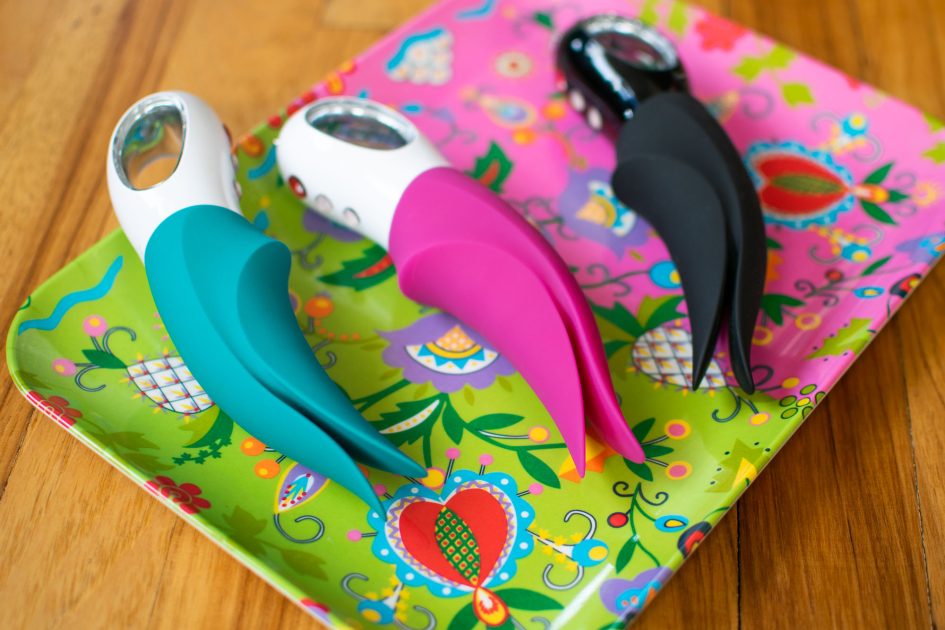 What did I do before the Fun Factory Volta? Which vibrator did I grab when I wanted to languidly masturbate for me and me alone, consciously clearing my mind of my usual ticker tape analytical thoughts, relishing that freedom? I don't remember, because now it's the Volta, and it's been the Volta for 4 years.
This vibrator has withstood the test of time, the most illustrious accomplishment. Not to break anyone's heart, but a glowing review doesn't guarantee a toy will become part of my top-tier rotation. It takes something else, some X factor. For the Volta, it's the split shape. No other vibrator compares. The flickering tips dance along my clit, varying sensation with the flick of my wrist. Splayed, pinpoint, pressed hard or allowed to graze and tease — the Volta does it all.
There's a complexity in how the Volta feels that draws me to use it first in a recreational masturbation session — almost like it's an aphrodisiac. The unusual and rumbly stimulation keeps me engaged, imaginative, present. The toy's length prevents vibration from irritating my hand, plus I don't have to reach down to achieve clitoral contact.
I have three Voltas now, because Fun Factory is hella generous and has hooked me up. This is helpful because the one and only downfall of the Volta is its battery life. It lasts 80 minutes, and I have needed a back-up on more than one occassion.
Spending quality time with the Volta feels like self-care: I'm deliberately making the choice to use this vibrator, one I've already reviewed and extolled the virtues of. It will benefit my blog not at all for me to masturbate with it. There's no monetary gain to be had.
But perhaps it is resistance to set aside time to masturbate like this. To take all the pandemic-imposed isolation and transform it into something fulfilling, if only for an hour.
The Volta is a vibrator for cherishing, for turning the lights low and throwing my phone into a corner and appreciating what uncomplicated pleasure feels like. It's a relief to release my brain from the self-imposed pressure to scrutinize every detail. The Volta has been a welcome respite during these chaotic times — and like a best friend, I know it'll be there for the good times, too.
Get the Volta at Fun Factory US, SheVibe, Lovehoney (international), Passionfruit (AU/NZ), Spectrum Boutique, Peepshow Toys, Early to Bed, Enby, Good Vibes, or Smitten Kitten.
---
Silicone dildos from Pris Toys, Hole Punch, Uberrime, Portland Toy Company, and Cute Little Fuckers
Everything from gentle G-spot nudging to rapid G-spot pounding.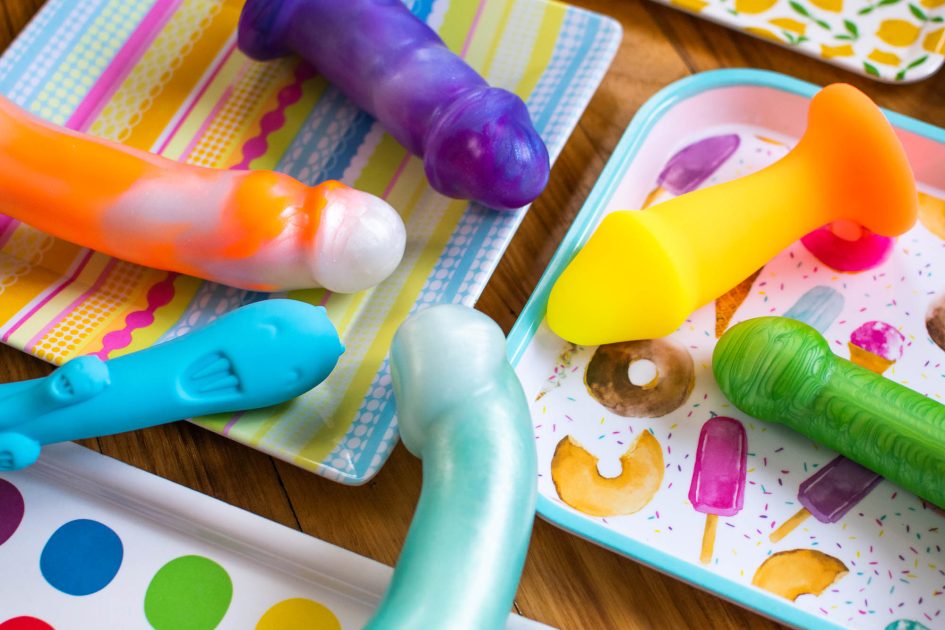 It can be the simplest of joys: jacking off with a dildo that just looks fuckin' cool. Pris Toys is a new dildo maker who emerged during the pandemic, and so far they're already doing rad things. Their Comet is splashed with electric orange and pearlescent white, like melted ice cream from another dimension. (I think it pings my nostalgia, because I had an inflatable chair in that same orange when I was in middle school. A highly-prized possession I earned from selling magazine subscriptions.) The Comet's glory is more than looks, though: the shaft is smooth for maximum glide, the 7″ length is my ideal, and the head is nicely pronounced to target my G-spot.
Get the Comet at SheVibe, or Spectrum Boutique.
But it was the Pris Toys Nova that astonished me. Perfect density of silicone, perfect glossy finish. Thrusting is inevitable by nature of its design: it refuses to stay in on its own, so I must glue my hand to the base. Consequently, I can't resist. I must thrust. With that intense, bulbous head pummeling my G-spot, the intensity builds, and that can only spell one thing: S-Q-U-I-R-T. It's like a smaller, more manageable Randy, or a shorter, firmer Carter. The Nova has accompanied me on several passionate masturbation sessions, one of which ended with me crying tears of relief. It turns me on to remember; it makes me yearn for it again.
Get the Nova at SheVibe, Spectrum Boutique, or Early to Bed.
When a head-spinning amount of pleasure is not my aim and laziness is my game, I enjoy a toy that locks into place. That's exactly what the Hole Punch Fluke is: a set-it-and-forget-it dildo. Aside from looking gorgeous with its brilliant yellow to orange ombré, the Fluke is nicely sized and shaped for a static fit. It pops in — thunk, shoop — and doesn't budge. I don't have to touch it; I can just focus on my clit and squeeze the dildo with my vag. Fullness without strings attached. Glorious.
Get the Fluke at SheVibe, Come As You Are (Canada), or Smitten Kitten.
For G-spot stimulation without strings attached, look to the Uberrime Uno. Simple and practical like a roll of duct tape, the Uno won't win any design awards but it does provide reliable, effortless G-spot pleasure. It's small, so I don't have to work up to it, and the rounded edges on the head prevent pinching or catching — ensuring a fluid motion during thrusting and even upon removal. The Uno is a toybox staple type dildo: uncomplicated, effective, and gentle.
Get the Uno at Peepshow Toys.
On the other end of the spectrum, there's the not-remotely-subtle and large-and-in-charge Portland Toy Company Prism. This dual-density dildo is designed to simulate fisting, and while I cannot personally attest, holy moly that HEAD. It is INTENSE. The Prism is a beast, much like the Randy. No surprise it activates the waterworks. This is the toy for when you want to get stuffed. Downside: hard to remove when I need to squirt all over it.
Get the Prism at Portland Toy Company.
Trans-owned Cute Little Fuckers makes all manner of delightful toys, but my favorite is the Trinity: a dildo adorned with silly faces. I'm not sure what to call them. Aliens, the company seems to suggest, but they look more like ghosts to me. I asked my partner and he said: "bald blue vampires." Clearly, it's up to interpretation. Point is, Trinity is hella non-phallic and adorable, and it feels great. The little monsters are key: you can turn it any way you want to find the most stimulating spot for them to land. My vag just loves the additional zing near my vaginal opening. Also, the vibrator actually works well?! It reverberates nicely through the silicone.
Get the Trinity at SheVibe, Enby, or Good Vibes.
---
Dame Arousal Serum
A cooling cream to perk up your genitals.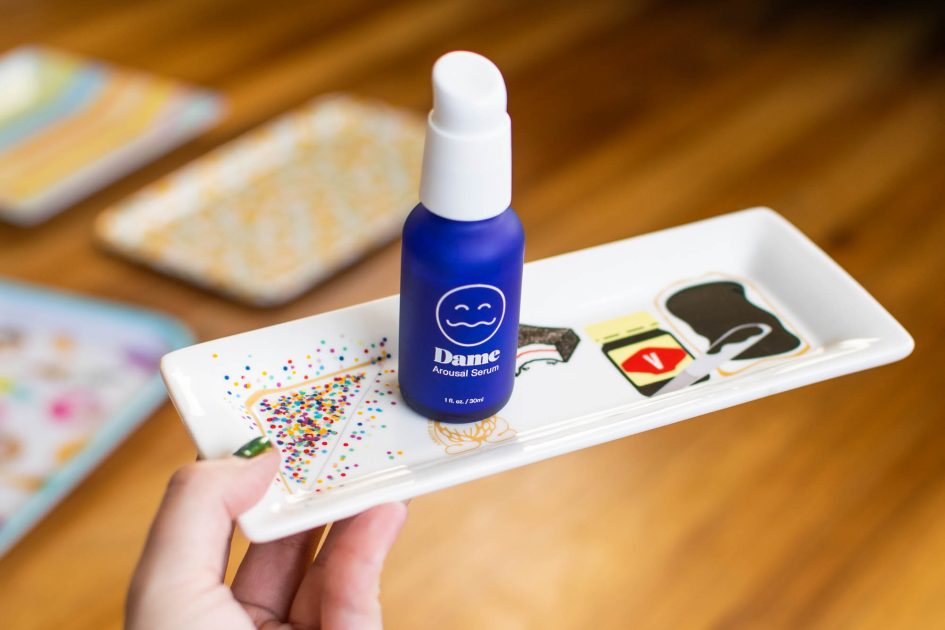 In this pandemic life, I'll plan to masturbate and then 3 hours later realize I never did because my brain was too busy flipping through catastrophic scenarios. Enter: Dame Arousal Serum! A wee dollop on my clit brings me back to my body, prodding me to abandon the stresses of the world and give my clit some love.
This product is all the buzzwords — vegan, pH-balanced, and free of glycerin, gluten, and parabens — but no shade, because it should be. Peppermint is the first stimulating ingredient, followed by cinnamon and, at the very end of the list, ginger. The predominant sensation is minty and cooling, but there's an undercurrent of heat that ebbs and flows in its intensity. The serum itself is off-white and creamy, standing up on my fingertip no problem. (Still, it's always a fun game to see if I can transport it to my clit without accidentally smearing it on my underwear or outer labia.)
The tingle radiates through my vulva, not solely my clit, and y'all… it LASTS. That's the secret ingredient they don't put on the label. I only use a pea-sized amount and I can feel it 2 hours after I apply it. Of course, that's when left untouched on my clit. Add toys, tongues, fingers, etc. and it'll fade faster. But without disturbance, it's noticeable enough to become a tease for quite some time.
You could apply this stuff before going out to dinner and you'd be feeling it at least into the entrée, if not the dessert. Especially if you cross your legs.
What's it like to go out to dinner?
Masturbating with the Arousal Serum is also fun. When I press a toy against my clit, the cooling element leaps to the forefront and dances with the vibration. I discovered you can pair it with a glass or metal dildo to extend the chill through the whole vulva. It's a full-spectrum cooling, an intriguing trick of the mind — as if I have a cold toy against my clit too. Amazing. I'm a genius.
Anyway, I haven't tried every arousal gel in the universe (god help my clit if I ever did), but the only ones I've liked before this were ON11 and Love Button. Sliquid's Stimulating O Gel barely lasts 10 minutes, and Shunga's Secret Garden is pleasantly cooling but that whole brand is racist and fetishistic.12 A lot of stimulating gels and creams contain dubious ingredients, so I reject them outright.
The Dame Arousal Serum is ingredient-conscious, long-lasting, pleasurable, and it even tastes good. My best friend likened it to a chai latte; I get hints of clove, which makes me wanna go smoke a cigarette on the roof of a parking garage and make out with someone from the internet. It's extremely sweet, kinda too sweet, but it's unlikely you'll be consuming much of it. Mostly it just makes your junk smell like Christmas.
Stimulating gels are not something I use often, but the Arousal Serum inspired me to change my ways. Its impressive longevity opened up possibilities I needed, like applying it while working… sometimes to my detriment. As I write this, my clit is pulsing with unaddressed arousal. It's been over an hour and I'm starting to feel tortured. BRB gonna go masturbate now.
Get Arousal Serum at Dame, Lovehoney (international), Spectrum Boutique, Early to Bed, Good Vibes, or Smitten Kitten.
---
My hands
I know. I can't believe it either.
Hell hath frozen over. I have begun to explore jacking off with my bare hands. Vibratorless masturbation is a wild terrain for me, one I only occasionally traversed up until now. It's still rare — I am a sex toy reviewer, after all — but… I'm really starting to see the appeal.
My gayness is an advantage, as a vulva enthusiast. Clits are hot. Vulvas are hot. The idea of someone doing things to me is hot. Doing things to someone else is hot. There's a lot to be turned on by… including feeling my own clit harden under my touch.
Do straight people feel like this? Do they have this attraction to their own genitals?
Teasing my clit, trapping it between my fingers and squeezing. A single finger flicking; an entire palm rubbing. Circles. Strokes. Variation. Consistency. Not having to give instructions to anyone. Holding my labia open like a curtain to access my clit. Using my juices as lube. Tugging on my pubic hair, pulling my labia taut. Teasing my entire vulva, circling my opening.
I get turned on by the sounds of my increasing wetness. I watch clit-focused porn, fantasizing about someone fucking me that way. I imagine them imploring me to come, making me promise to do it for them…
I SQUIRTED FROM CLITORAL STIMULATION ALONE.
FOR THE FIRST TIME.
I felt the ejaculate flow and pool under me as my pussy contracted. Holy fuck. I must've been really turned on. Perhaps the organic arousal, combined with rubbing around my vaginal opening, is what triggered it? (Also, shout-out to silicone lube, which is flawless for this kind of thing.)
So here I am being all in awe of my body again, remembering how I'm the best person to fuck me.
What I appreciate about manual stimulation is feeling all the nuances: the swelling of my labia, the erectness of my clit, the fluids my body produces. It's like mindful masturbation, being deeply in touch with my arousal and acutely aware of the micro movements of my fingers.
Don't throw tomatoes at me, but I'm starting to think masturbation can be more than just pressing a vibe to my clit.
Which sex tools have you been leaning on during the pandemic?