August 2022
: the Kip is being discontinued, and my entire heart is broken. Get it before it's gone at
Smitten Kitten
or
Passionfruit
(AU).
Sometimes companies surprise you. When Dame hit the scene with their zealously-crowdfunded initial effort, the "hands-free" labia-clinging Eva, I pegged them as a company that would focus more on (heterosexual) fantasy than consumer reality. "You know it's bad when abstinence starts to sound appealing," I famously stated in my review, going for the jugular after the toy fell off my vulva for the millionth time. I figured I'd burned that bridge and would likely never work with Dame again.
Then came the day Dame offered to sponsor students in my sex blogging class. After that they hired me for product development, sending me early clit vibe prototypes that I ranked based on shape — and on which I used a Sharpie to mark my preferred placement for buttons. Next they sent me their new toy, Pom, along with a luxurious bathrobe embroidered with the Dame logo. (Now that's some useful sex toy swag.) Months later, I found myself consulting with them again, this time about internal vibrators. Then came the day I approached their booth at ANME and they were genuinely thrilled to meet me — no bad energy whatsoever.
Dame's made it hard for me to stay mad at them, and now I really can't: one of their toys has officially earned my endorsement. I hereby claim, for orgasmic purposes, the Dame Kip as one of my favorite bullet vibes.
Of course, I must define each part of this. The Kip is "one of" (among several) "my" (personal opinion based on the responses of my body) "favorite" (most appealing and stimulating, with desirable features), "bullet vibes" (small, external-focused vibrators). I'm specifically not using the word best, despite how much my pitiful search engine traffic would benefit, because I don't believe any sex toy is universally perfect for everyone.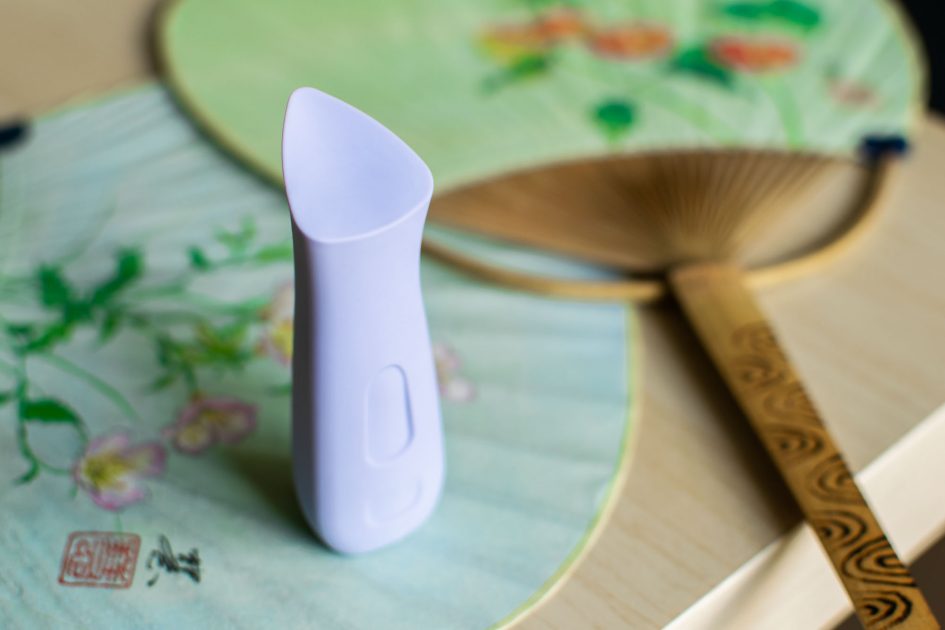 But the Kip is music to my clit. It is a chef's kiss emoji. It is simple and rumbly and cute and easy to use and everything I need. It is, in almost every way actually, the opposite of the Eva — and I love it more than the legendary We-Vibe Tango. The Dame Pom is slightly less successful for me due to its shape, but since it has the same motor and settings as the Kip, it shares many of the same benefits. These are seriously commendable vibrators.
Dame's packaging is modern and modest, with no excess bullshit I have to throw away. It's almost like they don't feel the need to exaggerate their importance?! The included storage bag is made of pretty cream-colored linen and embroidered with Dame's "O Face" emoticon, and the braided fabric USB charging cord feels sturdy and looks distinguished. My favorite perk, though: Dame's three-year warranty, which surpasses many competitors. Three years is a long time, and since the Kip and Pom cost $95, it works out to only $32 per year — assuming the toy dies right after that. Even less if it does not!
With these vibrators, Dame has immensely improved upon their previous failings. The high-pitched, lube-adverse, anatomy-dependent Eva bears little resemblance to the wonderfully rumbly and refreshingly versatile Kip and Pom. Their motors have a deep, thrumming quality that persists even on the highest intensity level. Pom's vibration feels a bit more dispersed, Kip's more concentrated. These toys are not powerhouses — that is their biggest flaw — but I'd argue the timbre of vibration matters more. Extreme power in a bullet vibrator is the leading cause of itchy finger syndrome, after all.
Kip's unique triangular shape is ergonomic and comfy to hold, and the buttons are sensible and easy to push — these features are often taken for granted, but essential to a smooth user experience. So is the ability to turn the vibration intensity up and down rather than cycling through settings with a single button, and having a magnetic charger that attaches securely and charges reliably. Trust me, when these standards are not met, exasperation sets in.
With Kip's tip shape, you can choose between very very pinpoint stimulation, cupped broader stimulation, or what I do most of the time: rest the blunt edge against my clit and let the flat tip hug my labia. Not everyone will like the intensity of these edges, but my weirdo genitals sure do. It's a little extra zing, like sprinkling hot sauce on a meal. (Warning: do not accidentally add hot sauce to your clitoris.)
If you prefer your toys more plush and less pointy, the Pom is a better option. Its body is flexible and its slightly raised tip is gentle and pillowy. Because it's so flat and soft, it would fit between bodies well during partnered sex.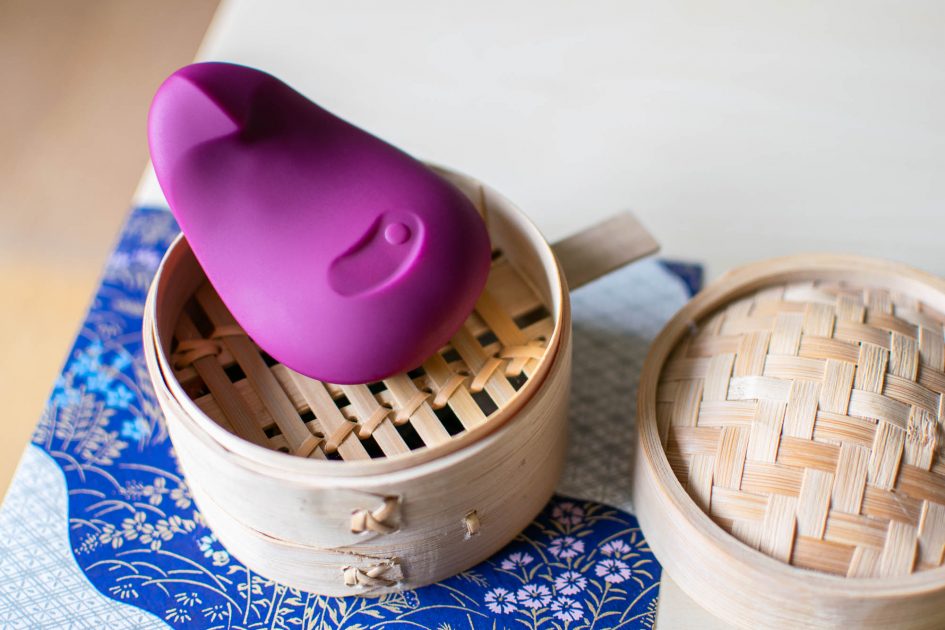 There's one design flaw with the controls on the Pom, though. The toy won't turn off if you're also pressing one of the intensity buttons, which is easy to do as they're on direct opposite sides of the toy. At work, we thought we kept getting defective floor models until one genius co-worker unearthed the true issue. In the staff email thread, everyone chimed in with congratulations for her genius: "you are my queen, this has been making me feel like a bananas sex toy failure." "I honestly feel like I can sleep a bit better at night now." "The Pom is now ours to rule."
Ah, the peculiar thrills of sex shop life.
Pom's defined edges look cool, but they bother me when I hold the toy. I grasp it around the sides and my fingers run into the blunt edges. People in marketing photos always cup vibrators gracefully in their palms in way that feels completely unnatural to me, but perhaps I'm the freak? I'll have to do a poll. I hold the Pom nearly sideways, with the tip pressed into the left side of my clit.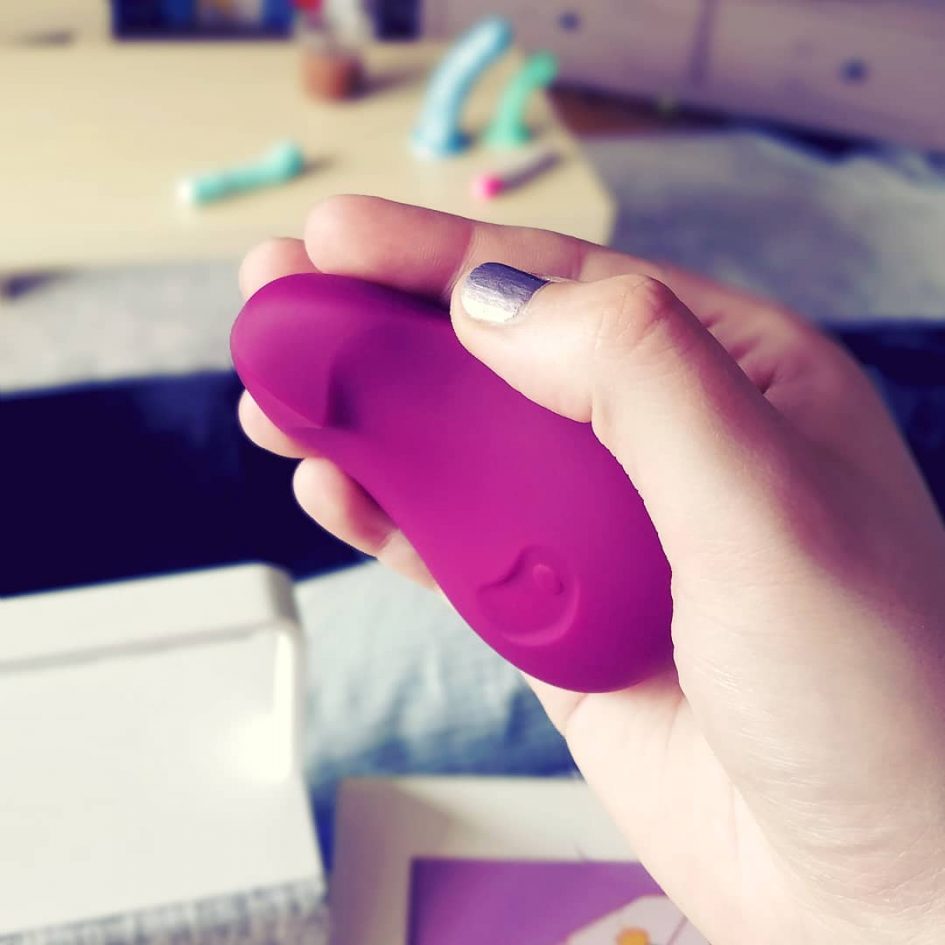 The Pom is a solid toy, it just feels like it's for a slightly different person than I am. A person who appreciates rumbly vibrations (like me) but (unlike me) craves a gentler feel and a flatter shape. I am certain this person exists — I've even heard from them via email. But personally, I'm way more into the Kip. Dame even managed to make the name "Kip" appealing, overwriting its previous associations in my mind as: 1) the snotty brother of a girl in my Girl Scout troop, 2) the school shooter, and 3) the scrawny nerd in Napoleon Dynamite.
Hold up, though, that last Kip is aspirational. "Napoleon, don't be jealous that I've been chatting online with babes all day." Remember his monstrous computer and hot girlfriend and lisp representation? Maybe the vibrator was named after him after all. I'd be okay with that.
Has the almighty We-Vibe Tango fallen at last?
Guess what?! Right after I wrote this, We-Vibe introduced a new
Tango X and Touch X
, fixing many of my gripes.
This question has been on my mind a lot lately. I'm in the process of writing a guide to rechargeable bullet vibrators under $50, so I've been testing approximately five million. The original Tango has long been considered the "best" of its class. I still think it's one of the rumbliest bullets in the land, although its once-exceptional vibration strength is being eclipsed by cheaper knock–offs. The first generation We-Vibe Touch is also showing its age; it feels surprisingly buzzy now. Help, my clit's becoming even more discerning!
As if on cue, I've received several emails lately from people lamenting the notoriously fickle quality of the Touch/Tango, asking if it's normal for the toy to die or lose battery life quickly. My response: yes, unfortunately this is a known issue — would you like a recommendation for something else?
That "something else" could be many things, but in the realm of mini vibes, I do have favorites. For something petite yet powerful, I enjoy the BMS Pillow Talk Racy ($36). The price is outstanding and the motor's impressive, but the battery life is iffy, lasting only 42 minutes on high. The Je Joue Mimi ($89-95) blows that out of the water with an amazing 148 minutes, and I love its fluttery, robust vibrations. The Je Joue Bullets ($59) last a little over an hour and the Dame Kip ($95) clocks in at an hour and a half — all are easy to use and similarly rumbly. Kip is, notably, the only one listed here backed by a three-year warranty.
And that's where I can see Dame's attention to detail. Things like longer warranties may not feel flashy to the average consumer, but they matter. Shape, button placement, type of motor, color options, non-wasteful packaging, inclusive marketing — these are the conscious choices that add up, one by one, to create a good sex toy.
It's been a while since my clit was inspired by a bullet vibe, because it takes a lot for one to meet my standards. But the Kip is so likeable, thoughtfully-designed, and effortless. Dame really hit their stride with this one.
Get the Kip at Smitten Kitten or Passionfruit (AU).

Get the Pom at SheVibe, Spectrum Boutique, Enby, Babeland, The Pleasure Garden (UK), Passionfruit (AU), Lovehoney (international), or Dame.