GOBBLE GOBBLE, peeps. This is it: my annual list of the best sex toy deals for Black Friday and Cyber Monday! If you've been waiting to buy the vibrator, dildo, or butt plug of your dreams, I suggest getting it now. Discounts like these don't happen on such a grand, sweeping scale at any other time of the year. Best of all? You can stay in your pajamas! In fact, I ENCOURAGE IT!
As always, I have many exclusive codes you won't find anywhere but here, giving you special discounts and an array of free stuff: a mystery glass toy, rainbow glitter clutch (!!!), and even a swag pack of toy bag, stickers, and a tiny dildo! I've wheedled many companies to run sales for an entire week, so there's less scrambling and more sitting back in your easy chair laughing maniacally at your good fortune. Hell yeah.
What are you waiting for? Scroll down and get shoppin'!
Live outside the US? Get 10% off at international shop Lovehoney, 20% off at Passionfruit (AU/NZ) on 11/27 AEDT, or 25% off at Canadian shop Come As You Are. (Also, Americans take note: the exchange rate is VERY MUCH in your favor.)
Sex toy sale round-up!
My favorite deals of the moment!
Here, my neurotic spreadsheet usage really pays off. Toy name links to my review.
---
Liberator — 30% off everything
BEST FOR: positioning pillows and waterproof sex blankets, oh my!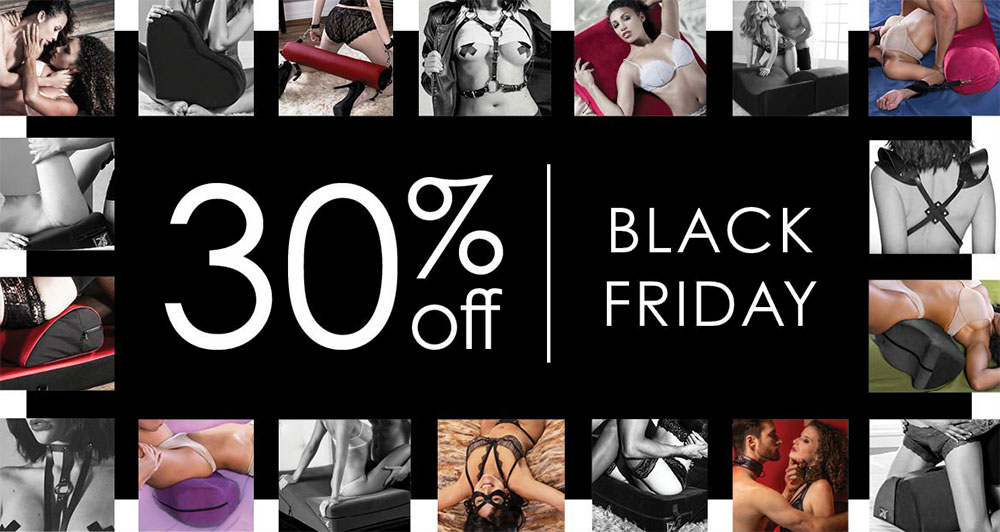 Get 30% off at Liberator with code BLACKFRIDAY, plus various free gifts (see below) and free shipping in the continental U.S. with orders over $75, though Tuesday 12/1.2 They sell a bunch of sex toys too, and therefore the Pure Wand is only $80 and the We-Vibe Tango is $55!
Need to prop yourself up better, during sex or (let's be honest) otherwise? Liberator's supportive and comfy positioning pillows are amazing; my favorite is the classic Wedge. They also make the lifesaving Fascinator Throw, a waterproof blanket. Squirters rejoice!
Free Heartfelt Coasters ($25 value) with orders over $200
Free Oxballs c-ring with any Oxballs purchase
Free Bordeaux & Chocolat candle with any LELO purchase
Free Womanizer tote bag with any Womanizer purchase
Free Intimina moisturizer and accessory cleaner with Ziggy Cup purchase
---
Hot Octopuss — up to 60% off
BEST FOR: the rumbly bullet vibe Amo (only $20 in this sale!?), plus a big discount on the popular Pulse penis toys.
The savings are excellent at Hot Octopuss, with up to 60% off their toys. The rumbly rechargeable bullet Amo is only $20 in this sale, which is WILD, and many of their well-known penis toys are deeply discounted as well. You just have to be sure to follow all the steps, including signing up for Hot Octopuss' email list. Free easy cuffs with orders over $50.
---
Dame — 20% off everything
BEST FOR: the Kip, my new fave bullet vibe.
Get 20% off at Dame and up to 35% off sets through Monday, 11/30. Their toy Kip — a pinpoint rechargeable with rumbly vibrations — is one of my new favorite bullet vibes. I also enjoy Arc, which is curved like a dream and hits my G-spot wonderfully, and the Stash toy pouch looks very cute.
---
Sliquid — ~35% off everything
BEST FOR: stocking up on super discounted lube and body products!
Sliquid is my favorite lube ever. Stock up on your lube for the year with their sale! Thursday through Monday, get an amazing ~35% off all orders at Sliquid with code EPIPHORA. (Their sale is 25% off storewide, then my code takes off an additional 10%.) That means 4.2 oz bottles of my water-based faves H2O and Sassy are only about $8 each, or get a sample pack to test different formulas.
I love Sliquid because they make products with ingredients you can trust, including water-based, oil-based, silicone-based, hybrid, and flavored lube, and other stuff such as massage oil, intimate wash, shaving cream, and toy cleaner.
---
Passionfruit (AU/NZ) — 20% off, one day only!
BEST FOR: Australians and New Zealanders!
Independent feminist shop Passionfruit opened its doors in Melbourne, Australia in 1998, and they ship to both Australia and New Zealand! They're known for their carefully-selected range of sex toys, lingerie, and bondage products, and I AGREE — they stock heaps of my faves. Use code BLACKFRIDAY2020 to get 20% off storewide one day only, 11/27 (Australian Eastern Daylight Time).
---