Having jacked off to pornographic material for two decades now, I think I've earned the title "porn connoisseur." I've been watching the stuff since I was [redacted], and I spend practically every masturbation session ogling naked bodies on a screen. I'm addicted, you might say, if you were a factually incorrect zealot.
We all know I have a discerning vagina, but I'm gonna go ahead and say I also have discerning eyes and ears — for porn, I mean, specifically. (My musical taste is up for debate.) If I get stoned and ponder the sheer volume of porn I've consumed in my lifetime, it really trips me out, man. I've witnessed the filthy and the angelic, the subversive and the formulaic, the transcendental and the repulsive.
Most porn is mediocre. Uninspired. Forgettable. But I recognize the exceptional when I see it.
What shall I do with this great power? I figured it was time for a new blog series, one in which I share pornographic gems I've unearthed. Scenes that made my jaw literally drop in awe. Scenes that made me fight to stave off an orgasm. Porn guaranteed to rile me up… and maybe you too?
Like a chef curating a five-course dinner, I am here to present a distinguished selection of pornography for you to sample. Bon appétit.
---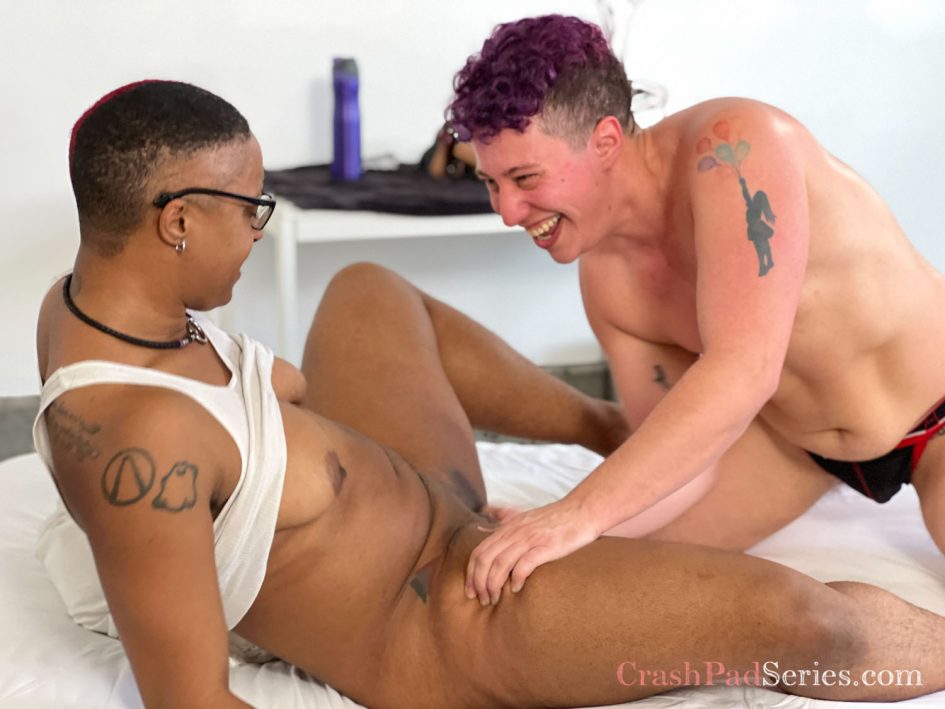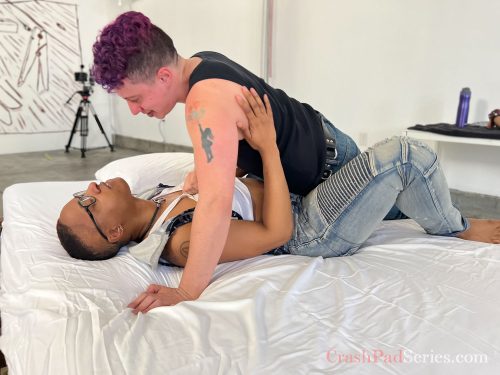 Dude. Dude. DUDE. Those are the words I had to refrain from texting to my friend Billy Lore after devouring this scene with his IRL partner Dee Darkholme. It's utter perfection, start to finish.
One might wonder, "isn't it weird to masturbate to porn of your friends?" But for me, that ship sailed loooooong ago. I mean… how else can I see the work they've been doing? And how very good they are at it? And reminisce about that time I made out with them in a hotel room at a conference?
The chemistry between Billy and Dee is mesmerizing. Dee submits to Billy, whimpering helplessly under his touch and begging breathlessly for every orgasm. Billy's brand of domination is playful, joyful even, just thoroughly him. All smiles and taunts. They make out, Dee grinding against Billy's leg through his jeans. Billy teases: "you're so fucking desperate."
Jeans are peeled off — Billy jokes, "were those pesky jeans in the way?" — and dicks are sucked. Passionately. Adeptly. Their bodies are in sync, hungry for each other. His fingers deep inside Dee, Billy observes, "you're getting tight… you close? You're gonna ask first, right?"
"Promise, promise."
"That's a good boy."
Dee becomes so insatiable they bend Billy over on his hands and knees and start railing him. No toys, just pounding their genitals against his, the skin between them slapping with every thrust. It's unreal. "Fuck, I can feel you inside me," Billy moans. Dee gives in to their primal instincts, using Billy for their own pleasure, and it's incredible to watch. Dee has yet another body-shaking, all-consuming orgasm.
When the sex toys come out, it's a line-up of legends. Duh. Dee inserts the Fluke and straps on the sexy Minx harness. Their cock is the epic Outlaw, and guess what suddenly appears in Billy's hand? A Magic Wand Rechargeable.
The scene ends with them delirious, drunk on orgasms, and me drunk on something else. Euphoria? Validation? Inspiration? Watching the way Dee and Billy got each other off — the boundless inventiveness of it — floored me. This is the queerest of the queer porn. I feel privileged to have seen it.
---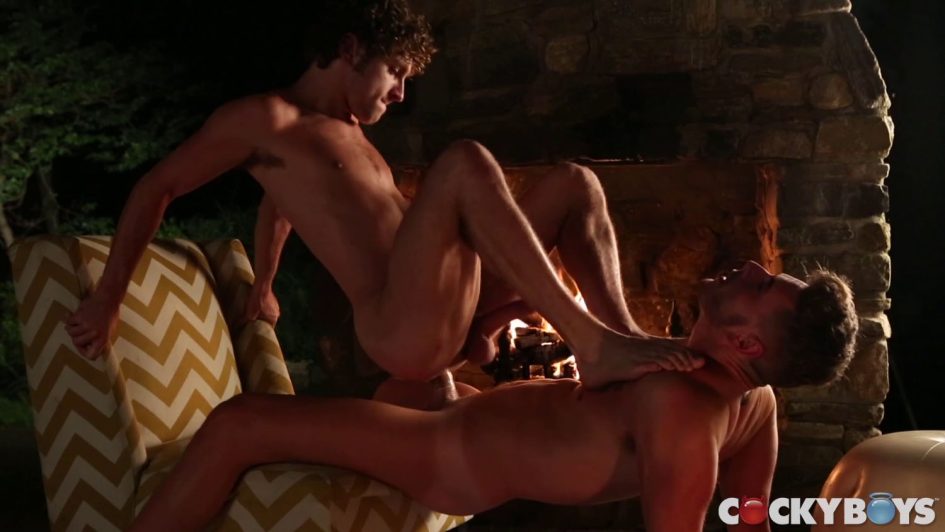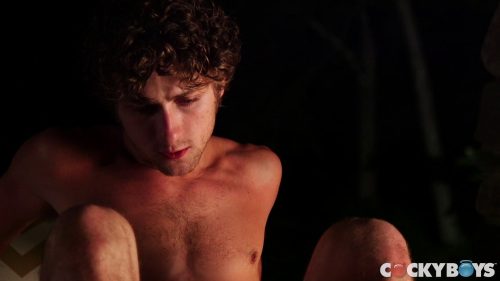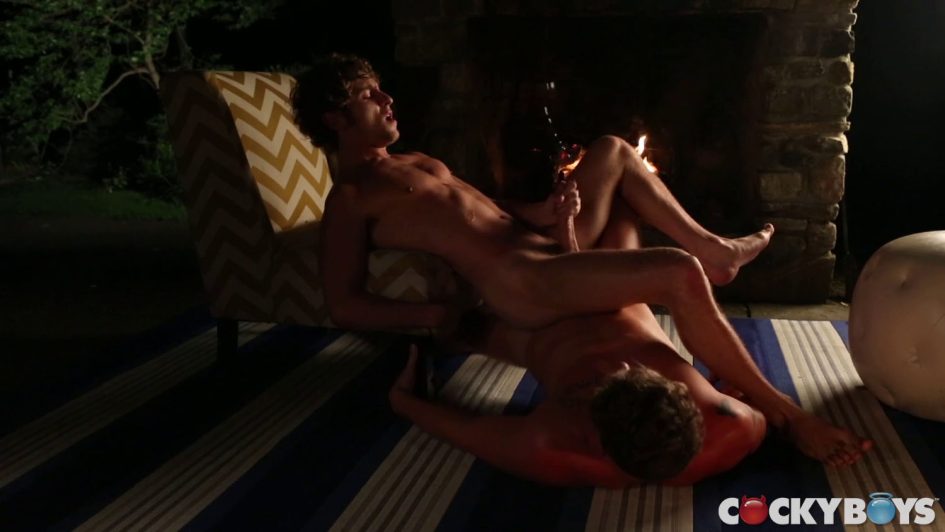 It was excruciating, I tell you, trying to choose just one CockyBoys scene for the first installment of this series. But I decided to start with heartthrob Calvin Banks, my gay boy crush.1 This man is my definition of a golden god: windswept curly hair, expert-level sex skills, deliciously switchy energy, and good lord, the words that come out of his mouth. "Pound that ass, it's all yours." "Your ass is so tight, baby, I can feel you clench." Mmm. Sweet and dirty.
As part of the Camp CockyBoys series, this scene between Calvin Banks and Josh Moore was shot outdoors during a summertime gathering of models to celebrate the site's 10th anniversary. It feels special and intimate, with the natural light of the stone fireplace casting shadows on the men, all romantical like a Taylor Swift video. They gaze at each other lustily. Calvin rests his fingers under Josh's chin when kissing him. The fire is both literal and figurative.
Realization: blowjobs are just better against the backdrop of a fire. The bodies create silhouettes. The spit glistens. There's some mystery. And there's Calvin, swallowing Josh's entire cock as if it's the easiest thing in the world. "Wowww," Josh groans, awestruck, an audience proxy. His growly British voice belies the submissive side of him.
This is a "flip fuck," as they call it, where the guys each bang each other. Josh and Calvin switch seamlessly between top and bottom, clearly enjoying both roles. They also contort into some wild sex positions. Bodily feats in porn often feel show-offy and mechanical, but these two are fully in it the entire time, lost in each other and the pleasure they're creating together. It's a bit like watching an X-rated circus act. I'm into it.
After grinding on Josh's cock to the point of delirium, Calvin positively erupts with cum. It's so cinematic, how it shoots upward like a fountain. Truly an extraordinary shot that should be framed in someone's mansion somewhere.
Calvin then lays down next to Josh on the rug ("your turn, baby"), sweetly kissing him and sucking his dick. Josh comes, coating Calvin's lips with jizz. At precisely that moment, a log in the fireplace falls. Poetry.
---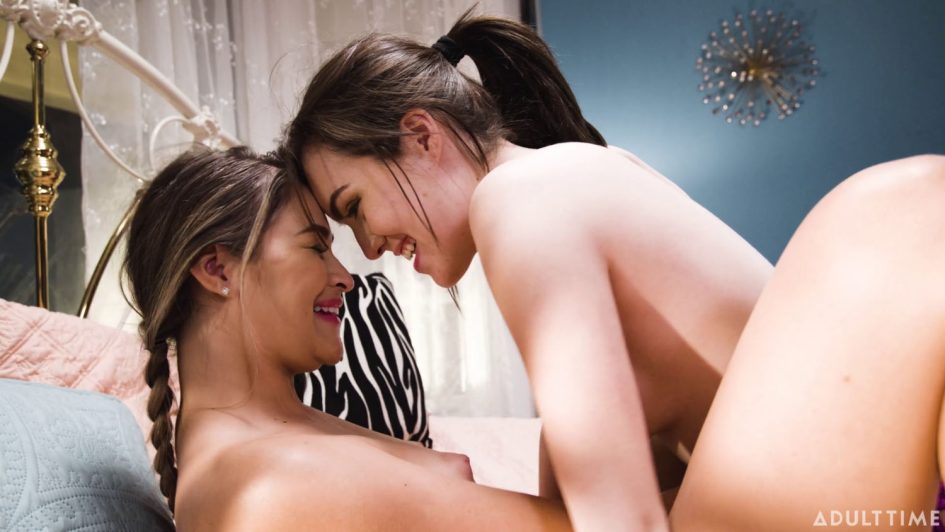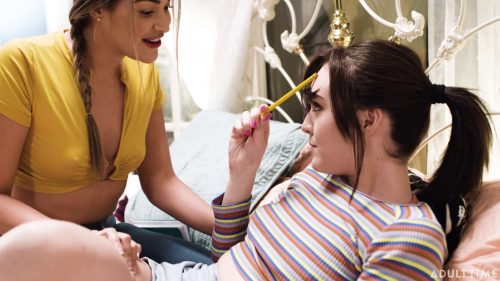 I'm a very impatient porn watcher. I usually skip everything before the kissing. So this is a strong statement: Bree Mills' work is worth watching in its entirety.
Bree Mills is a bomb-ass lesbian making raunchy, story-driven porn. She's basically my hero, and I dream of one day having an overpriced drink with her in some beige hotel bar. She's a trailblazer in the adult industry, the brains behind Girlsway, Pure Taboo, and Transfixed, and she's delving into gay male porn now too (!!!). I love her sensibility, focusing on story and mood without sacrificing genital close-ups. Never sacrifice genital close-ups.
It was by happenstance that I stumbled upon this scene from Mills' True Lesbian series, starring Freya Parker (serious Sasha Grey vibes) and Gizelle Blanco. It takes 18 minutes to get a kiss, but all 18 minutes are earned. What starts as one college girl tutoring another in math becomes a friendship, until one day, Freya admits to having feelings for Gizelle.
The emotions blossom naturally as the actors move through the scene. It's not like sudden tits out and over-the-top moaning. Not at all. It's timid kisses, tender touches, loving eye contact. "How can I show you you mean so much to me?" Gizelle murmurs. As if in a movie, Freya pulls her close and whispers, "like this."
It's not forced or awkwardly cut. It's fluid. It's realistic. I believed it.
And when you believe it, the cunnilingus is even hotter. Not that it needed help, because Freya really knows how to lick pussy. She doesn't just dive in head first, she gently awakens the vulva. Then there's the sound of her lapping. The barely seeing of the clit because her face is buried between Gizelle's labia. It's like the aesthetic of mainstream porn with the cunnilingus of indie porn. I'm obsessed.
They give each other head. They kiss. They scissor. Gizelle mounts Freya's leg while Freya looks up at her with that glossed over sex face I make whenever a beautiful woman is on top of me. Fingers never go into vaginas, because that's not how this story would go. The sex stays faithful to the story — almost as if the director's boner didn't get in the way.
And the crush of many — he even has his own Fleshlight and dildo.