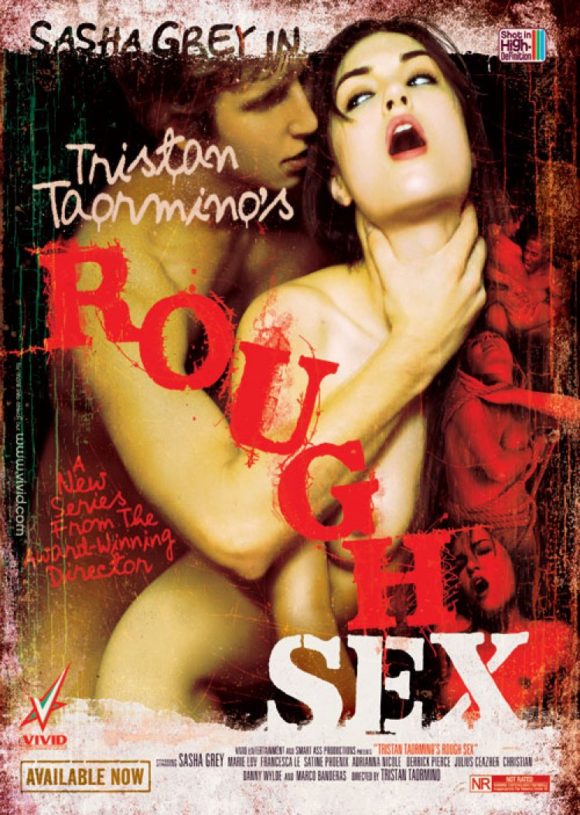 So we've already established that rough sex, when directed and shot by genius pornographer Tristan Taormino, is hot as fuck. What could possibly make it hotter? Let's see… how about casting hot, strong women and having them call the shots? How about interviewing the performers prior to the scene to discuss roughness and trust?
Yeah, I think that'll do the trick.
The premise behind Rough Sex is enough to make anyone wet. Rough Sex seeks to fulfill the fantasies of its female performers, and not in a lame cop-out way. Each scene comes straight from its female performer's brain, and the male counterparts have been chosen by the women as well. Adrianna Nicole wants to be taken advantage of by an intruder; Satine Phoenix wants to fuck on a deserted road; Francesca Le wants to teach her ungrateful husband a hard lesson; Marie Luv wants to be punished for her infidelity; and Sasha Grey wants to fuck on a pool table and become the switch she is in her personal life.
And yes, the scenes are as hot as they sound. With this much attention paid to build-up that actually feels authentic, it's hard not to be completely fucking horny by the time the cock goes into the pussy.
And first, let me contradict myself. The first scene, between Adrianna Nicole and Marco Banderas, is the weakest of the bunch. Why? Well, let me answer that question via screenshots…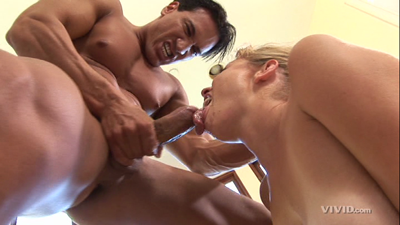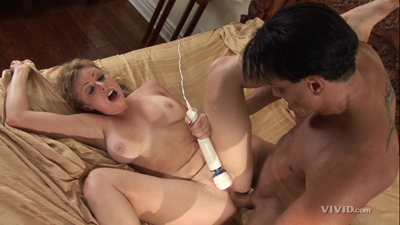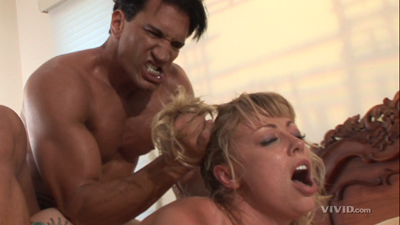 Yes, the brunt of my dislike for this scene lies with Marco Banderas's sex face. I can't handle it, man. Maybe you can — if so, you are a stronger human than I. I like Adrianna (and her Hitachi!), and Marco seems like a very sweet guy, but I can't get off to that face. It's impossible. I keep staring at those misaligned teeth. I am sorry.
The second scene, featuring the beautiful Satine Phoenix and the also beautiful Derrick Pierce, has the best pre-sex build-up of all the scenes. Satine is stranded in a desert, and Derrick stops to keep her company. They don't immediately start fucking; they actually chat and flirt. Then Derrick's hand goes up Satine's dress and all bets are off.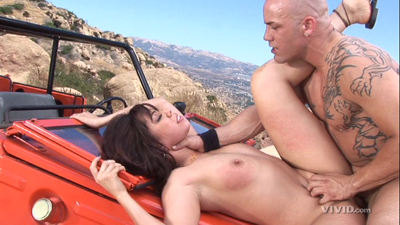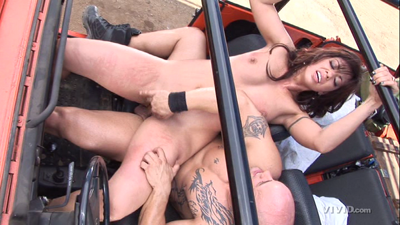 This is a very intense scene. Derrick scratches, slaps, chokes, and commands Satine, leaving handprints and scratch marks on her skin. At one point he pulls her necklace apart, spilling beads all over her chest. There is a good amount of dirty talk, as usual with Derrick. I was a little uneasy with some of the faces Satine makes — she winces quite a bit — but that certainly isn't a dealbreaker.
And in a moment that is inexplicably hot to me, Derrick comes on Satine's chest while she lays in the dirt.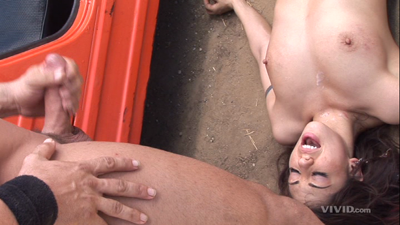 Next, there is a femdom scene between Francesca Le and Christian. It begins with Christian in a suit and on the phone, acting like a total corporate douchebag (he is hilariously good at this). Francesca, meanwhile, is busy changing into a sexy outfit and preparing for attack. After having to listen to Christian yell into his phone for too many minutes, Francesca takes control, pulling him into the bedroom on his hands and knees.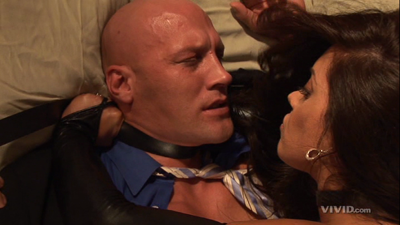 The punishment is intense. Francesca stuffs Christian's tie in his mouth, wraps his belt around his neck, and smacks him with her bare hand, and later a rubber flogger. At one point, she bends him over, kneels on top of him, and slaps his ass hard with a paddle. There is plenty of fucking to balance out the hitting, though Francesca doesn't let up with her verbal commands.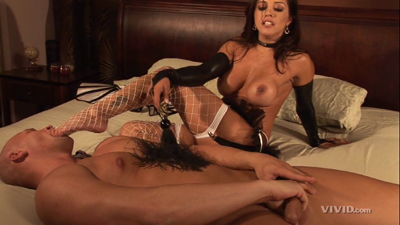 I found Francesca incredibly hot, and I am continually wowed by Christian's versatility. The only gripe I have about this scene is that there is a lot of spitting into mouths. I do not enjoy this increasingly common porn fetish. Make it stop, world.
Scene four features Marie Luv, whose cheating ways are detected by her boyfriend, Julius Ceazher. Sadly, Marie's infidelity is not made much of a factor once the fucking begins. It becomes just a rough sex scene.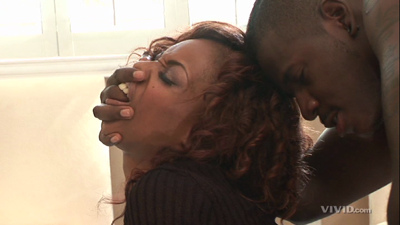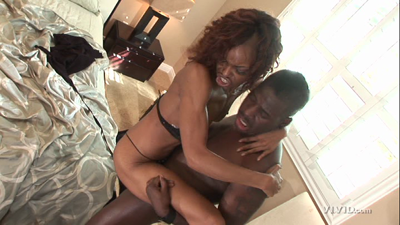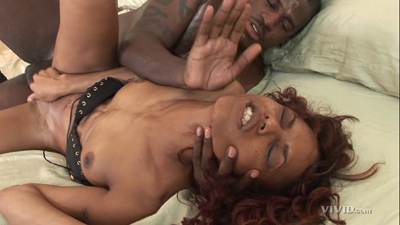 I wanted more dirty talk between Marie and Julius, but the scene is very solid otherwise. A lot of raw passion and intense fucking. Julius comes onto a mirror, and Marie — in both real and reflected form — licks it off.
And finally, the icing on the cake — Sasha Grey and Danny Wylde's scene. I knew this scene was going to be kickass, and it does not disappoint. It begins with Danny and Sasha playing pool and discussing rough sex. Sasha mentions her very short list of "no"s, which includes boob slapping. Then they quickly get into it, with Danny knocking Sasha around.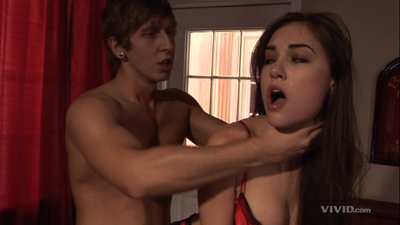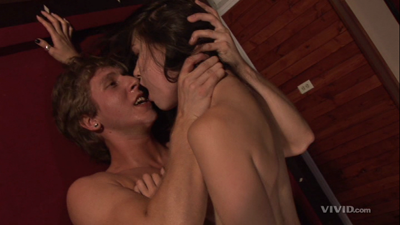 But the power isn't squarely in Danny's hands. In an insanely hot moment, both performers seem lost in each other, with Sasha yelling, "choke me, you piece of shit!" and Danny yelling back, "shut the fuck up!" At another point, Sasha gives Danny a rimjob (yes, please!). Then, the clincher — Danny slaps one of Sasha's boobs. Although he immediately notices his mistake, Sasha is determined to make him pay.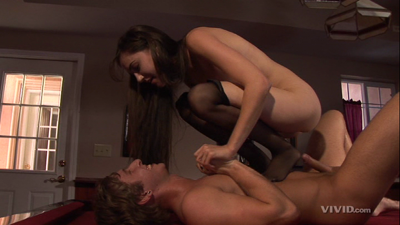 So she climbs onto him, making him spew out apologies like crazy. As you can see, both Sasha and Danny are smiling at this point. This is why I love these performers, and this is why this scene rocks. Their chemistry is authentic and playful, with a streak of roughness.
On the technical side of Rough Sex, I was not fond of the audio distortion on loud moaning, and I'm getting sick of the Vivid logo in the bottom corner. If someone buys porn, it should not come with a permanent advertisement on it. But, to be fair, I did find it easy to ignore most of the time. Extras include a 12-minute Behind the Scenes, a Choking & Safety feature with Penny Flame (the one from Penny Flame's Expert Guide to Rough Sex), and a Safer Sex feature.
Rough Sex is proof that asking women to create their own perfect scene is a much better idea than just pairing them with whichever guy happens to have an open slot that day and having them fuck on whichever couch or bed is nearby. The result is a porn film that relies on chemistry, not false enjoyment. Rough Sex also succeeds by allowing for a wide variety of what constitutes "rough," from hair-pulling in Adrianna's scene to verbal degradation in Sasha's. Entertaining from beginning to end, and hot most of the time, Rough Sex reminded me yet again why I love Tristan Taormino's work.
Stream the rest of the Rough Sex series here.