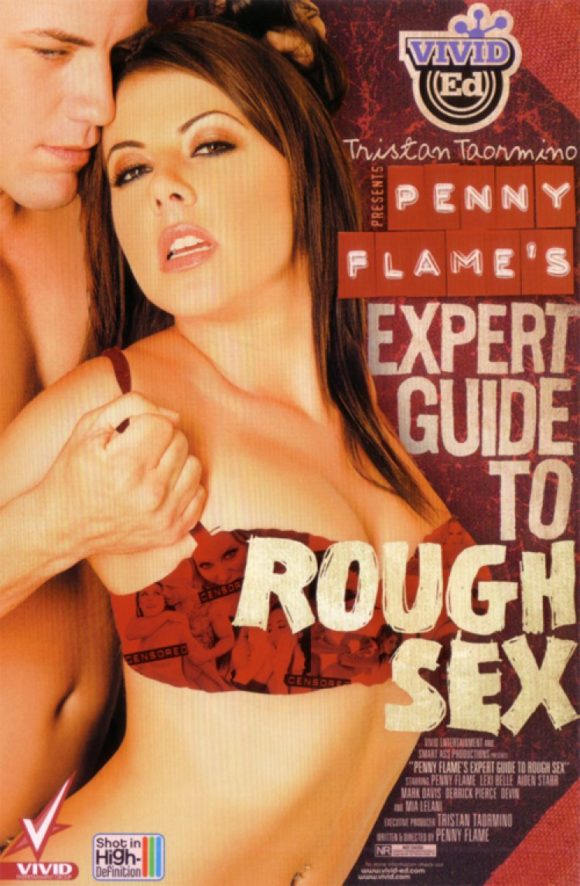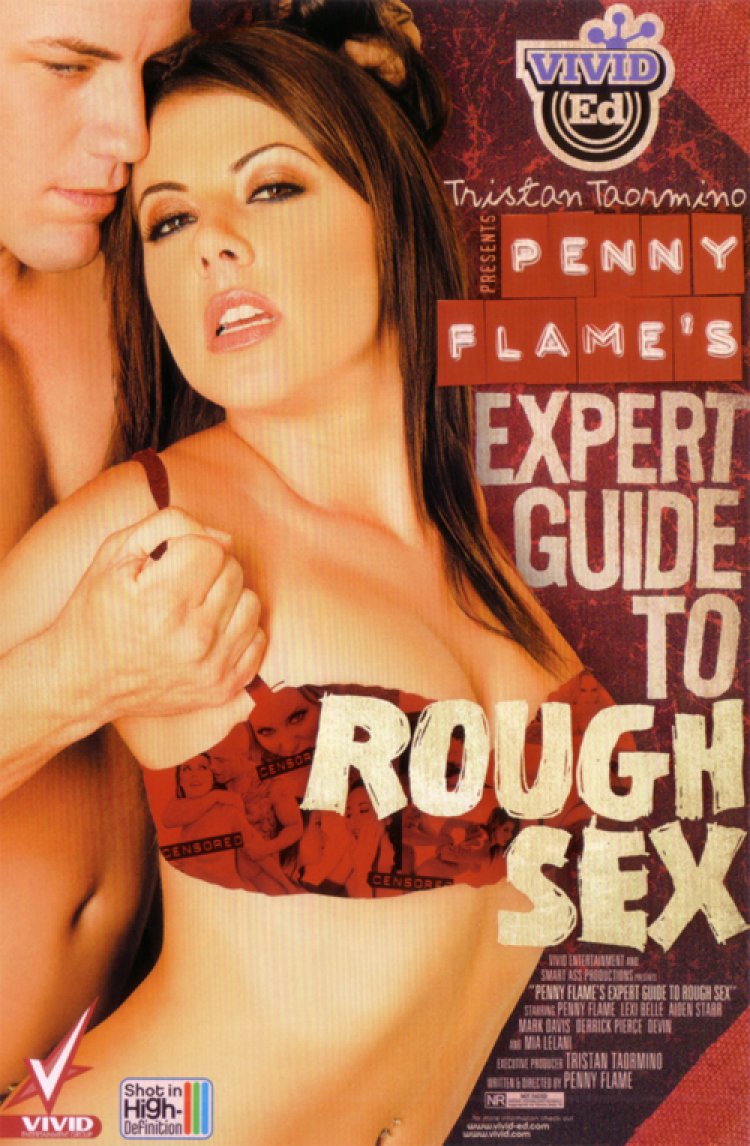 In trying to articulate what makes much of Tristan Taormino's porn so great, I've decided on this: she pushes her performers to express their actual personalities. Have I preached to you about her Chemistry series yet? It's the epitome of personality-driven porn, and it's so much hotter for it. In general, porn tends to flatten people; and while I'm all for completely mindless and raw fucking on film, I also really, really enjoy seeing genuine people get it on. Penny Flame's Expert Guide to Rough Sex brings that to the table, with the added hotness of choking, slapping, femdom, and many more delicious rough activities.
First, an admission: I am terrifyingly vanilla in my personal sex life, and my boyfriend and I have yet to explore slapping, choking, name-calling, etc. For some reason, writing this, I feel as though I should offer an explanation, but I don't really have one. We just haven't tried it yet.
I mention this because it may be useful in understanding how much I appreciated Penny's lesson at the beginning of the DVD. In her lesson, Penny stresses the importance of consent, trust, communication, safewords, hydration, etc., then goes over hair-pulling techniques, slapping techniques, and which body parts can and can't withstand hitting. Some viewers experienced in these activities may find little new information in this section, but I found all of it very helpful. Pull the hair at the roots? Hold the head while slapping the cheek? These may seem like obvious tips, but I really appreciated them. There is also an extremely informative choking demonstration in the bonus scenes section.
So, educational? Definitely. But is it hot? Oh my god — unequivocally, yes.
The first scene stars Penny and Derrick Pierce (a heartthrob of mine ever since he taunted and fucked Roxy Deville in Chemistry Vol. 3). I'm speechless about this scene. Nothing I say here could explain just how enjoyable and sexy it is. Penny and Derrick's chemistry is front and center, and it never falters. The scene is laced with hard fucking, choking, slapping (face, thighs, boobs), hair-pulling, and orgasm control, but the most delicious element is the dirty talk. I can't get enough of it. Let me tell you, there is little that is hotter than Derrick holding Penny's jaw and saying "you are a fucking slut" while sweat drips off him.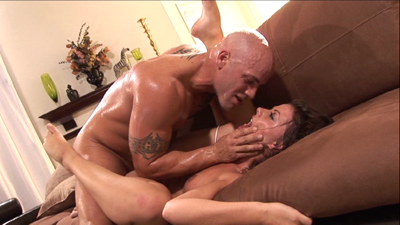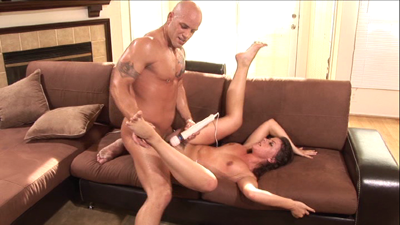 And when Penny comes without Derrick's permission, Derrick threatens to put his cock in her ass, forcing her to beg for him to put it in her pussy. Finally obliging, Derrick leans in to Penny's ear and murmurs, "the next time you do it without permission, I'm not asking, bitch — I'm just gonna shove it in your fucking ass, you understand me?"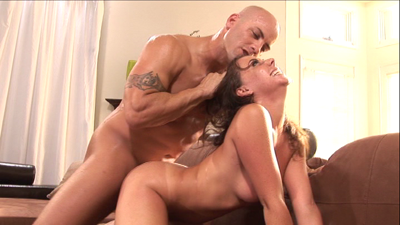 Derrick's style of domination is perfect, and it is clear throughout the scene that every cell in Penny's body is saying yes — she is smiling, giggling, surrendering. This is what rough sex on film should look like: jaw-droppingly hot fucking iced with a thick layer of respect and partnership. At the end, when Derrick walks out on her, Penny seizes the Hitachi and presses it to her clit, Derrick's come still all over her face. Um, incredible.
Scene two is a femdom scene between Aiden Starr and Devin. This was my first time seeing a true femdom scene, and it was such a treat. Aiden is stunning and incredibly fluent in domination that is both believable and unique (one of my favorite lines of hers during this scene, spoken like a true queen: "I am going to recline while you do the work."). Aiden wants Devin to prove that he's a dog, and his pitiful attempt at barking ("woof woof?") is not enough. She orders to him to show her his ass. "I don't actually need some sensuality going on here," she says when he strips too slowly. "Rip your fucking clothes off."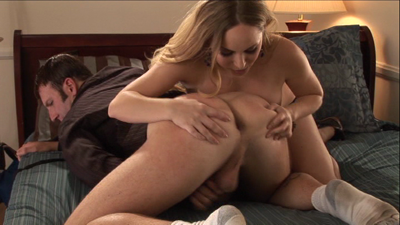 Throughout the scene, Aiden calls Devin everything from a "streetwalker" to a "service dog." Devin is quickly trained to respond to her with "yes, ma'am." It's not long because he's begging for her permission ("Please let this nasty dog play with those titties, ma'am"), then crying out with ecstasy when he finally gets what he wants ("Can I thank you with every thrust?" he asks as he fucks her). The Hitachi makes another appearance here, as do restraints.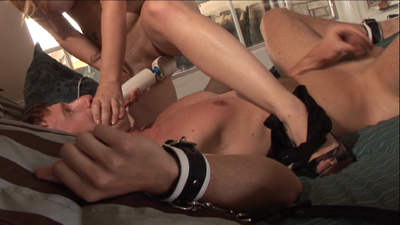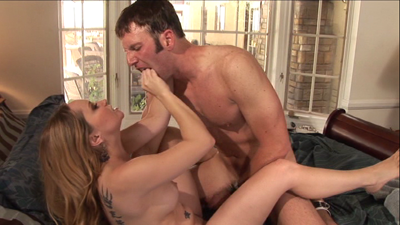 The scene, which clocks in at a delicious 26 minutes, ends when Devin comes into Aiden's cupped hands, then licks his come off her.
My least favorite scene was the last one, between Lexi Belle and Mark Davis. Lexi is adorable as always, but the communication between Lexi and Mark is sparse compared to the other scenes. Mark dominates Lexi, punishing her with choking, and with swift slaps to the ass and boobs.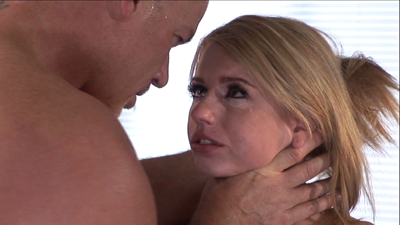 Mark is intent on pushing Lexi's limits. He asks her to put her arms behind her back, and that his where they stay for most of the scene.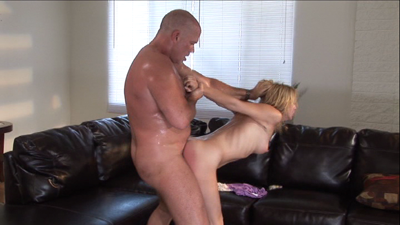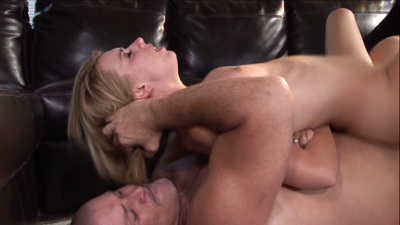 Lexi enjoys being submissive (as she states in the short pre-scene interview), but her submission does not look joyful like Penny's. At times, she seems slightly apprehensive. As she is pounded and restrained, she seems close to exhaustion. When she's finally allowed to ride Mark's cock herself, she makes the mistake of leaning down and biting his lip. In response, Mark slaps Lexi twice across the cheek — causing her to cry. The intensity of the scene culminates in this moment, as Mark holds Lexi and asks her multiple times if she is okay.
Taken altogether, the scenes of Penny Flame's Expert Guide to Rough Sex make for a very solid, and incredibly hot, film. The first two scenes are especially top-notch, showing performers with serious chemistry and visible enjoyment, while Lexi and Mark's scene should satisfy those enticed by more extreme submission. But the fun doesn't end there — Tristan Taormino is currently working on a "Rough Sex" series. Yes, like Chemistry. Yes, multiple films. Yes, I just had an orgasm thinking about it.