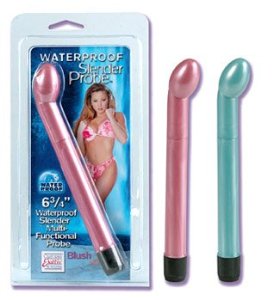 There's only so much you can say about a $20 plastic vibrator, and so I won't say much. The Waterproof Slender Probe measures 6 3/4″ in length, with a diameter of 1″. It takes two AAA batteries, easily loaded into the base. There are horizontal seams galore — one on the shaft, and one on the head (luckily, I can't feel them during use). Vibration intensity is controlled by a dial base; vibrations are quiet and the highest level is middle-of-the-road. Oh, and uh, it's waterproof. If you didn't know.
For my purposes in this project, the question is: does it rule the G-spot? No. And trust me; I gave it all the chances in the world. I employed it as my warm-up toy. I tried it in the middle of my masturbation session. I used it after stimulating my G-spot with other toys, and I even tried it after having a G-spot orgasm — again, with another toy. Never did the Slender Probe feel like it was hitting my G-spot. And that's… kinda the point, I think.
There are better things one could buy with $20. Like, 40+ packages of ramen.
Plus, it's not any good on my clit either.