Perusing the sex toy exhibitor booths at AVN, turning on and off strange vibrators from no-name companies, one word kept flittering into my mind: buzzy.
Ugh, too buzzy. What a shame. The design is cool, but it's so fucking buzzy. Nope.
I even met an avid reader of my blog who works for an up-and-coming sex toy manufacturer. Their flagship vibrator intrigued me with its peculiar manta ray flaps and vibrant shade of turquoise silicone. But I turned it on and could not hide my disgust. "It needs a better motor," I sighed.
"Oh, I know," she said. "I knew you'd hate it."
A sex toy could do literally everything else right — ergonomic shape, body-safe materials, intuitive controls, make my coffee every morning with the proper amount of creamer — but these days, if it has an extremely buzzy motor, that vibrator is dead to me.
"Rumbly" and "buzzy" are adjectives that, to my knowledge, the sex toy community invented. If you imagine it as a spectrum, rumbly vibrations (sometimes referred to as "thuddy") reside on one end, buzzy on the other. This does not refer to the intensity of vibrations, but rather the quality of them. Because if you think all vibrators vibrate in the same manner, you, my friend, are mistaken. It's not true that a vibrator's a vibrator's a vibrator.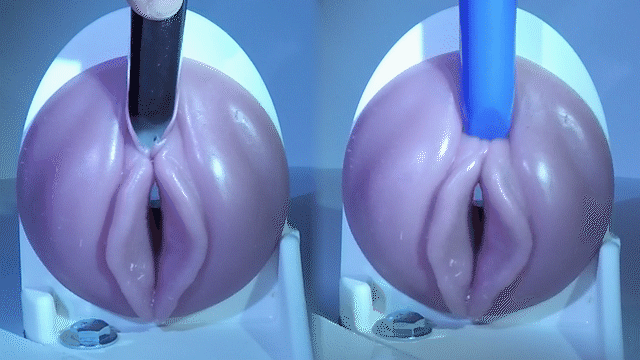 The majority of sex toys fall on the buzzy end of the spectrum, especially battery-operated ones. Buzzy vibrations are surface-level, shallow, even sharp at times. Sometimes you can hear them more than you can feel them, and they tend to have a grating high-pitched timbre, like a bee zipping by. They're the kind of vibrations that can cause temporary numbness, and with it, something even worse: boredom.
If held against my nose, the Mini Magic Wand seems strong. But my clit knows the truth. After the initial wave of pleasure that comes from holding any buzzing object against my genitals, something terrible and depressingly recognizable starts to happen: I'll realize I'm not enjoying myself. 20 minutes will go by and I'll be orgasmless.
Buzzy vibrations are a menace to society, in my opinion. They're the reason a lot of folks think vibrators "just don't work" for them, because yeah, a toy that anesthetizes your clit before it can bring you to orgasm is a major problem. But it is not indicative of all vibrators.
"Rumbly is good; buzzy is bad" — that's how my boyfriend beautifully responded when I asked him about the difference. As a musician, he likened it to sound waves: buzzy is a higher frequency, and rumbly is lower. Think of buzzy as the nasally, frenetic singing of a snotty pop-punk band. Rumbly is sexier, more laid back and velvety, like Elvis sashaying across the stage like a man who owns the universe.
Obviously, you don't want Blink 182 against your clitoris.
Rumbly vibrations are rarer in the sex toy market. They're deep, resonant, penetrating. Externally this matters because rumbly toys are capable of sending their vibrations further, stimulating the internal clitoris and even, with the right thrumming intensity, the whole G-spot/CUV. Internally this matters because buzzy can feel like a bug zapper against your G-spot while rumbly feels more like a massage chair.
Buzzy toys can get me off (especially if they have sheer power on their side), but rumbly vibes are simply more satisfying. And it makes sense: deeper vibrations cause deeper orgasms… superficial vibrations cause superficial orgasms.
Imagine pushing an empty metal shopping cart over coarse, uneven parking lot asphalt — feel your hands becoming uncomfortably tingly? This is the feeling of a cheap, shoddy vibe at the buzzy end of the vibration spectrum.
But the distinction is not a science. Most toys don't fit neatly into one category of vibration quality, and not all reviewers will agree about it. Buzzy doesn't inherently equal terrible: one of my favorite vibrators, the We-Vibe Touch X, falls somewhere in the middle, and I endorse the fairly buzzy PicoBong Ako and Turbo Glider. It's when a toy lands solely on the buzzy end of the spectrum that it becomes alarming.
Let me tell you a secret, though: it took me fucking forever before I myself understood the dichotomy. I always read reviews in which people seemed so adamant that a toy had a particular type of vibration, and I'd think, how do you know this?! It's a distinction that comes with a lot of toy-testing, I think, and a grizzled clit.
But I also believe it can be taught. In the sex toy shop where I work, I've made a habit of arming customers with the knowledge of rumbly vs. buzzy. For an example of a buzzy vibrator, I hand them a $9 bullet that takes watch batteries. To demonstrate rumbliness, I give them the We-Vibe Tango X. Light bulbs go on, customers end up buying better toys, and I can sleep well at night.
Does it run on those godforsaken watch batteries? Probs buzzy, quite likely worthless.
How to tell if a vibrator is buzzy or rumbly
Want to train yourself to notice the difference? Here are some HOT TIPS.
Movement. Rumbly vibrators exhibit more visible back-and-forth movement. They're harder to keep steady, more prone to jumping around in your palm. Buzzy vibrators appear more stationary, but can make your fingers itch.
Sound. Not noise level, but pitch. The more high-pitched and obnoxious, the more buzzy the vibrations probably are. A lower pitch is usually indicative of a rumblier toy.
Don't confuse vibration quality with vibration intensity. There are weak buzzy vibrators and powerful ones, mild rumbly toys and jackhammer-level ones. It depends on what you're looking for.
Sex toy manufacturer cheat sheet
More than anything else I've learned as a sex toy reviewer, this distinction has enabled me to gauge if a toy is going to work for me the moment I hold it in my hand. It's the reason I immediately regretted my decision to review the Bi Stronic Fusion when I felt its clit stimulator in person. It's the reason I instinctively grimace when I turn on the Eva or the Princessa. It's the reason I'm wary of inexperienced sex toy reviewers using words like "powerful" and "intense," because sometimes they just mean "really really buzzy."
This post is composed of generalities, of course. In general, cheap battery-operated sex toys lean buzzy. In general, people prefer rumblier vibrations. There will always be exceptions to the rule, but I'm not one of them. I believe once people get a taste of rumbly, they won't want to go back to purely buzzy sex toys — and they shouldn't. As I once said, "we deserve orgasms that shake our entire clitorises, people. Never settle for less."