Although this toy is no longer available, Lovehoney's
Deluxe Mini Massage Wand
is a near-exact match, and it's
rechargeable
! Links have been changed to that product.
I always wondered why nobody tried to really shrink the Hitachi Magic Wand. That thing is unwieldy as fuck — heavy, long, with a head that really is bigger than it needs to be. It numbs my entire vulva within minutes — an unfortunate side effect of using the most powerful vibrator in existence. Finally, a Japanese company named Merci decided to take a stab at designing a miniature version of the Hitachi, and the result is the Fairy Mini Mini Wand.
But can a pipsqueak like this defeat the reigning champ? Incredibly, and to my great amazement, it not only beats it — it one-ups it.
At 7 1/4″ long, the Fairy Mini Mini is about a bazillion inches (okay, 5 1/4) shorter than the Hitachi. At 1 1/4″ in diameter at its widest point, it's about a trillion inches (okay, 1 1/4) smaller than the Hitachi's bulbous head. It also weighs almost a pound less than the Hitachi. It's truly diminutive in comparison to the beast that is the Hitachi, and significantly smaller than the Acuvibe Mini. I imagine the Fairy Mini Mini saying, "I'll show you 'mini'!"
Per the first part of its name, the Fairy Mini Mini comes in a dorky pink box with fairies, butterflies, and bubbles on it. The box reads, "Operate it easily with one hand. The size that the world minimum is compact." There is no manual, not even in Japanese — so information about materials and functionality is impossible to procure, as is any other amusingly translated text.
The Fairy Mini Mini comes with two power sources that plug into the butt of the wand: an AC adapter and a battery adapter. Both have 4 1/2 foot long cords. The Fairy Mini Mini is lucky that I mostly use sex toys at my desk, but… a lot of people use sex toys in, you know, bed. And some people have beds that are more than a foot off the ground. And some people want to be in the middle of the bed when they jack off, because then the universe is correctly in order. If this describes you, I suggest a rechargeable toy or an extension cord. [Edit: Lovehoney's Deluxe Mini Massage Wand is rechargeable!]
The battery adapter is a bit of a pain in the ass to open, and takes six AAs. Yes, seis. The battery adapter will do in a pinch, but I wouldn't recommend it for day-to-day use. Using the AC adapter actually results in quite a bit more power.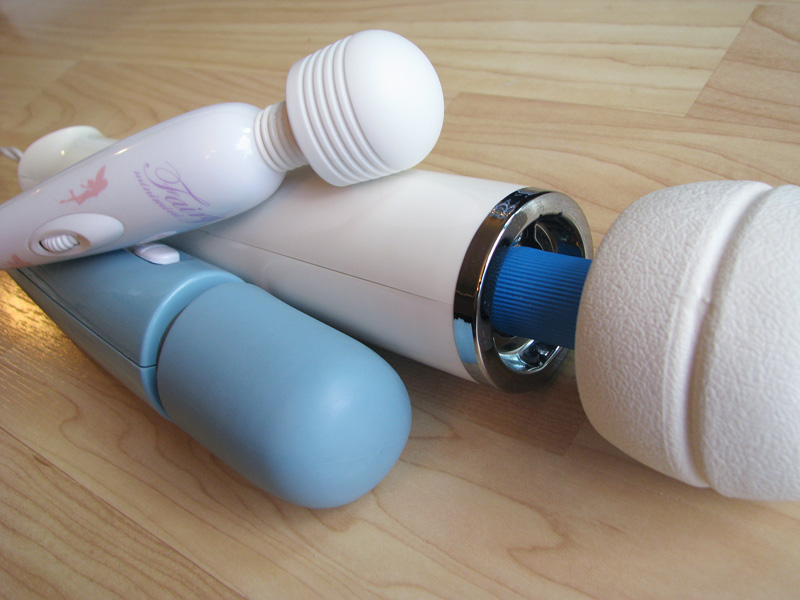 And yeah, the power. Oh my god, the power. This tiny little freak of nature is intense. And, although many of you will think I'm on crack, I'm going to say it: it's more intense than the Hitachi. Yep — somehow, some way, this thing vibrates at a higher level than arguably the most intense sex toy on the market. Of course, it is just as loud, and very buzzy. But you're gonna come in less than two minutes anyway, so what do you care?
Here's what really did it for me, though: rather than buttons or a switch, the Fairy Mini Mini has a dial that controls its speed. It clicks on, and begins at a vibration strength that is actually tolerable. Unlike the Hitachi, which has two speeds (also known as "OMG" and "OMFG"), the Fairy Mini Mini has a vast range of them. I did not realize how awesome it is to gradually increase the vibration strength until now. My clit responds much more favorably to build-up. The Numb Vulva™ has become par for the course with my Hitachi, but the numbing effect is much less pronounced with the Fairy Mini Mini. Numbness tends to keep me away from the quick and dirty orgasms the Hitachi promises; with the Fairy Mini Mini, I get off much more quickly.
If you are reading this and getting sick of my comparisons to the Hitachi because you don't own one, I apologize. There isn't actually much to say about the Fairy Mini Mini other than "it's powerful and loud as fuck, and it gets me off no matter what." If you like butterflies tickling your clit, you will hate the Fairy Mini Mini. If you like to get off quickly with pressure and intense vibrations, you will love it.
I was also sent two entirely creepy white attachments. One, "Kurikuri" according to its box, is a nubby cup shape. The second, "Orga," has a nubby part and a tiny penis. Both are a bust. Orga sort-of hits my clit, but the internal vibrations are way too intense. Kurikuri is the definition of awkward; I couldn't figure out how I was supposed to position it. And, as you might suspect, it doesn't feel very great to have a bunch of little nubs vibrating intensely on one's genitals.
One more thing: after about five minutes — and even less on its highest setting — the Fairy Mini Mini becomes quite hot. It doesn't have an auto-shut off feature to prevent it from overheating, so this slightly worries me. However, so far the Fairy Mini Mini has performed valiantly in every test I've thrust upon it.
And so it is: the Hitachi has been thrown under my bed. Seriously, why would I want to deal with that heavy beast when there's something infinitely smaller, lighter, and stronger? The only reason I'm not shoving the Hitachi too far under my bed is because of the years of anecdotal evidence attesting to its longevity. The Fairy Mini Mini doesn't have that. I have to wait, continue to use it like a madwoman, and make sure it can stand up to the type of abuse and overuse that the Hitachi does.
If the Fairy Mini Mini stands the test of time, then watch out, Hitachi — there's a new sheriff in town. A tiny, more powerful sheriff… with fairies on its lapel.
Update, 2015: 
I feel the need to mention that I actually like the Hitachi a lot now, particularly the
rechargeable version
.