Hello, hello, reigning champ of vibes! Pleased to meet you. I thought I never would, as I was always put off by your grandma-esque appearance. But, presented with the offer to review you, I could not resist. I had to know. What makes you so great? Why do the bloggers shorten your name to the majestic Hitachi? Am I going to shudder and squirt when I orgasm?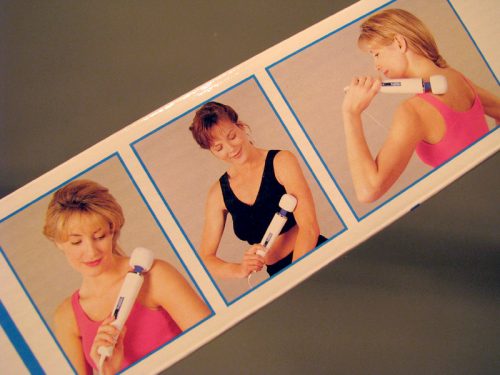 You came in a laughable box plastered with photos of dorky people using you on innocent spans of skin: backs, arms, shoulders, legs. But I knew the truth. I opened the box and flipped through the instruction manual.
I plugged you in and turned you on "low." Hey, I actually expected you to be louder. I guess all the hype worked in your favor this time. You sounded somewhat like an appliance; a higher-pitched vibration than most battery-operated vibes. I pressed your large head against my vulva through my pajama pants. Even then, the vibration was nearly too much. But I would persevere.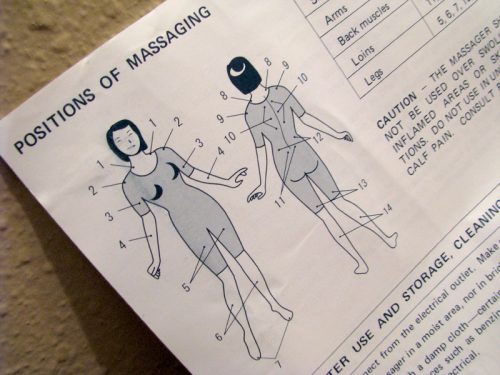 Whenever I was horny, I plugged you in and tried to enjoy you, but it was always too much. Your whirring head made my vulva itch. I tried putting three layers of towel between us; it worked at first, but after not much longer, the itch was back. Four layers of towel was too many, and just felt like a general vibration of towel. Not so fun.
The only time I have been able to handle your intensity has been when I'm about to come anyway.
My orgasms with you have not sent me into orbit yet, but I will be patient. I know eventually I will sing your praises just as everyone else has, Hitachi. I just need time.
Get the Magic Wand at SheVibe, Early to Bed, Smitten Kitten, Enby, GV, Babeland, or CAYA (Canada).