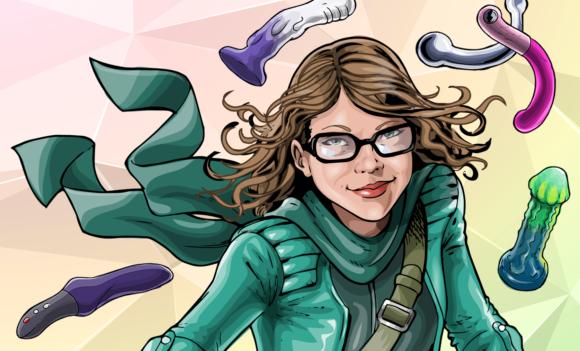 "You can always count on Epiphora for her no-holds-barred reviews." —Tristan Taormino
"The Samantha Bee of our nether regions." —the internet
"It's an invaluable resource, and has done more than anyone realizes to change the conversations around sex toys, sex toy safety, and how we relate to our little friends." —Violet Blue
"Something like the Ars Technica or Wirecutter of adult products." —VICE
"I bet Epiphora eats." —Slate
Email: hey.epiphora [at] gmail.com
Pronouns: she/her. Press photos: here + here.
I have a very discerning vagina. For over a decade, I've been testing sex toys and writing about them on the internet. Highly trusted and well-known for my snarky yet authentic style, I am the antidote to the coy, euphemistic sugar-coating that plagues bad sex writing. Many loyal readers entrust their future orgasms to me, and I do not take that honor lightly.
On this blog, I mostly write sex toy reviews, but I also muse about the latest and greatest and worst fails of the adult industry, chronicle my porn-filled jack-off sessions, give behind-the-scenes peeks into my life as a sex toy reviewer, answer reader questions, publish an annual best/worst list, and write the occasional guide. (Want help finding the best parts of this site?)
Although I'm pretty sure the estimated value of my 600+ sex toy collection could've bought me a really fucking nice car if I had different priorities in life, this also means that I have a baseline knowledge of sex toys that very much surpasses that of your friend's wife. Plus, I'm sometimes a hoot.
As a trusted voice in the sex industry landscape, I've been published in Best Sex Writing of the Year, Volume 1 and Storerotica and featured in Playboy, Slate, Women's Health, VICE, Bitch, and XBIZ Premiere magazine. I have been a guest on Tristan Taormino's Sex Out Loud Radio on two separate occasions and I participated in a couple panels at CatalystCon West and East. SheVibe made me into a superhero — twice, Kinkly has consistently named me a top sex blogger each year, and I was quoted in Tristan Taormino's book, The Secrets of Great G-Spot Orgasms and Female Ejaculation (press clippings here). I also offer consulting services to sex shops, manufacturers, and bloggers.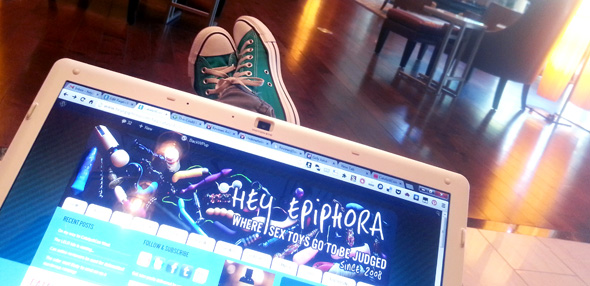 I don't believe that wishy-washy sex toy reviews benefit anyone. I have my preferences and pet peeves (my hatred for pink and love of VixSkin are no secret), but you will never read a review of mine and question how I truly felt about the toy. Whether I love or hate something, I make it known. You'll also never see the terms "marital aid" or "battery-operated boyfriend" in my reviews, because euphemisms give me hives. My favorite online shop is SheVibe for many reasons — check out all the things I recommend here.
I'm a queer, feminist labia enthusiast in a long-term relationship with both a dude and another cute person, and greatly prefer cats to children. My jack-off sessions are long and my cups of coffee are doused with creamer. When not kicking a cat off my lap to masturbate, I can be found working on the floor at a local sex toy boutique, making it my personal mission to sell as many Mona 2s as possible.
You can learn more about me via my feature, Ask Piph.

CONTACT ME
There are several ways to prod me! You can use the snazzy contact form below or shoot me an email at hey.epiphora [at] gmail [dot] com.