When I was but a wee sex toy reviewer, every new sex toy material was a treat. Not yet jaded by years of masturbatory ordeals, my vag was wowed by the smoothness of glass, the heft of stainless steel, the beauty of wood, the silkiness of silicone. Then I experienced luscious dual-density silicone, a true turning point. I quickly crowned it my favorite soft material and proceeded to stuff myself silly with dildos made out of it.
That was 8 years ago, that glorious time of squishy exploration, so now I tend to take such materials for granted. It can be hard to get back into that head (vagina?) space again, but then there are toys that take me there, reminding me of everything I loved about a material — or design — to begin with. The Uberrime Splendid is one of those toys.
Uberrime, which to my great embarrassment is apparently pronounced uber-ree-may (oops, it's Latin), is a one human operation based in Orlando. They make toys by first hand-sculpting designs in clay and resin, then producing a mold into which silicone is poured to cast each toy individually. Handmade from beginning to end, y'all.
After perusing their catalog, I chose the medium Uberrime Splendid ($80, or $70 for the single-color version), a semi-realistic dual-density dildo, and the Helios Sun God ($80), a squishy textured dildo. Peepshow Toys stocks a few more of their designs: smaller and larger sizes of the Splendid, the lengthy Night King, tentacle-inspired Xenuphora, basic Essential, and adorable Tiny Bouchon plug. They also carry a limited edition version inspired by me, in shimmery sea green.
Splendid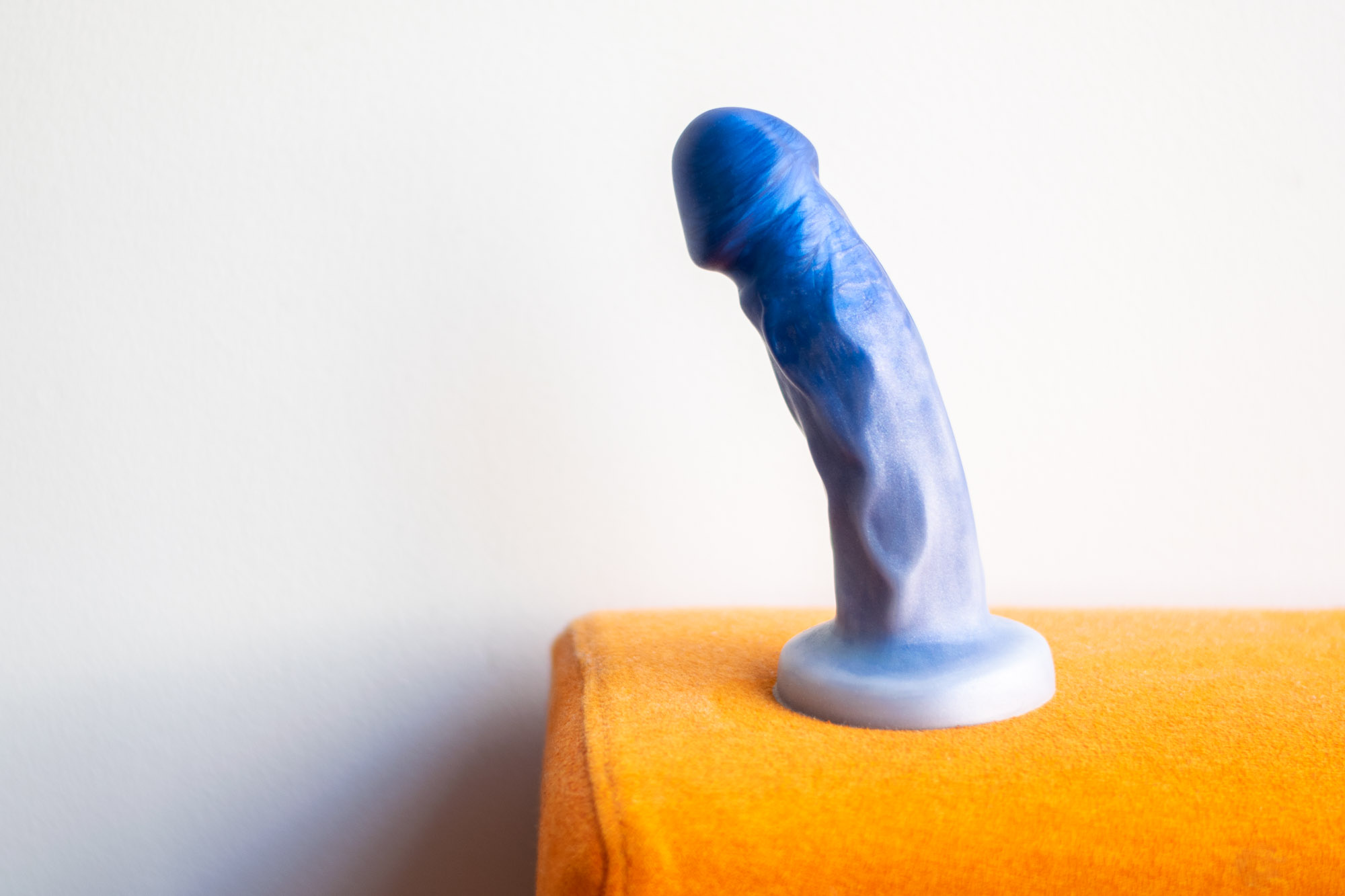 The Splendid is a dual-density dildo, and we all know I am very heart-eyes-emoji over those. That's partly why I chose it — but its dimensions and simple shape sealed the deal. It used to be named the "Splendid Gentleman," which made a little part of my soul die every time I had to say it, but has recently been shortened in response to my obvious distaste. (Good, especially considering how suspect the word "gentleman" is these days.)
At 1.6″ diameter, the medium Splendid lands in a sweet spot between the Vixen Mustang and Buck, two of my all-time favorite dildos. (It also comes in a smaller and larger version now.) It's slightly smaller than the Buck and thicker than the Mustang, making it the in-between dildo I didn't know I needed. It has a thicker outer layer of its softer silicone, but overall the squish feels comparable. There is some kind of magic going on with Uberrime's finish, though. In contrast to the stickiness of VixSkin, these dildos have a sorta glossy, sorta matte finish that feels lovely.
Jacking off with the Splendid is like relaxing my body into a perfectly-warmed hot tub. Comfy, satisfying, easy. All my worldly cares melt away. So much so that testing doesn't even feel like testing, it just feels like a session with an amazing dildo. (Well, unless it's paired with something horrid…)
The Splendid is perfect for sittin' and clenchin', one of my classic dildo moves. I can't feel the veins, but the head presses against my G-spot with delicious accuracy. At the point of orgasm, vibe pressed to my clit, it's not hard to get some casual squirting going from even gentle nudging of the base. But if I'm compelled to thrust more, the G-spot stimulation intensifies.
The Splendid is, truly, a dildo for all seasons.
And $72 is an incredible price for it, considering Vixen charges ~$115 for their dual-density dildos.
Shout-out to that thick, sturdy base too, and the firm core which keeps the Splendid nice and stable. This is a dick I'll be bringing to sex parties from now on, because I know it will be fantastic in a harness. The plush feel, the restrained 5.75″ insertable length, the vaguely realistic look, the beautiful color gradient… the more I think about it actually, the more I want to see somebody's mouth around it…
Aaaand now I'm aroused. Ugh help me, all I ever want are dildo blowjobs.
Helios Sun God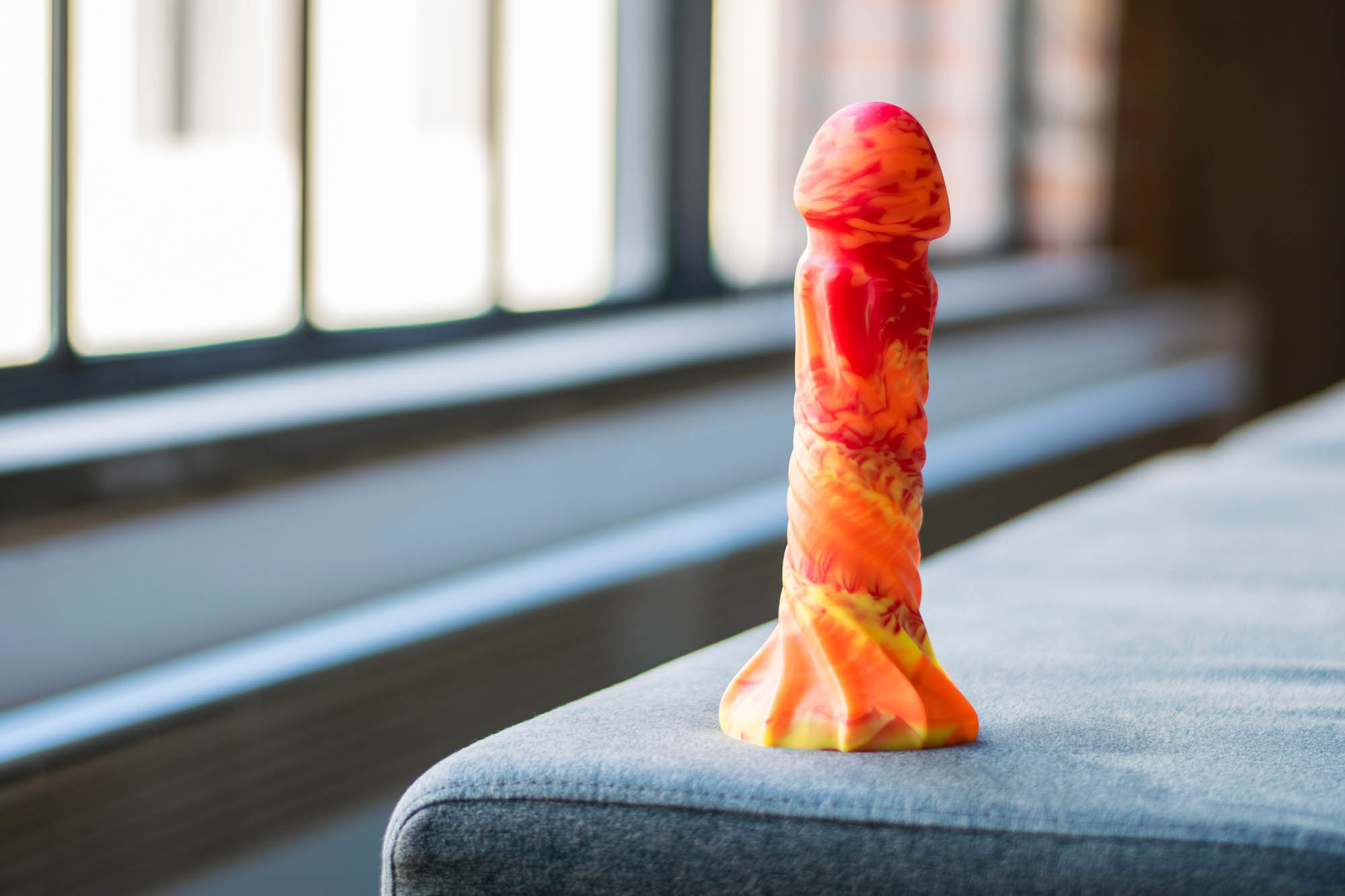 The Helios Sun God, meanwhile, is not the sexiest of things. Swirled with a garish mixture of neon orange, yellow, and red, the '90s kid in me was immediately reminded of Nerf guns. But when I unpacked the box in front of my dad, he said it made him think of a fishing float. Also accurate, and particularly amusing since this dildo is colored with UV-reactive fluorescent pigments.
The Helios Sun God is cast in a softer shore of single-density silicone, and that was the correct choice for a dildo with this level of texture and amount of girth. It's a very majestic, towering toy, but god, that name makes me cringe. Imagine if I loved this dildo and had to go around telling people to buy the "Helios Sun God." How douchey is that?
The fatal flaw of the Helios Sun God is something I like to call THE DIP. It's that indent just under the dildo's head, the arch nemesis of my pubic bone and saboteur of movement. It gives me this unpleasant "stuck" feeling when I try to thrust, snagging on my pubic bone and resisting fluid motion. Maybe this is just a weird quirk about me that isn't applicable to other people, like my annoyance at door-to-door solicitors who use the special knock. (ONLY FAMILY AND FRIENDS ARE ALLOWED TO KNOCK LIKE THAT!) But since I regularly remove and re-insert dildos during masturbation, the dip gets on my nerves. A lot.1
I love the feel of the swirls at my vaginal opening, as I knew I would, but I can't enjoy them much when the toy won't budge.
So I can't thrust with the Helios Sun God, but maybe I could sit and clench? No, that's not ideal either. The soft silicone makes the shaft droop a bit, giving the toy a downward angle that feels like it's missing my G-spot. It's as if the head has plunked itself into the lower recesses of my vagina, where it refuses to leave and also won't do its own dishes. And when I'm done, pulling it out of my body feels like such an extraction.
But oh, I am happy to extract the Helios Sun God if it means switching to the Splendid. All previous offenses are easily forgiven. My vagina squeezes the Splendid, drawing its head up tightly against my G-spot, luxuriating in the effortlessness. This, I remember, is what a great dildo feels like. And when I slide it out post-orgasm to find it dripping ejaculate, I know we are meant to be together.
Get the Splendid (in 3 sizes!), Splendid Piph, Helios Sun God, and other Uberrime toys at Peepshow Toys.