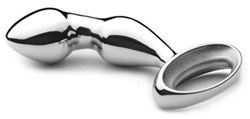 As my first stainless steel butt plug, it's kinda funny that the njoy Pfun is meant, well, for the prostate — but I have an unhealthy love for curved butt toys (my favorites are the Romp and the Bootie), so I figured it could work even for my prostateless ass.
And it does work, but holy crap, it's heavy. Even though I own the Pure Wand, I wasn't anticipating so much weight up my butt. I think, after much testing, the best way to describe using the Pfun is thus: "comfortable, but heavy." Or maybe, "comfortable for a while, then too heavy."
The Pfun is not overly large; it's only 1.25″ in diameter, with 3 1/2″ of insertable length. However, in terms of weight, it's just as heavy as the large version of the Pure Plug: 11 ounces. I tried to find a household object that weighs 11 ounces, but the closest I found was a standard ceramic coffee mug, which is a little over 12. All you need to know is that 11 ounces is heavier than you think, especially when compacted into the small size of the Pfun.
For my body, the Pfun feels best when I insert it with the curve pointing toward my back. Turning it the other way makes me feel, quite literally, somewhat butthurt/1 Either way, though, the base/handle is a dream come true — it snuggles between my butt cheeks and never gets in the way. Sitting down? No problem at all.
Yet… and I don't know if this is due to the length or weight or what, but the Pfun tends to feel as though it wants out. It's an illusion, since I can't even push it out with my ass muscles, but the thought haunts me nonetheless. I think the weight is the culprit.
The thing is, the Pfun is just a bit too intense, too noticeable. It's not filling, so the intensity does not come from feeling stretched, but rather from the weight. I like to be aware of my butt plugs, but at this point in my butt-plugging journey, the Pfun is overkill.
And the weight also means that I tire of the Pfun more quickly than I would a lighter plug, so I don't find it suitable for long-term wear. Others looking for an intense sensation — and an unmistakable feeling of being plugged — might really love it for that. It's also probably awesome for prostate stimulation.
Stainless steel is an amazing sex toy material, though. It picks up temperature quickly, so a rinse under hot water will result in a nice, warm butt plug. And most excitingly, stainless steel doesn't pick up butt smells. In the slightest. After I use it, I wash it with some water and dish soap, and that alone completely cleanses it of the dreaded butt smell. That cannot be said about, really, any of my other butt plugs, so stainless steel is obviously magical.
The Pfun is certainly a heavy-duty plug. It means business — sometimes more business than I desire. I probably should've gone with a medium Pure Plug as my first stainless steel butt toy, but that's alright. I now know the full meaning of 11 ounces, and my ass of the future will probably delight in them.
Get the Pfun at njoy, SheVibe, Early to Bed, Smitten Kitten, Enby, Babeland, Pleasure Chest, Lovehoney (international), or Come As You Are (Canada).