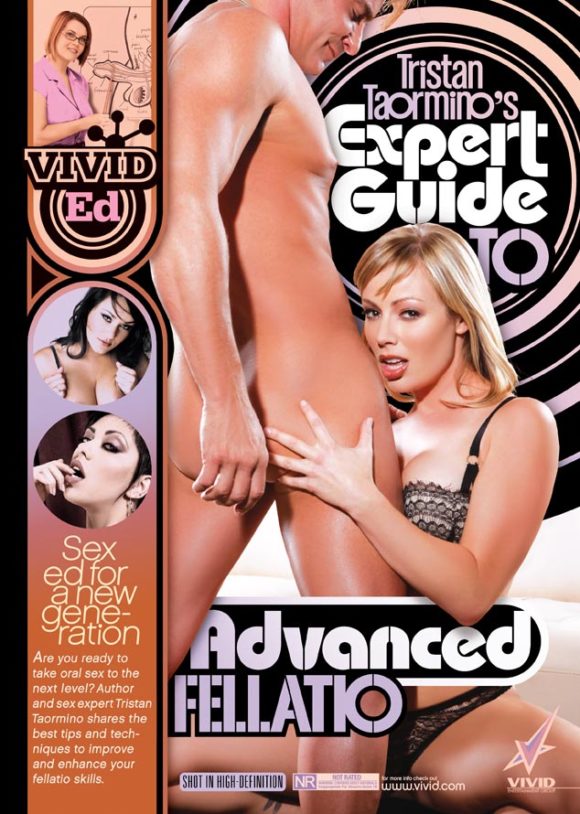 I'm not big on blowjobs in porn. I don't hate them, but I'll usually only watch a couple minutes of a blowjob, then fast-forward to whatever's next. Thus, I wasn't as excited for Tristan Taormino's Expert Guide to Advanced Fellatio as I was for, say, Rough Sex. And while Advanced Fellatio isn't typical-porn-blowjob boring, it's very much a niche movie. You need to love watching blowjobs to thoroughly enjoy it.
Advanced Fellatio begins with a 50-minute workshop. The anatomy section is actually pleasurable to watch, as snippets from pornstars are interspersed throughout Tristan's lesson. Also, this probably shouldn't have made me laugh, but it did: "the prostate is about the size and shape of a walnut. But it shouldn't feel like a walnut — if it feels like a walnut, something's wrong."
Then there are informational portions about positions, other erogenous zones (balls, perineum, ass), and blowjob styles. But this part isn't just informational — it's also jam-packed with porn! Sure, most of the porn is repeated later in the individual scenes, but watching this stuff will most certainly rile you up. The only disappointing thing is that the footage of anal play on a dude was taken from Tristan Taormino's Expert Guide to Anal Pleasure for Men. It's totally hot, but I've already seen it.
There's about an hour and 16 minutes of straight-up porn, featuring three scenes and some awesome stars that I always enjoy watching. But make no mistake: there is very little non-blowjob action here. The three scenes devote 3 minutes and 30 seconds to foreplay, and 6 minutes to sex. Yes, altogether. The rest is cumshots and blowjobs. That's an hour and 6 minutes of blowjobs. Yeah…
So, scene one features Christian and Charley Chase. This, unfortunately, is the only scene with any foreplay at all before the blowjob-of-death begins. This is also one of the wettest, most intense blowjobs I've ever witnessed… Charley starts deepthroating from the get-go, and HOLY CRAP, she sucks cock like she has a PhD in it. (Note: if you aren't into spit flying everywhere and slurping sounds, this scene won't be for you.) I was sad, though, that there was no anal play at all on Christian, since I know he likes it. There is also no sex and no pussy play with Charley… just an insanely long blowjob and a popshot onto her chest.
Scene two features Adrianna Nicole and Evan Stone. It begins very suddenly, with her sucking what appears to be a disembodied cock. Evan Stone's usually unavoidable presence is quite subdued in this scene. I love Adrianna's cocksucking style — slow and teasing, then more intense as time goes on. And when I say "intense," I mean backbendingly intense. There are two minutes of sex at the end, and he comes on her chest.
The final scene features Satine Phoenix and Danny Wylde. These two seem to have the most chemistry. Satine does some exciting cocksucking on her back with her head off the end of the bed, and she looks damn good doing it. There's some much-needed sex at the end of this scene, though not nearly enough to satiate me.
By the end of Advanced Fellatio, I was incredibly tired of seeing cocks in mouths, and I really missed vaginas. Really, there's only so much cocksucking I can watch before it becomes very tedious. There were a couple other things that bothered me throughout the film, too. One was the music. While thankfully not shitty, and never too loud, it never quite seems to fit… it's a little too picnic-in-the-park.
I was also bothered by the lack of dude moans. These ladies are bending over backward (SOMETIMES LITERALLY) to give you freakishly long and intense blowjobs — the least you can do is utter something sexy once in a while. Or even just moan. Danny does this fairly well, but Evan and Christian are far too silent.
Other than that, the camerawork is pretty awesome most of the time (there are some fabulous close-ups), the blowjobs are very impressive, and the lesson is both friendly and useful. Just remember: the insane amount of cock-in-mouth is something that only blowjob super-fans will really love.
Buy Tristan Taormino's Expert Guide to Advanced Fellatio at
SheVibe, or stream the best parts now!
Browse more Expert Guides here or stream them here.